Abstract
Interferon-γ (IFN-γ) is essential for the innate immune response to intracellular bacteria. Noncoding RNAs and RNA-binding proteins (RBPs) need to be further considered in studies of regulation of the IFN-γ-activated signaling pathway in macrophages. In the present study, we found that the microRNA miR-1 promoted IFN-γ-mediated clearance of Listeria monocytogenes in macrophages by indirectly stabilizing the Stat1 messenger RNA through the degradation of the cytoplasmic long noncoding RNA Sros1. Inducible degradation or genetic loss of Sros1 led to enhanced IFN-γ-dependent activation of the innate immune response. Mechanistically, Sros1 blocked the binding of Stat1 mRNA to the RBP CAPRIN1, which stabilized the Stat1 mRNA and, consequently, promoted IFN-γ–STAT1-mediated innate immunity. These observations shed light on the complex RNA–RNA regulatory networks involved in cytokine-initiated innate responses in host–pathogen interactions.
Access options
Subscribe to Journal
Get full journal access for 1 year
$225.00
only $18.75 per issue
All prices are NET prices.
VAT will be added later in the checkout.
Rent or Buy article
Get time limited or full article access on ReadCube.
from$8.99
All prices are NET prices.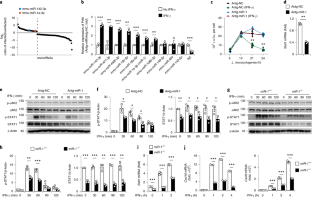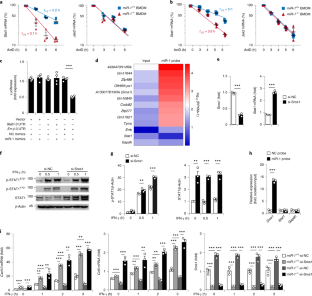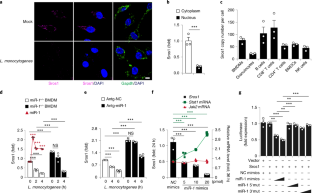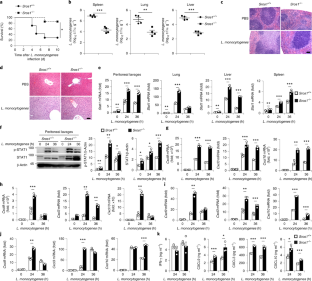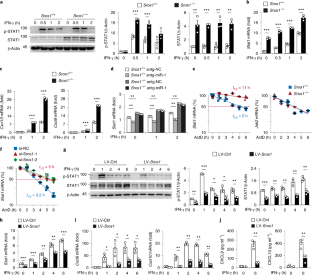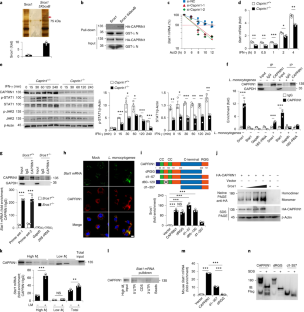 Data availability
The data that support the findings of this study are available from the corresponding author upon request. The RNA-seq data from the present study are deposited in the National Center for Biotechnology Information's Gene Expression Omnibus under accession code GSE127769.
References
1.

Turner, M., Galloway, A. & Vigorito, E. Noncoding RNA and its associated proteins as regulatory elements of the immune system. Nat. Immunol. 15, 484–491 (2014).

2.

Baltimore, D., Boldin, M. P., O'Connell, R. M., Rao, D. S. & Taganov, K. D. MicroRNAs: new regulators of immune cell development and function. Nat. Immunol. 9, 839–845 (2008).

3.

Chen, Y. G., Satpathy, A. T. & Chang, H. Y. Gene regulation in the immune system by long noncoding RNAs. Nat. Immunol. 18, 962–972 (2017).

4.

Xiao, C. & Rajewsky, K. MicroRNA control in the immune system: basic principles. Cell 136, 26–36 (2009).

5.

O'Connell, R. M., Rao, D. S., Chaudhuri, A. A. & Baltimore, D. Physiological and pathological roles for microRNAs in the immune system. Nat. Rev. Immunol. 10, 111–122 (2010).

6.

Lu, L. F. et al. Function of miR-146a in controlling Treg cell-mediated regulation of Th1 responses. Cell 142, 914–929 (2010).

7.

Wang, P. et al. The STAT3-binding long noncoding RNA lnc-DC controls human dendritic cell differentiation. Science 344, 310–313 (2014).

8.

Carpenter, S. et al. A long noncoding RNA mediates both activation and repression of immune response genes. Science 341, 789–792 (2013).

9.

Satpathy, A. T. & Chang, H. Y. Long noncoding RNA in hematopoiesis and immunity. Immunity 42, 792–804 (2015).

10.

Gomez, J. A. et al. The NeST long ncRNA controls microbial susceptibility and epigenetic activation of the interferon-gamma locus. Cell 152, 743–754 (2013).

11.

Atianand, M. K. et al. A long noncoding RNA lincRNA-EPS acts as a transcriptional brake to restrain inflammation. Cell 165, 1672–1685 (2016).

12.

Liu, B. et al. A cytoplasmic NF-kappaB interacting long noncoding RNA blocks IkappaB phosphorylation and suppresses breast cancer metastasis. Cancer Cell 27, 370–381 (2015).

13.

Jiang, M. et al. Self-recognition of an inducible host lncRNA by RIG-I feedback restricts innate immune response. Cell 173, 906–919 e913 (2018).

14.

Wang, P., Xu, J., Wang, Y. & Cao, X. An interferon-independent lncRNA promotes viral replication by modulating cellular metabolism. Science 358, 1051–1055 (2017).

15.

Hamon, M., Bierne, H. & Cossart, P. Listeria monocytogenes: a multifaceted model. Nat. Rev. Microbiol. 4, 423–434 (2006).

16.

Freitag, N. E., Port, G. C. & Miner, M. D. Listeria monocytogenes—from saprophyte to intracellular pathogen. Nat. Rev. Microbiol. 7, 623–628 (2009).

17.

Corr, S. C. & O'Neill, L. A. Listeria monocytogenes infection in the face of innate immunity. Cell Microbiol. 11, 703–709 (2009).

18.

Stavru, F., Archambaud, C. & Cossart, P. Cell biology and immunology of Listeria monocytogenes infections: novel insights. Immunol. Rev. 240, 160–184 (2011).

19.

Hu, X. & Ivashkiv, L. B. Cross-regulation of signaling pathways by interferon-gamma: implications for immune responses and autoimmune diseases. Immunity 31, 539–550 (2009).

20.

Villarino, A. V., Kanno, Y. & O'Shea, J. J. Mechanisms and consequences of Jak-STAT signaling in the immune system. Nat. Immunol. 18, 374–384 (2017).

21.

Boisson-Dupuis, S. et al. Inborn errors of human STAT1: allelic heterogeneity governs the diversity of immunological and infectious phenotypes. Curr. Opin. Immunol. 24, 364–378 (2012).

22.

Chen, K. et al. Methyltransferase SETD2-mediated methylation of STAT1 is critical for interferon antiviral activity. Cell 170, 492–506 e414 (2017).

23.

Liu, S. et al. Nuclear RNF2 inhibits interferon function by promoting K33-linked STAT1 disassociation from DNA. Nat. Immunol. 19, 41–52 (2018).

24.

Kim, T. K. & Maniatis, T. Regulation of interferon-gamma-activated STAT1 by the ubiquitin-proteasome pathway. Science 273, 1717–1719 (1996).

25.

Scortti, M. et al. Coexpression of virulence and fosfomycin susceptibility in Listeria: molecular basis of an antimicrobial in vitro–in vivo paradox. Nat. Med. 12, 515–517 (2006).

26.

Bettencourt, P. et al. Actin-binding protein regulation by microRNAs as a novel microbial strategy to modulate phagocytosis by host cells: the case of N-Wasp and miR-142-3p. Front. Cell Infect. Microbiol. 3, 19 (2013).

27.

Su, X. et al. miRNomes of haematopoietic stem cells and dendritic cells identify miR-30b as a regulator of Notch1. Nat. Commun. 4, 2903 (2013).

28.

Heidersbach, A. et al. microRNA-1 regulates sarcomere formation and suppresses smooth muscle gene expression in the mammalian heart. eLife 2, e01323 (2013).

29.

Wei, Y. et al. Multifaceted roles of miR-1s in repressing the fetal gene program in the heart. Cell Res. 24, 278–292 (2014).

30.

Su, X. et al. An in vivo method to identify microRNA targets not predicted by computation algorithms: p21 targeting by miR-92a in cancer. Cancer Res. 75, 2875–2885 (2015).

31.

Baron-Benhamou, J., Gehring, N. H., Kulozik, A. E. & Hentze, M. W. Using the lambdaN peptide to tether proteins to RNAs. Methods Mol. Biol. 257, 135–154 (2004).

32.

Shiina, N., Shinkura, K. & Tokunaga, M. A novel RNA-binding protein in neuronal RNA granules: regulatory machinery for local translation. J. Neurosci. 25, 4420–4434 (2005).

33.

Wu, Y., Zhu, J., Huang, X. & Du, Z. Crystal structure of a dimerization domain of human Caprin-1: insights into the assembly of an evolutionarily conserved ribonucleoprotein complex consisting of Caprin-1, FMRP and G3BP1. Acta Crystallogr. D72, 718–727 (2016).

34.

Grill, B. et al. Activation/division of lymphocytes results in increased levels of cytoplasmic activation/proliferation-associated protein-1: prototype of a new family of proteins. J. Immunol. 172, 2389–2400 (2004).

35.

Witte, S. & Muljo, S. A. Integrating non-coding RNAs in JAK-STAT regulatory networks. JAKSTAT 3, e28055 (2014).

36.

Shuai, K. & Liu, B. Regulation of JAK-STAT signalling in the immune system. Nat. Rev. Immunol. 3, 900–911 (2003).

37.

Bohmer, F. D. & Friedrich, K. Protein tyrosine phosphatases as wardens of STAT signaling. JAKSTAT 3, e28087 (2014).

38.

Lu, D. et al. The phosphatase DUSP2 controls the activity of the transcription activator STAT3 and regulates TH17 differentiation. Nat. Immunol. 16, 1263–1273 (2015).

39.

Liu, B. et al. PIAS1 selectively inhibits interferon-inducible genes and is important in innate immunity. Nat. Immunol. 5, 891–898 (2004).

40.

Zhang, Q. & Cao, X. Epigenetic regulation of the innate immune response to infection. Nat. Rev. Immunol. 19, 417–432 (2019).

41.

Hentze, M. W., Castello, A., Schwarzl, T. & Preiss, T. A brave new world of RNA-binding proteins. Nat. Rev. Mol. Cell Biol. 19, 327–341 (2018).

42.

Katoh, H. et al. Japanese encephalitis virus core protein inhibits stress granule formation through an interaction with Caprin-1 and facilitates viral propagation. J. Virol. 87, 489–502 (2013).

43.

Nakayama, K. et al. RNG105/caprin1, an RNA granule protein for dendritic mRNA localization, is essential for long-term memory formation. eLife 6, e29677 (2017).

44.

Bidet, K., Dadlani, D. & Garcia-Blanco, M. A. G3BP1, G3BP2 and CAPRIN1 are required for translation of interferon stimulated mRNAs and are targeted by a dengue virus non-coding RNA. PLoS Pathog. 10, e1004242 (2014).

45.

Solomon, S. et al. Distinct structural features of caprin-1 mediate its interaction with G3BP-1 and its induction of phosphorylation of eukaryotic translation initiation factor 2alpha, entry to cytoplasmic stress granules, and selective interaction with a subset of mRNAs. Mol. Cell Biol. 27, 2324–2342 (2007).

46.

He, C. et al. High-resolution mapping of RNA-binding regions in the nuclear proteome of embryonic stem cells. Mol. Cell 64, 416–430 (2016).

47.

van de Veerdonk, F. L. et al. STAT1 mutations in autosomal dominant chronic mucocutaneous candidiasis. N. Engl. J. Med. 365, 54–61 (2011).

48.

Wu, U. I. & Holland, S. M. Host susceptibility to non-tuberculous mycobacterial infections. Lancet Infect. Dis. 15, 968–980 (2015).
Acknowledgements
This work is supported by grants from the National Natural Science Foundation of China (grant no. 81788101), Chinese Academy of Medical Sciences' Innovation Fund for Medical Sciences (grant no. 2016-12M-1-003) and the National Key Research and Development Program of China (grant no. 2018YFA0507403). We thank H. Lin for technical help.
Ethics declarations
Competing interests
The authors declare no competing interests.
Additional information
Peer review information Ioana Visan was the primary editor on this article and managed its editorial process and peer review in collaboration with the rest of the editorial team.
Publisher's note Springer Nature remains neutral with regard to jurisdictional claims in published maps and institutional affiliations.
Integrated supplementary information
Supplementary information
Supplementary Figs. 1–6, Tables 1–5 and uncropped immunoblots
About this article
Cite this article
Xu, H., Jiang, Y., Xu, X. et al. Inducible degradation of lncRNA Sros1 promotes IFN-γ-mediated activation of innate immune responses by stabilizing Stat1 mRNA. Nat Immunol 20, 1621–1630 (2019) doi:10.1038/s41590-019-0542-7
Received:

Accepted:

Published:

Issue Date: