Abstract
Allergic skin diseases, such as atopic dermatitis, are clinically characterized by severe itching and type 2 immunity-associated hypersensitivity to widely distributed allergens, including those derived from house dust mites (HDMs). Here we found that HDMs with cysteine protease activity directly activated peptidergic nociceptors, which are neuropeptide-producing nociceptive sensory neurons that express the ion channel TRPV1 and Tac1, the gene encoding the precursor for the neuropeptide substance P. Intravital imaging and genetic approaches indicated that HDM-activated nociceptors drive the development of allergic skin inflammation by inducing the degranulation of mast cells contiguous to such nociceptors, through the release of substance P and the activation of the cationic molecule receptor MRGPRB2 on mast cells. These data indicate that, after exposure to HDM allergens, activation of TRPV1+Tac1+ nociceptor–MRGPRB2+ mast cell sensory clusters represents a key early event in the development of allergic skin reactions.
Relevant articles
Open Access articles citing this article.
Youn Jung Choi

,

Ji-Seung Yoo

…

Jae U. Jung

Nature Communications Open Access 11 April 2023

Martyna Scibiorek

,

Nontobeko Mthembu

…

Sabelo Hadebe

Scientific Reports Open Access 04 January 2023

Theo Crosson

&

Sebastien Talbot

Bioelectronic Medicine Open Access 06 April 2022
Access options
Access Nature and 54 other Nature Portfolio journals
Get Nature+, our best-value online-access subscription
$29.99 / 30 days
cancel any time
Subscribe to this journal
Receive 12 print issues and online access
$209.00 per year
only $17.42 per issue
Rent or buy this article
Prices vary by article type
from$1.95
to$39.95
Prices may be subject to local taxes which are calculated during checkout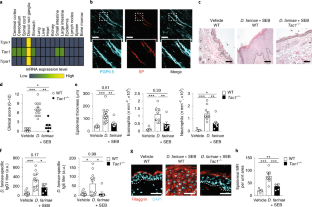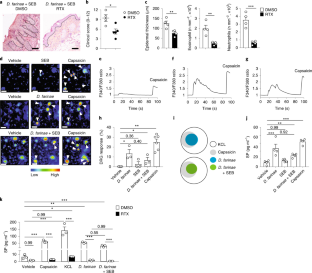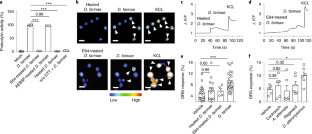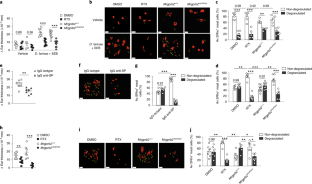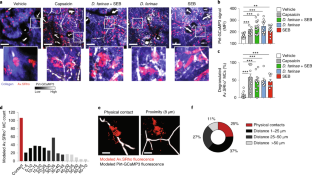 Data availability
The data that support the findings of this study are available from the corresponding author upon request.
References
Zheng, T., Yu, J., Oh, M. H. & Zhu, Z. The atopic march: progression from atopic dermatitis to allergic rhinitis and asthma. Allergy Asthma Immunol. Res. 3, 67–73 (2011).

Leung, D. Y. & Bieber, T. Atopic dermatitis. Lancet 361, 151–160 (2003).

Sager, N., Feldmann, A., Schilling, G., Kreitsch, P. & Neumann, C. House dust mite-specific T cells in the skin of subjects with atopic dermatitis: frequency and lymphokine profile in the allergen patch test. J. Allergy Clin. Immunol. 89, 801–810 (1992).

Langer, K., Breuer, K., Kapp, A. & Werfel, T. Staphylococcus aureus-derived enterotoxins enhance house dust mite-induced patch test reactions in atopic dermatitis. Exp. Dermatol. 16, 124–129 (2007).

Park, H. Y. et al. Staphylococcus aureus colonization in acute and chronic skin lesions of patients with atopic dermatitis. Ann. Dermatol. 25, 410–416 (2013).

Bunikowski, R. et al. Evidence for a disease-promoting effect of Staphylococcus aureus-derived exotoxins in atopic dermatitis. J. Allergy Clin. Immunol. 105, 814–819 (2000).

McFadden, J. P., Noble, W. C. & Camp, R. D. Superantigenic exotoxin-secreting potential of staphylococci isolated from atopic eczematous skin. Br. J. Dermatol. 128, 631–632 (1993).

Marichal, T. et al. Guanine nucleotide exchange factor RABGEF1 regulates keratinocyte-intrinsic signaling to maintain skin homeostasis. J. Clin. Invest. 126, 4497–4515 (2016).

Cookson, W. The immunogenetics of asthma and eczema: a new focus on the epithelium. Nat. Rev. Immunol. 4, 978–988 (2004).

Holgate, S. T. The epithelium takes centre stage in asthma and atopic dermatitis. Trends Immunol. 28, 248–251 (2007).

Palmer, C. N. et al. Common loss-of-function variants of the epidermal barrier protein filaggrin are a major predisposing factor for atopic dermatitis. Nat. Genet. 38, 441–446 (2006).

O'Regan, G. M., Sandilands, A., McLean, W. H. & Irvine, A. D. Filaggrin in atopic dermatitis. J. Allergy Clin. Immunol. 122, 689–693 (2008).

Oyoshi, M. K., He, R., Kumar, L., Yoon, J. & Geha, R. S. Cellular and molecular mechanisms in atopic dermatitis. Adv. Immunol. 102, 135–226 (2009).

LaMotte, R. H., Dong, X. & Ringkamp, M. Sensory neurons and circuits mediating itch. Nat. Rev. Neurosci. 15, 19–31 (2014).

Salomon, J. & Baran, E. The role of selected neuropeptides in pathogenesis of atopic dermatitis. J. Eur. Acad. Dermatol. Venereol. 22, 223–228 (2008).

Toyoda, M. et al. Nerve growth factor and substance P are useful plasma markers of disease activity in atopic dermatitis. Br. J. Dermatol. 147, 71–79 (2002).

Riol-Blanco, L. et al. Nociceptive sensory neurons drive interleukin-23-mediated psoriasiform skin inflammation. Nature 510, 157–161 (2014).

Kashem, S. W. et al. Nociceptive sensory fibers drive interleukin-23 production from CD301b+ dermal dendritic cells and drive protective cutaneous immunity. Immunity 43, 515–526 (2015).

Cardoso, V. et al. Neuronal regulation of type 2 innate lymphoid cells via neuromedin U. Nature 549, 277–281 (2017).

Baral, P. et al. Nociceptor sensory neurons suppress neutrophil and gammadelta T cell responses in bacterial lung infections and lethal pneumonia. Nat. Med. 24, 417–426 (2018).

Moriyama, S. et al. beta2-adrenergic receptor-mediated negative regulation of group 2 innate lymphoid cell responses. Science 359, 1056–1061 (2018).

Wallrapp, A. et al. Erratum: the neuropeptide NMU amplifies ILC2-driven allergic lung inflammation. Nature 551, 658 (2017).

Hofmann, A. M. & Abraham, S. N. New roles for mast cells in modulating allergic reactions and immunity against pathogens. Curr. Opin. Immunol. 21, 679–686 (2009).

McNeil, B. D. et al. Identification of a mast-cell-specific receptor crucial for pseudo-allergic drug reactions. Nature 519, 237–241 (2014).

Gaudenzio, N. et al. Different activation signals induce distinct mast cell degranulation strategies. J. Clin. Invest. 126, 3981–3998 (2016).

Monti, G., Tonetto, P., Mostert, M. & Oggero, R. Staphylococcus aureus skin colonization in infants with atopic dermatitis. Dermatology 193, 83–87 (1996).

Ando, T. et al. Mast cells are required for full expression of allergen/SEB-induced skin inflammation. J. Invest. Dermatol. 133, 2695–2705 (2013).

Beck, L. A. et al. Dupilumab treatment in adults with moderate-to-severe atopic dermatitis. N. Engl. J. Med. 371, 130–139 (2014).

Usoskin, D. et al. Unbiased classification of sensory neuron types by large-scale single-cell RNA sequencing. Nat. Neurosci. 18, 145–153 (2015).

Lattin, J. E. et al. Expression analysis of G protein-coupled receptors in mouse macrophages. Immunome Res. 4, 5 (2008).

Reithofer, M. & Jahn-Schmid, B. Allergens with protease activity from house dust mites. Int. J. Mol. Sci. 18, 1368 (2017).

Hammad, H. & Lambrecht, B. N. Barrier epithelial cells and the control of type 2 immunity. Immunity 43, 29–40 (2015).

Locksley, R. M. Asthma and allergic inflammation. Cell 140, 777–783 (2010).

Palm, N. W., Rosenstein, R. K. & Medzhitov, R. Allergic host defences. Nature 484, 465–472 (2012).

Stewart, G. A. & Thompson, P. J. The biochemistry of common aeroallergens. Clin. Exp. Allergy 26, 1020–1044 (1996).

Cayrol, C. et al. Environmental allergens induce allergic inflammation through proteolytic maturation of IL-33. Nat. Immunol. 19, 375–385 (2018).

Reber, L. L. et al. Imaging protective mast cells in living mice during severe contact hypersensitivity. JCI Insight 2, e92900 (2017).

Kim, Y. S. et al. Central terminal sensitization of TRPV1 by descending serotonergic facilitation modulates chronic pain. Neuron 81, 873–887 (2014).

Lansu, K. et al. In silico design of novel probes for the atypical opioid receptor MRGPRX2. Nat. Chem. Biol. 13, 529–536 (2017).

Alving, K. et al. Association between histamine-containing mast cells and sensory nerves in the skin and airways of control and capsaicin-treated pigs. Cell Tissue Res. 264, 529–538 (1991).

Barbara, G. et al. Activated mast cells in proximity to colonic nerves correlate with abdominal pain in irritable bowel syndrome. Gastroenterology 126, 693–702 (2004).

Hagiyama, M. et al. Increased expression of cell adhesion molecule 1 by mast cells as a cause of enhanced nerve-mast cell interaction in a hapten-induced mouse model of atopic dermatitis. Br. J. Dermatol. 168, 771–778 (2013).

Pang, X., Boucher, W., Triadafilopoulos, G., Sant, G. R. & Theoharides, T. C. Mast cell and substance P-positive nerve involvement in a patient with both irritable bowel syndrome and interstitial cystitis. Urology 47, 436–438 (1996).

Suzuki, R. et al. Direct neurite-mast cell communication in vitro occurs via the neuropeptide substance P. J Immunol. 163, 2410–2415 (1999).

Buhner, S. et al. Calcium imaging of nerve-mast cell signaling in the human intestine. Front. Physiol. 8, 971 (2017).

Green, D. P., Limjunyawong, N., Gour, N., Pundir, P. & Dong, X. A mast cell-specific receptor mediates neurogenic inflammation and pain. Neuron 101, 412–420 (2019).

Meixiong, J. et al. Activation of mast cell-expressed mas-related G-protein-coupled receptors drives non-histaminergic itch. Immunity 50, 1163–1171 (2019).

Vocanson, M., Hennino, A., Rozieres, A., Poyet, G. & Nicolas, J. F. Effector and regulatory mechanisms in allergic contact dermatitis. Allergy 64, 1699–1714 (2009).

Che, D. et al. Mivacurium induces mast cell activation and pseudo-allergic reactions via MAS-related G protein coupled receptor-X2. Cell. Immunol. 332, 121–128 (2018).

Takamori, A. et al. Identification of inhibitory mechanisms in pseudo-allergy involving Mrgprb2/MRGPRX2-mediated mast cell activation. J. Allergy Clin. Immunol. 143, 1231–1235 (2019).
Acknowledgements
We thank all members of the Galli and Gaudenzio laboratories for discussions, and C. Liu for technical assistance. We thank A. Olson and the Stanford Neuroscience Microscopy Service (supported by NIH No. NS069375); this article is solely the responsibility of the authors and does not necessarily represent the official views of the National Center for Research Resources or the NIH. We thank F. L'Faqihi (IFR30, Plateau Technique Cytometrie, Toulouse) and S. Allart (IFR30, Plateau Technique Imagerie Cellulaire, Toulouse) for technical assistance. T.M. is a Research Associate of the F.R.S.-FNRS and is supported by an 'Incentive Grant for Scientific Research' of the F.R.S.-FNRS (No. F.4508.18), by the FRFS-WELBIO under grant No. CR-2017 s-04, by the Acteria Foundation and by an ERC Starting Grant (No. IM-ID 801823). P.S. acknowledges support from and the Austrian Science Fund (No. P31113-B30). L.L.R. acknowledges support from the European Commission (Marie Sklodowska-Curie Individual Fellowship No. H2020-MSCA-IF-2014 656086) and the INSERM ATIP-Avenir program. This work was supported by grants from NIH (S.J.G., grant Nos. U19 AI104209, R01 AR067145 and R01 AI32494), the United States–Israel Binational Science Foundation (No. 2013263) and the Sean N. Parker Center for Allergy and Asthma Research, Stanford University (to S.J.G.); and by the Société Française de Dermatologie, the Société Française d'Allergologie, the Marie Sklodowska-Curie Individual Fellowship (H2020-MSCA-IF-2016, No. 749629), the European Research Council (ERC-2018-STG, No. 802041) and the INSERM ATIP-Avenir program (to N.G.).
Ethics declarations
Competing interests
The authors declare no competing interests.
Additional information
Peer review information Ioana Visan was the primary editor on this article and managed its editorial process and peer review in collaboration with the rest of the editorial team.
Publisher's note Springer Nature remains neutral with regard to jurisdictional claims in published maps and institutional affiliations.
Integrated supplementary information
Supplementary information
About this article
Cite this article
Serhan, N., Basso, L., Sibilano, R. et al. House dust mites activate nociceptor–mast cell clusters to drive type 2 skin inflammation. Nat Immunol 20, 1435–1443 (2019). https://doi.org/10.1038/s41590-019-0493-z
Received:

Accepted:

Published:

Issue Date:

DOI: https://doi.org/10.1038/s41590-019-0493-z