Abstract
Resisting and tolerating microbes are alternative strategies to survive infection, but little is known about the evolutionary mechanisms controlling this balance. Here genomic analyses of anatomically modern humans, extinct Denisovan hominins and mice revealed a TNFAIP3 allelic series with alterations in the encoded immune response inhibitor A20. Each TNFAIP3 allele encoded substitutions at non-catalytic residues of the ubiquitin protease OTU domain that diminished IκB kinase-dependent phosphorylation and activation of A20. Two TNFAIP3 alleles encoding A20 proteins with partial phosphorylation deficits seemed to be beneficial by increasing immunity without causing spontaneous inflammatory disease: A20 T108A;I207L, originating in Denisovans and introgressed in modern humans throughout Oceania, and A20 I325N, from an N-ethyl-N-nitrosourea (ENU)-mutagenized mouse strain. By contrast, a rare human TNFAIP3 allele encoding an A20 protein with 95% loss of phosphorylation, C243Y, caused spontaneous inflammatory disease in humans and mice. Analysis of the partial-phosphorylation A20 I325N allele in mice revealed diminished tolerance of bacterial lipopolysaccharide and poxvirus inoculation as tradeoffs for enhanced immunity.
Access options
Subscribe to Journal
Get full journal access for 1 year
$209.00
only $17.42 per issue
All prices are NET prices.
VAT will be added later in the checkout.
Rent or Buy article
Get time limited or full article access on ReadCube.
from$8.99
All prices are NET prices.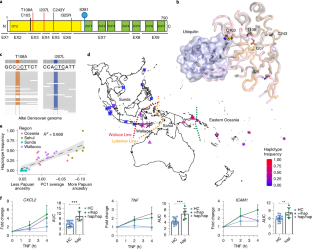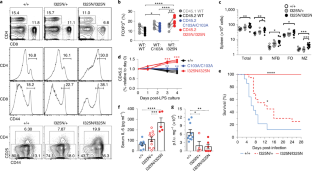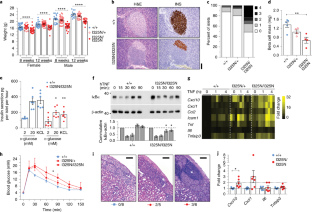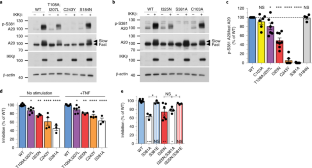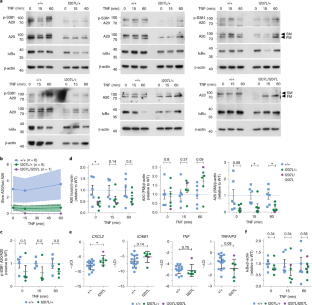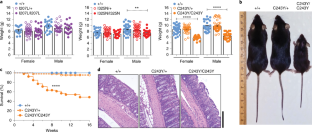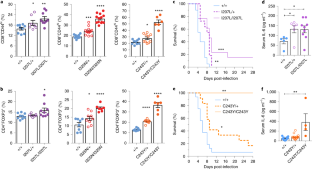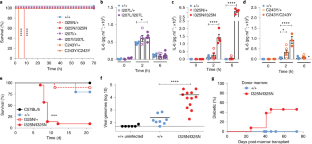 References
1.

Caldwell, R. M., Schafer, J. F., Compton, L. E. & Patterson, F. L. Tolerance to cereal leaf rusts. Science 128, 714–715 (1958).

2.

Ayres, J. S. & Schneider, D. S. Tolerance of infections. Annu. Rev. Immunol. 30, 271–294 (2012).

3.

Soares, M. P., Teixeira, L. & Moita, L. F. Disease tolerance and immunity in host protection against infection. Nat. Rev. Immunol. 17, 83–96 (2017).

4.

Hooper, L. V., Littman, D. R. & Macpherson, A. J. Interactions between the microbiota and the immune system. Science 336, 1268–1273 (2012).

5.

Vereecke, L. et al. A20 controls intestinal homeostasis through cell-specific activities. Nat. Commun. 5, 5103 (2014).

6.

Turer, E. E. et al. Homeostatic MyD88-dependent signals cause lethal inflammation in the absence of A20. J. Exp. Med. 205, 451–464 (2008).

7.

Roy, B. A. & Kirchner, J. W. Evolutionary dynamics of pathogen resistance and tolerance. Evolution 54, 51–63 (2000).

8.

Fenner, F. The Florey lecture, 1983. Biological control, as exemplified by smallpox eradication and myxomatosis. Proc. R. Soc. Lond. B Biol. Sci. 218, 259–285 (1983).

9.

Boughton, C. R. Smallpox and Australia. Intern. Med. J. 32, 59–61 (2002).

10.

Bousfiha, A. et al. The 2017 IUIS phenotypic classification for primary immunodeficiencies. J. Clin. Immunol. 38, 129–143 (2018).

11.

Lee, E. G. et al. Failure to regulate TNF-induced NF-κB and cell death responses in A20-deficient mice. Science 289, 2350–2354 (2000).

12.

Zhou, Q. et al. Loss-of-function mutations in TNFAIP3 leading to A20 haploinsufficiency cause an early-onset autoinflammatory disease. Nat .Genet. 48, 67–73 (2016).

13.

Ma, A. & Malynn, B. A. A20: linking a complex regulator of ubiquitylation to immunity and human disease. Nat. Rev. Immunol. 12, 774–785 (2012).

14.

Wertz, I. E. et al. De-ubiquitination and ubiquitin ligase domains of A20 downregulate NF-κB signalling. Nature 430, 694–699 (2004).

15.

Lu, T. T. et al. Dimerization and ubiquitin mediated recruitment of A20, a complex deubiquitinating enzyme. Immunity 38, 896–905 (2013).

16.

Evans, P. C. et al. Zinc-finger protein A20, a regulator of inflammation and cell survival, has de-ubiquitinating activity. Biochem. J. 378, 727–734 (2004).

17.

Bosanac, I. et al. Ubiquitin binding to A20 ZnF4 is required for modulation of NF-κB signaling. Mol. Cell 40, 548–557 (2010).

18.

Wertz, I. E. et al. Phosphorylation and linear ubiquitin direct A20 inhibition of inflammation. Nature 528, 370–375 (2015).

19.

Hutti, J. E. et al. IκB kinase β phosphorylates the K63 deubiquitinase A20 to cause feedback inhibition of the NF-κB pathway. Mol. Cell Biol. 27, 7451–7461 (2007).

20.

De, A., Dainichi, T., Rathinam, C. V. & Ghosh, S. The deubiquitinase activity of A20 is dispensable for NF-κB signaling. EMBO Rep. 15, 775–783 (2014).

21.

Verhelst, K. et al. A20 inhibits LUBAC-mediated NF-κB activation by binding linear polyubiquitin chains via its zinc finger 7. EMBO J. 31, 3845–3855 (2012).

22.

Mallick, S. et al. The Simons Genome Diversity Project: 300 genomes from 142 diverse populations. Nature 538, 201–206 (2016).

23.

Reich, D. et al. Genetic history of an archaic hominin group from Denisova Cave in Siberia. Nature 468, 1053–1060 (2010).

24.

Reich, D. et al. Denisova admixture and the first modern human dispersals into Southeast Asia and Oceania. Am. J. Hum. Genet. 89, 516–528 (2011).

25.

Sankararaman, S., Mallick, S., Patterson, N. & Reich, D. The combined landscape of Denisovan and Neanderthal ancestry in present-day humans. Curr. Biol. 26, 1241–1247 (2016).

26.

Vernot, B. et al. Excavating neandertal and denisovan DNA from the genomes of Melanesian individuals. Science 352, 235–239 (2016).

27.

Meyer, M. et al. A high-coverage genome sequence from an archaic Denisovan individual. Science 338, 222–226 (2012).

28.

Prufer, K. et al. The complete genome sequence of a Neanderthal from the Altai Mountains. Nature 505, 43–49 (2014).

29.

Gittelman, R. M. et al. Archaic hominin admixture facilitated adaptation to out-of-Africa environments. Curr. Biol. 26, 3375–3382 (2016).

30.

Hudjashov, G. et al. Complex patterns of admixture across the Indonesian archipelago. Mol. Biol. Evol. 34, 2439–2452 (2017).

31.

Wallace, A. R. On the physical geography of the Malay archipelago. J. R. Geog. Soc. London 33, 217–234 (1863).

32.

Tang, D. et al. Reference genotype and exome data from an Australian Aboriginal population for health-based research. Sci. Data 3, 160023 (2016).

33.

Xu, S. et al. Genetic dating indicates that the Asian–Papuan admixture through Eastern Indonesia corresponds to the Austronesian expansion. Proc. Natl Acad. Sci. USA 109, 4574–4579 (2012).

34.

Skoglund, P. et al. Genomic insights into the peopling of the Southwest Pacific. Nature 538, 510–513 (2016).

35.

Kibrick, S. & Benirschke, K. Severe generalized disease (encephalohepatomyocarditis) occurring in the newborn period and due to infection with Coxsackie virus, group B: evidence of intrauterine infection with this agent. Pediatrics 22, 857–875 (1958).

36.

Hartig, P. C. & Webb, S. R. Heterogeneity of a human isolate of Coxsackie B4: biological differences. J. Infect. 6, 43–48 (1983).

37.

Dionne, M. S., Pham, L. N., Shirasu-Hiza, M. & Schneider, D. S. Akt and FOXO dysregulation contribute to infection-induced wasting in Drosophila. Curr. Biol. 16, 1977–1985 (2006).

38.

Malle, E. K. et al. Nuclear factor κB-inducing kinase activation as a mechanism of pancreatic beta cell failure in obesity. J. Exp. Med. 212, 1239–1254 (2015).

39.

Shigemura, T. et al. Novel heterozygous C243Y A20/TNFAIP3 gene mutation is responsible for chronic inflammation in autosomal-dominant Behçet's disease. RMD Open 2, e000223 (2016).

40.

Komander, D. & Barford, D. Structure of the A20 OTU domain and mechanistic insights into deubiquitination. Biochem. J. 409, 77–85 (2008).

41.

Mevissen, T. E. et al. Molecular basis of Lys11-polyubiquitin specificity in the deubiquitinase Cezanne. Nature 538, 402–405 (2016).

42.

Appay, V., van Lier, R. A., Sallusto, F. & Roederer, M. Phenotype and function of human T lymphocyte subsets: consensus and issues. Cytometry A 73, 975–983 (2008).

43.

Appay, V. et al. Memory CD8+ T cells vary in differentiation phenotype in different persistent virus infections. Nat. Med. 8, 379–385 (2002).

44.

van den Berghe, G. et al. Intensive insulin therapy in critically ill patients. N. Engl. J. Med. 345, 1359–1367 (2001).

45.

Siggs, O. M. et al. Preponderance of CTLA4 variation associated with autosomal dominant immune dysregulation in the MYPPPY motif. Front. Immunol. 10, 1544 (2019).

46.

Jacobs, G. S. et al. Multiple deeply divergent Denisovan ancestries in Papuans. Am. J. Phys. Anthropol. 168, 112–112 (2019).

47.

Malaspinas, A. S. et al. A genomic history of Aboriginal Australia. Nature 538, 207–214 (2016).

48.

Delaneau, O., Howie, B., Cox, A. J., Zagury, J. F. & Marchini, J. Haplotype estimation using sequencing reads. Am. J. Hum. Genet. 93, 687–696 (2013).

49.

International HapMap Consortium. A second generation human haplotype map of over 3.1 million SNPs. Nature 449, 851–861 (2007).

50.

Barrett, J. C., Fry, B., Maller, J. & Daly, M. J. Haploview: analysis and visualization of LD and haplotype maps. Bioinformatics 21, 263–265 (2005).

51.

Ho, W. Y., Cooke, M. P., Goodnow, C. C. & Davis, M. M. Resting and anergic B cells are defective in CD28-dependent costimulation of naive CD4+ T cells. J. Exp. Med. 179, 1539–1549 (1994).

52.

Akkaraju, S. et al. A range of CD4 T cell tolerance: partial inactivation to organ-specific antigen allows nondestructive thyroiditis or insulitis. Immunity 7, 255–271 (1997).

53.

Tahiliani, V., Chaudhri, G., Eldi, P. & Karupiah, G. The orchestrated functions of innate leukocytes and T cell subsets contribute to humoral immunity, virus control, and recovery from secondary poxvirus challenge. J. Virol. 87, 3852–3861 (2013).

54.

Wang, G. G. et al. Quantitative production of macrophages or neutrophils ex vivo using conditional Hoxb8. Nat. Methods 3, 287–293 (2006).

55.

Grey, S. T., Lock, J., Bach, F. H. & Ferran, C. Adenovirus-mediated gene transfer of A20 in murine islets inhibits Fas-induced apoptosis. Transplant. Proc. 33, 577–578 (2001).

56.

Grey, S. T. et al. Genetic engineering of a suboptimal islet graft with A20 preserves beta cell mass and function. J. Immunol. 170, 6250–6256 (2003).

57.

Untergasser, A. et al. Primer3: new capabilities and interfaces. Nucleic Acids Res. 40, e115 (2012).

58.

Daley, S. R., Hu, D. Y. & Goodnow, C. C. Helios marks strongly autoreactive CD4+ T cells in two major waves of thymic deletion distinguished by induction of PD-1 or NF-κB. J. Exp. Med. 210, 269–285 (2013).

59.

Jeelall, Y. S. et al. Human lymphoma mutations reveal CARD11 as the switch between self-antigen-induced B cell death or proliferation and autoantibody production. J. Exp. Med. 209, 1907–1917 (2012).

60.

Bendall, S. C. et al. Single-cell mass cytometry of differential immune and drug responses across a human hematopoietic continuum. Science 332, 687–696 (2011).

61.

Qiu, P. et al. Extracting a cellular hierarchy from high-dimensional cytometry data with SPADE. Nat. Biotechnol. 29, 886–891 (2011).

62.

Wertz, I. E. et al. Sensitivity to antitubulin chemotherapeutics is regulated by MCL1 and FBW7. Nature 471, 110–114 (2011).

63.

Tan, B. M. et al. Baculoviral inhibitors of apoptosis repeat containing (BIRC) proteins fine-tune TNF-induced nuclear factor κB and c-Jun N-terminal kinase signalling in mouse pancreatic beta cells. Diabetologia 56, 520–532 (2013).

64.

Langley, D. B. & Christ, D. Crystal structure of duck egg lysozyme isoform II (DEL-II). BMC Struct. Biol. 18, 10 (2018).

65.

McCoy, A. J. et al. Phaser crystallographic software. J. Appl. Crystallogr. 40, 658–674 (2007).

66.

Murshudov, G. N. et al. REFMAC5 for the refinement of macromolecular crystal structures. Acta Crystallogr. D Biol. Crystallogr. 67, 355–367 (2011).

67.

Adams, P. D. et al. PHENIX: a comprehensive Python-based system for macromolecular structure solution. Acta Crystallogr. D Biol. Crystallogr. 66, 213–221 (2010).

68.

Terwilliger, T. C. et al. Iterative-build OMIT maps: map improvement by iterative model building and refinement without model bias. Acta Crystallogr. D Biol. Crystallogr. 64, 515–524 (2008).

69.

Chen, V. B. et al. MolProbity: all-atom structure validation for macromolecular crystallography. Acta Crystallogr. D Biol. Crystallogr. 66, 12–21 (2010).

70.

Zoldak, G., Zubrik, A., Musatov, A., Stupak, M. & Sedlak, E. Irreversible thermal denaturation of glucose oxidase from Aspergillus niger is the transition to the denatured state with residual structure. J. Biol. Chem. 279, 47601–47609 (2004).
Acknowledgements
This manuscript is dedicated to the memory of Susan Watson, who led the isolation of the I325N mouse. We thank the National Computational Infrastructure, Xenon systems, Nvidia and the Multi-modal Australian ScienceS Imaging and Visualization Environment (MASSIVE; http://www.massive.org.au/) for computing resources. We thank O. Venn, I. Mathieson, B. Llamas, Y. Souilmi, R. Tobler and A. Cooper for stimulating discussions. C.N.J. thanks J. Cyster for mentorship. We thank K. Newton and V. Dixit for reagents (Genentech). We thank M. Flodström-Tullberg (Karolinska Institutet) for kindly providing coxsackievirus B4 strain E2. This study makes use of data generated by the Telethon Kids Institute. A full list of the investigators who contributed to the generation of the data is available from http://bioinformatics.childhealthresearch.org.au/AGHS. We thank CIRCA for collecting and coordinating human samples (http://www.garvan.org.au/research/collaborative-programs/circa/about-circa). Funding for the project was provided by the National Health and Medical Research Council of Australia (NHMRC) under award 634301. N.W.Z. was supported by an Australian postgraduate award and is supported by the International Pancreas and Islet Transplant Association Derek Gray Scholarship. A.M.B. was an NHMRC Senior Research Fellow (1022688). S.G.T. was a Principal Research Fellow (1042925) of the NHMRC. C.C.G. was supported by the Bill and Patricia Ritchie Chair and by an NHMRC Senior Principal Research Fellowship. S.T.G. was supported by an NHMRC Senior Research Fellowship. The research was supported by grants to C.C.G. from the NIH (AI52127, AI054523, AI100627) and NHMRC (1016953, 585490, 1081858) and to S.T.G. from the NIH (DK076169) and NHMRC (1130222, 1140691). CIRCA was supported by the Jeffrey Modell Foundation, the John Cook Brown Foundation and the Sydney Children's Hospital Network.
Ethics declarations
Competing interests
W.P., J.T., W.S. and I.E.W. were employees of Genentech. All other authors declare no competing interests.
Additional information
Peer review information Laurie Dempsey was the primary editor on this article and managed its editorial process and peer review in collaboration with the rest of the editorial team.
Publisher's note Springer Nature remains neutral with regard to jurisdictional claims in published maps and institutional affiliations.
Integrated supplementary information
Supplementary information
Supplementary Figs. 1–15, Supplementary Information Fig. 1 and Supplementary Tables 1–7.
About this article
Cite this article
Zammit, N.W., Siggs, O.M., Gray, P.E. et al. Denisovan, modern human and mouse TNFAIP3 alleles tune A20 phosphorylation and immunity. Nat Immunol 20, 1299–1310 (2019). https://doi.org/10.1038/s41590-019-0492-0
Received:

Accepted:

Published:

Issue Date: