Abstract
The establishment of a diverse B cell antigen receptor (BCR) repertoire by V(D)J recombination also generates autoreactive B cells. Anergy is one tolerance mechanism; it renders autoreactive B cells insensitive to stimulation by self-antigen, whereas Toll-like receptor (TLR) signaling can reactivate anergic B cells. Here, we describe a critical role of the transcription factor Ikaros in controlling BCR anergy and TLR signaling. Mice with specific deletion of Ikaros in mature B cells developed systemic autoimmunity. Ikaros regulated many anergy-associated genes, including Zfp318, which is implicated in the attenuation of BCR responsiveness by promoting immunoglobulin D expression in anergic B cells. TLR signaling was hyperactive in Ikaros-deficient B cells, which failed to upregulate feedback inhibitors of the MyD88–nuclear factor κB signaling pathway. Systemic inflammation was lost on expression of a non-self-reactive BCR or loss of MyD88 in Ikaros-deficient B cells. Thus, Ikaros acts as a guardian preventing autoimmunity by promoting BCR anergy and restraining TLR signaling.
Relevant articles
Open Access articles citing this article.
Grant J. Brown

,

Pablo F. Cañete

…

Carola G. Vinuesa

Nature Open Access 27 April 2022
Access options
Subscribe to Nature+
Get immediate online access to Nature and 55 other Nature journal
Subscribe to Journal
Get full journal access for 1 year
$79.00
only $6.58 per issue
All prices are NET prices.
VAT will be added later in the checkout.
Tax calculation will be finalised during checkout.
Buy article
Get time limited or full article access on ReadCube.
$32.00
All prices are NET prices.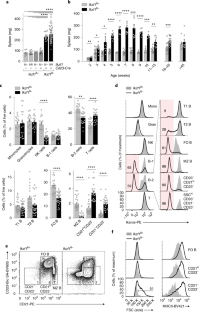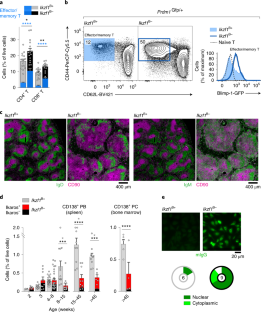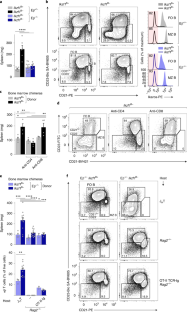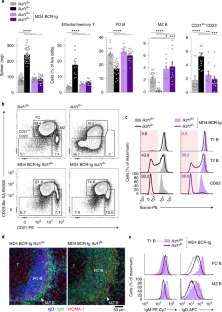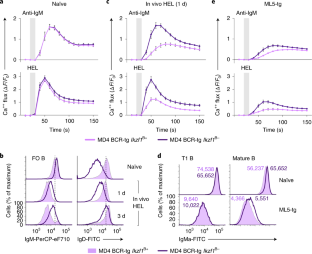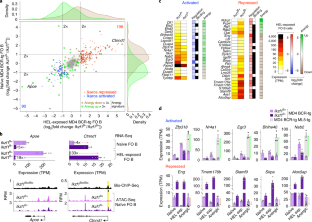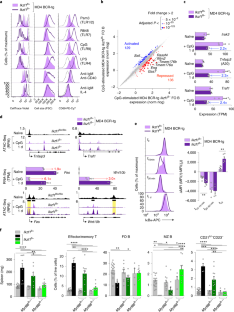 References
Nutt, S. L., Hodgkin, P. D., Tarlinton, D. M. & Corcoran, L. M. The generation of antibody-secreting plasma cells. Nat. Rev. Immunol. 15, 160–171 (2015).

Wardemann, H. et al. Predominant autoantibody production by early human B cell precursors. Science 301, 1374–1377 (2003).

Zikherman, J., Parameswaran, R. & Weiss, A. Endogenous antigen tunes the responsiveness of naïve B cells but not T cells. Nature 489, 160–164 (2012).

Theofilopoulos, A. N., Kono, D. H. & Baccala, R. The multiple pathways to autoimmunity. Nat. Immunol. 18, 716–724 (2017).

Cambier, J. C., Gauld, S. B., Merrell, K. T. & Vilen, B. J. B-cell anergy: from transgenic models to naturally occurring anergic B cells? Nat. Rev. Immunol. 7, 633–643 (2007).

Rawlings, D. J., Metzler, G., Wray-Dutra, M. & Jackson, S. W. Altered B cell signalling in autoimmunity. Nat. Rev. Immunol. 17, 421–436 (2017).

Tsokos, G. C., Lo, M. S., Costa Reis, P. & Sullivan, K. E. New insights into the immunopathogenesis of systemic lupus erythematosus. Nat. Rev. Rheumatol. 12, 716–730 (2016).

Georgopoulos, K. The making of a lymphocyte: the choice among disparate cell fates and the IKAROS enigma. Genes Dev. 31, 439–450 (2017).

Han, J.-W. et al. Genome-wide association study in a Chinese Han population identifies nine new susceptibility loci for systemic lupus erythematosus. Nat. Genet. 41, 1234–1237 (2009).

Gateva, V. et al. A large-scale replication study identifies TNIP1, PRDM1, JAZF1, UHRF1BP1 and IL10 as risk loci for systemic lupus erythematosus. Nat. Genet. 41, 1228–1233 (2009).

He, C. F. et al. TNIP1, SLC15A4, ETS1, RasGRP3 and IKZF1 are associated with clinical features of systemic lupus erythematosus in a Chinese Han population. Lupus 19, 1181–1186 (2010).

Cunninghame Graham, D. S. et al. Association of NCF2, IKZF1, IRF8, IFIH1, and TYK2 with systemic lupus erythematosus. PLoS Genet. 7, e1002341 (2011).

Farh, K. K.-H. et al. Genetic and epigenetic fine mapping of causal autoimmune disease variants. Nature 518, 337–343 (2015).

Zhang, Y.-M. et al. Association of the IKZF1 5′ UTR variant rs1456896 with lupus nephritis in a northern Han Chinese population. Scand. J. Rheumatol. 46, 210–214 (2017).

Kuehn, H. S. et al. Loss of B cells in patients with heterozygous mutations in IKAROS. N. Engl. J. Med. 374, 1032–1043 (2016).

Hoshino, A. et al. Abnormal hematopoiesis and autoimmunity in human subjects with germline IKZF1 mutations. J. Allergy Clin. Immunol. 140, 223–231 (2017).

Bogaert, D. J. et al. A novel IKAROS haploinsufficiency kindred with unexpectedly late and variable B-cell maturation defects. J. Allergy Clin. Immunol. 141, 432–435 (2018).

Van Nieuwenhove, E. et al. A kindred with mutant IKAROS and autoimmunity. J. Allergy Clin. Immunol. 142, 699–702 (2018).

Schwickert, T. A. et al. Stage-specific control of early B cell development by the transcription factor Ikaros. Nat. Immunol. 15, 283–293 (2014).

Kwon, K. et al. Instructive role of the transcription factor E2A in early B lymphopoiesis and germinal center B cell development. Immunity 28, 751–762 (2008).

Naradikian, M. S., Hao, Y. & Cancro, M. P. Age-associated B cells: key mediators of both protective and autoreactive humoral responses. Immunol. Rev. 269, 118–129 (2016).

Rubtsova, K., Rubtsov, A. V., Cancro, M. P. & Marrack, P. Age-associated B cells: a T-bet-dependent effector with roles in protective and pathogenic immunity. J. Immunol. 195, 1933–1937 (2015).

Kallies, A., Xin, A., Belz, G. T. & Nutt, S. L. Blimp-1 transcription factor is required for the differentiation of effector CD8+ T cells and memory responses. Immunity 31, 283–295 (2009).

Gu, H., Zou, Y. R. & Rajewsky, K. Independent control of immunoglobulin switch recombination at individual switch regions evidenced through Cre-loxP-mediated gene targeting. Cell 73, 1155–1164 (1993).

Goodnow, C. C. et al. Altered immunoglobulin expression and functional silencing of self-reactive B lymphocytes in transgenic mice. Nature 334, 676–682 (1988).

Goodnow, C. C., Crosbie, J., Jorgensen, H., Brink, R. A. & Basten, A. Induction of self-tolerance in mature peripheral B lymphocytes. Nature 342, 385–391 (1989).

Sabouri, Z. et al. IgD attenuates the IgM-induced anergy response in transitional and mature B cells. Nat. Commun. 7, 13381 (2016).

Enders, A. et al. Zinc-finger protein ZFP318 is essential for expression of IgD, the alternatively spliced Igh product made by mature B lymphocytes. Proc. Natl Acad. Sci. USA 111, 4513–4518 (2014).

Pioli, P. D., Debnath, I., Weis, J. J. & Weis, J. H. Zfp318 regulates IgD expression by abrogating transcription termination within the Ighm/Ighd locus. J. Immunol. 193, 2546–2553 (2014).

Sharma, S., Fitzgerald, K. A., Cancro, M. P. & Marshak-Rothstein, A. Nucleic acid-sensing receptors: rheostats of autoimmunity and autoinflammation. J. Immunol. 195, 3507–3512 (2015).

Nickerson, K. M. et al. TLR9 promotes tolerance by restricting survival of anergic anti-DNA B cells, yet is also required for their activation. J. Immunol. 190, 1447–1456 (2013).

Sindhava, V. J. et al. A TLR9-dependent checkpoint governs B cell responses to DNA-containing antigens. J. Clin. Invest. 127, 1651–1663 (2017).

Kobayashi, K. et al. IRAK-M is a negative regulator of Toll-like receptor signaling. Cell 110, 191–202 (2002).

Tavares, R. M. et al. The ubiquitin modifying enzyme A20 restricts B cell survival and prevents autoimmunity. Immunity 33, 181–191 (2010).

Chu, Y. et al. B cells lacking the tumor suppressor TNFAIP3/A20 display impaired differentiation and hyperactivation and cause inflammation and autoimmunity in aged mice. Blood 117, 2227–2236 (2011).

Abdul-Sater, A. A. et al. The signaling adaptor TRAF1 negatively regulates Toll-like receptor signaling and this underlies its role in rheumatic disease. Nat. Immunol. 18, 26–35 (2017).

Schenten, D. et al. Signaling through the adaptor molecule MyD88 in CD4+ T cells is required to overcome suppression by regulatory T cells. Immunity 40, 78–90 (2014).

Shin, H. et al. A role for the transcriptional repressor Blimp-1 in CD8+ T cell exhaustion during chronic viral infection. Immunity 31, 309–320 (2009).

Hale, J. S., Boursalian, T. E., Turk, G. L. & Fink, P. J. Thymic output in aged mice. Proc. Natl Acad. Sci. USA 103, 8447–8452 (2006).

Chan, O. T., Hannum, L. G., Haberman, A. M., Madaio, M. P. & Shlomchik, M. J. A novel mouse with B cells but lacking serum antibody reveals an antibody-independent role for B cells in murine lupus. J. Exp. Med. 189, 1639–1648 (1999).

Amano, H. et al. The Yaa mutation promoting murine lupus causes defective development of marginal zone B cells. J. Immunol. 170, 2293–2301 (2003).

Degn, S. E. et al. Clonal evolution of autoreactive germinal centers. Cell 170, 913–926 (2017).

Noviski, M. et al. IgM and IgD B cell receptors differentially respond to endogenous antigens and control B cell fate. eLife 7, e35074 (2018).

Übelhart, R. et al. Responsiveness of B cells is regulated by the hinge region of IgD. Nat. Immunol. 16, 534–543 (2015).

Maity, P. C. et al. B cell antigen receptors of the IgM and IgD classes are clustered in different protein islands that are altered during B cell activation. Sci. Signal. 8, ra93 (2015).

Noviski, M. & Zikherman, J. Control of autoreactive B cells by IgM and IgD B cell receptors: maintaining a fine balance. Curr. Opin. Immunol. 55, 67–74 (2018).

Sun, H., Lu, B., Li, R.-Q., Flavell, R. A. & Taneja, R. Defective T cell activation and autoimmune disorder in Stra13-deficient mice. Nat. Immunol. 2, 1040–1047 (2001).

Li, S. et al. The transcription factors Egr2 and Egr3 are essential for the control of inflammation and antigen-induced proliferation of B and T cells. Immunity 37, 685–696 (2012).

Lech, M. et al. Interleukin-1 receptor-associated kinase-M suppresses systemic lupus erythematosus. Ann. Rheum. Dis. 70, 2207–2217 (2011).

Shlomchik, M. J., Madaio, M. P., Ni, D., Trounstein, M. & Huszar, D. The role of B cells in lpr/lpr-induced autoimmunity. J. Exp. Med. 180, 1295–1306 (1994).

Wang, J.-H. et al. Selective defects in the development of the fetal and adult lymphoid system in mice with an Ikaros null mutation. Immunity 5, 537–549 (1996).

Kallies, A. et al. Plasma cell ontogeny defined by quantitative changes in Blimp-1 expression. J. Exp. Med. 200, 967–977 (2004).

Ohinata, Y. et al. Blimp1 is a critical determinant of the germ cell lineage in mice. Nature 436, 207–213 (2005).

Bouvier, G. et al. Deletion of the mouse T-cell receptor β gene enhancer blocks αβ T-cell development. Proc. Natl Acad. Sci. USA 93, 7877–7881 (1996).

Shinkai, Y. et al. RAG-2-deficient mice lack mature lymphocytes owing to inability to initiate V(D)J rearrangement. Cell 68, 855–867 (1992).

Driegen, S. et al. A generic tool for biotinylation of tagged proteins in transgenic mice. Transgenic Res. 14, 477–482 (2005).

Barnden, M. J., Allison, J., Heath, W. R. & Carbone, F. R. Defective TCR expression in transgenic mice constructed using cDNA-based α- and β-chain genes under the control of heterologous regulatory elements. Immunol. Cell Biol. 76, 34–40 (1998).

Kohwi-Shigematsu, T. et al. SATB1-mediated functional packaging of chromatin into loops. Methods 58, 243–254 (2012).

Buenrostro, J. D., Giresi, P. G., Zaba, L. C., Chang, H. Y. & Greenleaf, W. J. Transposition of native chromatin for fast and sensitive epigenomic profiling of open chromatin, DNA-binding proteins and nucleosome position. Nat. Methods 10, 1213–1218 (2013).

Parkhomchuk, D. et al. Transcriptome analysis by strand-specific sequencing of complementary DNA. Nucleic Acids Res. 37, e123 (2009).

Wöhner, M. et al. Molecular functions of the transcription factors E2A and E2-2 in controlling germinal center B cell and plasma cell development. J. Exp. Med. 213, 1201–1221 (2016).

Yates, A. et al. Ensembl 2016. Nucleic Acids Res. 44, D710–D716 (2016).

Trapnell, C., Pachter, L. & Salzberg, S. L. TopHat: discovering splice junctions with RNA-Seq. Bioinformatics 25, 1105–1111 (2009).

Langmead, B., Trapnell, C., Pop, M. & Salzberg, S. L. Ultrafast and memory-efficient alignment of short DNA sequences to the human genome. Genome Biol. 10, R25 (2009).

Li, H. et al. The Sequence Alignment/Map format and SAMtools. Bioinformatics 25, 2078–2079 (2009).

Kuhn, R. M., Haussler, D. & Kent, W. J. The UCSC genome browser and associated tools. Brief Bioinform. 14, 144–161 (2013).

Ramírez, F., Dündar, F., Diehl, S., Grüning, B. A. & Manke, T. deepTools: a flexible platform for exploring deep-sequencing data. Nucleic Acids Res. 42, W187–W191 (2014).

Zhang, Y. et al. Model-based analysis of ChIP-Seq (MACS). Genome Biol. 9, R137 (2008).

Revilla-i-Domingo, R. et al. The B-cell identity factor Pax5 regulates distinct transcriptional programmes in early and late B lymphopoiesis. EMBO J. 31, 3130–3146 (2012).

Liao, Y., Smyth, G. K. & Shi, W. featureCounts: an efficient general purpose program for assigning sequence reads to genomic features. Bioinformatics 30, 923–930 (2014).

Wagner, G. P., Kin, K. & Lynch, V. J. Measurement of mRNA abundance using RNA-Seq data: RPKM measure is inconsistent among samples. Theory Biosci. 131, 281–285 (2012).

Love, M. I., Huber, W. & Anders, S. Moderated estimation of fold change and dispersion for RNA-Seq data with DESeq2. Genome Biol. 15, 550 (2014).
Acknowledgements
We thank R. Medzhitov, A. Tarakhovsky and S. L. Nutt for providing the Myd88fl/fl, Prdm1fl/fl and Prdm1Gfp/+ mice, respectively; J. Cyster for providing the HyHEL9 antibody; G. Schmauß and M. Weninger for fluorescence-activated cell sorting; A. Sommer's team at the Vienna BioCenter Core Facilities for Illumina sequencing; and A. Kavirayani's team at the Vienna BioCenter Core Facilities for histology support and pathology review. This research was supported by Boehringer Ingelheim, the European Research Council (under the European Union's Horizon 2020 research and innovation program (grant agreement number 740349-PlasmaCellControl)), the Austrian Industrial Research Promotion Agency (Headquarter Grant FFG-852936) and the Austrian Science Fund (T838-B26 to T.A.S.).
Ethics declarations
Competing interests
The authors declare no competing interests.
Additional information
Publisher's note: Springer Nature remains neutral with regard to jurisdictional claims in published maps and institutional affiliations.
Integrated supplementary information
Supplementary information
About this article
Cite this article
Schwickert, T.A., Tagoh, H., Schindler, K. et al. Ikaros prevents autoimmunity by controlling anergy and Toll-like receptor signaling in B cells. Nat Immunol 20, 1517–1529 (2019). https://doi.org/10.1038/s41590-019-0490-2
Received:

Accepted:

Published:

Issue Date:

DOI: https://doi.org/10.1038/s41590-019-0490-2
This article is cited by
Grant J. Brown
Pablo F. Cañete
Carola G. Vinuesa

Nature (2022)

Daniel J. Groth
Madhavi M. Lakkaraja
Shipra M. Kaicker

Journal of Clinical Immunology (2020)