Abstract
Helper T cells actively communicate with adjacent cells by secreting soluble mediators, yet crosstalk between helper T cells and endothelial cells remains poorly understood. Here we found that placental growth factor (PlGF), a homolog of the vascular endothelial growth factor that enhances an angiogenic switch in disease, was selectively secreted by the TH17 subset of helper T cells and promoted angiogenesis. Interestingly, the 'angio-lymphokine' PlGF, in turn, specifically induced the differentiation of pathogenic TH17 cells by activating the transcription factor STAT3 via binding to its receptors and replaced the activity of interleukin-6 in the production of interleukin-17, whereas it suppressed the generation of regulatory T cells. Moreover, T cell-derived PlGF was required for the progression of autoimmune diseases associated with TH17 differentiation, including experimental autoimmune encephalomyelitis and collagen-induced arthritis, in mice. Collectively, our findings provide insights into the PlGF-dictated links among angiogenesis, TH17 cell development and autoimmunity.
Access options
Subscribe to Journal
Get full journal access for 1 year
$59.00
only $4.92 per issue
All prices are NET prices.
VAT will be added later in the checkout.
Tax calculation will be finalised during checkout.
Rent or Buy article
Get time limited or full article access on ReadCube.
from$8.99
All prices are NET prices.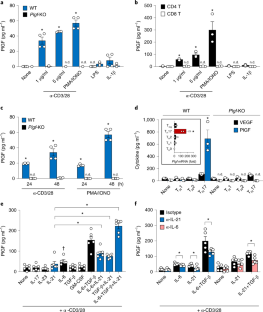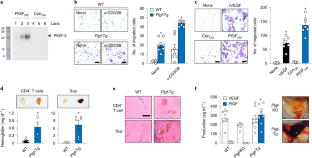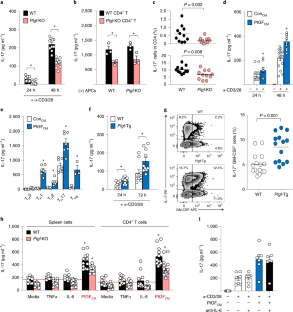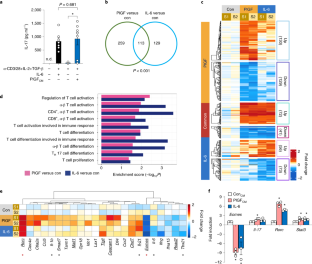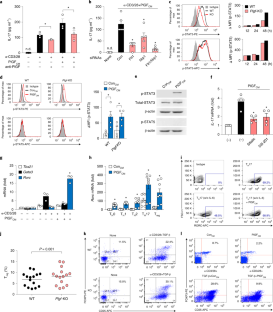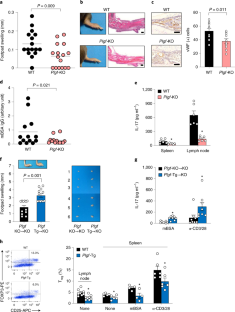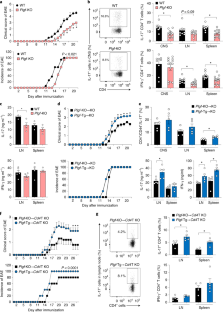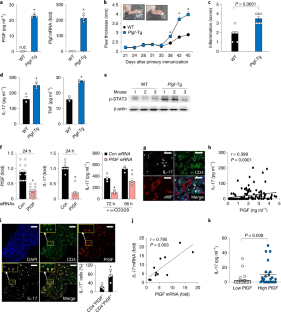 Data availability
The microarray dataset has been deposited in the GEO with the accession code GSE118281. The data supporting the findings of this study are available from the corresponding author upon reasonable request.
References
1.

Tran, C. N., Lundy, S. K. & Fox, D. A. Synovial biology and T cells in rheumatoid arthritis. Pathophysiology 12, 183–189 (2005).

2.

Zhou, L., Chong, M. M. & Littman, D. R. Plasticity of CD4+T cell lineage differentiation. Immunity 30, 646–655 (2009).

3.

Dong, C. TH17 cells in development: an updated view of their molecular identity and genetic programming. Nat. Rev. Immunol. 8, 337–348 (2008).

4.

Sakaguchi, S., Yamaguchi, T., Nomura, T. & Ono, M. Regulatory T cells and immune tolerance. Cell 133, 775–787 (2008).

5.

VolinM.V. & Shahrara, S. Role of TH-17 cells in rheumatic and other autoimmune diseases.Rheumatology (Sunnyvale) 1, 2169 (2011).

6.

Peoples, G. E. et al. T lymphocytes that infiltrate tumors and atherosclerotic plaques produce heparin-binding epidermal growth factor-like growth factor and basic fibroblast growth factor: a potential pathologic role. Proc. Natl Acad. Sci. USA 92, 6547–6551 (1995).

7.

Mor, F., Quintana, F. J. & Cohen, I. R. Angiogenesis-inflammation cross-talk: vascular endothelial growth factor is secreted by activated T cells and induces Th1 polarization. J. Immunol. 172, 4618–4623 (2004).

8.

De Falco, S. The discovery of placenta growth factor and its biological activity. Exp. Mol. Med. 44, 1–9 (2012).

9.

Kim, K. J., Cho, C. S. & Kim, W. U. Role of placenta growth factor in cancer and inflammation. Exp. Mol. Med. 44, 10–19 (2012).

10.

Muramatsu, M., Yamamoto, S., Osawa, T. & Shibuya, M. Vascular endothelial growth factor receptor-1 signaling promotes mobilization of macrophage lineage cells from bone marrow and stimulates solid tumor growth. Cancer Res. 70, 8211–8221 (2010).

11.

Dewerchin M. & Carmeliet P. PlGF: a multitasking cytokine with disease-restricted activity. Cold Spring Harb. Perspect. Med 2, a011056 (2012).

12.

Fischer, C. et al. Anti-PlGF inhibits growth of VEGF(R)-inhibitor-resistant tumors without affecting healthy vessels. Cell 131, 463–475 (2007).

13.

Stritesky, G. L., Yeh, N. & Kaplan, M. H. IL-23 promotes maintenance but not commitment to the Th17 lineage. J. Immunol. 181, 5948–5955 (2008).

14.

Xu, L. et al. Placenta growth factor overexpression inhibits tumor growth, angiogenesis, and metastasis by depleting vascular endothelial growth factor homodimers in orthotopic mouse models. Cancer Res. 66, 3971–3977 (2006).

15.

Eriksson, A. et al. Placenta growth factor-1 antagonizes VEGF-induced angiogenesis and tumor growth by the formation of functionally inactive PlGF-1/VEGF heterodimers. Cancer Cell 1, 99–108 (2002).

16.

El-Behi, M. et al. The encephalitogenicity of T(H)17 cells is dependent on IL-1- and IL-23-induced production of the cytokine GM-CSF. Nat. Immunol. 12, 568–575 (2011).

17.

Korn, T. et al. IL-21 initiates an alternative pathway to induce proinflammatory T(H)17 cells. Nature 448, 484–487 (2007).

18.

Ichiyama, K. et al. Transcription factor Smad-independent T helper 17 cell induction by transforming-growth factor-beta is mediated by suppression of eomesodermin. Immunity 34, 741–754 (2011).

19.

Basu, A. et al. Cutting edge: Vascular endothelial growth factor-mediated signaling in human CD45RO + CD4 + T cells promotes Akt and ERK activation and costimulates IFN-gamma production. J. Immunol. 184, 545–549 (2010).

20.

Delgoffe, G. M. et al. Stability and function of regulatory T cells is maintained by a neuropilin-1-semaphorin-4a axis. Nature 501, 252–256 (2013).

21.

Errico, M. et al. Identification of placenta growth factor determinants for binding and activation of Flt-1 receptor. J. Biol. Chem. 279, 43929–43939 (2004).

22.

Mamluk, R. et al. Neuropilin-1 binds vascular endothelial growth factor 165, placenta growth factor-2, and heparin via its b1b2 domain. J. Biol. Chem. 277, 24818–24825 (2002).

23.

Yang, X. O. et al. STAT3 regulates cytokine-mediated generation of inflammatory helper T cells. J. Biol. Chem. 282, 9358–9363 (2007).

24.

Bellik, L., Vinci, M. C., Filippi, S., Ledda, F. & Parenti, A. Intracellular pathways triggered by the selective FLT-1-agonist placental growth factor in vascular smooth muscle cells exposed to hypoxia. Br. J. Pharmacol. 146, 568–575 (2005).

25.

Schust, J., Sperl, B., Hollis, A., Mayer, T. U. & Berg, T. Stattic: a small-molecule inhibitor of STAT3 activation and dimerization. Chem. Biol. 13, 1235–1242 (2006).

26.

Fujino, M. & Li, X. K. Role of STAT3 in regulatory T lymphocyte plasticity during acute graft-vs.-host-disease. JAKSTAT 2, e24529 (2013).

27.

Allen, I. C. Delayed-type hypersensitivity models in mice. Methods Mol. Biol. 1031, 101–107 (2013).

28.

Dong, C. Targeting Th17 cells in immune diseases. Cell Res. 24, 901–903 (2014).

29.

Parsonage, G. et al. Prolonged, granulocyte-macrophage colony-stimulating factor-dependent, neutrophil survival following rheumatoid synovial fibroblast activation by IL-17 and TNFalpha. Arthritis Res. Ther. 10, R47 (2008).

30.

Freeman, M. R. et al. Peripheral blood T lymphocytes and lymphocytes infiltrating human cancers express vascular endothelial growth factor: a potential role for T cells in angiogenesis. Cancer Res. 55, 4140–4145 (1995).

31.

Chung, A. S. et al. An interleukin-17-mediated paracrine network promotes tumor resistance to anti-angiogenic therapy. Nat. Med. 19, 1114–1123 (2013).

32.

Yoo, S. A. et al. Placental growth factor-1 and −2 induce hyperplasia and invasiveness of primary rheumatoid synoviocytes. J. Immunol. 194, 2513–2521 (2015).

33.

Yoo, S. A. et al. Role of placenta growth factor and its receptor flt-1 in rheumatoid inflammation: a link between angiogenesis and inflammation. Arthritis Rheum. 60, 345–354 (2009).

34.

Kang, M. C. et al. Gestational loss and growth restriction by angiogenic defects in placental growth factor transgenic mice. Arterioscler. Thromb. Vasc. Biol. 34, 2276–2282 (2014).

35.

Tarallo, V., Tudisco, L. & De Falco, S. A placenta growth factor 2 variant acts as dominant negative of vascular endothelial growth factor A by heterodimerization mechanism. Am. J. Cancer Res. 1, 265–274 (2011).

36.

Yoo, S. A. et al. A novel pathogenic role of the ER chaperone GRP78/BiP in rheumatoid arthritis. J. Exp. Med. 209, 871–886 (2012).

37.

Bolstad, B. M., Irizarry, R. A., Astrand, M. & Speed, T. P. A comparison of normalization methods for high density oligonucleotide array data based on variance and bias. Bioinformatics 19, 185–193 (2003).

38.

Lee, H. J. et al. Direct transfer of alpha-synuclein from neuron to astroglia causes inflammatory responses in synucleinopathies. J. Biol. Chem. 285, 9262–9272 (2010).

39.

Hwang, D. et al. A data integration methodology for systems biology. Proc. Natl Acad. Sci. USA 102, 17296–17301 (2005).

40.

Yu, G. C., Wang, L. G., Han, Y. Y. & He, Q. Y. ClusterProfiler: an R package for comparing biological themes among gene clusters. Omics 16, 284–287 (2012).

41.

Hwang, S. H. et al. Leukocyte-specific protein 1 regulates T-cell migration in rheumatoid arthritis. Proc. Natl Acad. Sci. USA 112, E6535–E6543 (2015).

42.

Arnett, F. C. et al. The American Rheumatism Association 1987 revised criteria for the classification of rheumatoid arthritis. Arthritis Rheum. 31, 315–324 (1988).
Acknowledgements
We thank the members of the Center for Integrative Rheumatoid Transcriptomics and Dynamics at the Catholic University of Korea for their assistance. This work was supported by grants the National Research Foundation of Korea (NRF) funded by the Ministry of Science and ICT (grant no. 2015R1A3A2032927) to W.U.K. and (grant nos. 2014R1A6A3A04054066 and 2019R1A2C2010897) to S.A.Y., respectively, and by Project SATIN-POR Campania FESR 2014/2020 to S.D.F.
Ethics declarations
Competing interests
The authors declare no competing interests.
Additional information
Peer review information: Zoltan Fehervari was the primary editor on this article and managed its editorial process and peer review in collaboration with the rest of the editorial team.
Publisher's note: Springer Nature remains neutral with regard to jurisdictional claims in published maps and institutional affiliations.
Integrated supplementary information
Supplementary information
About this article
Cite this article
Yoo, SA., Kim, M., Kang, MC. et al. Placental growth factor regulates the generation of TH17 cells to link angiogenesis with autoimmunity. Nat Immunol 20, 1348–1359 (2019). https://doi.org/10.1038/s41590-019-0456-4
Received:

Accepted:

Published:

Issue Date: