Abstract
Macrophages are activated during microbial infection to coordinate inflammatory responses and host defense. Here we find that in macrophages activated by bacterial lipopolysaccharide (LPS), mitochondrial glycerol 3-phosphate dehydrogenase (GPD2) regulates glucose oxidation to drive inflammatory responses. GPD2, a component of the glycerol phosphate shuttle, boosts glucose oxidation to fuel the production of acetyl coenzyme A, acetylation of histones and induction of genes encoding inflammatory mediators. While acute exposure to LPS drives macrophage activation, prolonged exposure to LPS triggers tolerance to LPS, where macrophages induce immunosuppression to limit the detrimental effects of sustained inflammation. The shift in the inflammatory response is modulated by GPD2, which coordinates a shutdown of oxidative metabolism; this limits the availability of acetyl coenzyme A for histone acetylation at genes encoding inflammatory mediators and thus contributes to the suppression of inflammatory responses. Therefore, GPD2 and the glycerol phosphate shuttle integrate the extent of microbial stimulation with glucose oxidation to balance the beneficial and detrimental effects of the inflammatory response.
Your institute does not have access to this article
Relevant articles
Open Access articles citing this article.
Anna Ciesielska

,

Marta Matyjek

&

Katarzyna Kwiatkowska

Cellular and Molecular Life Sciences Open Access 15 October 2020
Access options
Subscribe to Nature+
Get immediate online access to the entire Nature family of 50+ journals
Subscribe to Journal
Get full journal access for 1 year
$59.00
only $4.92 per issue
All prices are NET prices.
VAT will be added later in the checkout.
Tax calculation will be finalised during checkout.
Buy article
Get time limited or full article access on ReadCube.
$32.00
All prices are NET prices.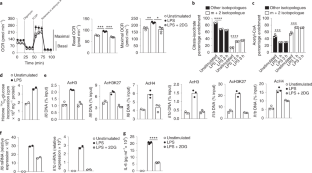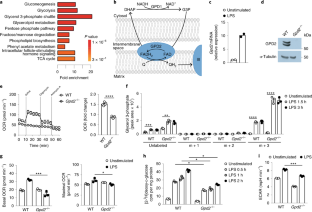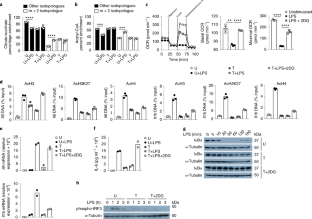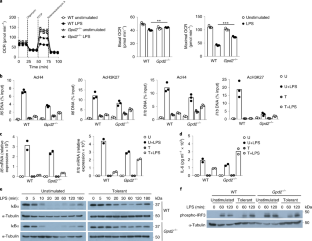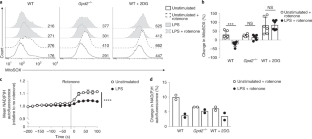 Data availability
The data supporting the findings of this study are available from the corresponding author upon request.
References
Foster, S. L. & Medzhitov, R. Gene-specific control of the TLR-induced inflammatory response. Clin. Immunol. 130, 7–15 (2009).

Seeley, J. J. & Ghosh, S. Molecular mechanisms of innate memory and tolerance to LPS. J. Leukoc. Biol. 101, 107–119 (2017).

Hotchkiss, R. S., Monneret, G. & Payen, D. Sepsis-induced immunosuppression: from cellular dysfunctions to immunotherapy. Nat. Rev. Immunol. 13, 862–874 (2013).

O'Neill, L. A. & Pearce, E. J. Immunometabolism governs dendritic cell and macrophage function. J. Exp. Med. 213, 15–23 (2016).

Jung, J., Zeng, H. & Horng, T. Metabolism as a guiding force for immunity. Nat. Cell Biol. 21, 85–93 (2019).

Covarrubias, A. J. et al. Akt-mTORC1 signaling regulates Acly to integrate metabolicinput to control of macrophage activation. eLife 5, e11612 (2016).

Liu, P. S. et al. α-ketoglutarate orchestrates macrophage activation through metabolic and epigenetic reprogramming. Nat. Immunol. 18, 985–994 (2017).

Vats, D. et al. Oxidative metabolism and PGC-1β attenuate macrophage-mediated inflammation. Cell Metab. 4, 13–24 (2006).

Lacy-Hulbert, A. & Moore, K. J. Designer macrophages: oxidative metabolism fuels inflammation repair. Cell Metab. 4, 7–8 (2006).

Langston, P. K., Shibata, M. & Horng, T. Metabolism supports macrophage activation. Front. Immunol. 8, 61 (2017).

Hard, G. C. Some biochemical aspects of the immune macrophage. Br. J. Exp. Pathol. 51, 97–105 (1970).

Drapier, J. C. & Hibbs, J. B. Jr. Differentiation of murine macrophages to express nonspecific cytotoxicity for tumor cells results in L-arginine-dependent inhibition of mitochondrial iron-sulfur enzymes in the macrophage effector cells. J. Immunol. 140, 2829–2838 (1988).

Everts, B. et al. Commitment to glycolysis sustains survival of NO-producing inflammatory dendritic cells. Blood 120, 1422–1431 (2012).

Lampropoulou, V. et al. Itaconate links inhibition of succinate dehydrogenase with macrophage metabolic remodeling and regulation of inflammation. Cell Metab. 24, 158–166 (2016).

Mills, E. L. et al. Succinate dehydrogenase supports metabolic repurposing of mitochondria to drive inflammatory macrophages. Cell 167, 457–470.e13 (2016).

Cheng, S. C. et al. Broad defects in the energy metabolism of leukocytes underlie immunoparalysis in sepsis. Nat. Immunol. 17, 406–413 (2016).

Everts, B. et al. TLR-driven early glycolytic reprogramming via the kinases TBK1-IKKɛ supports the anabolic demands of dendritic cell activation. Nat. Immunol. 15, 323–332 (2014).

Berwick, D. C., Hers, I., Heesom, K. J., Moule, S. K. & Tavare, J. M. The identification of ATP-citrate lyase as a protein kinase B (Akt) substrate in primary adipocytes. J. Biol. Chem. 277, 33895–33900 (2002).

Sacta, M. A. et al. Gene-specific mechanisms direct glucocorticoid-receptor-driven repression of inflammatory response genes in macrophages. eLife 7, e34864 (2018).

Hargreaves, D. C., Horng, T. & Medzhitov, R. Control of inducible gene expression by signal-dependent transcriptional elongation. Cell 138, 129–145 (2009).

Smale, S. T. & Natoli, G. Transcriptional control of inflammatory responses. Cold Spring Harb. Perspect. Biol. 6, a016261 (2014).

Ghisletti, S. et al. Identification and characterization of enhancers controlling the inflammatory gene expression program in macrophages. Immunity 32, 317–328 (2010).

Smale, S. T., Tarakhovsky, A. & Natoli, G. Chromatin contributions to the regulation of innate immunity. Annu. Rev. Immunol. 32, 489–511 (2014).

Chandel, N. S. Navigating Metabolism (Cold Spring Harbor Laboratory Press, 2015).

Broz, P. & Dixit, V. M. Inflammasomes: mechanism of assembly, regulation and signalling. Nat. Rev. Immunol. 16, 407–420 (2016).

Wong, B. W. et al. The role of fatty acid β-oxidation in lymphangiogenesis. Nature 542, 49–54 (2017).

Lee, J. V. et al. Akt-dependent metabolic reprogramming regulates tumor cell histone acetylation. Cell Metab. 20, 306–319 (2014).

Chouchani, E. T. et al. A unifying mechanism for mitochondrial superoxide production during ischemia-reperfusion injury. Cell Metab. 23, 254–263 (2016).

Votyakova, T. V. & Reynolds, I. J. ΔΨm-Dependent and -independent production of reactive oxygen species by rat brain mitochondria. J. Neurochem. 79, 266–277 (2001).

Barrientos, A. & Moraes, C. T. Titrating the effects of mitochondrial complex I impairment in the cell physiology. J. Biol. Chem. 274, 16188–16197 (1999).

Chouchani, E. T. et al. Ischaemic accumulation of succinate controls reperfusion injury through mitochondrial ROS. Nature 515, 431–435 (2014).

Koza, R. A. et al. Sequence and tissue-dependent RNA expression of mouse FAD-linked glycerol-3-phosphate dehydrogenase. Arch. Biochem. Biophys. 336, 97–104 (1996).

Mráček, T., Drahota, Z. & Houštěk, J. The function and the role of the mitochondrial glycerol-3-phosphate dehydrogenase in mammalian tissues. Biochim. Biophys. Acta 1827, 401–410 (2013).

Garaude, J. et al. Mitochondrial respiratory-chain adaptations in macrophages contribute to antibacterial host defense. Nat. Immunol. 17, 1037–1045 (2016).

Sanin, D. E. et al. Mitochondrial membrane potential regulates nuclear gene expression in macrophages exposed to prostaglandin E2. Immunity 49, 1021–1033.e6 (2018).

Weinberg, S. E., Sena, L. A. & Chandel, N. S. Mitochondria in the regulation of innate and adaptive immunity. Immunity 42, 406–417 (2015).

Sivanand, S., Viney, I. & Wellen, K. E. Spatiotemporal control of acetyl-CoA metabolism in chromatin regulation. Trends Biochem. Sci. 43, 61–74 (2018).

Byles, V. et al. The TSC-mTOR pathway regulates macrophage polarization. Nat. Commun. 4, 2834 (2013).

Salabei, J. K., Gibb, A. A. & Hill, B. G. Comprehensive measurement of respiratory activity in permeabilized cells using extracellular flux analysis. Nat. Protoc. 9, 421–438 (2014).

Liu, X., Ser, Z. & Locasale, J. W. Development and quantitative evaluation of a high-resolution metabolomics technology. Anal. Chem. 86, 2175–2184 (2014).

Snyder, N. W. et al. Production of stable isotope-labeled acyl-coenzyme A thioesters by yeast stable isotope labeling by essential nutrients in cell culture. Anal. Biochem. 474, 59–65 (2015).

Frey, A. J. et al. LC-quadrupole/Orbitrap high-resolution mass spectrometry enables stable isotope-resolved simultaneous quantification and 13C-isotopic labeling of acyl-coenzyme A thioesters. Anal. Bioanal. Chem. 408, 3651–3658 (2016).

Trefely, S., Ashwell, P. & Snyder, N. W. FluxFix: automatic isotopologue normalization for metabolic tracer analysis. BMC Bioinformatics 17, 485 (2016).
Acknowledgements
J.J. was supported by the British Society for Immunology and T.H. by National Institutes of Health (NIH) grants (nos. R01AI102964 and R21AI119763). N.W.S. was supported by a NIH grant (no. R03 HD092630), X.G. by the Canadian Institutes of Health Research (grant no. 146818) and E.T.C. by the Claudia Adams Barr Program. We thank J.F. Mohan for helpful suggestions for CRISPR–Cas9 genome editing, L.B. Sullivan for technical advice on the GPD2 Seahorse assay, R.L.S. Goncalves for technical advice on the NAD(P)H autofluorescence assay and H. Affronti and K.E. Wellen for sharing reagents.
Ethics declarations
Competing interests
The authors declare no competing interests.
Additional information
Peer review information Ioana Visan was the primary editor on this article and managed its editorial process and peer review in collaboration with the rest of the editorial team.
Publisher's note Springer Nature remains neutral with regard to jurisdictional claims in published maps and institutional affiliations.
Integrated supplementary information
Supplementary information
About this article
Cite this article
Langston, P.K., Nambu, A., Jung, J. et al. Glycerol phosphate shuttle enzyme GPD2 regulates macrophage inflammatory responses. Nat Immunol 20, 1186–1195 (2019). https://doi.org/10.1038/s41590-019-0453-7
Received:

Accepted:

Published:

Issue Date:

DOI: https://doi.org/10.1038/s41590-019-0453-7