Abstract
Innate lymphoid cells (ILCs) are tissue-resident lymphocytes categorized on the basis of their core regulatory programs and the expression of signature cytokines. Human ILC3s that produce the cytokine interleukin-22 convert into ILC1-like cells that produce interferon-γ in vitro, but whether this conversion occurs in vivo remains unclear. In the present study we found that ILC3s and ILC1s in human tonsils represented the ends of a spectrum that included additional discrete subsets. RNA velocity analysis identified an intermediate ILC3–ILC1 cluster, which had strong directionality toward ILC1s. In humanized mice, the acquisition of ILC1 features by ILC3s showed tissue dependency. Chromatin studies indicated that the transcription factors Aiolos and T-bet cooperated to repress regulatory elements active in ILC3s. A transitional ILC3–ILC1 population was also detected in the human intestine. We conclude that ILC3s undergo conversion into ILC1-like cells in human tissues in vivo, and that tissue factors and Aiolos were required for this process.
Access options
Subscribe to Journal
Get full journal access for 1 year
$209.00
only $17.42 per issue
All prices are NET prices.
VAT will be added later in the checkout.
Rent or Buy article
Get time limited or full article access on ReadCube.
from$8.99
All prices are NET prices.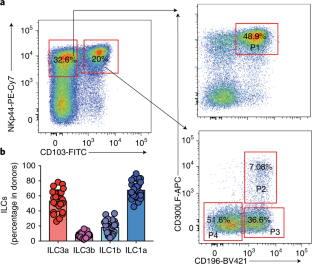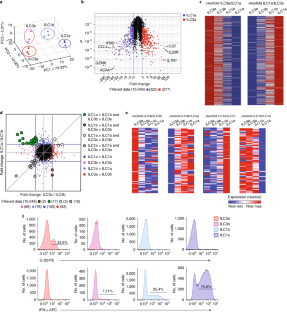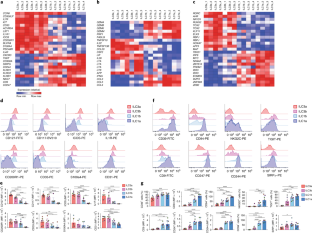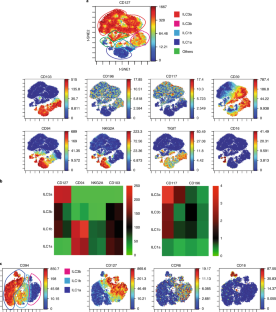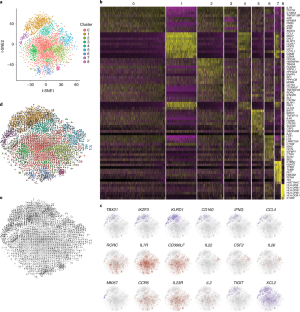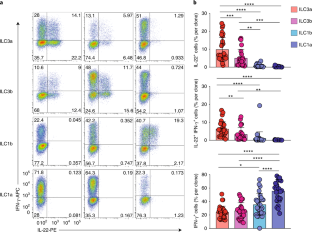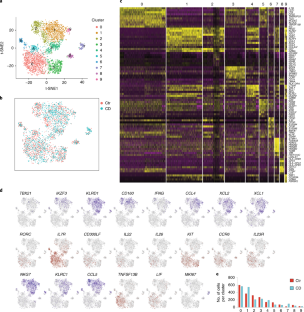 Data availability
Microarray data, bulk RNA sequencing and chromatin profiling data have been deposited in the GEO repository under accession code GSE130775. All the other data will be available upon reasonable request.
References
1.

Diefenbach, A., Colonna, M. & Koyasu, S. Development, differentiation, and diversity of innate lymphoid cells. Immunity 41, 354–365 (2014).

2.

Eberl, G., Colonna, M., Di Santo, J. P. & McKenzie, A. N. Innate lymphoid cells: a new paradigm in immunology. Science 348, aaa6566 (2015).

3.

Klose, C. S. & Artis, D. Innate lymphoid cells as regulators of immunity, inflammation and tissue homeostasis. Nat. Immunol. 17, 765–774 (2016).

4.

Ebbo, M., Crinier, A., Vely, F. & Vivier, E. Innate lymphoid cells: major players in inflammatory diseases. Nat. Rev. Immunol. 17, 665–678 (2017).

5.

Huang, Q., Seillet, C. & Belz, G. T. Shaping innate lymphoid cell diversity. Front. Immunol. 8, 1569 (2017).

6.

Bjorklund, A. K. et al. The heterogeneity of human CD127+ innate lymphoid cells revealed by single-cell RNA sequencing. Nat. Immunol. 17, 451–460 (2016).

7.

Gury-BenAri, M. et al. The Spectrum and regulatory landscape of intestinal innate lymphoid cells are shaped by the microbiome. Cell 166, 1231–1246 e1213 (2016).

8.

Colonna, M. Innate lymphoid cells: diversity, plasticity, and unique functions in immunity. Immunity 48, 1104–1117 (2018).

9.

DuPage, M. & Bluestone, J. A. Harnessing the plasticity of CD4+ T cells to treat immune-mediated disease. Nat. Rev. Immunol. 16, 149–163 (2016).

10.

Johnson, J. L. & Vahedi, G. Do memory CD4 T cells keep their cell-type programming: plasticity versus fate commitment? Epigenome: a dynamic vehicle for transmitting and recording cytokine signaling. Cold Spring Harb. Perspect. Biol. 10, a028779 (2018).

11.

Cella, M., Otero, K. & Colonna, M. Expansion of human NK-22 cells with IL-7, IL-2, and IL-1beta reveals intrinsic functional plasticity. Proc. Natl Acad. Sci. USA 107, 10961–10966 (2010).

12.

Montaldo, E., Juelke, K. & Romagnani, C. Group 3 innate lymphoid cells (ILC3s): origin, differentiation, and plasticity in humans and mice. Eur. J. Immunol. 45, 2171–2182 (2015).

13.

Bernink, J. H. et al. Interleukin-12 and -23 control plasticity of CD127+ group 1 and group 3 innate lymphoid cells in the intestinal lamina propria. Immunity 43, 146–160 (2015).

14.

Vonarbourg, C. et al. Regulated expression of nuclear receptor RORgammat confers distinct functional fates to NK cell receptor-expressing RORgammat+ innate lymphocytes. Immunity 33, 736–751 (2010).

15.

Sciume, G. et al. Distinct requirements for T-bet in gut innate lymphoid cells. J. Exp. Med. 209, 2331–2338 (2012).

16.

Klose, C. S. et al. A T-bet gradient controls the fate and function of CCR6-RORgammat+ innate lymphoid cells. Nature 494, 261–265 (2013).

17.

Rankin, L. C. et al. The transcription factor T-bet is essential for the development of NKp46+ innate lymphocytes via the notch pathway. Nat. Immunol. 14, 389–395 (2013).

18.

Lee, J. S. et al. AHR drives the development of gut ILC22 cells and postnatal lymphoid tissues via pathways dependent on and independent of Notch. Nat. Immunol. 13, 144–151 (2011).

19.

Viant, C. et al. Transforming growth factor-beta and Notch ligands act as opposing environmental cues in regulating the plasticity of type 3 innate lymphoid cells. Sci. Signal. 9, ra46 (2016).

20.

Chea, S. et al. Notch signaling in group 3 innate lymphoid cells modulates their plasticity. Sci. Signal. 9, ra45 (2016).

21.

Fuchs, A. et al. Intraepithelial type 1 innate lymphoid cells are a unique subset of IL-12- and IL-15-responsive IFN-gamma-producing cells. Immunity 38, 769–781 (2013).

22.

Koues, O. I. et al. Distinct gene regulatory pathways for human innate versus adaptive lymphoid cells. Cell 165, 1134–1146 (2016).

23.

Zhang, J. et al. S100A4 contributes to colitis development by increasing the adherence of Citrobacter rodentium in intestinal epithelial cells. Sci. Rep. 7, 12099 (2017).

24.

Amir el, A. D. et al. viSNE enables visualization of high dimensional single-cell data and reveals phenotypic heterogeneity of leukemia. Nat. Biotechnol. 31, 545–552 (2013).

25.

Holmes, T. D. & Bryceson, Y. T. Natural killer cell memory in context. Semin. Immunol. 28, 368–376 (2016).

26.

Freud, A. G., Mundy-Bosse, B. L., Yu, J. & Caligiuri, M. A. The broad spectrum of human natural killer cell diversity. Immunity 47, 820–833 (2017).

27.

La Manno, G. et al. RNA velocity of single cells. Nature 560, 494–498 (2018).

28.

Rongvaux, A. et al. Development and function of human innate immune cells in a humanized mouse model. Nat. Biotechnol. 32, 364–372 (2014).

29.

Herndler-Brandstetter, D. et al. Humanized mouse model supports development, function, and tissue residency of human natural killer cells. Proc. Natl Acad. Sci. USA 114, E9626–E9634 (2017).

30.

Kioussis, D. Aiolos: an ungrateful member of the Ikaros family. Immunity 26, 275–277 (2007).

31.

Petzold, G., Fischer, E. S. & Thoma, N. H. Structural basis of lenalidomide-induced CK1alpha degradation by the CRL4(CRBN) ubiquitin ligase. Nature 532, 127–130 (2016).

32.

Ma, S. et al. Ikaros and Aiolos inhibit pre-B-cell proliferation by directly suppressing c-Myc expression. Mol. Cell. Biol. 30, 4149–4158 (2010).

33.

Allan, D. S. et al. An in vitro model of innate lymphoid cell function and differentiation. Mucosal Immunol. 8, 340–351 (2015).

34.

Skene, P. J. & Henikoff, S. An efficient targeted nuclease strategy for high-resolution mapping of DNA binding sites. eLife 6, e21856 (2017).

35.

Koipally, J., Renold, A., Kim, J. & Georgopoulos, K. Repression by Ikaros and Aiolos is mediated through histone deacetylase complexes. EMBO J. 18, 3090–3100 (1999).

36.

Mackay, L. K. et al. Hobit and Blimp1 instruct a universal transcriptional program of tissue residency in lymphocytes. Science 352, 459–463 (2016).

37.

Holmes, M. L. et al. Peripheral natural killer cell maturation depends on the transcription factor Aiolos. EMBO J. 33, 2721–2734 (2014).

38.

Mazzurana, L. et al. Suppression of Aiolos and Ikaros expression by lenalidomide reduces human ILC3−ILC1/NK cell transdifferentiation. Eur. J. Immunol. (in the press).

39.

Mikami, Y. et al. NCR+ ILC3 maintain larger STAT4 reservoir via T-BET to regulate type 1 features upon IL-23 stimulation in mice. Eur. J. Immunol. 48, 1174–1180 (2018).

40.

Quintana, F. J. et al. Aiolos promotes TH17 differentiation by directly silencing Il2 expression. Nat. Immunol. 13, 770–777 (2012).

41.

Simoni, Y. & Newell, E. W. Toward meaningful definitions of innate-lymphoid-cell subsets. Immunity 46, 760–761 (2017).

42.

Bernink, J. H., Mjosberg, J. & Spits, H. Human ILC1: to be or not to be. Immunity 46, 756–757 (2017).

43.

Allan, D. S. J. et al. Transcriptome analysis reveals similarities between human blood CD3– CD56(bright) cells and mouse CD127+ innate lymphoid cells. Sci. Rep. 7, 3501 (2017).

44.

Simoni, Y. et al. Human innate lymphoid cell subsets possess tissue-type based heterogeneity in phenotype and frequency. Immunity 48, 1060 (2018).

45.

Zhou, L. et al. Innate lymphoid cells support regulatory T cells in the intestine through interleukin-2. Nature 568, 405–409 (2019).

46.

Jameson, S. C. & Masopust, D. Understanding subset diversity in T cell memory. Immunity 48, 214–226 (2018).

47.

Robinette, M. L. et al. Transcriptional programs define molecular characteristics of innate lymphoid cell classes and subsets. Nat. Immunol. 16, 306–317 (2015).

48.

Bando, J. K. et al. The tumor necrosis factor superfamily member RANKL suppresses effector cytokine production in group 3 innate lymphoid cells. Immunity 48, 1208–1219 (2018).

49.

Zerbino, D. R. et al. Ensembl 2018. Nucleic Acids Res. 46, D754–D761 (2018).

50.

Dobin, A. et al. STAR: ultrafast universal RNA-seq aligner. Bioinformatics 29, 15–21 (2013).
Acknowledgements
We thank the Genome Technology Access Center in the Department of Genetics at Washington University School of Medicine for help with genomic analysis. The Center is partially supported by NCI Cancer Center Support grant no. P30 CA91842 to the Siteman Cancer Center and by ICTS/CTSA grant no. UL1 TR000448 from the National Center for Research Resources. We thank E. Lantelme and D. Brinja, and the Pathology and Immunology Flow Cytometry Core for cell sorting. We thank O. Malkova, R. Lin and S. Oh, and the Center for Human Immunology at Washington University for help in processing the samples for mass spectrometry and for advice on analysis. We thank the Washington University Digestive Disease Research Core (NIDDK P30 DK052574) for support. We thank Regeneron for providing MISTRG-6 and IL-15 humanized mice. We thank S. Henikoff (Fred Hutchison Cancer Research Center, Seattle, USA) for providing protein-A-Mnase. This work was in part supported by grant nos UO1 AI095542 and RO1 DE025884 (to M. Colonna) and RO1 AI134035 (to M. Colonna and E.M.O.). R.A.F. is supported by the Howard Hughes Institute.
Ethics declarations
Competing interests
R.G., S.Z., W.G., J.S., L.-L.L., M.B. and S.A.J. are Pfizer employees. M. Colonna received funding from Pfizer to study ILC biology in inflammatory bowel disease. The other authors declare no conflicts of interests.
Additional information
Peer review information: I. Visan was the primary editor on this article and managed its editorial process and peer review in collaboration with the rest of the editorial team.
Publisher's note: Springer Nature remains neutral with regard to jurisdictional claims in published maps and institutional affiliations.
Integrated supplementary information
Supplementary information
Supplementary Figures 1-8
About this article
Cite this article
Cella, M., Gamini, R., Sécca, C. et al. Subsets of ILC3−ILC1-like cells generate a diversity spectrum of innate lymphoid cells in human mucosal tissues. Nat Immunol 20, 980–991 (2019). https://doi.org/10.1038/s41590-019-0425-y
Received:

Accepted:

Published:

Issue Date: