Abstract
Emerging data show that tissue-resident memory T (TRM) cells play an important protective role at murine and human barrier sites. TRM cells in the epidermis of mouse skin patrol their surroundings and rapidly respond when antigens are encountered. However, whether a similar migratory behavior is performed by human TRM cells is unclear, as technology to longitudinally follow them in situ has been lacking. To address this issue, we developed an ex vivo culture system to label and track T cells in fresh skin samples. We validated this system by comparing in vivo and ex vivo properties of murine TRM cells. Using nanobody labeling, we subsequently demonstrated in human ex vivo skin that CD8+ TRM cells migrated through the papillary dermis and the epidermis, below sessile Langerhans cells. Collectively, this work allows the dynamic study of resident immune cells in human skin and provides evidence of tissue patrol by human CD8+ TRM cells.
Access options
Subscribe to Journal
Get full journal access for 1 year
$59.00
only $4.92 per issue
All prices are NET prices.
VAT will be added later in the checkout.
Tax calculation will be finalised during checkout.
Rent or Buy article
Get time limited or full article access on ReadCube.
from$8.99
All prices are NET prices.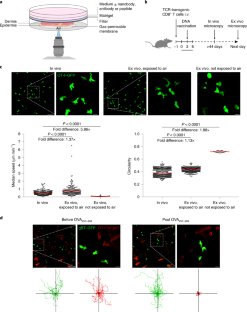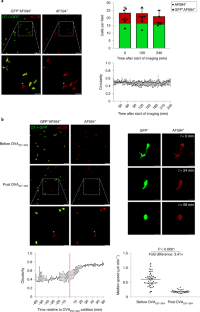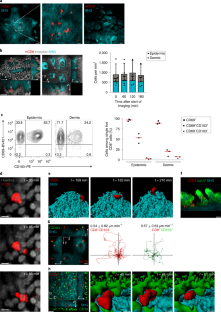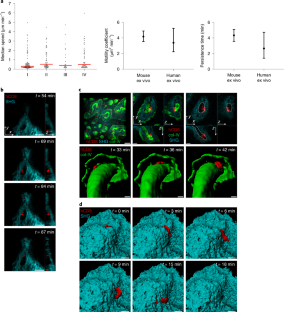 Data availability
Publicly available source data were not used in this study. Data supporting the findings of this study are available from the corresponding author upon reasonable request.
References
1.

Mueller, S. N. & Mackay, L. K. Tissue-resident memory T cells: local specialists in immune defence. Nat. Rev. Immunol. 16, 79–89 (2016).

2.

Gebhardt, T., Palendira, U., Tscharke, D. C. & Bedoui, S. Tissue-resident memory T cells in tissue homeostasis, persistent infection, and cancer surveillance. Immunol. Rev. 283, 54–76 (2018).

3.

Thome, J. J. & Farber, D. L. Emerging concepts in tissue-resident T cells: lessons from humans. Trends Immunol. 36, 428–435 (2015).

4.

Clark, R. A. Resident memory T cells in human health and disease. Sci. Transl. Med. 7, 269rv1 (2015).

5.

Mackay, L. K. et al. The developmental pathway for CD103+CD8+ tissue-resident memory T cells of skin. Nat. Immunol. 14, 1294–1301 (2013).

6.

Sathaliyawala, T. et al. Distribution and compartmentalization of human circulating and tissue-resident memory T cell subsets. Immunity 38, 187–197 (2013).

7.

Kumar, B. V. et al. Human tissue-resident memory T cells are defined by core transcriptional and functional signatures in lymphoid and mucosal sites. Cell Rep. 20, 2921–2934 (2017).

8.

Wu, H. et al. Pathogenic role of tissue-resident memory T cells in autoimmune diseases. Autoimmun. Rev. 17, 906–911 (2018).

9.

Park, C. O. & Kupper, T. S. The emerging role of resident memory T cells in protective immunity and inflammatory disease. Nat. Med. 21, 688–697 (2015).

10.

Matos, T. R. et al. Clinically resolved psoriatic lesions contain psoriasis-specific IL-17-producing αβ T cell clones. J. Clin. Invest. 127, 4031–4041 (2017).

11.

Edwards, J. et al. CD103+ tumor-resident CD8+ T cells are associated with improved survival in immunotherapy-naive melanoma patients and expand significantly during anti-PD-1 treatment. Clin. Cancer Res. 24, 3036–3045 (2018).

12.

Webb, J. R., Milne, K., Watson, P., Deleeuw, R. J. & Nelson, B. H. Tumor-infiltrating lymphocytes expressing the tissue resident memory marker CD103 are associated with increased survival in high-grade serous ovarian cancer. Clin. Cancer Res. 20, 434–444 (2014).

13.

Djenidi, F. et al. CD8+CD103+ tumor-infiltrating lymphocytes are tumor-specific tissue-resident memory T cells and a prognostic factor for survival in lung cancer patients. J. Immunol. 194, 3475–3486 (2015).

14.

Ganesan, A. P. et al. Tissue-resident memory features are linked to the magnitude of cytotoxic T cell responses in human lung cancer. Nat. Immunol. 18, 940–950 (2017).

15.

Duhen, T. et al. Co-expression of CD39 and CD103 identifies tumor-reactive CD8 T cells in human solid tumors. Nat. Commun. 9, 2724 (2018).

16.

Ariotti, S. et al. Tissue-resident memory CD8+ T cells continuously patrol skin epithelia to quickly recognize local antigen. Proc. Natl Acad. Sci. USA 109, 19739–19744 (2012).

17.

Zaid, A. et al. Persistence of skin-resident memory T cells within an epidermal niche. Proc. Natl Acad. Sci. USA 111, 5307–5312 (2014).

18.

Beura, L. K. et al. Intravital mucosal imaging of CD8+ resident memory T cells shows tissue-autonomous recall responses that amplify secondary memory. Nat. Immunol. 19, 173–182 (2018).

19.

Park, S. L. et al. Local proliferation maintains a stable pool of tissue-resident memory T cells after antiviral recall responses. Nat. Immunol. 19, 183–191 (2018).

20.

Ariotti, S. et al. Skin-resident memory CD8+ T cells trigger a state of tissue-wide pathogen alert. Science 346, 101–105 (2014).

21.

Cheuk, S. et al. CD49a expression defines tissue-resident CD8+ T cells poised for cytotoxic function in human skin. Immunity 46, 287–300 (2017).

22.

Mort, R. L., Hay, L. & Jackson, I. J. Ex vivo live imaging of melanoblast migration in embryonic mouse skin. Pigment Cell Melanoma Res. 23, 299–301 (2010).

23.

Masters, B. R. et al. Mitigating thermal mechanical damage potential during two-photon dermal imaging. J. Biomed. Opt. 9, 1265–1270 (2004).

24.

Li, J. L. et al. Intravital multiphoton imaging of immune responses in the mouse ear skin. Nat. Protoc. 7, 221–234 (2012).

25.

Ng, L. G. et al. Visualizing the neutrophil response to sterile tissue injury in mouse dermis reveals a three-phase cascade of events. J. Invest. Dermatol. 131, 2058–2068 (2011).

26.

Pasparakis, M., Haase, I. & Nestle, F. O. Mechanisms regulating skin immunity and inflammation. Nat. Rev. Immunol. 14, 289–301 (2014).

27.

Larsen, C. P. et al. Migration and maturation of Langerhans cells in skin transplants and explants. J. Exp. Med. 172, 1483–1493 (1990).

28.

Clark, R. A. et al. The vast majority of CLA+ T cells are resident in normal skin. J. Immunol. 176, 4431–4439 (2006).

29.

Watanabe, R. et al. Human skin is protected by four functionally and phenotypically discrete populations of resident and recirculating memory T cells. Sci. Transl. Med. 7, 279ra239 (2015).

30.

Pozzi, A., Yurchenco, P. D. & Iozzo, R. V. The nature and biology of basement membranes. Matrix Biol. 57–58, 1–11 (2017).

31.

Schenkel, J. M. et al. Resident memory CD8 T cells trigger protective innate and adaptive immune responses. Science 346, 98–101 (2014).

32.

McNamara, H. A. et al. Up-regulation of LFA-1 allows liver-resident memory T cells to patrol and remain in the hepatic sinusoids. Sci. Immunol. 2, eaaj1996 (2017).

33.

Cepek, K. L. et al. Adhesion between epithelial cells and T lymphocytes mediated by E-cadherin and the αEβ7 integrin. Nature 372, 190–193 (1994).

34.

Cheuk, S. et al. Epidermal Th22 and Tc17 cells form a localized disease memory in clinically healed psoriasis. J. Immunol. 192, 3111–3120 (2014).

35.

Shirshin, E. A. et al. Two-photon autofluorescence lifetime imaging of human skin papillary dermis in vivo: assessment of blood capillaries and structural proteins localization. Sci. Rep. 7, 1171 (2017).

36.

Omelyanenko, N. P., Slutsky, L. I. & Mironov, S. P. Connective Tissue: Histophysiology, Biochemistry, Molecular Biology (Taylor & Francis, 2013).

37.

Oakford, M. E. et al. Migration of immunocytes across the basement membrane in skin: the role of basement membrane pores. J. Invest. Dermatol. 131, 1950–1953 (2011).

38.

Bins, A. D. et al. A rapid and potent DNA vaccination strategy defined by in vivo monitoring of antigen expression. Nat. Med. 11, 899–904 (2005).

39.

Oosterhuis, K., Aleyd, E., Vrijland, K., Schumacher, T. N. & Haanen, J. B. Rational design of DNA vaccines for the induction of human papillomavirus type 16 E6- and E7-specific cytotoxic T-cell responses. Hum. Gene Ther. 23, 1301–1312 (2012).

40.

Antos, J. M. et al. Site-specific protein labeling via sortase-mediated transpeptidation. Curr. Protoc. Protein Sci. 89, 15.3.1–15.3.9 (2017).

41.

Stronen, E. et al. Targeting of cancer neoantigens with donor-derived T cell receptor repertoires. Science 352, 1337–1341 (2016).

42.

Kvistborg, P. et al. Anti-CTLA-4 therapy broadens the melanoma-reactive CD8+ T cell response. Sci. Transl. Med. 6, 254ra128 (2014).

43.

Beltman, J. B., Maree, A. F. & de Boer, R. J. Analysing immune cell migration. Nat. Rev. Immunol. 9, 789–798 (2009).

44.

Fürth, R. Die brownsche Bewegung bei Berücksichtigung einer Persistenz der Bewegungsrichtung. Mit Anwendungen auf die Bewegung lebender In- fusorien. [Brownian motion under consideration of a persistence of the direction of movement. With applications to the movement of living Infusoria.]. Z. Phys. 2, 244–256 (1920).

45.

Schindelin, J. et al. Fiji: an open-source platform for biological-image analysis. Nat. Methods 9, 676–682 (2012).
Acknowledgements
Plasmid sequences for anti-mouse and anti-human CD8 nanobodies were kindly provided by 121Bio with support of M. Gostissa and G. Grotenbreg (Agenus subsequently acquired substantially all the assets of 121Bio). We thank H. Ploegh (Harvard University) for providing the sortase expression vector and D. Elatmioui and H. Ovaa (LUMC) for the GGGC peptide. We would like to acknowledge P.G.L. Koolen (Rode Kruis Ziekenhuis), T. Venema (Slotervaart Ziekenhuis) and W.G. van Selms (Onze Lieve Vrouwe Gasthuis West) and staff of the plastic surgery departments for providing human skin tissue. We thank M. Hoekstra for illustrations, M. Willemsen, L. Brocks, L. Oomen, T. Rademakers, the NKI flow cytometry and animal facility for technical support, and S. Ariotti and members of the Schumacher and Haanen laboratories for discussions. This work was supported by an ΕΑDV Research Fellowship (to T.R.M.) and ERC AdG Life-His-T (to T.N.S.).
Ethics declarations
Competing interests
The authors declare no competing interests.
Additional information
Publisher's note: Springer Nature remains neutral with regard to jurisdictional claims in published maps and institutional affiliations.
Integrated supplementary information
Supplementary information
About this article
Cite this article
Dijkgraaf, F.E., Matos, T.R., Hoogenboezem, M. et al. Tissue patrol by resident memory CD8+ T cells in human skin. Nat Immunol 20, 756–764 (2019). https://doi.org/10.1038/s41590-019-0404-3
Received:

Accepted:

Published:

Issue Date: