Abstract
To define the cell populations that drive joint inflammation in rheumatoid arthritis (RA), we applied single-cell RNA sequencing (scRNA-seq), mass cytometry, bulk RNA sequencing (RNA-seq) and flow cytometry to T cells, B cells, monocytes, and fibroblasts from 51 samples of synovial tissue from patients with RA or osteoarthritis (OA). Utilizing an integrated strategy based on canonical correlation analysis of 5,265 scRNA-seq profiles, we identified 18 unique cell populations. Combining mass cytometry and transcriptomics revealed cell states expanded in RA synovia: THY1(CD90)+HLA-DRAhi sublining fibroblasts, IL1B+ pro-inflammatory monocytes, ITGAX+TBX21+ autoimmune-associated B cells and PDCD1+ peripheral helper T (TPH) cells and follicular helper T (TFH) cells. We defined distinct subsets of CD8+ T cells characterized by GZMK+, GZMB+, and GNLY+ phenotypes. We mapped inflammatory mediators to their source cell populations; for example, we attributed IL6 expression to THY1+HLA-DRAhi fibroblasts and IL1B production to pro-inflammatory monocytes. These populations are potentially key mediators of RA pathogenesis.
Access options
Subscribe to Journal
Get full journal access for 1 year
$209.00
only $17.42 per issue
All prices are NET prices.
VAT will be added later in the checkout.
Rent or Buy article
Get time limited or full article access on ReadCube.
from$8.99
All prices are NET prices.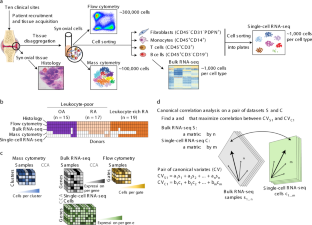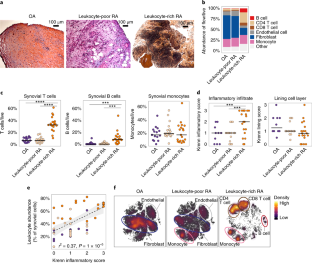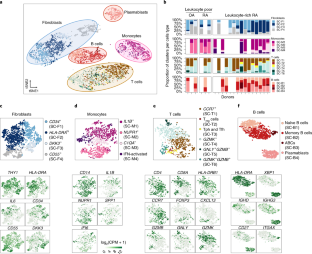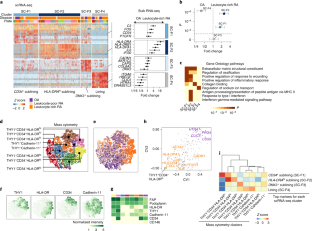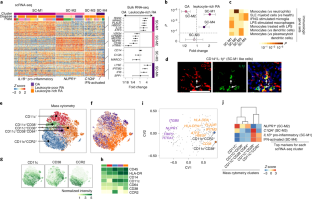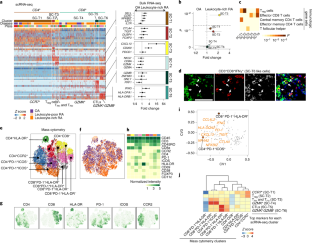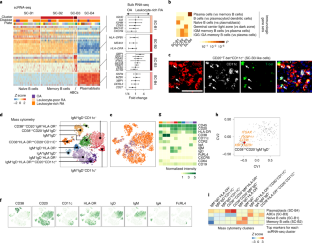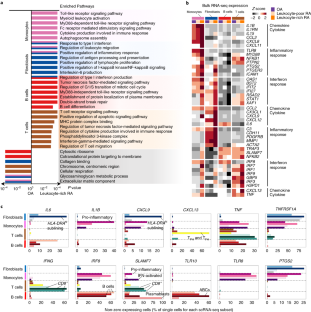 References
1.

Gibofsky, A. Epidemiology, pathophysiology, and diagnosis of rheumatoid arthritis: A Synopsis. Am. J. Manag. Care 20, S128–S135 (2014).

2.

McInnes, I. B. & Schett, G. The pathogenesis of rheumatoid arthritis. N. Engl. J. Med. 365, 2205–2219 (2011).

3.

Orr, C. et al. Synovial tissue research: a state-of-the-art review. Nat. Rev. Rheumatol. 13, 463–475 (2017).

4.

Wolfe, F. et al. The mortality of rheumatoid arthritis. Arthritis Rheum. 37, 481–494 (1994).

5.

Namekawa, T., Wagner, U. G., Goronzy, J. J. & Weyand, C. M. Functional subsets of CD4 T cells in rheumatoid synovitis. Arthritis Rheum. 41, 2108–2116 (1998).

6.

Gizinski, A. M. & Fox, D. A. T cell subsets and their role in the pathogenesis of rheumatic disease. Curr. Opin. Rheumatol. 26, 204–210 (2014).

7.

Reparon-Schuijt, C. C. et al. Secretion of anti-citrulline-containing peptide antibody by B lymphocytes in rheumatoid arthritis. Arthritis Rheum. 44, 41–47 (2001).

8.

Mulherin, D., Fitzgerald, O. & Bresnihan, B. Synovial tissue macrophage populations and articular damage in rheumatoid arthritis. Arthritis Rheum. 39, 115–124 (1996).

9.

Kinne, R. W., Bräuer, R., Stuhlmüller, B., Palombo-Kinne, E. & Burmester, G. R. Macrophages in rheumatoid arthritis. Arthritis Res. 2, 189–202 (2000).

10.

Müller-Ladner, U. et al. Synovial fibroblasts of patients with rheumatoid arthritis attach to and invade normal human cartilage when engrafted into SCID mice. Am. J. Pathol. 149, 1607–1615 (1996).

11.

Pap, T., Müller-Ladner, U., Gay, R. E. & Gay, S. Fibroblast biology. Role of synovial fibroblasts in the pathogenesis of rheumatoid arthritis. Arthritis Res. 2, 361–367 (2000).

12.

Dennis, G. et al. Synovial phenotypes in rheumatoid arthritis correlate with response to biologic therapeutics. Arthritis Res. Ther. 16, R90 (2014).

13.

Orange, D. E. et al. Identification of three rheumatoid arthritis disease subtypes by machine learning integration of synovial histologic features and RNA sequencing data. Arthritis Rheumatol. 70, 690–701 (2018).

14.

Lindberg, J. et al. Variability in synovial inflammation in rheumatoid arthritis investigated by microarray technology. Arthritis Res. Ther. 8, R47 (2006).

15.

Stephenson, W. et al. Single-cell RNA-seq of rheumatoid arthritis synovial tissue using low-cost microfluidic instrumentation. Nat. Commun. 9, 791 (2018).

16.

Papalexi, E. & Satija, R. Single-cell RNA sequencing to explore immune cell heterogeneity. Nat. Rev. Immunol. 18, 35–45 (2018).

17.

Schelker, M. et al. Estimation of immune cell content in tumour tissue using single-cell RNA-seq data. Nat. Commun. 8, 2032 (2017).

18.

Rao, D. A. et al. Pathologically expanded peripheral T helper cell subset drives B cells in rheumatoid arthritis. Nature 542, 110–114 (2017).

19.

Fonseka, C. Y. et al. Mixed-effects association of single cells identifies an expanded effector CD4+ T cell subset in rheumatoid arthritis. Sci. Transl. Med. 10, eaaq0305 (2018).

20.

Villani, A. -C. et al. Single-cell RNA-seq reveals new types of human blood dendritic cells, monocytes, and progenitors.Science 356, eaah4573 (2017).

21.

Mizoguchi, F. et al. Functionally distinct disease-associated fibroblast subsets in rheumatoid arthritis. Nat. Commun. 9, 789 (2018).

22.

Donlin, L. T. et al. Methods for high-dimensional analysis of cells dissociated from cryopreserved synovial tissue. Arthritis Res. Ther. 20, 139 (2018).

23.

Becher, B. et al. High-dimensional analysis of the murine myeloid cell system. Nat. Immunol. 15, 1181–1189 (2014).

24.

De Maesschalck, R., Jouan-Rimbaud, D. & Massart, D. L. The Mahalanobis distance. Chemometrics Intellig. Lab. Syst. 50, 1–18 (2000).

25.

Krenn, V. et al. Grading of chronic synovitis—a histopathological grading system for molecular and diagnostic pathology. Pathol. Res. Pract. 198, 317–325 (2002).

26.

Maaten, Lvander & Hinton, G. Visualizing Data using t-SNE. J. Mach. Learn. Res. 9, 2579–2605 (2008).

27.

Todd, D. J. et al. XBP1 governs late events in plasma cell differentiation and is not required for antigen-specific memory B cell development. J. Exp. Med. 206, 2151–2159 (2009).

28.

Rubtsov, A. V. et al. CD11c-expressing B cells are located at the T cell/B cell border in spleen and are potent APCs. J. Immunol. 195, 71–79 (2015).

29.

Pillai, S. Now you know your ABCs. Blood 118, 1187–1188 (2011).

30.

Ellebedy, A. H. et al. Defining antigen-specific plasmablast and memory B cell subsets in human blood after viral infection or vaccination. Nat. Immunol. 17, 1226–1234 (2016).

31.

Wang, S. et al. IL-21 drives expansion and plasma cell differentiation of autoreactive CD11chi T-bet+ B cells in SLE. Nat. Commun. 9, 1758 (2018).

32.

Pitzalis, C., Kelly, S. & Humby, F. New learnings on the pathophysiology of RA from synovial biopsies. Curr. Opin. Rheumatol. 25, 334–344 (2013).

33.

Filer, A. The fibroblast as a therapeutic target in rheumatoid arthritis. Curr. Opin. Pharmacol. 13, 413–419 (2013).

34.

Westra, H.-J. et al. Fine-mapping and functional studies highlight potential causal variants for rheumatoid arthritis and type 1 diabetes. Nat. Genet. 50, 1366–1374 (2018).

35.

Al-Mayouf, S. M. et al. Loss-of-function variant in DNASE1L3 causes a familial form of systemic lupus erythematosus. Nat. Genet. 43, 1186–1188 (2011).

36.

Snelling, S. J. B. et al. Dickkopf-3 is upregulated in osteoarthritis and has a chondroprotective role. Osteoarthritis Cartilage 24, 883–891 (2016).

37.

Lee, E. B. et al. Tofacitinib versus methotrexate in rheumatoid arthritis. N. Engl. J. Med. 370, 2377–2386 (2014).

38.

Zizzo, G., Hilliard, B. A., Monestier, M. & Cohen, P. L. Efficient clearance of early apoptotic cells by human macrophages requires M2c polarization and MerTK induction. J. Immunol. 189, 3508–3520 (2012).

39.

Frara, N. et al. Transgenic expression of osteoactivin/gpnmb enhances bone formation in vivo and osteoprogenitor differentiation ex vivo. J. Cell. Physiol. 231, 72–83 (2016).

40.

Jenks, S. A. et al. Distinct effector B cells induced by unregulated toll-like receptor 7 contribute to pathogenic responses in systemic lupus erythematosus. Immunity 49, 725–739.e6 (2018).

41.

Smolen, J. S. How well can we compare different biologic agents for RA? Nat. Rev. Rheumatol. 6, 247–248 (2010).

42.

McInnes, I. B. et al. The role of interleukin-15 in T-cell migration and activation in rheumatoid arthritis. Nat. Med. 2, 175 (1996).

43.

McInnes, I. B. & Liew, F. Y. Cytokine networks—towards new therapies for rheumatoid arthritis. Nat. Clin. Pract. Rheumatol. 1, 31 (2005).

44.

Hicks, S. C., Townes, F. W., Teng, M. & Irizarry, R. A. Missing data and technical variability in single-cell RNA-sequencing experiments. Biostatistics 19, 562–578 (2018).

45.

Parkhomenko, E., Tritchler, D. & Beyene, J. Sparse canonical correlation analysis with application to genomic data integration. Stat. Appl. Genet. Mol. Biol. 8, 1 (2009).

46.

Witten, D. M., Tibshirani, R. & Hastie, T. A penalized matrix decomposition, with applications to sparse principal components and canonical correlation analysis. Biostatistics 10, 515–534 (2009).

47.

Hashimshony, T. et al. CEL-Seq2: sensitive highly-multiplexed single-cell RNA-Seq. Genome Biol. 17, 77 (2016).

48.

Bendall, S. C. et al. Single-cell mass cytometry of differential immune and drug responses across a human hematopoietic continuum. Science 332, 687–696 (2011).

49.

Bjornson, Z. B., Nolan, G. P. & Fantl, W. J. Single-cell mass cytometry for analysis of immune system functional states. Curr. Opin. Immunol. 25, 484–494 (2013).

50.

Peterson, V. M. et al. Multiplexed quantification of proteins and transcripts in single cells. Nat. Biotechnol. 35, 936–939 (2017).

51.

Picelli, S. et al. Full-length RNA-seq from single cells using Smart-seq2. Nat. Protoc. 9, 171–181 (2014).

52.

Finck, R. et al. Normalization of mass cytometry data with bead standards. Cytometry A 83, 483–494 (2013).

53.

González, I., Déjean, S., Martin, P. & Baccini, A. CCA: an R package to extend canonical correlation analysis. J. Stat. Software 23, 1–14 (2008).

54.

Sing, T., Sander, O., Beerenwinkel, N. & Lengauer, T. ROCR: visualizing classifier performance in R. Bioinformatics 21, 3940–3941 (2005).

55.

Subramanian, A. et al. Gene set enrichment analysis: A knowledge-based approach for interpreting genome-wide expression profiles. Proc. Natl. Acad. Sci. 102, 15545–15550 (2005).

56.

Ashburner, M. et al. Gene ontology: tool for the unification of biology. The Gene Ontology Consortium. Nat. Genet. 25, 25–29 (2000).

57.

Liberzon, A. et al. The Molecular Signatures Database (MSigDB) hallmark gene set collection. Cell Syst. 1, 417–425 (2015).

58.

Reynolds, A. P., Richards, G., De La Iglesia, B. & Rayward-Smith, V. J. Clustering rules: a comparison of partitioning and hierarchical clustering algorithms. J. Math. Model. Algorithms 5, 475–504 (2006).

59.

Rousseeuw, P. J. Silhouettes: A graphical aid to the interpretation and validation of cluster analysis. J. Comput. Appl. Math. 20, 53–65 (1987).
Acknowledgements
This work was supported by the Accelerating Medicines Partnership (AMP) in Rheumatoid Arthritis and Lupus Network. AMP is a public-private partnership (AbbVie Inc., Arthritis Foundation, Bristol-Myers Squibb Company, Lupus Foundation of America, Lupus Research Alliance, Merck Sharp & Dohme Corp., National Institute of Allergy and Infectious Diseases, National Institute of Arthritis and Musculoskeletal and Skin Diseases, Pfizer Inc., Rheumatology Research Foundation, Sanofi and Takeda Pharmaceuticals International, Inc.) created to develop new ways of identifying and validating promising biological targets for diagnostics and drug development. Funding was provided through grants from the National Institutes of Health (UH2-AR067676, UH2-AR067677, UH2-AR067679, UH2-AR067681, UH2-AR067685, UH2-AR067688, UH2-AR067689, UH2-AR067690, UH2-AR067691, UH2-AR067694, and UM2-AR067678). K.S. is supported by the Ruth L. Kirschstein National Research Service Award (NIAMS F31AR070582). K.W. is supported by a Rheumatology Research Foundation Scientist Development Award, and KL2/Catalyst Medical Research Investigator Training award (an appointed KL2 award) from Harvard Catalyst, The Harvard Clinical and Translational Science Center (National Center for Advancing Translational Sciences, National Institutes of Health Award KL2 TR002542). D.A.R. is supported by NIAMS K08 AR072791-01. L.T.D. is supported by NIAMS K01 AR066063. J.H.A. is supported by R21 AR071670, and the Bertha and Louis Weinstein research fund. S.R. is supported by NIAMS 1R01AR063759-01A1, NIAID U19 AI111224, NHGRI U01 HG009379, and Doris Duke Charitable Foundation Grant #2013097. A.H.J. is supported by an Arthritis National Research Foundation Grant. A.F., C.D.B. and J.D.T. were supported by the Arthritis Research UK Rheumatoid Arthritis (#20298), and by the National Institute for Health Research (NIHR)'s Birmingham Biomedical Research Centre program, supported by the National Institute for Health Research/Wellcome Trust Clinical Research Facility at University Hospitals Birmingham NHS Foundation Trust.
Ethics declarations
Competing interests
The authors declare no competing financial interests.
Additional information
Publisher's note: Springer Nature remains neutral with regard to jurisdictional claims in published maps and institutional affiliations.
Integrated supplementary information
Supplementary information
About this article
Cite this article
Zhang, F., Wei, K., Slowikowski, K. et al. Defining inflammatory cell states in rheumatoid arthritis joint synovial tissues by integrating single-cell transcriptomics and mass cytometry. Nat Immunol 20, 928–942 (2019). https://doi.org/10.1038/s41590-019-0378-1
Received:

Accepted:

Published:

Issue Date: