Abstract
Regulatory T cells (Treg cells) maintain host self-tolerance but are a major barrier to effective cancer immunotherapy. Treg cells subvert beneficial anti-tumor immunity by modulating inhibitory receptor expression on tumor-infiltrating lymphocytes (TILs); however, the underlying mediators and mechanisms have remained elusive. Here, we found that the cytokines IL-10 and IL-35 (Ebi3–IL-12α heterodimer) were divergently expressed by Treg cell subpopulations in the tumor microenvironment (TME) and cooperatively promoted intratumoral T cell exhaustion by modulating several inhibitory receptor expression and exhaustion-associated transcriptomic signature of CD8+ TILs. While expression of BLIMP1 (encoded by Prdm1) was a common target, IL-10 and IL-35 differentially affected effector T cell versus memory T cell fates, respectively, highlighting their differential, partially overlapping but non-redundant regulation of anti-tumor immunity. Our results reveal previously unappreciated cooperative roles for Treg cell-derived IL-10 and IL-35 in promoting BLIMP1-dependent exhaustion of CD8+ TILs that limits effective anti-tumor immunity.
Access options
Subscribe to Journal
Get full journal access for 1 year
$209.00
only $17.42 per issue
All prices are NET prices.
VAT will be added later in the checkout.
Rent or Buy article
Get time limited or full article access on ReadCube.
from$8.99
All prices are NET prices.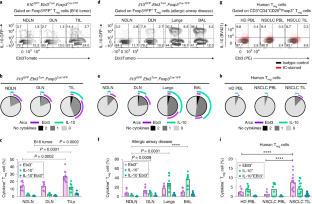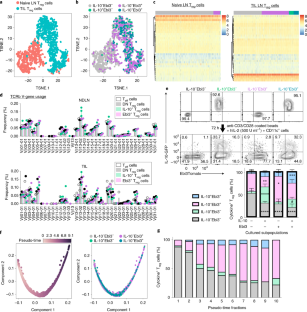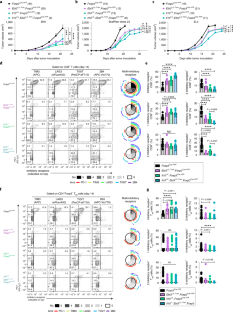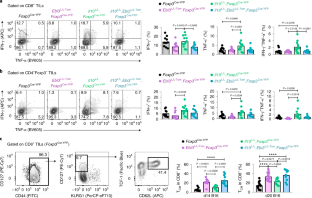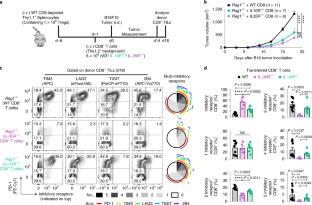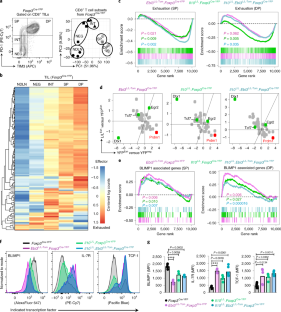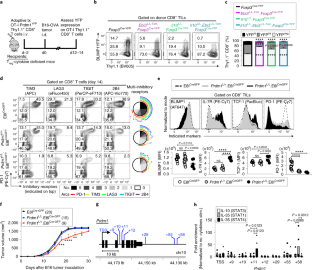 Data availability
Bulk RNAseq datasets of CD8+ T cells and Treg cell subpopulations have been deposited in the GEO with the accession code GSE127735. Single-cell RNAseq dataset has been deposited in the GEO with the accession code GSE126184. The RNAseq data sets reported by other studies used to cross-examine with our sequencing data in this study were obtained from GSE9650 and GSE84105. The main data supporting the findings of this study are available in the article and its Supplementary Figures. Data are available from the corresponding authors upon appropriate and reasonable request.
Code availability
Computational and mathematical codes used in the RNAseq analyses supporting the findings of this study are available in the article. Additional information is available from corresponding author on reasonable and appropriate request.
References
1.

Vignali, D. A., Collison, L. W. & Workman, C. J. How regulatory T cells work. Nat. Rev. Immunol. 8, 523–532 (2008).

2.

Sawant, D. V. & Vignali, D. A. Once a treg, always a treg? Immunol. Rev. 259, 173–191 (2014).

3.

Tanaka, A. & Sakaguchi, S. Regulatory T cells in cancer immunotherapy. Cell Res. 27, 109–118 (2017).

4.

Liu, C., Workman, C. J. & Vignali, D. A. Targeting regulatory T cells in tumors. FEBS J. 283, 2731–2748 (2016).

5.

Curiel, T. J. et al. Specific recruitment of regulatory T cells in ovarian carcinoma fosters immune privilege and predicts reduced survival. Nat. Med. 10, 942–949 (2004).

6.

Shimizu, J., Yamazaki, S. & Sakaguchi, S. Induction of tumor immunity by removing CD25+ CD4+ T cells: a common basis between tumor immunity and autoimmunity. J. Immunol. 163, 5211–5218 (1999).

7.

Turnis, M. E. et al. Interleukin-35 limits anti-tumor immunity. Immunity 44, 316–329 (2016).

8.

Shitara, K. & Nishikawa, H. Regulatory T cells: a potential target in cancer immunotherapy. Annals NY Acad. Sci. 1417, 104–115 (2018).

9.

Sawant, D. V., Hamilton, K. & Vignali, D. A. Interleukin-35: expanding its job profile. J. Interferon Cytokine Res. 35, 499–512 (2015).

10.

Brooks, D. G. et al. Interleukin-10 determines viral clearance or persistence in vivo. Nat. Med. 12, 1301–1309 (2006).

11.

Ejrnaes, M. et al. Resolution of a chronic viral infection after interleukin-10 receptor blockade. J. Exp. Med. 203, 2461–2472 (2006).

12.

Tinoco, R. et al. Cell-intrinsic transforming growth factor-beta signaling mediates virus-specific CD8+ T cell deletion and viral persistence in vivo. Immunity 31, 145–157 (2009).

13.

Brooks, D. G. et al. IL-10 and PD-L1 operate through distinct pathways to suppress T-cell activity during persistent viral infection. Proc. Natl Acad. Sci. USA 105, 20428–20433 (2008).

14.

Penaloza-MacMaster, P. et al. Interplay between regulatory T cells and PD-1 in modulating T cell exhaustion and viral control during chronic LCMV infection. J. Exp. Med. 211, 1905–1918 (2014).

15.

Collison, L. W. et al. IL-35-mediated induction of a potent regulatory T cell population. Nat. Immunol. 11, 1093–1101 (2010).

16.

Bettini, M. et al. Prevention of autoimmune diabetes by ectopic pancreatic beta-cell expression of interleukin-35. Diabetes 61, 1519–1526 (2012).

17.

Madan, R. et al. Nonredundant roles for B cell-derived IL-10 in immune counter-regulation. J. Immunol. 183, 2312–2320 (2009).

18.

Rubtsov, Y. P. et al. Regulatory T cell-derived interleukin-10 limits inflammation at environmental interfaces. Immunity 28, 546–558 (2008).

19.

Wei, X. et al. Reciprocal expression of IL-35 and IL-10 defines two distinct effector treg subsets that are required for maintenance of immune tolerance. Cell Rep. 21, 1853–1869 (2017).

20.

Kheradmand, F. et al. A protease-activated pathway underlying Th cell type 2 activation and allergic lung disease. J. Immunol. 169, 5904–5911 (2002).

21.

Moran, A. E. & Hogquist, K. A. T-cell receptor affinity in thymic development. Immunology 135, 261–267 (2012).

22.

Chen, G. et al. Sequence and structural analyses reveal distinct and highly diverse human CD8(+) TCR repertoires to immunodominant viral antigens. Cell Rep. 19, 569–583 (2017).

23.

Levine, A. G., Arvey, A., Jin, W. & Rudensky, A. Y. Continuous requirement for the TCR in regulatory T cell function. Nat. Immunol. 15, 1070–1078 (2014).

24.

Noy, R. & Pollard, J. W. Tumor-associated macrophages: from mechanisms to therapy. Immunity 41, 49–61 (2014).

25.

Genard, G., Lucas, S. & Michiels, C. Reprogramming of tumor-associated macrophages with anticancer therapies: radiotherapy versus chemo- and immunotherapies. Front. Immunol. 8, 828 (2017).

26.

Collison, L. W. et al. The composition and signaling of the IL-35 receptor are unconventional. Nat. Immunol. 13, 290–299 (2012).

27.

Spencer, S. D. et al. The orphan receptor CRF2-4 is an essential subunit of the interleukin 10 receptor. J. Exp. Med. 187, 571–578 (1998).

28.

Wherry, E. J. et al. Molecular signature of CD8+ T cell exhaustion during chronic viral infection. Immunity 27, 670–684 (2007).

29.

Rutishauser, R. L. et al. Transcriptional repressor Blimp-1 promotes CD8(+) T cell terminal differentiation and represses the acquisition of central memory T cell properties. Immunity 31, 296–308 (2009).

30.

Im, S. J. et al. Defining CD8+ T cells that provide the proliferative burst after PD-1 therapy. Nature 537, 417–421 (2016).

31.

Xin, A., Nutt, S. L., Belz, G. T. & Kallies, A. Blimp1: driving terminal differentiation to a T. Adv. Exp. Med. Biol. 780, 85–100 (2011).

32.

Shin, H. et al. A role for the transcriptional repressor Blimp-1 in CD8(+) T cell exhaustion during chronic viral infection. Immunity 31, 309–320 (2009).

33.

Chihara, N. et al. Induction and transcriptional regulation of the co-inhibitory gene module in T cells. Nature 558, 454–459 (2018).

34.

Poholek, A. C. et al. IL-10 induces a STAT3-dependent autoregulatory loop in TH2 cells that promotes Blimp-1 restriction of cell expansion via antagonism of STAT5 target genes. Sci. Immunol. 1, eaaf8612 (2016).

35.

Fontenot, J. D., Gavin, M. A. & Rudensky, A. Y. Foxp3 programs the development and function of CD4+ CD25+ regulatory T cells. Nat. Immunol. 4, 330–336 (2003).

36.

Hori, S., Nomura, T. & Sakaguchi, S. Control of regulatory T cell development by the transcription factor Foxp3. Science 299, 1057–1061 (2003).

37.

Shen, P. et al. IL-35-producing B cells are critical regulators of immunity during autoimmune and infectious diseases. Nature 507, 366–370 (2014).

38.

Roers, A. et al. T cell-specific inactivation of the interleukin 10 gene in mice results in enhanced T cell responses but normal innate responses to lipopolysaccharide or skin irritation. J. Exp. Med. 200, 1289–1297 (2004).

39.

Seo, W., Muroi, S., Akiyama, K. & Taniuchi, I. Distinct requirement of Runx complexes for TCRbeta enhancer activation at distinct developmental stages. Sci. Rep. 7, 41351 (2017).

40.

Roederer, M., Nozzi, J. L. & Nason, M. C. SPICE: exploration and analysis of post-cytometric complex multivariate datasets. Cytometry A 79, 167–174 (2011).

41.

Zheng, G. X. et al. Massively parallel digital transcriptional profiling of single cells. Nat. Commun. 8, 14049 (2017).

42.

Angerer, P. et al. destiny: diffusion maps for large-scale single-cell data in R. Bioinformatics 32, 1241–1243 (2016).

43.

Haghverdi, L. et al. Diffusion pseudotime robustly reconstructs lineage branching. Nat. Methods 13, 845–848 (2016).

44.

Yu, D., Huber, W. & Vitek, O. Shrinkage estimation of dispersion in negative binomial models for RNA-seq experiments with small sample size. Bioinformatics 29, 1275–1282 (2013).

45.

Klipper-Aurbach, Y. et al. Mathematical formulae for the prediction of the residual beta cell function during the first two years of disease in children and adolescents with insulin-dependent diabetes mellitus. Med. Hyp. 45, 486–490 (1995).

46.

Dobin, A. et al. STAR: ultrafast universal RNA-seq aligner. Bioinformatics 29, 15–21 (2013).

47.

Pruitt, K. D., Tatusova, T. & Maglott, D. R. NCBI reference sequences (RefSeq): a curated non-redundant sequence database of genomes, transcripts and proteins. Nucleic Acids Res. 35, D61–D65 (2007).

48.

Liao, Y., Smyth, G. K. & Shi, W. featureCounts: an efficient general purpose program for assigning sequence reads to genomic features. Bioinformatics 30, 923–930 (2014).

49.

Law, C. W., Chen, Y., Shi, W. & Smyth, G. K. voom: precision weights unlock linear model analysis tools for RNA-seq read counts. Genome Biol. 15, R29 (2014).

50.

Ritchie, M. E. et al. limma powers differential expression analyses for RNA-sequencing and microarray studies. Nucleic Acids Res. 43, e47 (2015).

51.

Wu, D. & Smyth, G. K. Camera: a competitive gene set test accounting for inter-gene correlation. Nucleic Acids Res. 40, e133 (2012).

52.

Subramanian, A. et al. Gene set enrichment analysis: a knowledge-based approach for interpreting genome-wide expression profiles. Proc. Natl Acad. Sci. USA 102, 15545–15550 (2005).
Acknowledgements
The authors wish to thank H. Shen, D. Falkner and A. Yates from the Immunology Flow Core for cell sorting; E. Brunazzi and the staff of the Division of Laboratory Animals for animal husbandry; A. Cillo for helpful suggestions regarding scRNAseq analysis; W. Horne, J. Kolls and the University of Pittsburgh HSCRF Genomics Research Core for assistance with sequencing and A. Menk and G. Delgoffe at the Universtiy of Pittsburgh for generation and provision of the BrafPten (clone 24) cell line for tumor growth experiments. The authors also wish to thank the Department of Cardiothoracic Surgery at the University of Pittsburgh, in particular, J. Ward for her help in coordination and gathering patient consents, as well as the Department of Cardiothoracic Surgery at the University of Colorado and the University of Colorado SPORE for providing some samples. This work was supported by the National Institutes of Health (grant nos. R01 CA203689 and P01 AI108545 to D.A.A.V.), NCI Comprehensive Cancer Center Support CORE grant (no. CA047904 to D.A.A.V.) and an SRA from Tizona Therapeutics. This work also benefitted from the Immunology Department Flow Cytometry Core SPECIAL BD LSR FORTESSA funded by NIH grant no. 1S10OD011925-01 (L. Borghesi, Department of Immunology). This project also used the Hillman Cancer Center Immunologic Monitoring and Cellular Products Laboratory that is supported in part by award no. P30 CA047904.
Ethics declarations
Competing interests
D.A.A.V. and C.J.W. have submitted patents covering IL-35 that are pending and are entitled to a share in net income generated from licensing of these patent rights for commercial development.
Additional information
Publisher's note: Springer Nature remains neutral with regard to jurisdictional claims in published maps and institutional affiliations.
Integrated supplementary information
Supplementary information
Supplementary Figures 1–7
About this article
Cite this article
Sawant, D.V., Yano, H., Chikina, M. et al. Adaptive plasticity of IL-10+ and IL-35+ Treg cells cooperatively promotes tumor T cell exhaustion. Nat Immunol 20, 724–735 (2019). https://doi.org/10.1038/s41590-019-0346-9
Received:

Accepted:

Published:

Issue Date: