Abstract
Neutrophils are essential first-line defense cells against invading pathogens, yet when inappropriately activated, their strong immune response can cause collateral tissue damage and contributes to immunological diseases. However, whether neutrophils can intrinsically titrate their immune response remains unknown. Here we conditionally deleted the Spi1 gene, which encodes the myeloid transcription factor PU.1, from neutrophils of mice undergoing fungal infection and then performed comprehensive epigenomic profiling. We found that as well as providing the transcriptional prerequisite for eradicating pathogens, the predominant function of PU.1 was to restrain the neutrophil defense by broadly inhibiting the accessibility of enhancers via the recruitment of histone deacetylase 1. Such epigenetic modifications impeded the immunostimulatory AP-1 transcription factor JUNB from entering chromatin and activating its targets. Thus, neutrophils rely on a PU.1-installed inhibitor program to safeguard their epigenome from undergoing uncontrolled activation, protecting the host against an exorbitant innate immune response.
Relevant articles
Open Access articles citing this article.
Courtney M. Jackson

,

Martin Demmert

…

Claire A. Chougnet

Mucosal Immunology Open Access 21 March 2022

Vijayashree Mysore

,

Xavier Cullere

…

Tanya N. Mayadas

Nature Communications Open Access 09 August 2021

Ricardo Grieshaber-Bouyer

,

Felix A. Radtke

…

Hideyuki Yoshida

Nature Communications Open Access 17 May 2021
Access options
Access Nature and 54 other Nature Portfolio journals
Get Nature+, our best-value online-access subscription
$29.99 / 30 days
cancel any time
Subscribe to this journal
Receive 12 print issues and online access
$189.00 per year
only $15.75 per issue
Rent or buy this article
Get just this article for as long as you need it
$39.95
Prices may be subject to local taxes which are calculated during checkout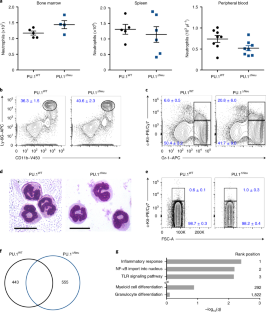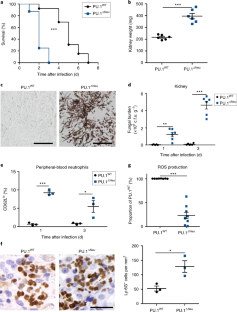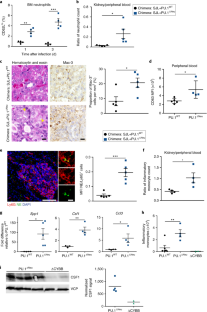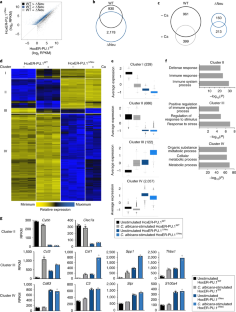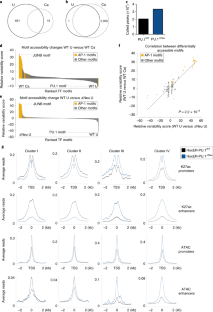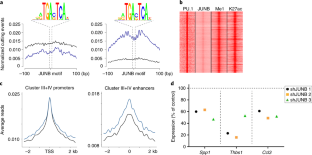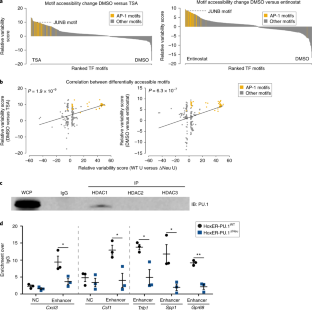 Data availability
The data that support the findings of this study are available from the corresponding author on request. All sequencing data have been deposited in the Gene Expression Omnibus (GEO) under accession number GSE110865. Publicity available Hi-C data referenced in this study were extracted from GEO with the accession number GSE35156.
References
Basu, S., Hodgson, G., Katz, M. & Dunn, A. R. Evaluation of role of G-CSF in the production, survival, and release of neutrophils from bone marrow into circulation. Blood 100, 854–861 (2002).

Nathan, C. Neutrophils and immunity: challenges and opportunities. Nature Rev. Immunol. 6, 173–182 (2006).

Mantovani, A., Cassatella, M. A., Costantini, C. & Jaillon, S. Neutrophils in the activation and regulation of innate and adaptive immunity. Nature Rev. Immunol. 11, 519–531 (2011).

Tecchio, C. & Cassatella, M. A. Neutrophil-derived chemokines on the road to immunity. Semin. Immunol. 28, 119–128 (2016).

Wright, H. L., Moots, R. J. & Edwards, S. W. The multifactorial role of neutrophils in rheumatoid arthritis. Nature Rev. Rheumatol. 10, 593–601 (2014).

Egesten, A. et al. The proinflammatory CXC-chemokines GRO-α/CXCL1 and MIG/CXCL9 are concomitantly expressed in ulcerative colitis and decrease during treatment with topical corticosteroids. Int. J. Colorectal Dis. 22, 1421–1427 (2007).

Pelletier, M. et al. Evidence for a cross-talk between human neutrophils and Th17 cells. Blood 115, 335–343 (2010).

Wipke, B. T. & Allen, P. M. Essential role of neutrophils in the initiation and progression of a murine model of rheumatoid arthritis. J. Immunol. 167, 1601–1608 (2001).

Ostuni, R., Natoli, G., Cassatella, M. A. & Tamassia, N. Epigenetic regulation of neutrophil development and function. Semin. Immunol. 28, 83–93 (2016).

Iwasaki, H. et al. Distinctive and indispensable roles of PU.1 in maintenance of hematopoietic stem cells and their differentiation. Blood 106, 1590–1600 (2005).

Passegué, E., Wagner, E. F. & Weissman, I. L. JunB deficiency leads to a myeloproliferative disorder arising from hematopoietic stem cells. Cell 119, 431–443 (2004).

Srinivas, S. et al. Cre reporter strains produced by targeted insertion of EYFP and ECFP into the ROSA26 locus. BMC Dev. Biol. 1, 4 (2001).

Tuite, A., Mullick, A. & Gros, P. Genetic analysis of innate immunity in resistance to Candida albicans. Genes Immun. 5, 576–587 (2004).

Ferwerda, B. et al. Human dectin-1 deficiency and mucocutaneous fungal infections. N. Engl. J. Med. 361, 1760–1767 (2009).

Brieland, J. et al. Comparison of pathogenesis and host immune responses to Candida glabrata and Candida albicans in systemically infected immunocompetent mice. Infect. Immun. 69, 5046–5055 (2001).

Netea, M. G. et al. Immune defence against Candida fungal infections. Nature Rev. Immunol. 15, 630–642 (2015).

Tak, T., Hilvering, B., Tesselaar, K. & Koenderman, L. Similar activation state of neutrophils in sputum of asthma patients irrespective of sputum eosinophilia. Clin. Exp. Immunol. 182, 204–212 (2015).

Detmers, P. A. et al. Neutrophil-activating protein 1/interleukin 8 stimulates the binding activity of the leukocyte adhesion receptor CD11b/CD18 on human neutrophils. J. Exp. Med. 171, 1155–1162 (1990).

Fortunati, E., Kazemier, K. M., Grutters, J. C., Koenderman, L. & van Bosch, J. M. Human neutrophils switch to an activated phenotype after homing to the lung irrespective of inflammatory disease. Clin. Exp. Immunol. 155, 559–566 (2009).

Anderson, K. L., Smith, K. A., Pio, F., Torbett, B. E. & Maki, R. A. Neutrophils deficient in PU.1 do not terminally differentiate or become functionally competent. Blood 92, 1576–1585 (1998).

Saijo, S. & Iwakura, Y. Dectin-1 and dectin-2 in innate immunity against fungi. Int. Immunol. 23, 467–472 (2011).

Elmore, S. A. et al. Recommendations from the INHAND Apoptosis/Necrosis Working Group. Toxicol. Pathol. 44, 173–188 (2016).

Bréchot, N. et al. Modulation of macrophage activation state protects tissue from necrosis during critical limb ischemia in thrombospondin-1-deficient mice. PLoS One 3, e3950 (2008).

Cham, B. P., Gerrard, J. M. & Bainton, D. F. Granulophysin is located in the membrane of azurophilic granules in human neutrophils and mobilizes to the plasma membrane following cell stimulation. Am. J. Pathol. 144, 1369–1380 (1994).

Sahoo, M., Del Barrio, L., Miller, M. A. & Re, F. Neutrophil elastase causes tissue damage that decreases host tolerance to lung infection with Burkholderia species. PLoS Pathog. 10, e1004327 (2014).

Persy, V. P., Verhulst, A., Ysebaert, D. K., Greef, K. E. De & Broe, M. E. De Reduced postischemic macrophage infiltration and interstitial fibrosis in osteopontin knockout mice. Kidney Int. 63, 543–553 (2003).

Pixley, F. J. & Stanley, E. R. CSF-1 regulation of the wandering macrophage: complexity in action. Trends Cell Biol. 14, 628–638 (2004).

Salazar-Mather, T. P., Orange, J. S. & Biron, C. A. Early murine cytomegalovirus (MCMV) infection induces liver natural killer (NK) cell inflammation and protection through macrophage inflammatory protein 1ɑ (MIP-1ɑ)-dependent pathways. J. Exp. Med. 187, 1–14 (1998).

Pollock, J. D. et al. Mouse model of X-linked chronic granulomatous disease, an inherited defect in phagocyte superoxide production. Nat. Genet. 9, 202–209 (1995).

Vignais, P. V. The superoxide-generating NADPH oxidase: structural aspects and activation mechanism. Cell. Mol. Life Sci. 59, 1428–1459 (2002).

Skrzypek, M. S. et al. The Genome Database (CGD): incorporation of Assembly 22, systematic identifiers and visualization of high throughput sequencing data. Nucleic Acids Res. 45, D592–D596 (2017).

Saville, S. P., Lazzell, A. L., Monteagudo, C. & Lopez-Ribot, J. L. Engineered control of cell morphology in vivo reveals distinct roles for yeast and filamentous forms of Candida albicans during infection. Eukaryot. Cell 2, 1053–1060 (2003).

Wang, G. G. et al. Quantitative production of macrophages or neutrophils ex vivo using conditional Hoxb8. Nat. Methods 3, 287–293 (2006).

Buenrostro, J. D., Giresi, P. G., Zaba, L. C., Chang, H. Y. & Greenleaf, W. J. Transposition of native chromatin for fast and sensitive epigenomic profiling of open chromatin, DNA-binding proteins and nucleosome position. Nat. Methods 10, 1213–1218 (2013).

Heintzman, N. D. et al. Distinct and predictive chromatin signatures of transcriptional promoters and enhancers in the human genome. Nat. Genet. 39, 311–318 (2007).

Creyghton, M. P. et al. Histone H3K27ac separates active from poised enhancers and predicts developmental state. Proc. Natl Acad. Sci. USA 107, 21931–21936 (2010).

Theilgaard-Mönch, K., Knudsen, S., Follin, P. & Borregaard, N. The transcriptional activation program of human neutrophils in skin lesions supports their important role in wound healing. J. Immunol. 172, 7684–7693 (2004).

Fradin, C. et al. The early transcriptional response of human granulocytes to infection with Candida albicans is not essential for killing but reflects cellular communications. Infect. Immun. 75, 1493–1501 (2007).

Kruger, P. et al. Neutrophils: between host defence, immune modulation, and tissue injury. PLoS Pathog. 11, e1004651 (2015).

McDonald, B. & Kubes, P. Neutrophils and intravascular immunity in the liver during infection and sterile inflammation. Toxicol. Pathol. 40, 157–165 (2012).

Dakic, A. et al. PU.1 regulates the commitment of adult hematopoietic progenitors and restricts granulopoiesis. J. Exp. Med. 201, 1487–1502 (2005).

van Riel, B. & Rosenbauer, F. Epigenetic control of hematopoiesis: the PU.1 chromatin connection. Biol. Chem. 395, 1265–1274 (2014).

Hagemeier, C., Bannister, A. J., Cook, A. & Kouzarides, T. The activation domain of transcription factor PU.1 binds the retinoblastoma (RB) protein and the transcription factor TFIID in vitro: RB shows sequence similarity to TFIID and TFIIB. Proc. Natl Acad. Sci. USA 90, 1580–1584 (1993).

Yamamoto, H., Kihara-Negishi, F., Yamada, T., Hashimoto, Y. & Oikawa, T. Physical and functional interactions between the transcription factor PU.1 and the coactivator CBP. Oncogene 18, 1495–1501 (1999).

Bai, Y., Srinivasan, L., Perkins, L. & Atchison, M. L. Protein acetylation regulates both PU.1 transactivation and Igκ 3′ enhancer activity. J. Immunol. 175, 5160–5169 (2005).

Heinz, S. et al. Simple combinations of lineage-determining transcription factors prime cis-regulatory elements required for macrophage and B cell identities. Mol. Cell 38, 576–589 (2010).

Garber, M. et al. A high-throughput chromatin immunoprecipitation approach reveals principles of dynamic gene regulation in mammals. Mol. Cell 47, 810–822 (2012).

Kihara-Negishi, F. et al. In vivo complex formation of PU.1 with HDAC1 associated with PU.1-mediated transcriptional repression. Oncogene 20, 6039 (2001).

Suzuki, M., Yamada, T., Kihara-Negishi, F., Sakurai, T. & Oikawa, T. Direct association between PU.1 and MeCP2 that recruits mSin3A–HDAC complex for PU.1-mediated transcriptional repression. Oncogene 22, 8688 (2003).

Fontana, M. F. et al. JUNB is a key transcriptional modulator of macrophage activation. J. Immunol. 194, 177–186 (2014).

Jacobsen, I. D., Lüttich, A., Kurzai, O., Hube, B. & Brock, M. In vivo imaging of disseminated murine Candida albicans infection reveals unexpected host sites of fungal persistence during antifungal therapy. J. Antimicrob. Chemother. 69, 2785–2796 (2014).

Gautier, L., Cope, L., Bolstad, B. N. & Irrizarry, R. A. affy - Analysis of Affymetrix GeneChip Data at the Probe Level (Oxford Univ. Press, 2004).

Ritchie, M. E. et al. limma powers differential expression analyses for RNA-sequencing and microarray studies. Nucleic Acids Res. 43, e47 (2015).

Ashburner, M. et al. Gene ontology: tool for the unification of biology.Nature Genet. 25, 25–29 (2000).

Dobin, A. et al. STAR: ultrafast universal RNA-seq aligner. Bioinformatics 29, 15–21 (2013).

Trapnell, C. et al. Differential analysis of gene regulation at transcript resolution with RNA-seq. Nat. Biotechnol. 31, 46–53 (2013).

McQuitty, L.L. Similarity analysis by reciprocal pairs for discrete and continuous data. Educ. Psychol. Meas. 26, 825–831 (1966).

Subramanian, A. et al. Gene set enrichment analysis: a knowledge-based approach for interpreting genome-wide expression profiles. Proc. Natl Acad. Sci. USA 102, 15545–15550 (2005).

Kolodziej, K. E. et al. Optimal use of tandem biotin and V5 tags in ChIP assays. BMC Mol. Biol. 10, 6 (2009).

Blecher-Gonen, R. et al. High-throughput chromatin immunoprecipitation for genome-wide mapping of in vivo protein-DNA interactions and epigenomic states. Nat. Protoc. 8, 539–554 (2013).

Langmead, B. & Salzberg, S. L. Fast gapped-read alignment with Bowtie 2. Nat. Methods 9, 357–359 (2012).

Ross-Innes, C. S. et al. Differential oestrogen receptor binding is associated with clinical outcome in breast cancer. Nature 481, 389–393 (2012).

Zhang, Y. et al. Model-based analysis of ChIP-Seq (MACS). Genome Biol. 9, R137 (2008).

Durinck, S. et al. BioMart and Bioconductor: a powerful link between biological databases and microarray data analysis. Bioinformatics 21, 3439–3440 (2005).

Ye, T. et al. seqMINER: an integrated ChIP-seq data interpretation platform. Nucleic Acids Res. 39, e35 (2011).

Taslim, C. et al. Comparative study on ChIP-seq data: normalization and binding pattern characterization. Bioinformatics 25, 2334–2340 (2009).

Dixon, J. R. et al. Topological domains in mammalian genomes identified by analysis of chromatin interactions. Nature 485, 376–380 (2012).

Jiang, H., Lei, R., Ding, S.-W. & Zhu, S. Skewer: a fast and accurate adapter trimmer for next-generation sequencing paired-end reads. BMC Bioinformatics 15, 182 (2014).

Li, H. et al. The sequence alignment/map format and SAMtools. Bioinformatics 25, 2078–2079 (2009).

Schep, A. N., Wu, B., Buenrostro, J. D. & Greenleaf, W. J. chromVAR: inferring transcription-factor-associated accessibility from single-cell epigenomic data. Nat. Methods 14, 975–978 (2017).

Wenzel, S.-S. et al. MCL1 is deregulated in subgroups of diffuse large B-cell lymphoma. Leukemia 27, 1381–1390 (2013).
Acknowledgements
We thank J. Rettkowski and J. Kamping for assistance with experiments, T. König for FACS sorting, J. Brands for help with figure preparations and C. Brennecka for linguistic support. This work was supported by grants from the Deutsche Forschungsgemeinschaft (DFG; RO2295/6-1) and the University of Muenster Medical Faculty (Ros2/007/15) to F.R. M.P. is supported by the DFG (SFB992, SFB1160, SFB/TRR167, Reinhart-Koselleck-Grant).
Ethics declarations
Competing interests
The authors declare no competing interests.
Additional information
Publisher's note: Springer Nature remains neutral with regard to jurisdictional claims in published maps and institutional affiliations.
Integrated supplementary information
About this article
Cite this article
Fischer, J., Walter, C., Tönges, A. et al. Safeguard function of PU.1 shapes the inflammatory epigenome of neutrophils. Nat Immunol 20, 546–558 (2019). https://doi.org/10.1038/s41590-019-0343-z
Received:

Accepted:

Published:

Issue Date:

DOI: https://doi.org/10.1038/s41590-019-0343-z