Abstract
The adoption of Warburg metabolism is critical for the activation of macrophages in response to lipopolysaccharide. Macrophages stimulated with lipopolysaccharide increase their expression of nicotinamide phosphoribosyltransferase (NAMPT), a key enzyme in NAD+ salvage, and loss of NAMPT activity alters their inflammatory potential. However, the events that lead to the cells' becoming dependent on NAD+ salvage remain poorly defined. We found that depletion of NAD+ and increased expression of NAMPT occurred rapidly after inflammatory activation and coincided with DNA damage caused by reactive oxygen species (ROS). ROS produced by complex III of the mitochondrial electron-transport chain were required for macrophage activation. DNA damage was associated with activation of poly(ADP-ribose) polymerase, which led to consumption of NAD+. In this setting, increased NAMPT expression allowed the maintenance of NAD+ pools sufficient for glyceraldehyde-3-phosphate dehydrogenase activity and Warburg metabolism. Our findings provide an integrated explanation for the dependence of inflammatory macrophages on the NAD+ salvage pathway.
This is a preview of subscription content
Access options
Subscribe to Nature+
Get immediate online access to the entire Nature family of 50+ journals
Subscribe to Journal
Get full journal access for 1 year
$59.00
only $4.92 per issue
All prices are NET prices.
VAT will be added later in the checkout.
Tax calculation will be finalised during checkout.
Buy article
Get time limited or full article access on ReadCube.
$32.00
All prices are NET prices.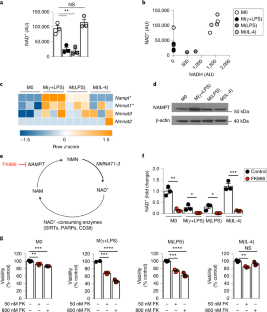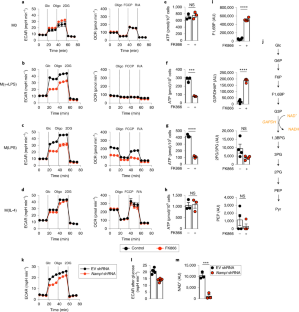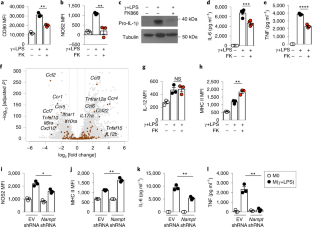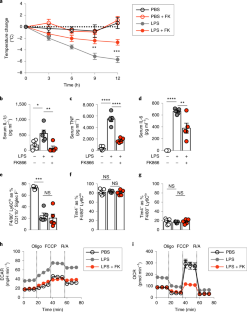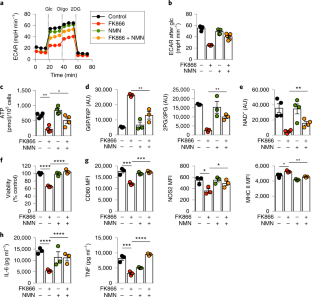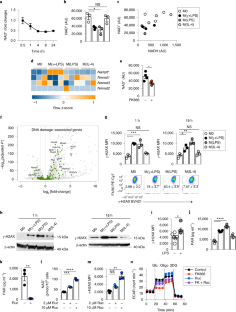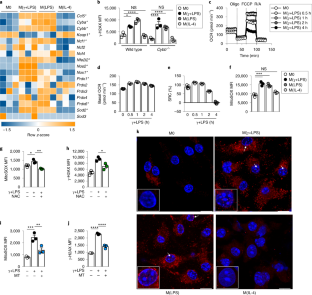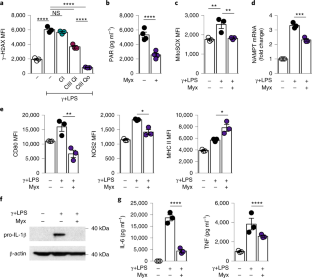 Data availability
All data generated or analyzed during this study are included in this published article (and its Supplementary information) and the data that support the findings of this study are available from the corresponding author upon reasonable request. Next-generation sequencing data can be accessed at Gene Expression Omnibus under accession code GSE123596.
References
Wynn, T. A., Chawla, A. & Pollard, J. W. Macrophage biology in development, homeostasis and disease. Nature 496, 445–455 (2013).

Huang, S. C. et al. Cell-intrinsic lysosomal lipolysis is essential for alternative activation of macrophages. Nat. Immunol. 15, 846–855 (2014).

Jha, A. K. et al. Network integration of parallel metabolic and transcriptional data reveals metabolic modules that regulate macrophage polarization. Immunity 42, 419–430 (2015).

Mills, E. L. et al. Succinate dehydrogenase supports metabolic repurposing of mitochondria to drive inflammatory macrophages. Cell 167, 457–470.e413 (2016).

Tannahill, G. M. et al. Succinate is an inflammatory signal that induces IL-1β through HIF-1α. Nature 496, 238–242 (2013).

Krawczyk, C. M. et al. Toll-like receptor-induced changes in glycolytic metabolism regulate dendritic cell activation. Blood 115, 4742–4749 (2010).

O'Neill, L. A. & Pearce, E. J. Immunometabolism governs dendritic cell and macrophage function. J. Exp. Med. 213, 15–23 (2016).

Locasale, J. W. & Cantley, L. C. Metabolic flux and the regulation of mammalian cell growth. Cell Metab. 14, 443–451 (2011).

Verdin, E. NAD+ in aging, metabolism, and neurodegeneration. Science 350, 1208–1213 (2015).

Busso, N. et al. Pharmacological inhibition of nicotinamide phosphoribosyltransferase/visfatin enzymatic activity identifies a new inflammatory pathway linked to NAD. PLoS One 3, e2267 (2008).

Halvorsen, B. et al. Increased expression of NAMPT in PBMC from patients with acute coronary syndrome and in inflammatory M1 macrophages. Atherosclerosis 243, 204–210 (2015).

Liu, T. F., Yoza, B. K., El Gazzar, M., Vachharajani, V. T. & McCall, C. E. NAD+-dependent SIRT1 deacetylase participates in epigenetic reprogramming during endotoxin tolerance. J. Biol. Chem. 286, 9856–9864 (2011).

Schilling, E. et al. Inhibition of nicotinamide phosphoribosyltransferase modifies LPS-induced inflammatory responses of human monocytes. Innate Immun. 18, 518–530 (2012).

Galli, M., Van Gool, F., Rongvaux, A., Andris, F. & Leo, O. The nicotinamide phosphoribosyltransferase: a molecular link between metabolism, inflammation, and cancer. Cancer Res. 70, 8–11 (2010).

Gerner, R. R. et al. NAD metabolism fuels human and mouse intestinal inflammation. Gut 67, 1813–1823 (2018).

Hasmann, M. & Schemainda, I. FK866, a highly specific noncompetitive inhibitor of nicotinamide phosphoribosyltransferase, represents a novel mechanism for induction of tumor cell apoptosis. Cancer Res. 63, 7436–7442 (2003).

Ronchi, J. A. et al. A spontaneous mutation in the nicotinamide nucleotide transhydrogenase gene of C57BL/6J mice results in mitochondrial redox abnormalities. Free. Radic. Biol. Med. 63, 446–456 (2013).

Everts, B. et al. Commitment to glycolysis sustains survival of NO-producing inflammatory dendritic cells. Blood 120, 1422–1431 (2012).

Tan, B. et al. Inhibition of nicotinamide phosphoribosyltransferase (NAMPT), an enzyme essential for NAD+ biosynthesis, leads to altered carbohydrate metabolism in cancer cells. J. Biol. Chem. 290, 15812–15824 (2015).

Liberti, M. V. et al. A Predictive Model for Selective Targeting of the Warburg Effect through GAPDH Inhibition with a Natural Product. Cell Metab. 26, 648–659.e648 (2017).

Barth, M. W., Hendrzak, J. A., Melnicoff, M. J. & Morahan, P. S. Review of the macrophage disappearance reaction. J. Leukoc. Biol. 57, 361–367 (1995).

Dockery, L. E., Gunderson, C. C. & Moore, K. N. Rucaparib: the past, present, and future of a newly approved PARP inhibitor for ovarian cancer. Onco. Target Ther. 10, 3029–3037 (2017).

Morales, A. J. et al. A type I IFN-dependent DNA damage response regulates the genetic program and inflammasome activation in macrophages. Elife 6, e24655 (2017).

Zingarelli, B., O'Connor, M., Wong, H., Salzman, A. L. & Szabo, C. Peroxynitrite-mediated DNA strand breakage activates poly-adenosine diphosphate ribosyl synthetase and causes cellular energy depletion in macrophages stimulated with bacterial lipopolysaccharide. J. Immunol. 156, 350–358 (1996).

Hayes, J. D. & Dinkova-Kostova, A. T. The Nrf2 regulatory network provides an interface between redox and intermediary metabolism. Trends Biochem. Sci. 39, 199–218 (2014).

Nunes, P., Demaurex, N. & Dinauer, M. C. Regulation of the NADPH oxidase and associated ion fluxes during phagocytosis. Traffic 14, 1118–1131 (2013).

Samuni, Y., Goldstein, S., Dean, O. M. & Berk, M. The chemistry and biological activities of N-acetylcysteine. Biochim. Biophys. Acta 1830, 4117–4129 (2013).

Ezeriņa, D., Takano, Y., Hanaoka, K., Urano, Y. & Dick, T. P. N-Acetyl cysteine functions as a fast-acting antioxidant by triggering intracellular H2S and sulfane sulfur production. Cell Chem. Biol. 25, 447–459.e444 (2018).

Murphy, M. P. How mitochondria produce reactive oxygen species. Biochem. J. 417, 1–13 (2009).

Bleier, L. & Drose, S. Superoxide generation by complex III: from mechanistic rationales to functional consequences. Biochim. Biophys. Acta 1827, 1320–1331 (2013).

Conradt, P., Dittmar, K. E., Schliephacke, H. & Trowitzsch-Kienast, W. Myxothiazol: a reversible blocker of the cell cycle. J. Antibiot. (Tokyo) 42, 1158–1162 (1989).

Matalonga, J. et al. The nuclear receptor LXR limits bacterial infection of host macrophages through a mechanism that impacts cellular NAD metabolism. Cell Rep. 18, 1241–1255 (2017).

Van Gool, F. et al. Intracellular NAD levels regulate tumor necrosis factor protein synthesis in a sirtuin-dependent manner. Nat. Med. 15, 206–210 (2009).

Sampath, D., Zabka, T. S., Misner, D. L., O'Brien, T. & Dragovich, P. S. Inhibition of nicotinamide phosphoribosyltransferase (NAMPT) as a therapeutic strategy in cancer. Pharmacol. Ther. 151, 16–31 (2015).

Tan, B. et al. Pharmacological inhibition of nicotinamide phosphoribosyltransferase (NAMPT), an enzyme essential for NAD + biosynthesis, in human cancer cells: metabolic basis and potential clinical implications. J. Biol. Chem. 288, 3500–3511 (2013).

Jackson, S. P. & Bartek, J. The DNA-damage response in human biology and disease. Nature 461, 1071–1078 (2009).

Pereira-Lopes, S. et al. NBS1 is required for macrophage homeostasis and functional activity in mice. Blood 126, 2502–2510 (2015).

Herrtwich, L. et al. DNA damage signaling instructs polyploid macrophage fate in granulomas. Cell 167, 1264–1280 e1218 (2016).

Singh, I. et al. High mobility group protein-mediated transcription requires DNA damage marker γ-H2AX. Cell Res. 25, 837–850 (2015).

Weintz, G. et al. The phosphoproteome of toll-like receptor-activated macrophages. Mol. Syst. Biol. 6, 371 (2010).

Leung, A., Todorova, T., Ando, Y. & Chang, P. Poly(ADP-ribose) regulates post-transcriptional gene regulation in the cytoplasm. RNA Biol. 9, 542–548 (2012).

Mills, E. L. et al. Itaconate is an anti-inflammatory metabolite that activates Nrf2 via alkylation of KEAP1. Nature 556, 113–117 (2018).

Palsson-McDermott, E. M. & O'Neill, L. A. The Warburg effect then and now: from cancer to inflammatory diseases. Bioessays 35, 965–973 (2013).

Garaude, J. et al. Mitochondrial respiratory-chain adaptations in macrophages contribute to antibacterial host defense. Nat. Immunol. 17, 1037–1045 (2016).

Nakahira, K. et al. Autophagy proteins regulate innate immune responses by inhibiting the release of mitochondrial DNA mediated by the NALP3 inflammasome. Nat. Immunol. 12, 222–230 (2011).

West, A. P. et al. TLR signalling augments macrophage bactericidal activity through mitochondrial ROS. Nature 472, 476–480 (2011).

Park, J. et al. Mitochondrial ROS govern the LPS-induced pro-inflammatory response in microglia cells by regulating MAPK and NF-κB pathways. Neurosci. Lett. 584, 191–196 (2015).

Bulua, A. C. et al. Mitochondrial reactive oxygen species promote production of proinflammatory cytokines and are elevated in TNFR1-associated periodic syndrome (TRAPS). J. Exp. Med. 208, 519–533 (2011).

Afgan, E. et al. The Galaxy platform for accessible, reproducible and collaborative biomedical analyses: 2016 update. Nucleic Acids Res. 44, W3–W10 (2016).

Ramirez, F. et al. deepTools2: a next generation web server for deep-sequencing data analysis. Nucleic Acids Res. 44, W160–W165 (2016).

Dobin, A. et al. STAR: ultrafast universal RNA-seq aligner. Bioinformatics 29, 15–21 (2013).

Liao, Y., Smyth, G. K. & Shi, W. featureCounts: an efficient general purpose program for assigning sequence reads to genomic features. Bioinformatics 30, 923–930 (2014).

Love, M. I., Huber, W. & Anders, S. Moderated estimation of fold change and dispersion for RNA-seq data with DESeq2. Genome Biol. 15, 550 (2014).

Lu, W., Wang, L., Chen, L., Hui, S. & Rabinowitz, J. D. Extraction and quantitation of nicotinamide adenine dinucleotide redox cofactors. Antioxid. Redox Signal 28, 167–179 (2018).
Acknowledgements
We thank members of the Pearce laboratories for support and discussions, and B. Sleckman and A. Morales at Cornell Weill and E. Latz and M. Lauterbach at University of Bonn for their generous advice during these studies. We also thank D. Braas and the UCLA Metabolomics Centre and the DeepSequencing facility at the Max Planck Institute of Immunobiology and Epigenetics for their technical support. This work was funded by National Institutes of Health grants AI 110481 (E.J.P.) and CA18125 (E.L.P.), a Capes Humboldt Research Fellowship (A.C.), a Sir Henry Wellcome Fellowship awarded by The Wellcome Trust (D.J.P.), and the Max Planck Society (E.J.P and E.L.P).
Ethics declarations
Competing interests
E.J.P. and E.L.P. are founders of Rheos Medicines, and E.L.P. is a member of the Scientific Advisory Board for ImmunoMet Therapeutics.
Additional information
Publisher's note: Springer Nature remains neutral with regard to jurisdictional claims in published maps and institutional affiliations.
Integrated supplementary information
Supplementary information
Supplementary Figures 1–8
About this article
Cite this article
Cameron, A.M., Castoldi, A., Sanin, D.E. et al. Inflammatory macrophage dependence on NAD+ salvage is a consequence of reactive oxygen species–mediated DNA damage. Nat Immunol 20, 420–432 (2019). https://doi.org/10.1038/s41590-019-0336-y
Received:

Accepted:

Published:

Issue Date:

DOI: https://doi.org/10.1038/s41590-019-0336-y