Abstract
N-myristoyltransferase (NMT) attaches the fatty acid myristate to the N-terminal glycine of proteins to sort them into soluble and membrane-bound fractions. Function of the energy-sensing AMP-activated protein kinase, AMPK, is myristoylation dependent. In rheumatoid arthritis (RA), pathogenic T cells shift glucose away from adenosine tri-phosphate production toward synthetic and proliferative programs, promoting proliferation, cytokine production, and tissue invasion. We found that RA T cells had a defect in NMT1 function, which prevented AMPK activation and enabled unopposed mTORC1 signaling. Lack of the myristate lipid tail disrupted the lysosomal translocation and activation of AMPK. Instead, myristoylation-incompetent RA T cells hyperactivated the mTORC1 pathway and differentiated into pro-inflammatory TH1 and TH17 helper T cells. In vivo, NMT1 loss caused robust synovial tissue inflammation, whereas forced NMT1 overexpression rescued AMPK activation and suppressed synovitis. Thus, NMT1 has tissue-protective functions by facilitating lysosomal recruitment of AMPK and dampening mTORC1 signaling.
Relevant articles
Open Access articles citing this article.
Yucong Peng

,

Jianfeng Zhuang

…

Gao Chen

Journal of Neuroinflammation Open Access 25 May 2020
Access options
Subscribe to Nature+
Get immediate online access to Nature and 55 other Nature journal
Subscribe to Journal
Get full journal access for 1 year
$79.00
only $6.58 per issue
All prices are NET prices.
VAT will be added later in the checkout.
Tax calculation will be finalised during checkout.
Buy article
Get time limited or full article access on ReadCube.
$32.00
All prices are NET prices.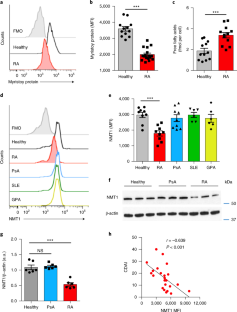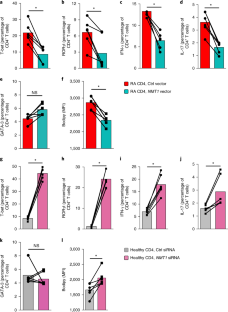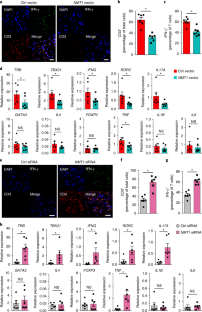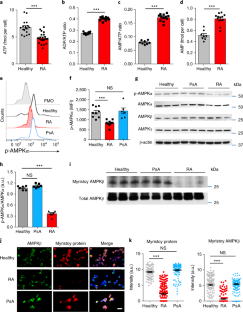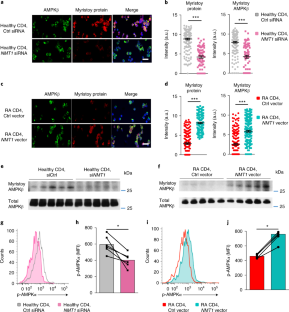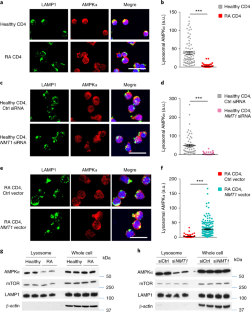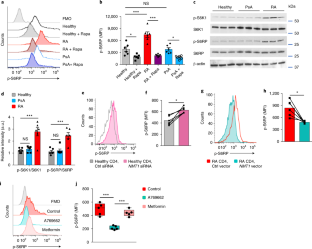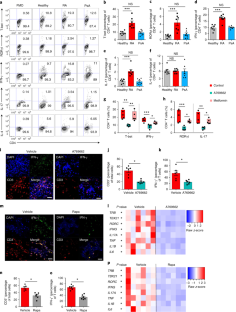 Data availability
The data that support the findings of this study are available from the corresponding author upon request.
References
Rao, D. A. et al. Pathologically expanded peripheral T helper cell subset drives B cells in rheumatoid arthritis. Nature 542, 110–114 (2017).

Weyand, C. M. & Goronzy, J. J. T-cell-targeted therapies in rheumatoid arthritis. Nat. Clin. Pract. Rheumatol. 2, 201–210 (2006).

Weyand, C. M. & Goronzy, J. J. Immunometabolism in early and late stages of rheumatoid arthritis. Nat. Rev. Rheumatol. 13, 291–301 (2017).

Weyand, C. M., Shen, Y. & Goronzy, J. Redox-sensitive signaling in inflammatory T cells and in autoimmune disease. Free Radic. Biol. Med. 125, 36–43 (2018).

Shen, Y. et al. Metabolic control of the scaffold protein TKS5 in tissue-invasive, proinflammatory T cells. Nat. Immunol. 18, 1025–1034 (2017).

Yang, Z., Fujii, H., Mohan, S. V., Goronzy, J. J. & Weyand, C. M. Phosphofructokinase deficiency impairs ATP generation, autophagy, and redox balance in rheumatoid arthritis T cells. J. Exp. Med. 210, 2119–2134 (2013).

Yang, Z. et al. Restoring oxidant signaling suppresses proarthritogenic T cell effector functions in rheumatoid arthritis. Sci. Transl. Med. 8, 331ra338 (2016).

Tsokos, G. C. Metabolic control of arthritis: switch pathways to treat. Sci. Transl. Med. 8, 331fs338 (2016).

Shao, L. et al. Deficiency of the DNA repair enzyme ATM in rheumatoid arthritis. J. Exp. Med. 206, 1435–1449 (2009).

Li, Y. et al. Deficient activity of the nuclease MRE11A induces T cell aging and promotes arthritogenic effector functions in patients with rheumatoid arthritis. Immunity 45, 903–916 (2016).

Tsokos, G. C. Fat T cells go to the joint. Nat. Immunol. 18, 955–956 (2017).

Wang, C. W. Lipid droplets, lipophagy, and beyond. Biochim. Biophys. Acta 1861, 793–805 (2016).

Ma, E. H., Poffenberger, M. C., Wong, A. H. & Jones, R. G. The role of AMPK in T cell metabolism and function. Curr. Opin. Immunol. 46, 45–52 (2017).

Gowans, G. J., Hawley, S. A., Ross, F. A. & Hardie, D. G. AMP is a true physiological regulator of AMP-activated protein kinase by both allosteric activation and enhancing net phosphorylation. Cell. Metab. 18, 556–566 (2013).

Herzig, S. & Shaw, R. J. AMPK: guardian of metabolism and mitochondrial homeostasis. Nat. Rev. Mol. Cell Biol. 19, 121–135 (2018).

Zhang, C. S. et al. The lysosomal v-ATPase-Ragulator complex is a common activator for AMPK and mTORC1, acting as a switch between catabolism and anabolism. Cell. Metab. 20, 526–540 (2014).

Lin, S. C. & Hardie, D. G. AMPK: sensing glucose as well as cellular energy status. Cell. Metab. 27, 299–313 (2018).

Zhang, C. S. et al. Fructose-1,6-bisphosphate and aldolase mediate glucose sensing by AMPK. Nature 548, 112–116 (2017).

Blagih, J. et al. The energy sensor AMPK regulates T cell metabolic adaptation and effector responses in vivo. Immunity 42, 41–54 (2015).

Kim, J., Kundu, M., Viollet, B. & Guan, K. L. AMPK and mTOR regulate autophagy through direct phosphorylation of Ulk1. Nat. Cell Biol. 13, 132–141 (2011).

Chi, H. Regulation and function of mTOR signalling in T cell fate decisions. Nat. Rev. Immunol. 12, 325–338 (2012).

Delgoffe, G. M. et al. The kinase mTOR regulates the differentiation of helper T cells through the selective activation of signaling by mTORC1 and mTORC2. Nat. Immunol. 12, 295–303 (2011).

Sancak, Y. et al. Ragulator-Rag complex targets mTORC1 to the lysosomal surface and is necessary for its activation by amino acids. Cell 141, 290–303 (2010).

Hardie, D. G. AMPK and Raptor: matching cell growth to energy supply. Mol. Cell 30, 263–265 (2008).

Oakhill, J. S. et al. beta-Subunit myristoylation is the gatekeeper for initiating metabolic stress sensing by AMP-activated protein kinase (AMPK). Proc. Natl Acad. Sci. USA 107, 19237–19241 (2010).

Udenwobele, D. I. et al. Myristoylation: an important protein modification in the immune response. Front. Immunol. 8, 751 (2017).

Ducker, C. E., Upson, J. J., French, K. J. & Smith, C. D. Two N-myristoyltransferase isozymes play unique roles in protein myristoylation, proliferation, and apoptosis. Mol. Cancer Res. 3, 463–476 (2005).

Yang, S. H. et al. N-myristoyltransferase 1 is essential in early mouse development. J. Biol. Chem. 280, 18990–18995 (2005).

Shrivastav, A. et al. Requirement of N-myristoyltransferase 1 in the development of monocytic lineage. J. Immunol. 180, 1019–1028 (2008).

Weyand, C. M., Yang, Z. & Goronzy, J. J. T-cell aging in rheumatoid arthritis. Curr. Opin. Rheumatol. 26, 93–100 (2014).

Finlay, D. & Cantrell, D. A. Metabolism, migration and memory in cytotoxic T cells. Nat. Rev. Immunol. 11, 109–117 (2011).

Navarro, M. N. & Cantrell, D. A. Serine-threonine kinases in TCR signaling. Nat. Immunol. 15, 808–814 (2014).

Gwinn, D. M. et al. AMPK phosphorylation of raptor mediates a metabolic checkpoint. Mol. Cell 30, 214–226 (2008).

Zhang, C. S. et al. Metformin activates AMPK through the lysosomal pathway. Cell. Metab. 24, 521–522 (2016).

Fullerton, M. D. et al. Single phosphorylation sites in Acc1 and Acc2 regulate lipid homeostasis and the insulin-sensitizing effects of metformin. Nat. Med. 19, 1649–1654 (2013).

Lochner, M., Berod, L. & Sparwasser, T. Fatty acid metabolism in the regulation of T cell function. Trends Immunol. 36, 81–91 (2015).

Dudek, E. et al. N-Myristoyltransferase 1 interacts with calnexin at the endoplasmic reticulum. Biochem. Biophys. Res. Commun. 468, 889–893 (2015).

Ohta, H., Takamune, N., Kishimoto, N., Shoji, S. & Misumi, S. N-Myristoyltransferase 1 enhances human immunodeficiency virus replication through regulation of viral RNA expression level. Biochem. Biophys. Res. Commun. 463, 988–993 (2015).

Kim, S. et al. Blocking myristoylation of SRC inhibits its kinase activity and suppresses prostate cancer progression. Cancer Res. 77, 6950–6962 (2017).

Thinon, E. et al. Global profiling of co- and post-translationally N-myristoylated proteomes in human cells. Nat. Commun. 5, 4919 (2014).

Liang, J. et al. Myristoylation confers noncanonical AMPK functions in autophagy selectivity and mitochondrial surveillance. Nat. Commun. 6, 7926 (2015).

Hardie, D. G. AMPK—sensing energy while talking to other signaling pathways. Cell. Metab. 20, 939–952 (2014).

Kelly, B., Tannahill, G. M., Murphy, M. P. & O'Neill, L. A. Metformin inhibits the production of reactive oxygen species from NADH:ubiquinone oxidoreductase to limit induction of interleukin-1beta (IL-1beta) and boosts interleukin-10 (IL-10) in lipopolysaccharide (LPS)-activated macrophages. J. Biol. Chem. 290, 20348–20359 (2015).

O'Neill, L. A., Kishton, R. J. & Rathmell, J. A guide to immunometabolism for immunologists. Nat. Rev. Immunol. 16, 553–565 (2016).

Perl, A. Review: metabolic control of immune system activation in rheumatic diseases. Arthritis Rheumatol. 69, 2259–2270 (2017).

Cool, B. et al. Identification and characterization of a small molecule AMPK activator that treats key components of type 2 diabetes and the metabolic syndrome. Cell. Metab. 3, 403–416 (2006).

Lai, Z. W. et al. Sirolimus in patients with clinically active systemic lupus erythematosus resistant to, or intolerant of, conventional medications: a single-arm, open-label, phase 1/2 trial. Lancet 391, 1186–1196 (2018).

Huang, N. & Perl, A. Metabolism as a target for modulation in autoimmune diseases. Trends Immunol. 39, 562–576 (2018).

Wen, Z. et al.The microvascular niche instructs T cells in large vessel vasculitis via the VEGF-Jagged1-Notch pathway. Sci. Transl. Med. 9, pii: eaal3322 (2017).

Fang, Y. et al. Duration of rapamycin treatment has differential effects on metabolism in mice. Cell. Metab. 17, 456–462 (2013).
Acknowledgements
This work was supported by the National Institutes of Health (grant nos. R01 AR042527, R01 HL 117913, R01 AI108906 and P01 HL129941 to C.M.W. and nos. R01 AI108891, R01 AG045779, U19 AI057266 and I01 BX001669 to J.J.G.).
Ethics declarations
Competing interests
The authors declare no competing interests.
Additional information
Publisher's note: Springer Nature remains neutral with regard to jurisdictional claims in published maps and institutional affiliations.
Integrated supplementary information
Supplementary information
Supplementary Figures 1–8, Supplementary Table 1
About this article
Cite this article
Wen, Z., Jin, K., Shen, Y. et al. N-myristoyltransferase deficiency impairs activation of kinase AMPK and promotes synovial tissue inflammation. Nat Immunol 20, 313–325 (2019). https://doi.org/10.1038/s41590-018-0296-7
Received:

Accepted:

Published:

Issue Date:

DOI: https://doi.org/10.1038/s41590-018-0296-7