Abstract
Activation-induced cell death (AICD) of T lymphocytes can be exploited by cancers to escape immunological destruction. We demonstrated that tumor-specific cytotoxic T lymphocytes (CTLs) and type 1 helper T (TH1) cells, rather than type 2 helper T cells and regulatory T cells, were sensitive to AICD in breast and lung cancer microenvironments. NKILA, an NF-κB-interacting long noncoding RNA (lncRNA), regulates T cell sensitivity to AICD by inhibiting NF-κB activity. Mechanistically, calcium influx in stimulated T cells via T cell–receptor signaling activates calmodulin, thereby removing deacetylase from the NKILA promoter and enhancing STAT1-mediated transcription. Administering CTLs with NKILA knockdown effectively inhibited growth of breast cancer patient-derived xenografts in mice by increasing CTL infiltration. Clinically, NKILA overexpression in tumor-specific CTLs and TH1 cells correlated with their apoptosis and shorter patient survival. Our findings underscore the importance of lncRNAs in determining tumor-mediated T cell AICD and suggest that engineering lncRNAs in adoptively transferred T cells might provide a novel antitumor immunotherapy.
Access options
Subscribe to Journal
Get full journal access for 1 year
$209.00
only $17.42 per issue
All prices are NET prices.
VAT will be added later in the checkout.
Rent or Buy article
Get time limited or full article access on ReadCube.
from$8.99
All prices are NET prices.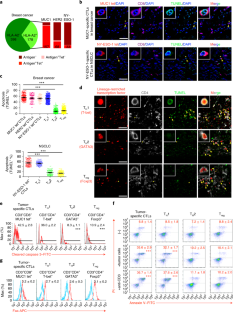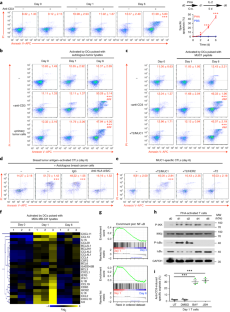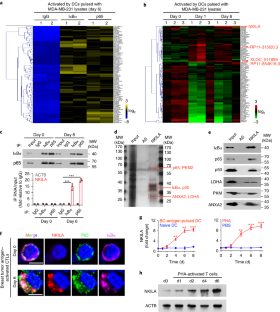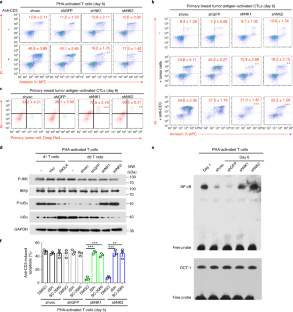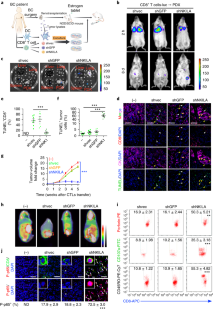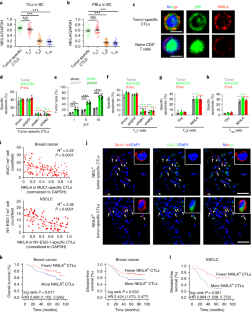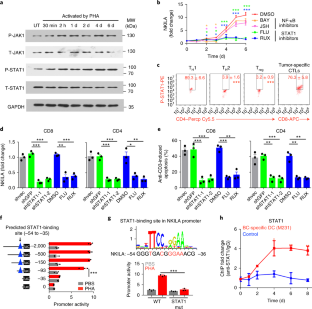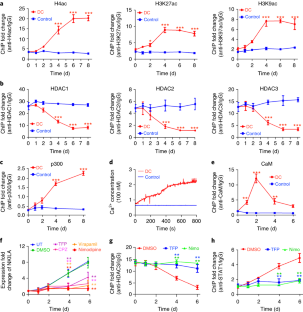 References
1.

Schietinger, A. & Greenberg, P. D. Tolerance and exhaustion: defining mechanisms of T cell dysfunction. Trends Immunol. 35, 51–60 (2014).

2.

Gati, A. et al. CD158 receptor controls cytotoxic T-lymphocyte susceptibility to tumor-mediated activation-induced cell death by interfering with Fas signaling. Cancer Res. 63, 7475–7482 (2003).

3.

Grimm, M. et al. Tumour-mediated TRAIL-receptor expression indicates effective apoptotic depletion of infiltrating CD8+ immune cells in clinical colorectal cancer. Eur. J. Cancer 46, 2314–2323 (2010).

4.

Kassouf, N. & Thornhill, M. H. Oral cancer cell lines can use multiple ligands, including Fas-L, TRAIL and TNF-alpha, to induce apoptosis in Jurkat T cells: possible mechanisms for immune escape by head and neck cancers. Oral Oncol. 44, 672–682 (2008).

5.

Wang, K. C. & Chang, H. Y. Molecular mechanisms of long noncoding RNAs. Mol. Cell 43, 904–914 (2011).

6.

Heward, J. A. & Lindsay, M. A. Long non-coding RNAs in the regulation of the immune response. Trends Immunol. 35, 408–419 (2014).

7.

Atianand, M. K. et al. A long noncoding RNA lincRNA-EPS acts as a transcriptional brake to restrain inflammation. Cell 165, 1672–1685 (2016).

8.

Wang, P. et al. The STAT3-binding long noncoding RNA lnc-DC controls human dendritic cell differentiation. Science 344, 310–313 (2014).

9.

Ranzani, V. et al. The long intergenic noncoding RNA landscape of human lymphocytes highlights the regulation of T cell differentiation by linc-MAF-4. Nat. Immunol. 16, 318–325 (2015).

10.

Hu, G. et al. Expression and regulation of intergenic long noncoding RNAs during T cell development and differentiation. Nat. Immunol. 14, 1190–1198 (2013).

11.

Haanen, J. B. et al. In situ detection of virus- and tumor-specific T-cell immunity. Nat. Med. 6, 1056–1060 (2000).

12.

Disis, M. L. et al. Concurrent trastuzumab and HER2/neu-specific vacactivated CTLs (n = 3 independentcination in patients with metastatic breast cancer. J. Clin. Oncol. 27, 4685–4692 (2009).

13.

Lee, H. J. et al. Expression of NY-ESO-1 in triple-negative breast cancer is associated with tumor-infiltrating lymphocytes and a good prognosis. Oncology 89, 337–344 (2015).

14.

Rentzsch, C. et al. Evaluation of pre-existent immunity in patients with primary breast cancer: molecular and cellular assays to quantify antigen-specific T lymphocytes in peripheral blood mononuclear cells. Clin. Cancer Res. 9, 4376–4386 (2003).

15.

Zhu, J. & Paul, W. E. CD4 T cells: fates, functions, and faults. Blood 112, 1557–1569 (2008).

16.

Tauriello, D. V. F. et al. TGFβ drives immune evasion in genetically reconstituted colon cancer metastasis. Nature 554, 538–543 (2018).

17.

Mansfield, A. S. et al. Regional immunity in melanoma: immunosuppressive changes precede nodal metastasis. Mod. Pathol. 24, 487–494 (2011).

18.

Su, S. et al. Blocking the recruitment of naive CD4+ T cells reverses immunosuppression in breast cancer. Cell Res. 27, 461–482 (2017).

19.

Krammer, P. H., Arnold, R. & Lavrik, I. N. Life and death in peripheral T cells. Nat. Rev. Immunol. 7, 532–542 (2007).

20.

Ankersmit, H. J. et al. Activation-induced T-cell death and immune dysfunction after implantation of left-ventricular assist device. Lancet 354, 550–555 (1999).

21.

Li-Weber, M. et al. Vitamin E inhibits CD95 ligand expression and protects T cells from activation-induced cell death. J. Clin. Invest. 110, 681–690 (2002).

22.

Rapoport, A. P. et al. NY-ESO-1-specific TCR-engineered T cells mediate sustained antigen-specific antitumor effects in myeloma. Nat. Med. 21, 914–921 (2015).

23.

Norell, H. et al. Inhibition of superoxide generation upon T-cell receptor engagement rescues Mart-1(27-35)-reactive T cells from activation-induced cell death. Cancer Res. 69, 6282–6289 (2009).

24.

Strønen, E. et al. Targeting of cancer neoantigens with donor-derived T cell receptor repertoires. Science 352, 1337–1341 (2016).

25.

Feuerer, M. et al. Therapy of human tumors in NOD/SCID mice with patient-derived reactivated memory T cells from bone marrow. Nat. Med. 7, 452–458 (2001).

26.

Han, W. et al. RNA-binding protein PCBP2 modulates glioma growth by regulating FHL3. J. Clin. Invest. 123, 2103–2118 (2013).

27.

Beckhove, P. et al. Specifically activated memory T cell subsets from cancer patients recognize and reject xenotransplanted autologous tumors. J. Clin. Invest. 114, 67–76 (2004).

28.

Rubio, V. et al. Ex vivo identification, isolation and analysis of tumor-cytolytic Tcells. Nat. Med. 9, 1377–1382 (2003).

29.

Becker, C. et al. Adoptive tumor therapy with T lymphocytes enriched through an IFN-γ capture assay. Nat. Med. 7, 1159–1162 (2001).

30.

Cappuzzo, F. et al. EGFR FISH assay predicts for response to cetuximab in chemotherapy refractory colorectal cancer patients. Ann. Oncol. 19, 717–723 (2008).

31.

Liu, B. et al. A cytoplasmic NF-κB interacting long noncoding RNA blocks IκB phosphorylation and suppresses breast cancer metastasis. Cancer Cell 27, 370–381 (2015).

32.

Fuertes, M. B. et al. Host type I IFN signals are required for antitumor CD8+ T cell responses through CD8alpha+ dendritic cells. J. Exp. Med. 208, 2005–2016 (2011).

33.

Youn, H. D. & Liu, J. O. Cabin1 represses MEF2-dependent Nur77 expression and T cell apoptosis by controlling association of histone deacetylases and acetylases with MEF2. Immunity 13, 85–94 (2000).

34.

Liu, J. O. Calmodulin-dependent phosphatase, kinases, and transcriptional corepressors involved in T-cell activation. Immunol. Rev. 228, 184–198 (2009).

35.

Gu-Trantien, C. et al. CD4+ follicular helper T cell infiltration predicts breast cancer survival. J. Clin. Invest. 123, 2873–2892 (2013).

36.

Ruffell, B., DeNardo, D. G., Affara, N. I. & Coussens, L. M. Lymphocytes in cancer development: polarization towards pro-tumor immunity. Cytokine Growth Factor Rev. 21, 3–10 (2010).

37.

Palucka, A. K. & Coussens, L. M. The basis of oncoimmunology. Cell 164, 1233–1247 (2016).

38.

Dong, H. et al. Tumor-associated B7-H1 promotes T-cell apoptosis: a potential mechanism of immune evasion. Nat. Med. 8, 793–800 (2002).

39.

Motz, G. T. et al. Tumor endothelium FasL establishes a selective immune barrier promoting tolerance in tumors. Nat. Med. 20, 607–615 (2014).

40.

Jiang, R. et al. The long noncoding RNA lnc-EGFR stimulates T-regulatory cells differentiation thus promoting hepatocellular carcinoma immune evasion. Nat. Commun. 8, 15129 (2017).

41.

Stagg, J., Johnstone, R. W. & Smyth, M. J. From cancer immunosurveillance to cancer immunotherapy. Immunol. Rev. 220, 82–101 (2007).

42.

Rosenberg, S. A. & Restifo, N. P. Adoptive cell transfer as personalized immunotherapy for human cancer. Science 348, 62–68 (2015).

43.

Chhabra, A. TCR-engineered, customized, antitumor T cells for cancer immunotherapy: advantages and limitations. ScientificWorldJournal 11, 121–129 (2011).

44.

Gutschner, T. et al. The noncoding RNA MALAT1 is a critical regulator of the metastasis phenotype of lung cancer cells. Cancer Res. 73, 1180–1189 (2013).

45.

Beil-Wagner, J. et al. T cell-specific inactivation of mouse CD2 by CRISPR/Cas9. Sci. Rep. 6, 21377 (2016).

46.

Yao, Y. D. et al. Targeted delivery of PLK1-siRNA by ScFv suppresses Her2+ breast cancer growth and metastasis. Sci. Transl. Med. 4, 130ra48 (2012).

47.

Su, S. et al. CD10+GPR77+ cancer-associated fibroblasts promote cancer formation and chemoresistance by sustaining cancer stemness. Cell 172, 841–856.e816 (2018).

48.

Chen, J. et al. CCL18 from tumor-associated macrophages promotes breast cancer metastasis via PITPNM3. Cancer Cell 19, 541–555 (2011).

49.

Rossi, R. L. et al. Distinct microRNA signatures in human lymphocyte subsets and enforcement of the naive state in CD4+ T cells by the microRNA miR-125b. Nat. Immunol. 12, 796–803 (2011).

50.

Dieu-Nosjean, M. C. et al. Long-term survival for patients with non-small-cell lung cancer with intratumoral lymphoid structures. J. Clin. Oncol. 26, 4410–4417 (2008).

51.

Brenner, D., Golks, A., Kiefer, F., Krammer, P. H. & Arnold, R. Activation or suppression of NFκB by HPK1 determines sensitivity to activation-induced cell death. EMBO J. 24, 4279–4290 (2005).

52.

Sun, T. et al. FASL -844C polymorphism is associated with increased activation-induced T cell death and risk of cervical cancer. J. Exp. Med. 202, 967–974 (2005).

53.

Tang, J., Flomenberg, P., Harshyne, L., Kenyon, L. & Andrews, D. W. Glioblastoma patients exhibit circulating tumor-specific CD8+T cells. Clin. Cancer Res. 11, 5292–5299 (2005).

54.

Su, S. et al. miR-142-5p and miR-130a-3p are regulated by IL-4 and IL-13 and control profibrogenic macrophage program. Nat. Commun. 6, 8523 (2015).

55.

Wang, G. L. et al. Interaction between Cl- channels and CRAC-related Ca2+signaling during T lymphocyte activation and proliferation. Acta Pharmacol. Sin. 27, 437–446 (2006).
Acknowledgements
This work was supported by grants from the National Key Research and Development Program of China (2017YFA0106300 (S.S.) and 2016YFC1302300 (E.S.)), Natural Science Foundation of China (81720108029 (E.S.), 81622036 (S.S.),81472468 (S.S.), 81672614 (S.S.), 81621004 (E.S.), and 81490750 (E.S.)), Guangdong Science and Technology Department (2016A030306023 (S.S.), 2017A030313878 (S.S.), 2016B030229004 (E.S.), 2015B050501004 (E.S.), and 201710010083 (E.S.)), Tip-top Scientific and Technical Innovative Youth Talents of Guangdong Special Support Program (2016TQ03R553 (S.S.)), and Guangzhou Science Technology and Innovation Commission (201508020008 (E.S.) and 201508020249 (E.S.)).
Ethics declarations
Competing interests
The authors declare no competing interests.
Additional information
Publisher's note: Springer Nature remains neutral with regard to jurisdictional claims in published maps and institutional affiliations.
Integrated supplementary information
Supplementary information
About this article
Cite this article
Huang, D., Chen, J., Yang, L. et al. NKILA lncRNA promotes tumor immune evasion by sensitizing T cells to activation-induced cell death. Nat Immunol 19, 1112–1125 (2018). https://doi.org/10.1038/s41590-018-0207-y
Received:

Accepted:

Published:

Issue Date: