Abstract
The sensing of microbial genetic material by leukocytes often elicits beneficial pro-inflammatory cytokines, but dysregulated responses can cause severe pathogenesis. Genome-wide association studies have linked the gene encoding phospholipase D3 (PLD3) to Alzheimer's disease and have linked PLD4 to rheumatoid arthritis and systemic sclerosis. PLD3 and PLD4 are endolysosomal proteins whose functions are obscure. Here, PLD4-deficient mice were found to have an inflammatory disease, marked by elevated levels of interferon-γ (IFN-γ) and splenomegaly. These phenotypes were traced to altered responsiveness of PLD4-deficient dendritic cells to ligands of the single-stranded DNA sensor TLR9. Macrophages from PLD3-deficient mice also had exaggerated TLR9 responses. Although PLD4 and PLD3 were presumed to be phospholipases, we found that they are 5′ exonucleases, probably identical to spleen phosphodiesterase, that break down TLR9 ligands. Mice deficient in both PLD3 and PLD4 developed lethal liver inflammation in early life, which indicates that both enzymes are needed to regulate inflammatory cytokine responses via the degradation of nucleic acids.
Access options
Subscribe to Journal
Get full journal access for 1 year
$59.00
only $4.92 per issue
All prices are NET prices.
VAT will be added later in the checkout.
Tax calculation will be finalised during checkout.
Rent or Buy article
Get time limited or full article access on ReadCube.
from$8.99
All prices are NET prices.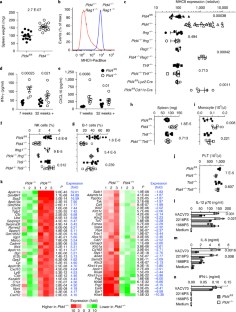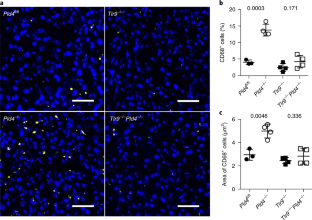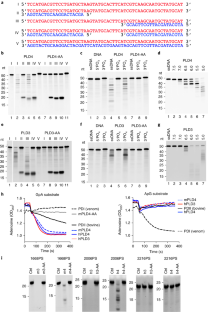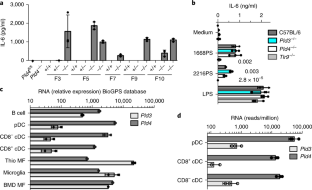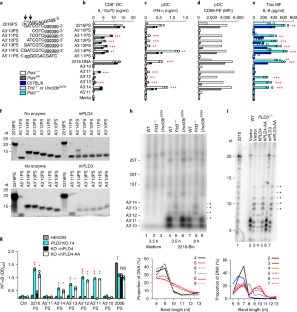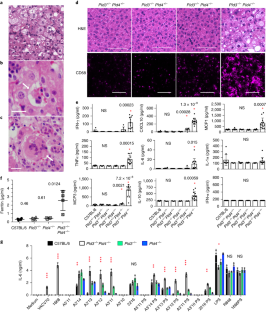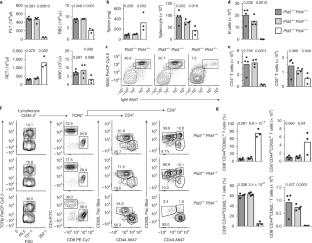 References
1.

Schlee, M. & Hartmann, G. Discriminating self from non-self in nucleic acid sensing. Nat. Rev. Immunol. 16, 566–580 (2016).

2.

Barbalat, R., Ewald, S. E., Mouchess, M. L. & Barton, G. M. Nucleic acid recognition by the innate immune system. Annu. Rev. Immunol. 29, 185–214 (2011).

3.

Rigby, R. E., Leitch, A. & Jackson, A. P. Nucleic acid-mediated inflammatory diseases. BioEssays 30, 833–842 (2008).

4.

Al-Mayouf, S. M. et al. Loss-of-function variant in DNASE1L3 causes a familial form of systemic lupus erythematosus. Nat. Genet. 43, 1186–1188 (2011).

5.

Napirei, M. et al. Features of systemic lupus erythematosus in Dnase1-deficient mice. Nat. Genet. 25, 177–181 (2000).

6.

Yasutomo, K. et al. Mutation of DNASE1 in people with systemic lupus erythematosus. Nat. Genet. 28, 313–314 (2001).

7.

Kawane, K. et al. Requirement of DNase II for definitive erythropoiesis in the mouse fetal liver. Science 292, 1546–1549 (2001).

8.

Rodero, M. P. et al. Type I interferon-mediated autoinflammation due to DNase II deficiency. Nat. Commun. 8, 2176 (2017).

9.

Morita, M. et al. Gene-targeted mice lacking the Trex1 (DNase III) 3′–>5′ DNA exonuclease develop inflammatory myocarditis. Mol. Cell. Biol. 24, 6719–6727 (2004).

10.

Lee-Kirsch, M. A. et al. Mutations in the gene encoding the 3′-5′ DNA exonuclease TREX1 are associated with systemic lupus erythematosus. Nat. Genet. 39, 1065–1067 (2007).

11.

Rice, G. et al. Heterozygous mutations in TREX1 cause familial chilblain lupus and dominant Aicardi-Goutieres syndrome. Am. J. Hum. Genet. 80, 811–815 (2007).

12.

Ipsaro, J. J., Haase, A. D., Knott, S. R., Joshua-Tor, L. & Hannon, G. J. The structural biochemistry of Zucchini implicates it as a nuclease in piRNA biogenesis. Nature 491, 279–283 (2012).

13.

Waite, M. The PLD superfamily: insights into catalysis. Biochim. Biophys. Acta 1439, 187–197 (1999).

14.

McDermott, M., Wakelam, M. J. & Morris, A. J. Phospholipase D. Biochem. Cell Biol. 82, 225–253 (2004).

15.

Otani, Y. et al. PLD$ is involved in phagocytosis of microglia: expression and localization changes of PLD4 are correlated with activation state of microglia. PLoS One 6, e27544 (2011).

16.

Fazzari, P. et al. PLD3 gene and processing of APP. Nature 541, E1–E2 (2017).

17.

Gonzalez, A. C. et al. Unconventional trafficking of mammalian phospholipase D3 to lysosomes. Cell Rep. 22, 1040–1053 (2018).

18.

Terao, C. et al. PLD4 as a novel susceptibility gene for systemic sclerosis in a Japanese population. Arthritis Rheum. 65, 472–480 (2013).

19.

Okada, Y. et al. Meta-analysis identifies nine new loci associated with rheumatoid arthritis in the Japanese population. Nat. Genet. 44, 511–516 (2012).

20.

Chen, W. C. et al. rs2841277 (PLD4) is associated with susceptibility and rs4672495 is associated with disease activity in rheumatoid arthritis. Oncotarget 8, 64180–64190 (2017).

21.

Cruchaga, C. et al. Rare coding variants in the phospholipase D3 gene confer risk for Alzheimer's disease. Nature 505, 550–554 (2014).

22.

Zhang, D. F. et al. PLD3 in Alzheimer's disease: a modest effect as revealed by updated association and expression analyses. Mol. Neurobiol. 53, 4034–4045 (2016).

23.

Hooli, B. V. et al. PLD3 gene variants and Alzheimer's disease. Nature 520, E7–E8 (2015).

24.

Heilmann, S. et al. PLD3 in non-familial Alzheimer's disease. Nature 520, E3–E5 (2015).

25.

Yoshikawa, F. et al. Phospholipase D family member 4, a transmembrane glycoprotein with no phospholipase D activity, expression in spleen and early postnatal microglia. PLoS One 5, e13932 (2010).

26.

Osisami, M., Ali, W. & Frohman, M. A. A role for phospholipase D3 in myotube formation. PLoS One 7, e33341 (2012).

27.

Bernardi, A. & Bernardi, G. Studies on acid hydrolases. IV. Isolation and characterization of spleen exonuclease. Biochim. Biophys. Acta 155, 360–370 (1968).

28.

Hilmoe, R. J. Purification and properties of spleen phosphodiesterase. J. Biol. Chem. 235, 2117–2121 (1960).

29.

Willenborg, D. O., Fordham, S. A., Staykova, M. A., Ramshaw, I. A. & Cowden, W. B. IFN-γ is critical to the control of murine autoimmune encephalomyelitis and regulates both in the periphery and in the target tissue: a possible role for nitric oxide. J. Immunol. 163, 5278–5286 (1999).

30.

Behrens, E. M. et al. Repeated TLR9 stimulation results in macrophage activation syndrome-like disease in mice. J. Clin. Invest. 121, 2264–2277 (2011).

31.

Ferlazzo, G. et al. Distinct roles of IL-12 and IL-15 in human natural killer cell activation by dendritic cells from secondary lymphoid organs. Proc. Natl Acad. Sci. USA 101, 16606–16611 (2004).

32.

Ma, X. et al. The interleukin 12 p40 gene promoter is primed by interferon γ in monocytic cells. J. Exp. Med. 183, 147–157 (1996).

33.

Razzell, W. E. Tissue and intracellular distribution of two phosphodiesterases. J. Biol. Chem. 236, 3028–3030 (1961).

34.

Ipata, P. L. & Felicioli, R. A. A convenient spectrophotometric assay for phosphodiesterases, using dinucleoside-monophosphates as substrates. Eur. J. Biochem. 8, 174–179 (1969).

35.

Krieg, A. M. CpG motifs in bacterial DNA and their immune effects. Annu. Rev. Immunol. 20, 709–760 (2002).

36.

Chan, M. P. et al. DNase II-dependent DNA digestion is required for DNA sensing by TLR9. Nat. Commun. 6, 5853 (2015).

37.

Tabeta, K. et al. The Unc93b1 mutation 3d disrupts exogenous antigen presentation and signaling via Toll-like receptors 3, 7 and 9. Nat. Immunol. 7, 156–164 (2006).

38.

Pedersen, K. M., Finsen, B., Celis, J. E. & Jensen, N. A. Expression of a novel murine phospholipase D homolog coincides with late neuronal development in the forebrain. J. Biol. Chem. 273, 31494–31504 (1998).

39.

Langenmayer, M. C. et al. Zinc deficiency-like syndrome in Fleckvieh calves: clinical and pathological findings and differentiation from bovine hereditary zinc deficiency. J. Vet. Intern. Med. 32, 853–859 (2018).

40.

Ohto, U. et al. Toll-like receptor 9 contains two DNA binding sites that function cooperatively to promote receptor dimerization and activation. Immunity 48, 649–658 (2018).

41.

Erdal, E., Haider, S., Rehwinkel, J., Harris, A. L. & McHugh, P. J. A prosurvival DNA damage-induced cytoplasmic interferon response is mediated by end resection factors and is limited by Trex1. Genes Dev. 31, 353–369 (2017).

42.

Luecke, S. et al. cGAS is activated by DNA in a length-dependent manner. EMBO Rep. 18, 1707–1715 (2017).

43.

Canna, S. W. & Behrens, E. M. Not all hemophagocytes are created equally: appreciating the heterogeneity of the hemophagocytic syndromes. Curr. Opin. Rheumatol. 24, 113–118 (2012).

44.

Bracaglia, C. et al. Elevated circulating levels of interferon-γ and interferon-γ-induced chemokines characterise patients with macrophage activation syndrome complicating systemic juvenile idiopathic arthritis. Ann. Rheum. Dis. 76, 166–172 (2017).

45.

Mouchess, M. L. et al. Transmembrane mutations in Toll-like receptor 9 bypass the requirement for ectodomain proteolysis and induce fatal inflammation. Immunity 35, 721–732 (2011).

46.

Chen, J. H. et al. Pathology of the liver in familial hemophagocytic lymphohistiocytosis. Am. J. Surg. Pathol. 34, 852–867 (2010).

47.

Sepulveda, F. E. & de Saint Basile, G. Hemophagocytic syndrome: primary forms and predisposing conditions. Curr. Opin. Immunol. 49, 20–26 (2017).

48.

Wang, L. et al. DNA phosphorothioation is widespread and quantized in bacterial genomes. Proc. Natl Acad. Sci. USA 108, 2963–2968 (2011).

49.

Bernardi, A. & Cantoni, G. L. Action of spleen exonuclease on transfer ribonucleic acid. J. Biol. Chem. 244, 1468–1476 (1969).

50.

Mandecki, W. & Hayden, M. High-resolution polyacrylamide gel electrophoresis of oligonucleotides using L-histidine buffer. DNA 7, 57–62 (1988).

51.

Slaymaker, I. M. et al. Rationally engineered Cas9 nucleases with improved specificity. Science 351, 84–88 (2016).

52.

Vremec, D. & Shortman, K. The isolation and identification of murine dendritic cell populations from lymphoid tissues and their production in culture. Methods Mol. Biol. 415, 163–178 (2008).

53.

Zhang, X., Goncalves, R. & Mosser, D.M. The isolation and characterization of murine macrophages. Curr. Prot. Immunol. (eds. Coligan, J.E. et al.) Ch. 14, Unit 14 11 (Wiley, Hoboken, NJ, USA, 2008).

54.

Schindelin, J. et al. Fiji: an open-source platform for biological-image analysis. Nat. Methods 9, 676–682 (2012).

55.

Lattin, J. E. et al. Expression analysis of G protein-coupled receptors in mouse macrophages. Immunome Res. 4, 5 (2008).

56.

Wu, C., Jin, X., Tsueng, G., Afrasiabi, C. & Su, A. I. BioGPS: building your own mash-up of gene annotations and expression profiles. Nucleic Acids Res. 44, D313–D316 (2016).

57.

Lauterbach, H. et al. Mouse CD8α + DCs and human BDCA3 + DCs are major producers of IFN-λ in response to poly IC. J. Exp. Med. 207, 2703–2717 (2010).
Acknowledgements
We thank B. Beutler (University of Texas Southwestern Medical Center) for Unc93b3d/3d mice; Y. Doyon (Centre Hospitalier Universitaire de Québec) for plasmid eSpCas9(1.1)51; and S. Kupriyanov and G. Martin (The Scripps Research Institute Genetics Core) and S. Head and P. Natarajan (The Scripps Research Institute NGS Core) for technical assistance. This project was supported by the US National Institutes of Health (R21AI126011, R21AI101692 and R37AI059714).
Ethics declarations
Competing interests
The authors declare no competing interests.
Additional information
Publisher's note: Springer Nature remains neutral with regard to jurisdictional claims in published maps and institutional affiliations.
Integrated supplementary information
Supplementary information
Supplementary Figures 1-8 and Supplementary Tables 1-4
About this article
Cite this article
Gavin, A.L., Huang, D., Huber, C. et al. PLD3 and PLD4 are single-stranded acid exonucleases that regulate endosomal nucleic-acid sensing. Nat Immunol 19, 942–953 (2018). https://doi.org/10.1038/s41590-018-0179-y
Received:

Accepted:

Published:

Issue Date:
Further reading
Helena M. Stricker

,

Nadine Rommerswinkel

,

Silvia Keil

,

Sandina A. Gnoth

,

Bernd Niggemann

&

Thomas Dittmar

Cell Communication and Signaling (2021)

Nicholas A. Lind

,

Victoria E. Rael

,

Kathleen Pestal

,

Bo Liu

&

Gregory M. Barton

Nature Reviews Immunology (2021)

Zoë P. Van Acker

,

Marine Bretou

&

Wim Annaert

Molecular Neurodegeneration (2019)