Abstract
Human inborn errors of IFN-γ immunity underlie mycobacterial diseases. We describe patients with Mycobacterium bovis (BCG) disease who are homozygous for loss-of-function mutations of SPPL2A. This gene encodes a transmembrane protease that degrades the N-terminal fragment (NTF) of CD74 (HLA invariant chain) in antigen-presenting cells. The CD74 NTF therefore accumulates in the HLA class II+ myeloid and lymphoid cells of SPPL2a-deficient patients. This toxic fragment selectively depletes IL-12- and IL-23-producing CD1c+ conventional dendritic cells (cDC2s) and their circulating progenitors. Moreover, SPPL2a-deficient memory TH1* cells selectively fail to produce IFN-γ when stimulated with mycobacterial antigens in vitro. Finally, Sppl2a–/– mice lack cDC2s, have CD4+ T cells that produce small amounts of IFN-γ after BCG infection, and are highly susceptible to infection with BCG or Mycobacterium tuberculosis. These findings suggest that inherited SPPL2a deficiency in humans underlies mycobacterial disease by decreasing the numbers of cDC2s and impairing IFN-γ production by mycobacterium-specific memory TH1* cells.
This is a preview of subscription content
Access options
Subscribe to Nature+
Get immediate online access to the entire Nature family of 50+ journals
Subscribe to Journal
Get full journal access for 1 year
$59.00
only $4.92 per issue
All prices are NET prices.
VAT will be added later in the checkout.
Tax calculation will be finalised during checkout.
Buy article
Get time limited or full article access on ReadCube.
$32.00
All prices are NET prices.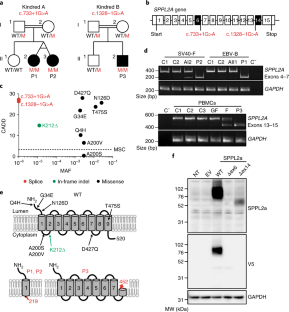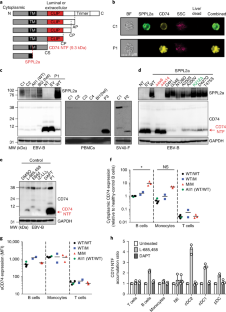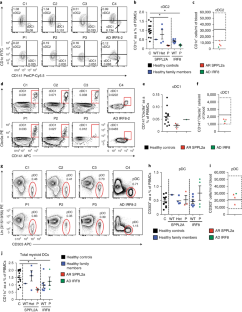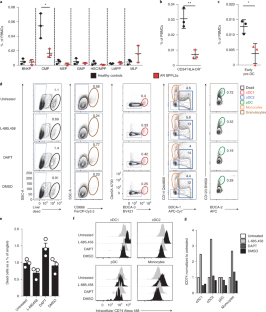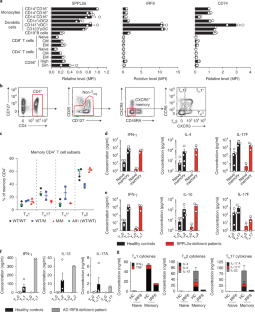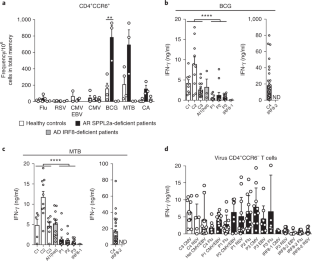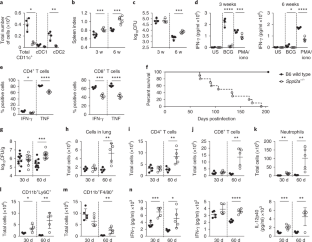 References
Bustamante, J. et al. Mendelian susceptibility to mycobacterial disease: genetic, immunological, and clinical features of inborn errors of IFN-gamma immunity. Semin. Immunol. 26, 454–470 (2014).

Casanova, J. L. & Abel, L. Genetic dissection of immunity to mycobacteria: the human model. Annu. Rev. Immunol. 20, 581–620 (2002).

de Beaucoudrey, L. et al. Revisiting human IL-12Rbeta1 deficiency: a survey of 141 patients from 30 countries. Medicine 89, 381–402 (2010).

Dupuis, S. et al. Human interferon-gamma-mediated immunity is a genetically controlled continuous trait that determines the outcome of mycobacterial invasion. Immunol. Rev. 178, 129–137 (2000).

Kreins, A. Y. et al. Human TYK2 deficiency: mycobacterial and viral infections without hyper-IgE syndrome. J. Exp. Med. 212, 1641–1662 (2015).

Bogunovic, D. et al. Mycobacterial disease and impaired IFN-gamma immunity in humans with inherited ISG15 deficiency. Science 337, 1684–1688 (2012).

Bustamante, J. et al. Germline CYBB mutations that selectively affect macrophages in kindreds with X-linked predisposition to tuberculous mycobacterial disease. Nat. Immunol. 12, 213–221 (2011).

Boisson-Dupuis, S. et al. Inherited and acquired immunodeficiencies underlying tuberculosis in childhood. Immunol. Rev. 264, 103–120 (2015).

Nathan, C. F. et al. Identification of interferon-gamma as the lymphokine that activates human macrophage oxidative metabolism and antimicrobial activity. J. Exp. Med. 158, 670–689 (1983).

Prando, C. et al. Inherited IL-12p40 deficiency: genetic, immunologic, and clinical features of 49 patients from 30 kindreds. Medicine 92, 109–122 (2013).

Kong, X. F. et al. A novel homozygous p.R1105X mutation of the AP4E1 gene in twins with hereditary spastic paraplegia and mycobacterial disease. PLoS One 8, e58286 (2013).

Itan, Y. et al. The mutation significance cutoff: gene-level thresholds for variant predictions. Nat. Methods 13, 109–110 (2016).

Voss, M. et al. Mechanism, specificity, and physiology of signal peptide peptidase (SPP) and SPP-like proteases. Biochim. Biophys. Acta 1828, 2828–2839 (2013).

Brady, O. A. et al. Regulated intramembrane proteolysis of the frontotemporal lobar degeneration risk factor, TMEM106B, by signal peptide peptidase-like 2a (SPPL2a). J. Biol. Chem. 289, 19670–19680 (2014).

Fluhrer, R. et al. A gamma-secretase-like intramembrane cleavage of TNFα by the GxGD aspartyl protease SPPL2b. Nat. Cell Biol. 8, 894–896 (2006).

Friedmann, E. et al. SPPL2a and SPPL2b promote intramembrane proteolysis of TNFα in activated dendritic cells to trigger IL-12 production. Nat. Cell Biol. 8, 843–848 (2006).

Kirkin, V. et al. The Fas ligand intracellular domain is released by ADAM10 and SPPL2a cleavage in T-cells. Cell Death Differ. 14, 1678–1687 (2007).

Martin, L. et al. Regulated intramembrane proteolysis of Bri2 (Itm2b) by ADAM10 and SPPL2a/SPPL2b. J. Biol. Chem. 283, 1644–1652 (2008).

Beisner, D. R. et al. The intramembrane protease Sppl2a is required for B cell and DC development and survival via cleavage of the invariant chain. J. Exp. Med. 210, 23–30 (2013).

Bergmann, H. et al. B cell survival, surface BCR and BAFFR expression, CD74 metabolism, and CD8- dendritic cells require the intramembrane endopeptidase SPPL2A. J. Exp. Med. 210, 31–40 (2013).

Schneppenheim, J. et al. The intramembrane protease SPPL2a promotes B cell development and controls endosomal traffic by cleavage of the invariant chain. J. Exp. Med. 210, 41–58 (2013).

Fleck, D. et al. Proteolytic processing of neuregulin 1 type III by three intramembrane-cleaving proteases. J. Biol. Chem. 291, 318–333 (2016).

Itan, Y. et al. The human gene connectome as a map of short cuts for morbid allele discovery. Proc. Natl. Acad. Sci. USA 110, 5558–5563 (2013).

Zhang, Y. et al. Genomics is rapidly advancing precision medicine for immunological disorders. Nat. Immunol. 16, 1001–1004 (2015).

Rieux-Laucat, F. Inherited and acquired death receptor defects in human autoimmune lymphoproliferative syndrome. Curr. Dir. Autoimmun. 9, 18–36 (2006).

Ai, J. W. et al. The risk of tuberculosis in patients with rheumatoid arthritis treated with tumor necrosis factor-alpha antagonist: a metaanalysis of both randomized controlled trials and registry/cohort studies. J. Rheumatol. 42, 2229–2237 (2015).

Moreno-De-Luca, A. et al. Adaptor protein complex-4 (AP-4) deficiency causes a novel autosomal recessive cerebral palsy syndrome with microcephaly and intellectual disability. J. Med. Genet. 48, 141–144 (2011).

Schneppenheim, J. et al. Signal-peptide-peptidase-like 2a is required for CD74 intramembrane proteolysis in human B cells. Biochem. Biophys. Res. Commun. 451, 48–53 (2014).

Becker-Herman, S. et al. CD74 is a member of the regulated intramembrane proteolysis-processed protein family. Mol. Biol. Cell 16, 5061–5069 (2005).

Hambleton, S. et al. IRF8 mutations and human dendritic-cell immunodeficiency. N. Engl. J .Med. 365, 127–138 (2011).

Bridgeford, E. C. et al. Agammaglobulinemia and Staphylococcus aureus botryomycosis in a cohort of related sentinel Swiss Webster mice. J. Clin. Microbiol. 46, 1881–1884 (2008).

Conley, M. E. et al. Primary B cell immunodeficiencies: comparisons and contrasts. Annu. Rev. Immunol. 27, 199–227 (2009).

Reynolds, G. & Haniffa, M. Human and mouse mononuclear phagocyte networks: a tale of two species? Front. Immunol. 6, 330 (2015).

Merad, M. et al. The dendritic cell lineage: ontogeny and function of dendritic cells and their subsets in the steady state and the inflamed setting. Annu. Rev. Immunol. 31, 563–604 (2013).

Iwakoshi, N. N. et al. The transcription factor XBP-1 is essential for the development and survival of dendritic cells. J. Exp. Med. 204, 2267–2275 (2007).

Dickinson, R. E. et al. The evolution of cellular deficiency in GATA2 mutation. Blood 123, 863–874 (2014).

Bigley, V. et al. Dendritic cell analysis in primary immunodeficiency. Curr. Opin. Allergy. Clin. Immunol. 16, 530–540 (2016).

Vignali, D. A. & Kuchroo, V. K. IL-12 family cytokines: immunological playmakers. Nat. Immunol. 13, 722–728 (2012).

See, P. et al. Mapping the human DC lineage through the integration of high-dimensional techniques. Science 356, eaag3009 (2017).

Villani, A. C. et al. Single-cell RNA-seq reveals new types of human blood dendritic cells, monocytes, and progenitors. Science 356, eaah4573 (2017).

Breton, G. et al. Circulating precursors of human CD1c+ and CD141+ dendritic cells. J. Exp. Med. 212, 401–413 (2015).

Ma, C. S. et al. Unique and shared signaling pathways cooperate to regulate the differentiation of human CD4+ T cells into distinct effector subsets. J. Exp. Med. 213, 1589–1608 (2016).

Teng, M. W. et al. IL-12 and IL-23 cytokines: from discovery to targeted therapies for immune-mediated inflammatory diseases. Nat. Med. 21, 719–729 (2015).

Acosta-Rodriguez, E. V. et al. Surface phenotype and antigenic specificity of human interleukin 17–producing T helper memory cells. Nat. Immunol. 8, 639–646 (2007).

Geiger, R. et al. Human naive and memory CD4+ T cell repertoires specific for naturally processed antigens analyzed using libraries of amplified T cells. J. Exp. Med. 206, 1525–1534 (2009).

Marquis, J. F. et al. Interferon regulatory factor 8 regulates pathways for antigen presentation in myeloid cells and during tuberculosis. PLoS Genet. 7, e1002097 (2011).

Berghout, J. et al. Irf8-regulated genomic responses drive pathological inflammation during cerebral malaria. PLoS Pathog. 9, e1003491 (2013).

Bigley, V. et al. The human syndrome of dendritic cell, monocyte, B and NK lymphoid deficiency. J. Exp. Med. 208, 227–234 (2011).

Kindler, V. et al. The inducing role of tumor necrosis factor in the development of bactericidal granulomas during BCG infection. Cell 56, 731–740 (1989).

Keane, J. et al. Tuberculosis associated with infliximab, a tumor necrosis factor alpha-neutralizing agent. N. Engl. J. Med. 345, 1098–1104 (2001).

Thiant, S. et al. Imatinib mesylate inhibits STAT5 phosphorylation in response to IL-7 and promotes T cell lymphopenia in chronic myelogenous leukemia patients. Blood Cancer J. 7, e551 (2017).

Martínez-Barricarte, R. et al. Transduction of Herpesvirus saimiri-transformed T cells with exogenous genes of interest. Curr. Protoc. Immunol. 115, 7.21C.1–7.21C.12 (2016).

Schneppenheim, J. et al. The intramembrane proteases signal peptide peptidase-like 2a and 2b have distinct functions in vivo. Mol. Cell Biol. 34, 1398–1411 (2014).

Li, H. & Durbin, R. Fast and accurate short read alignment with Burrows-Wheeler transform. Bioinformatics 25, 1754–1760 (2009).

McKenna, A. et al. The Genome Analysis Toolkit: a MapReduce framework for analyzing next-generation DNA sequencing data. Genome Res. 20, 1297–1303 (2010).

Wang, K. et al. ANNOVAR: functional annotation of genetic variants from high-throughput sequencing data. Nucleic Acids Res. 38, e164 (2010).

Purcell, S. et al. PLINK: a tool set for whole-genome association and population-based linkage analyses. Am. J. Med. Genet. 81, 559–575 (2007).

Abecasis, G. R. et al. Merlin: rapid analysis of dense genetic maps using sparse gene flow trees. Nat. Genet. 30, 97–101 (2002).

Breton, G. et al. Defining human dendritic cell progenitors by multiparametric flow cytometry. Nat. Protoc. 10, 1407–1422 (2015).

Avery, D. T. et al. B cell-intrinsic signaling through IL-21 receptor and STAT3 is required for establishing long-lived antibody responses in humans. J. Exp. Med. 207, 155–171 (2010).

Lindestam Arlehamn, C. S. et al. A quantitative analysis of complexity of human pathogen-specific CD4 T cell responses in healthy M. tuberculosis infected South Africans. PLoS Pathog. 12, e1005760 (2016).

Gros, P. et al. Genetic control of natural resistance to Mycobacterium bovis (BCG) in mice. J. Immunol. 127, 2417–2421 (1981).

Langlais, D. et al. The macrophage IRF8/IRF1 regulome is required for protection against infections and is associated with chronic inflammation. J. Exp. Med. 213, 585–603 (2016).

Ng, S. L. et al. IκB kinase epsilon (IKK(epsilon)) regulates the balance between type I and type II interferon responses. Proc. Natl. Acad. Sci. USA 108, 21170–21175 (2011).

Mancino, A. et al. A dual cis-regulatory code links IRF8 to constitutive and inducible gene expression in macrophages. Genes Dev. 29, 394–408 (2015).

Barish, G. D. et al. Bcl-6 and NF-kappaB cistromes mediate opposing regulation of the innate immune response. Genes Dev. 24, 2760–2765 (2010).

Saliba, D. G. et al. IRF5:RelA interaction targets inflammatory genes in macrophages. Cell Rep. 8, 1308–1317 (2014).

Kaikkonen, M. U. et al. Remodeling of the enhancer landscape during macrophage activation is coupled to enhancer transcription. Mol. Cell 51, 310–325 (2013).

Ostuni, R. et al. Latent enhancers activated by stimulation in differentiated cells. Cell 152, 157–171 (2013).

Heinz, S. et al. Simple combinations of lineage-determining transcription factors prime cis-regulatory elements required for macrophage and B cell identities. Mol. Cell 38, 576–589 (2010).

Thorvaldsdottir, H. et al. Integrative Genomics Viewer (IGV): high-performance genomics data visualization and exploration. Brief. Bioinform. 14, 178–192 (2013).
Acknowledgements
We thank B. Coller, C. Rice, X. Ma, M. Ciancanelli, and G. Vogt for helpful discussions and critical reading. We thank Y. Nemirovskaya, E. Anderson, T. Kochetkov, M. Romanick, L. Amar, C. Patissier, C. Desvallées, M. Woollett, D. Papandrea, A. Gall, and J. Gonzalez for technical and secretarial assistance, and all members of the Laboratory of Human Genetics of Infectious Diseases for helpful discussions. We thank F. Batteux and M. Bahuad from the Laboratory of Immunology, Cochin Hospital, Paris, France, for serological testing of patients, and F. B. Menozzi and the rest of the Microbiology Institute, EOC, Bellinzona, for providing microbial products. X.-F.K. was supported by the Jerome Lejeune Foundation, the Stony Wold-Herbert Fund, the Choh-Hao Li Memorial Fund Scholar Award, and the Shanghai Educational Development Foundation. R.M.B. was funded by a European Molecular Biology Organization (EMBO) long-term fellowship. J.M. was supported by the Charles H. Revson Senior Fellowship in Biomedical Sciences. B.S. received support from the Deutsche Forschungsgemeinschaft as part of the SFB877 and the Cluster of Excellence 'Inflammation at Interfaces', and the SCHR 1284/1-1 grant. The Laboratory of Human Genetics of Infectious Diseases is supported by grants from the St. Giles Foundation (J.-L.C.), The Rockefeller University Center for Clinical and Translational Science (grant UL1TR001866 from the National Center for Research Resources and the National Center for Advancing Sciences (NCATS) to R.M.-B. and X.-F.K.), the National Institutes of Health, the National Institute of Allergy and Infectious Diseases (5R01AI089970-02 and 5R37AI095983 to J.-L.C.), the Integrative Biology of Emerging Infectious Diseases Laboratory of Excellence (ANR-10-LABX-62-IBEID, and the French National Research Agency (ANR) under the 'Investments for the future' program (ANR-10-IAHU-01 to L.A.), ANR-IFNGPHOX (ANR-13-ISV3-0001-01, to J.B.), and ANR-GENMSMD (ANR-16-CE17-0005-01, to J.B.), Institut National de la Santé et de la Recherche Médicale (INSERM), Paris Descartes University, and The Rockefeller University. E.K.D., C.S.M., and S.G.T. are supported by research grants and fellowships from the National Health and Medical Research Council of Australia. D.L. was supported by a fellowship from the Fonds de Recherche du Québec Santé. Work in P.G.'s laboratory was supported by a grant from the National Institute of Allergy and Infectious Diseases (R01AI035237-19). The work at the Institute for Research in Biomedicine was supported by grants from the ERC (323183 PREDICT, to F.S.), the Swiss National Science Foundation (170213, to F.S.), and the Helmut Horten Foundation. This work was supported by award U19AI118626, NIH NIAID (to A.S. and F.S.).
Ethics declarations
Competing interests
The authors declare no competing interests.
Additional information
Publisher's note: Springer Nature remains neutral with regard to jurisdictional claims in published maps and institutional affiliations.
Integrated supplementary information
Supplementary information
Supplementary Figures 1–7 and Supplementary Tables 1–4
About this article
Cite this article
Kong, XF., Martinez-Barricarte, R., Kennedy, J. et al. Disruption of an antimycobacterial circuit between dendritic and helper T cells in human SPPL2a deficiency. Nat Immunol 19, 973–985 (2018). https://doi.org/10.1038/s41590-018-0178-z
Received:

Accepted:

Published:

Issue Date:

DOI: https://doi.org/10.1038/s41590-018-0178-z