Abstract
Mild traumatic brain injury (mTBI) can cause meningeal vascular injury and cell death that spreads into the brain parenchyma and triggers local inflammation and recruitment of peripheral immune cells. The factors that dictate meningeal recovery after mTBI are unknown at present. Here we demonstrated that most patients who had experienced mTBI resolved meningeal vascular damage within 2–3 weeks, although injury persisted for months in a subset of patients. To understand the recovery process, we studied a mouse model of mTBI and found extensive meningeal remodeling that was temporally reliant on infiltrating myeloid cells with divergent functions. Inflammatory myelomonocytic cells scavenged dead cells in the lesion core, whereas wound-healing macrophages proliferated along the lesion perimeter and promoted angiogenesis through the clearance of fibrin and production of the matrix metalloproteinase MMP-2. Notably, a secondary injury experienced during the acute inflammatory phase aborted this repair program and enhanced inflammation, but a secondary injury experienced during the wound-healing phase did not. Our findings demonstrate that meningeal vasculature can undergo regeneration after mTBI that is dependent on distinct myeloid cell subsets.
Relevant articles
Open Access articles citing this article.
Dongyu Li

,

Zhengwu Hu

…

Dan Zhu

eLight Open Access 05 September 2022

Yi-Chao Ye

,

Zhe-Han Chang

…

Xiao-Hong Li

Stem Cell Research & Therapy Open Access 28 July 2022

Carolin Beuker

,

David Schafflick

…

Jens Minnerup

Nature Communications Open Access 17 February 2022
Access options
Subscribe to Nature+
Get immediate online access to the entire Nature family of 50+ journals
Subscribe to Journal
Get full journal access for 1 year
$99.00
only $8.25 per issue
All prices are NET prices.
VAT will be added later in the checkout.
Tax calculation will be finalised during checkout.
Buy article
Get time limited or full article access on ReadCube.
$32.00
All prices are NET prices.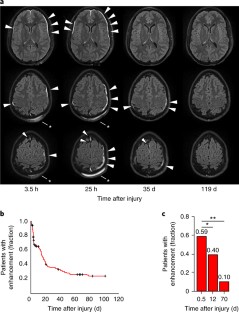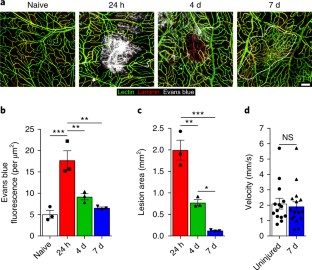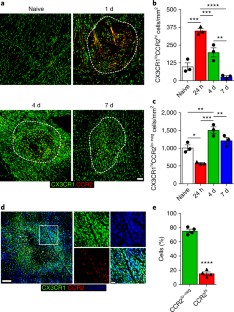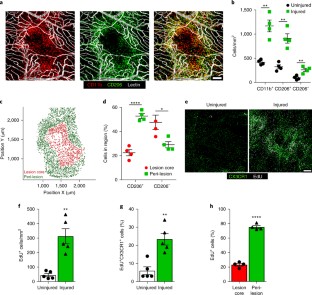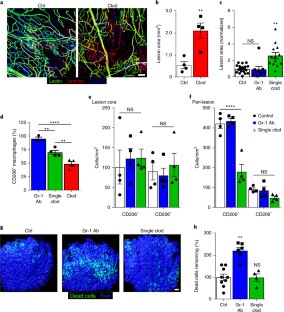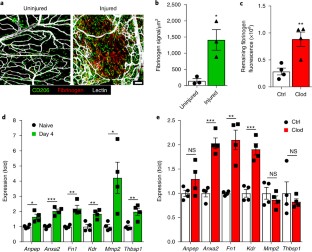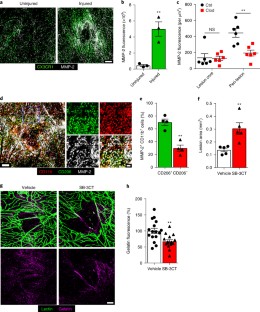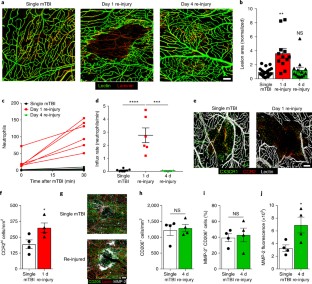 References
Nguyen, R. et al. The international incidence of traumatic brain injury: a systematic review and meta-analysis. Can. J. Neurol. Sci. 43, 774–785 (2016).

Gruenbaum, S. E., Zlotnik, A., Gruenbaum, B. F., Hersey, D. & Bilotta, F. Pharmacologic neuroprotection for functional outcomes after traumatic brain injury: a systematic review of the clinical literature. CNS Drugs 30, 791–806 (2016).

Corps, K. N., Roth, T. L. & McGavern, D. B. Inflammation and neuroprotection in traumatic brain injury. JAMA Neurol. 72, 355–362 (2015).

Engelhardt, B., Vajkoczy, P. & Weller, R. O. The movers and shapers in immune privilege of the CNS. Nat. Immunol. 18, 123–131 (2017).

Logsdon, A. F. et al. Role of microvascular disruption in brain damage from traumatic brain injury. Compr. Physiol. 5, 1147–1160 (2015).

Shechter, R. et al. Recruitment of beneficial M2 macrophages to injured spinal cord is orchestrated by remote brain choroid plexus. Immunity 38, 555–569 (2013).

Hsieh, C. L. et al. CCR2 deficiency impairs macrophage infiltration and improves cognitive function after traumatic brain injury. J. Neurotrauma 31, 1677–1688 (2014).

Russo, M. V. & McGavern, D. B. Inflammatory neuroprotection following traumatic brain injury. Science 353, 783–785 (2016).

Kigerl, K. A. et al. Identification of two distinct macrophage subsets with divergent effects causing either neurotoxicity or regeneration in the injured mouse spinal cord. J. Neurosci. 29, 13435–13444 (2009).

Hsieh, C. L. et al. Traumatic brain injury induces macrophage subsets in the brain. Eur. J. Immunol. 43, 2010–2022 (2013).

Ransohoff, R. M. & Engelhardt, B. The anatomical and cellular basis of immune surveillance in the central nervous system. Nat. Rev. Immunol. 12, 623–635 (2012).

Kim, J. V., Kang, S. S., Dustin, M. L. & McGavern, D. B. Myelomonocytic cell recruitment causes fatal CNS vascular injury during acute viral meningitis. Nature 457, 191–195 (2009).

Bartholomaus, I. et al. Effector T cell interactions with meningeal vascular structures in nascent autoimmune CNS lesions. Nature 462, 94–98 (2009).

Roth, T. L. et al. Transcranial amelioration of inflammation and cell death after brain injury. Nature 505, 223–228 (2014).

Park, E., Bell, J. D., Siddiq, I. P. & Baker, A. J. An analysis of regional microvascular loss and recovery following two grades of fluid percussion trauma: a role for hypoxia-inducible factors in traumatic brain injury. J. Cereb. Blood Flow Metab. 29, 575–584 (2009).

Gerner, M. Y., Kastenmuller, W., Ifrim, I., Kabat, J. & Germain, R. N. Histo-cytometry: a method for highly multiplex quantitative tissue imaging analysis applied to dendritic cell subset microanatomy in lymph nodes. Immunity 37, 364–376 (2012).

Schledzewski, K. et al. Lymphatic endothelium-specific hyaluronan receptor LYVE-1 is expressed by stabilin-1+, F4/80+, CD11b+ macrophages in malignant tumours and wound healing tissue in vivo and in bone marrow cultures in vitro: implications for the assessment of lymphangiogenesis. J. Pathol. 209, 67–77 (2006).

Cho, C. H. et al. Angiogenic role of LYVE-1-positive macrophages in adipose tissue. Circ. Res. 100, e47–e57 (2007).

Laurens, N., Koolwijk, P. & De Maat, M. Fibrin structure and wound healing. J. Thromb. Haemost. 4, 932–939 (2006).

Rømer, J. et al. Impaired wound healing in mice with a disrupted plasminogen gene. Nat. Med. 2, 287–292 (1996).

Adams, R. A., Passino, M., Sachs, B. D., Nuriel, T. & Akassoglou, K. Fibrin mechanisms and functions in nervous system pathology. Mol. Interv. 4, 163–176 (2004).

Motley, M. P. et al. A CCR2 macrophage endocytic pathway mediates extravascular fibrin clearance in vivo. Blood 127, 1085–1096 (2016).

Hubbard, N. E., Lim, D., Mukutmoni, M., Cai, A. & Erickson, K. L. Expression and regulation of murine macrophage angiopoietin-2. Cell. Immunol. 234, 102–109 (2005).

Jetten, N. et al. Anti-inflammatory M2, but not pro-inflammatory M1 macrophages promote angiogenesis in vivo. Angiogenesis 17, 109–118 (2014).

Krause, T. A., Alex, A. F., Engel, D. R., Kurts, C. & Eter, N. VEGF-production by CCR2-dependent macrophages contributes to laser-induced choroidal neovascularization. PLoS One 9, e94313 (2014).

Rundhaug, J. E. Matrix metalloproteinases and angiogenesis. J. Cell. Mol. Med. 9, 267–285 (2005).

Geissmann, F., Jung, S. & Littman, D. R. Blood monocytes consist of two principal subsets with distinct migratory properties. Immunity 19, 71–82 (2003).

Williams, W. H., Potter, S. & Ryland, H. Mild traumatic brain injury and postconcussion syndrome: a neuropsychological perspective. J. Neurol. Neurosurg. Psychiatry 81, 1116–1122 (2010).

Blixt, J., Svensson, M., Gunnarson, E. & Wanecek, M. Aquaporins and blood-brain barrier permeability in early edema development after traumatic brain injury. Brain Res. 1611, 18–28 (2015).

Tomkins, O. et al. Blood-brain barrier disruption in post-traumatic epilepsy. J. Neurol. Neurosurg. Psychiatry 79, 774–777 (2008).

Ho, K. M., Honeybul, S., Yip, C. B. & Silbert, B. I. Prognostic significance of blood-brain barrier disruption in patients with severe nonpenetrating traumatic brain injury requiring decompressive craniectomy. J. Neurosurg. 121, 674–679 (2014).

Salehi, A., Zhang, J. H. & Obenaus, A. Response of the cerebral vasculature following traumatic brain injury. J. Cereb. Blood Flow Metab. 37, 2320–2339 (2017).

Vannella, K. M. & Wynn, T. A. Mechanisms of organ injury and repair by macrophages. Annu. Rev. Physiol. 79, 593–617 (2017).

Gadani, S. P., Walsh, J. T., Lukens, J. R. & Kipnis, J. Dealing with danger in the CNS: the response of the immune system to injury. Neuron 87, 47–62 (2015).

Kumar, A., Alvarez-Croda, D. M., Stoica, B. A., Faden, A. I. & Loane, D. J. Microglial/macrophage polarization dynamics following traumatic brain injury. J. Neurotrauma 33, 1732–1750 (2016).

Gyoneva, S. et al. Ccr2 deletion dissociates cavity size and tau pathology after mild traumatic brain injury. J. Neuroinflammation 12, 228 (2015).

Morganti, J. M. et al. CCR2 antagonism alters brain macrophage polarization and ameliorates cognitive dysfunction induced by traumatic brain injury. J. Neurosci. 35, 748–760 (2015).

Landsman, L., Varol, C. & Jung, S. Distinct differentiation potential of blood monocyte subsets in the lung. J. Immunol. 178, 2000–2007 (2007).

Yona, S. et al. Fate mapping reveals origins and dynamics of monocytes and tissue macrophages under homeostasis. Immunity 38, 79–91 (2013).

Dal-Secco, D. et al. A dynamic spectrum of monocytes arising from the in situ reprogramming of CCR2+ monocytes at a site of sterile injury. J. Exp. Med. 212, 447–456 (2015).

Nahrendorf, M. et al. The healing myocardium sequentially mobilizes two monocyte subsets with divergent and complementary functions. J. Exp. Med. 204, 3037–3047 (2007).

Olingy, C. E. et al. Non-classical monocytes are biased progenitors of wound healing macrophages during soft tissue injury. Sci. Rep. 7, 447 (2017).

Xiong, Y., Mahmood, A. & Chopp, M. Animal models of traumatic brain injury. Nat. Rev. Neurosci. 14, 128–142 (2013).

Sköld, M. K., Gertten, C. V., Sandbergnordqvist, A.-C., Mathiesen, T. & Holmin, S. VEGF and VEGF receptor expression after experimental brain contusion in rat. J. Neurotrauma 22, 353–367 (2005).

Frautschy, S. A., Walicke, P. A. & Baird, A. Localization of basic fibroblast growth factor and its mRNA after CNS injury. Brain Res. 553, 291–299 (1991).

Davalos, D. et al. Fibrinogen-induced perivascular microglial clustering is required for the development of axonal damage in neuroinflammation. Nat. Commun. 3, 1227 (2012).

Mantovani, A., Biswas, S. K., Galdiero, M. R., Sica, A. & Locati, M. Macrophage plasticity and polarization in tissue repair and remodelling. J. Pathol. 229, 176–185 (2013).

Minutti, C. M., Knipper, J. A., Allen, J. E. & Zaiss, D. M. Tissue-specific contribution of macrophages to wound healing. in Seminars in Cell & Developmental Biology (eds Sweet, M. & Mansell, A.) 3–11 (Elsevier, New York, 2017).

Elkington, P. T., Green, J. A. & Friedland, J. S. Analysis of matrix metalloproteinase secretion by macrophages. Methods Mol. Biol. 531, 253–265 (2009).

McKee, A. C. et al. Chronic traumatic encephalopathy in athletes: progressive tauopathy after repetitive head injury. J. Neuropathol. Exp. Neurol. 68, 709–735 (2009).

Bryan, C. J. & Clemans, T. A. Repetitive traumatic brain injury, psychological symptoms, and suicide risk in a clinical sample of deployed military personnel. JAMA Psychiatry 70, 686–691 (2013).

Shitaka, Y. et al. Repetitive closed-skull traumatic brain injury in mice causes persistent multifocal axonal injury and microglial reactivity. J. Neuropathol. Exp. Neurol. 70, 551–567 (2011).

Mouzon, B. et al. Repetitive mild traumatic brain injury in a mouse model produces learning and memory deficits accompanied by histological changes. J. Neurotrauma 29, 2761–2773 (2012).

Weavers, H. et al. Systems analysis of the dynamic inflammatory response to tissue damage reveals spatiotemporal properties of the wound attractant gradient. Curr. Biol. 26, 1975–1989 (2016).

Zetterberg, H. & Blennow, K. Fluid biomarkers for mild traumatic brain injury and related conditions. Nat. Rev. Neurol. 12, 563–574 (2016).

Faust, N., Varas, F., Kelly, L. M., Heck, S. & Graf, T. Insertion of enhanced green fluorescent protein into the lysozyme gene creates mice with green fluorescent granulocytes and macrophages. Blood 96, 719–726 (2000).

Manglani, M. & McGavern, D.B. Intravital imaging of neuroimmune interactions through a thinned skull. Curr. Protoc. Immunol. 120, 24.2.1–24.2.12 (2018).

Kleinfeld, D., Mitra, P. P., Helmchen, F. & Denk, W. Fluctuations and stimulus-induced changes in blood flow observed in individual capillaries in layers 2 through 4 of rat neocortex. Proc. Natl Acad. Sci. USA 95, 15741–15746 (1998).
Acknowledgements
Supported by the US National Institutes of Health (NIH), the National Institute of Neurological Disorders and Stroke (NINDS) and the Center for Neuroscience and Regenerative Medicine (CNRM) at the Uniformed Services University of the Health Sciences, a collaborative effort among NIH, the Department of Defense, and Walter Reed National Military Medical Center to develop innovative approaches for brain injury diagnosis and recovery.
Ethics declarations
Competing interests
The authors declare no competing interests.
Additional information
Publisher's note: Springer Nature remains neutral with regard to jurisdictional claims in published maps and institutional affiliations.
Integrated supplementary information
Supplementary information
About this article
Cite this article
Russo, M.V., Latour, L.L. & McGavern, D.B. Distinct myeloid cell subsets promote meningeal remodeling and vascular repair after mild traumatic brain injury. Nat Immunol 19, 442–452 (2018). https://doi.org/10.1038/s41590-018-0086-2
Received:

Accepted:

Published:

Issue Date:

DOI: https://doi.org/10.1038/s41590-018-0086-2