Abstract
The quantification and characterization of circulating immune cells provide key indicators of human health and disease. To identify the relative effects of environmental and genetic factors on variation in the parameters of innate and adaptive immune cells in homeostatic conditions, we combined standardized flow cytometry of blood leukocytes and genome-wide DNA genotyping of 1,000 healthy, unrelated people of Western European ancestry. We found that smoking, together with age, sex and latent infection with cytomegalovirus, were the main non-genetic factors that affected variation in parameters of human immune cells. Genome-wide association studies of 166 immunophenotypes identified 15 loci that showed enrichment for disease-associated variants. Finally, we demonstrated that the parameters of innate cells were more strongly controlled by genetic variation than were those of adaptive cells, which were driven by mainly environmental exposure. Our data establish a resource that will generate new hypotheses in immunology and highlight the role of innate immunity in susceptibility to common autoimmune diseases.
Relevant articles
Open Access articles citing this article.
Jacob Bergstedt

,

Sadoune Ait Kaci Azzou

…

Lluis Quintana-Murci

Nature Communications Open Access 06 October 2022

Yuanbing Jiang

,

Xiaopu Zhou

…

Nancy Y. Ip

Nature Aging Open Access 15 July 2022

Lauren Stern

,

Helen M. McGuire

…

Barry Slobedman

Nature Communications Open Access 11 May 2022
Access options
Subscribe to Nature+
Get immediate online access to Nature and 55 other Nature journal
Subscribe to Journal
Get full journal access for 1 year
$79.00
only $6.58 per issue
All prices are NET prices.
VAT will be added later in the checkout.
Tax calculation will be finalised during checkout.
Buy article
Get time limited or full article access on ReadCube.
$32.00
All prices are NET prices.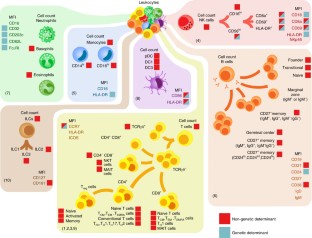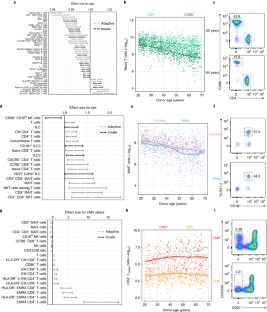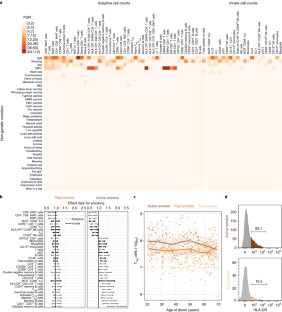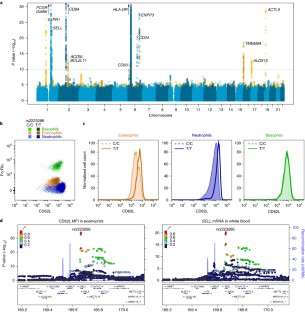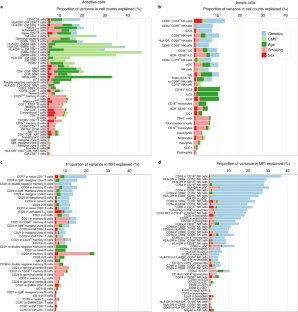 References
Bernard, C. Introduction à l'étude de la médecine expérimentale. (Libraires de l'Académie Impériale de Médecine, 1865).

Altfeld, M. & Gale, M. Jr. Innate immunity against HIV-1 infection. Nat. Immunol. 16, 554–562 (2015).

Orme, I. M., Robinson, R. T. & Cooper, A. M. The balance between protective and pathogenic immune responses in the TB-infected lung. Nat. Immunol. 16, 57–63 (2015).

Tollerud, D. J. et al. The influence of age, race, and gender on peripheral blood mononuclear-cell subsets in healthy nonsmokers. J. Clin. Immunol. 9, 214–222 (1989).

Reichert, T. et al. Lymphocyte subset reference ranges in adult Caucasians. Clin. Immunol. Immunopathol. 60, 190–208 (1991).

Liston, A., Carr, E. J. & Linterman, M. A. Shaping Variation in the Human Immune System. Trends Immunol. 37, 637–646 (2016).

Goronzy, J. J. & Weyand, C. M. Successful and maladaptive T cell aging. Immunity 46, 364–378 (2017).

Sauce, D. & Appay, V. Altered thymic activity in early life: how does it affect the immune system in young adults? Curr. Opin. Immunol. 23, 543–548 (2011).

Furman, D. et al. Apoptosis and other immune biomarkers predict influenza vaccine responsiveness. Mol. Syst. Biol. 9, 659 (2013).

Aguirre-Gamboa, R. et al. Differential effects of environmental and genetic factors on T and B cell immune traits. Cell Rep 17, 2474–2487 (2016).

Carr, E. J. et al. The cellular composition of the human immune system is shaped by age and cohabitation. Nat. Immunol. 17, 461–468 (2016).

Boeckh, M. & Geballe, A. P. Cytomegalovirus: pathogen, paradigm, and puzzle. J. Clin. Invest. 121, 1673–1680 (2011).

Wertheimer, A. M. et al. Aging and cytomegalovirus infection differentially and jointly affect distinct circulating T cell subsets in humans. J. Immunol. 192, 2143–2155 (2014).

Furman, D. et al. Cytomegalovirus infection enhances the immune response to influenza. Sci. Transl. Med. 7, 281ra43 (2015).

Orrù, V. et al. Genetic variants regulating immune cell levels in health and disease. Cell 155, 242–256 (2013).

Roederer, M. et al. The genetic architecture of the human immune system: a bioresource for autoimmunity and disease pathogenesis. Cell 161, 387–403 (2015).

Brodin, P. et al. Variation in the human immune system is largely driven by non-heritable influences. Cell 160, 37–47 (2015).

Thomas, S. et al. The Milieu Intérieur study - an integrative approach for study of human immunological variance. Clin. Immunol. 157, 277–293 (2015).

Vivier, E. et al. Innate or adaptive immunity? the example of natural killer cells. Science 331, 44–49 (2011).

Hasan, M. et al. Semi-automated and standardized cytometric procedures for multi-panel and multi-parametric whole blood immunophenotyping. Clin. Immunol. 157, 261–276 (2015).

Patterson, S. et al. Cortisol patterns are associated with T cell activation in HIV. PLoS ONE 8, e63429 (2013).

Serafini, N., Vosshenrich, C. A. J. & Di Santo, J. P. Transcriptional regulation of innate lymphoid cell fate. Nat. Rev. Immunol. 15, 415–428 (2015).

Dusseaux, M. et al. Human MAIT cells are xenobiotic-resistant, tissue-targeted, CD161hi IL-17-secreting T cells. Blood 117, 1250–1259 (2011).

Amado, I. F. et al. IL-2 coordinates IL-2-producing and regulatory T cell interplay. J. Exp. Med. 210, 2707–2720 (2013).

Pennell, L. M., Galligan, C. L. & Fish, E. N. Sex affects immunity. J. Autoimmun. 38, J282–J291 (2012).

Furman, D., Hejblum, B. P., Simon, N., Jojic, V., Dekker, C. L., Thiébaut, R., Tibshirani, R. J. & Davis, M. M. Systems analysis of sex differences reveals an immunosuppressive role for testosterone in the response to influenza vaccination. Proc Natl Acad Sci USA (2), 869–874 (2014).

Astle, W. J. et al. The allelic landscape of human blood cell trait variation and links to common complex disease. Cell 167, 1415–1429.e19 (2016).

Della Bella, S. et al. Peripheral blood dendritic cells and monocytes are differently regulated in the elderly. Clin. Immunol. 122, 220–228 (2007).

Puchta, A. et al. TNF drives monocyte dysfunction with age and results in impaired anti-pneumococcal immunity. PLoS. Pathog. 12, e1005368 (2016).

Vrisekoop, N. et al. Sparse production but preferential incorporation of recently produced naive T cells in the human peripheral pool. Proc. Natl Acad. Sci. USA 105, 6115–6120 (2008).

Tsuchiya, M. et al. Smoking a single cigarette rapidly reduces combined concentrations of nitrate and nitrite and concentrations of antioxidants in plasma. Circulation 105, 1155–1157 (2002).

Kearley, J. et al. Cigarette smoke silences innate lymphoid cell function and facilitates an exacerbated type I interleukin-33-dependent response to infection. Immunity 42, 566–579 (2015).

Monticelli, L. A. et al. Innate lymphoid cells promote lung-tissue homeostasis after infection with influenza virus. Nat. Immunol. 12, 1045–1054 (2011).

Cassard, L., Jönsson, F., Arnaud, S. & Daëron, M. Fcγ receptors inhibit mouse and human basophil activation. J. Immunol. 189, 2995–3006 (2012).

Hu, X. et al. Additive and interaction effects at three amino acid positions in HLA-DQ and HLA-DR molecules drive type 1 diabetes risk. Nat. Genet. 47, 898–905 (2015).

Piasecka, B. et al. Distinctive roles of age, sex and genetics in shaping transcriptional variation of human immune responses to microbial challenges. Proc. Natl. Acad. Sci. USA 115, E488–E497 (2017).

GTEx Consortium. The Genotype–Tissue Expression (GTEx) pilot analysis: Multitissue gene regulation in humans. Science 348, 648–660 (2015).

Garris, C. S., Blaho, V. A., Hla, T. & Han, M. H. Sphingosine-1-phosphate receptor 1 signalling in T cells: trafficking and beyond. Immunology 142, 347–353 (2014).

Pellegrini, M. et al. Loss of Bim increases T cell production and function in interleukin 7 receptor-deficient mice. J. Exp. Med. 200, 1189–1195 (2004).

van der Harst, P. et al. Seventy-five genetic loci influencing the human red blood cell. Nature 492, 369–375 (2012).

Motohashi, T. et al. Molecular cloning and chromosomal mapping of a novel protein gene, M83. Biochem. Biophys. Res. Commun. 250, 244–250 (2000).

Feltenmark, S. et al. Eoxins are proinflammatory arachidonic acid metabolites produced via the 15-lipoxygenase-1 pathway in human eosinophils and mast cells. Proc. Natl Acad. Sci. 105, 680–685 (2008).

Stämpfli, M. R. & Anderson, G. P. How cigarette smoke skews immune responses to promote infection, lung disease and cancer. Nat. Rev. Immunol. 9, 377–384 (2009).

Venet, F., Lukaszewicz, A.-C., Payen, D., Hotchkiss, R. & Monneret, G. Monitoring the immune response in sepsis: a rational approach to administration of immunoadjuvant therapies. Curr. Opin. Immunol. 25, 477–483 (2013).

Kolaczkowska, E. & Kubes, P. Neutrophil recruitment and function in health and inflammation. Nat. Rev. Immunol. 13, 159–175 (2013).

Farber, D. L., Yudanin, N. A. & Restifo, N. P. Human memory T cells: generation, compartmentalization and homeostasis. Nat. Rev. Immunol. 14, 24–35 (2014).

Mangino, M., Roederer, M., Beddall, M. H., Nestle, F. O. & Spector, T. D. Innate and adaptive immune traits are differentially affected by genetic and environmental factors. Nat. Commun. 8, 13850 (2017).

Casanova, J. L. & Abel, L. Disentangling inborn and acquired immunity in human twins. Cell 160, 13–15 (2015).

Paternoster, L. et al. Multi-ancestry genome-wide association study of 21,000 cases and 95,000 controls identifies new risk loci for atopic dermatitis. Nat. Genet. 47, 1449–1456 (2015).

von Bubnoff, D. et al. Natural killer cells in atopic and autoimmune diseases of the skin. J. Allergy Clin. Immunol. 125, 60–68 (2010).

Bates, D., Maechler, M., Bolker, B. & Walker, S. Fitting linear mixed-effects models using. J. Stat. Softw. 67, 41–48 (2015).

Kenward, M. G. & Roger, J. H. Small sample inference for fixed effects from restricted maximum likelihood. Biometrics 53, 983–997 (1997).

Halekoh, U. & Højsgaard, S. A Kenward-Roger approximation and parametric bootstrap methods for tests in linear mixed models - The R package pbkrtest. J. Stat. Softw. 59, 1–30 (2014).

Benjamini, Y. & Yekutieli, D. False discovery rate–adjusted multiple confidence intervals for selected parameters. J. Am. Stat. Assoc. 1000, 71–93 (2005).

Manichaikul, A. et al. Robust relationship inference in genome-wide association studies. Bioinformatics 26, 2867–2873 (2010).

Patterson, N., Price, A. L. & Reich, D. Population structure and eigenanalysis. PLoS. Genet. 2, e190 (2006).

Behar, D. M. et al. The genome-wide structure of the Jewish people. Nature 466, 238–242 (2010).

Delaneau, O., Zagury, J.-F. & Marchini, J. Improved whole-chromosome phasing for disease and population genetic studies. Nat. Methods 10, 5–6 (2013).

Howie, B. N., Donnelly, P. & Marchini, J. A flexible and accurate genotype imputation method for the next generation of genome-wide association studies. PLoS Genet. 5, e1000529 (2009).

Johnson, W. E., Li, C. & Rabinovic, A. Adjusting batch effects in microarray expression data using empirical Bayes methods. Biostatistics 8, 118–127 (2007).

Mefford, J. & Witte, J. S. The Covariate's Dilemma. PLoS Genet. 8, e1003096 (2012).

Meinshausen, N. & Bühlmann, P. Stability selection. J. R. Stat. Soc. B 72, 417–473 (2010).

Shah, R. D. & Samworth, R. J. Variable selection with error control: another look at stability selection. J. R. Stat. Soc. B 75, 55–80 (2013).

Hastie, T., Tibshirani, R. & Friedman, J. Elements of Statistical Learning (Springer, 2009).

Wakefield, J. Bayesian and Frequentist Regression Methods (Springer, 2013).

Zhou, X. & Stephens, M. Efficient multivariate linear mixed model algorithms for genome-wide association studies. Nat. Methods 11, 407–409 (2014).

Yang, J., Zaitlen, N. A., Goddard, M. E., Visscher, P. M. & Price, A. L. Advantages and pitfalls in the application of mixed-model association methods. Nat. Genet. 46, 100–106 (2014).

Zhang, Z. et al. Mixed linear model approach adapted for genome-wide association studies. Nat. Genet. 42, 355–360 (2010).

Chang, C. C. et al. Second-generation PLINK: rising to the challenge of larger and richer datasets. Gigascience 4, 7 (2015).

Jia, X. et al. Imputing amino acid polymorphisms in human leukocyte antigens. PLoS ONE 8, e64683 (2013).

Purcell, S. et al. PLINK: a tool set for whole-genome association and population-based linkage analyses. Am. J. Hum. Genet. 81, 559–575 (2007).

Aulchenko, Y. S., Ripke, S., Isaacs, A. & van Duijn, C. M. GenABEL: an R library for genome-wide association analysis. Bioinformatics 23, 1294–1296 (2007).

Grömping, U. Relative importance for linear regression in R: the package relaimpo. J. Stat. Softw. 17, 1–27 (2006).
Acknowledgements
We thank the Center for Translation Research, Institut Pasteur, and the OMNI Biomarker Development-Flow Cytometry Biomarker group, Genentech, for support. This work benefited from support of the French government's program 'Investissement d'Avenir', managed by the Agence Nationale de la Recherche (reference 10-LABX-69-01). J.B. is a member of the LCCC Linnaeus Center and the ELLIIT Excellence Center at Lund University and is supported by the ELLIIT Excellence Center.
Ethics declarations
Competing interests
A.U., C.H., Y.W.L., J.H., M.Z., C.G. and M.L.A. are employees of Genentech, a member of The Roche Group.
Additional information
Publisher's note: Springer Nature remains neutral with regard to jurisdictional claims in published maps and institutional affiliations.
Integrated supplementary information
Supplementary information
About this article
Cite this article
Patin, E., Hasan, M., Bergstedt, J. et al. Natural variation in the parameters of innate immune cells is preferentially driven by genetic factors. Nat Immunol 19, 302–314 (2018). https://doi.org/10.1038/s41590-018-0049-7
Received:

Accepted:

Published:

Issue Date:

DOI: https://doi.org/10.1038/s41590-018-0049-7