Access options
Subscribe to Journal
Get full journal access for 1 year
$59.00
only $4.92 per issue
All prices are NET prices.
VAT will be added later in the checkout.
Tax calculation will be finalised during checkout.
Rent or Buy article
Get time limited or full article access on ReadCube.
from$8.99
All prices are NET prices.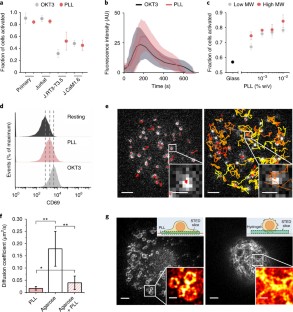 References
1.

Lillemeier, B. F. et al. Nat. Immunol. 11, 90–96 (2010).

2.

Sherman, E. et al. Immunity 35, 705–720 (2011).

3.

Rossy, J., Owen, D. M., Williamson, D. J., Yang, Z. & Gaus, K. Nat. Immunol. 14, 82–89 (2013).

4.

Maity, P. C. et al. Sci. Signal. 8, ra93 (2015).

5.

Pageon, S. V. et al. Sci. Signal. 6, ra62 (2013).

6.

James, J. R. et al. Proc. Natl. Acad. Sci. USA 104, 17662–17667 (2007).

7.

Chang, V. T. et al. Nat. Immunol. 17, 574–582 (2016).

8.

Kaizuka, Y., Douglass, A. D., Vardhana, S., Dustin, M. L. & Vale, R. D. J. Cell Biol. 185, 521–534 (2009).

9.

Evans, R., Lellouch, A. C., Svensson, L., McDowall, A. & Hogg, N. Blood 117, 3331–3342 (2011).

10.

Sood, N., Bhardwaj, A., Mehta, S. & Mehta, A. Drug Deliv. 23, 758–780 (2016).
Acknowledgements
Supported by a Royal Society University Research Fellowship (UF120277 to S.F.L.) and Research Professorship (RP150066 to D.K.); the EPSRC (EP/L027631/1 to A.P.,); the Wellcome Trust (098274/Z/12/Z to S.J.D., and WT101609MA to R.A.F.); PA Cephalosporin Fund (C.E.); the Wolfson Imaging Centre Oxford (funded by the Wolfson Foundation and Wellcome Trust; 104924/14/Z/14); the Micron Advanced BioImaging Unit (Wellcome Trust Strategic Award 091911); the Medical Research Council (MC_UU_12010/Unit Programmes G0902418 and MC_UU_12025); an MRC/BBSRC/EPSRC award (MR/K01577X/1); and a Marie Skłodowska-Curie Intra-European grant (707348 to I.U.).
Ethics declarations
Competing interests
The authors declare no competing financial interests.
Supplementary information
About this article
Cite this article
Santos, A.M., Ponjavic, A., Fritzsche, M. et al. Capturing resting T cells: the perils of PLL. Nat Immunol 19, 203–205 (2018). https://doi.org/10.1038/s41590-018-0048-8
Received:

Accepted:

Published:

Issue Date: