Abstract
Deletion of master regulators of the B cell lineage reprograms B cells into T cells. Here we found that the transcription factor Hoxb5, which is expressed in uncommitted hematopoietic progenitor cells but is not present in cells committed to the B cell or T cell lineage, was able to reprogram pro-pre-B cells into functional early T cell lineage progenitors. This reprogramming started in the bone marrow and was completed in the thymus and gave rise to T lymphocytes with transcriptomes, hierarchical differentiation, tissue distribution and immunological functions that closely resembled those of their natural counterparts. Hoxb5 repressed B cell 'master genes', activated regulators of T cells and regulated crucial chromatin modifiers in pro-pre-B cells and ultimately drove the B cell fate–to–T cell fate conversion. Our results provide a de novo paradigm for the generation of functional T cells through reprogramming in vivo.
Access options
Subscribe to Journal
Get full journal access for 1 year
$225.00
only $18.75 per issue
All prices are NET prices.
VAT will be added later in the checkout.
Rent or Buy article
Get time limited or full article access on ReadCube.
from$8.99
All prices are NET prices.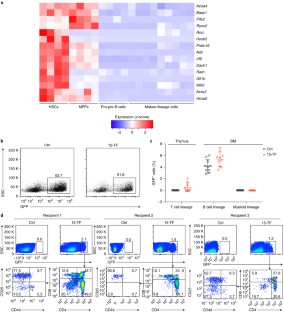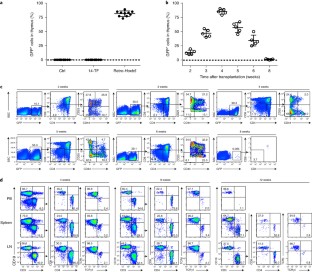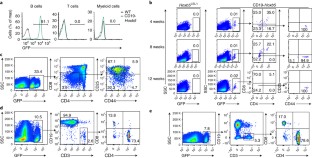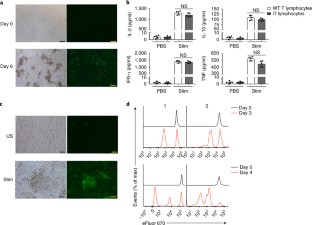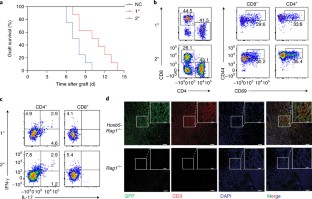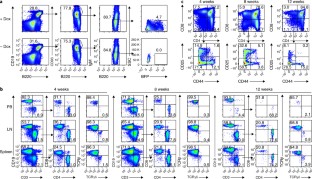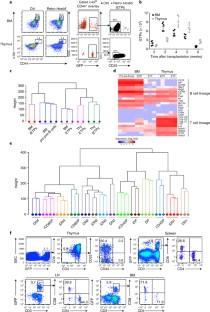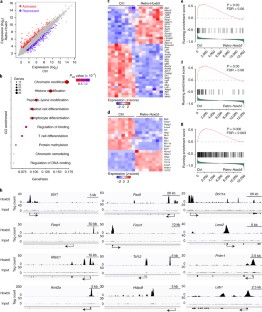 References
1.

Heyworth, C., Pearson, S., May, G. & Enver, T. Transcription factor-mediated lineage switching reveals plasticity in primary committed progenitor cells. EMBO J. 21, 3770–3781 (2002).

2.

Kulessa, H., Frampton, J. & Graf, T. GATA-1 reprograms avian myelomonocytic cell lines into eosinophils, thromboblasts, and erythroblasts. Genes Dev. 9, 1250–1262 (1995).

3.

Visvader, J. E., Elefanty, A. G., Strasser, A. & Adams, J. M. GATA-1 but not SCL induces megakaryocytic differentiation in an early myeloid line. EMBO J. 11, 4557–4564 (1992).

4.

Xie, H., Ye, M., Feng, R. & Graf, T. Stepwise reprogramming of B cells into macrophages. Cell 117, 663–676 (2004).

5.

Nutt, S. L., Heavey, B., Rolink, A. G. & Busslinger, M. Commitment to the B-lymphoid lineage depends on the transcription factor Pax5. Nature 401, 556–562 (1999).

6.

Rolink, A. G., Nutt, S. L., Melchers, F. & Busslinger, M. Long-term in vivo reconstitution of T-cell development by Pax5-deficient B-cell progenitors. Nature 401, 603–606 (1999).

7.

Taghon, T., Yui, M. A. & Rothenberg, E. V. Mast cell lineage diversion of T lineage precursors by the essential T cell transcription factor GATA-3. Nat. Immunol. 8, 845–855 (2007).

8.

Laiosa, C. V., Stadtfeld, M., Xie, H., de Andres-Aguayo, L. & Graf, T. Reprogramming of committed T cell progenitors to macrophages and dendritic cells by C/EBPα and PU.1 transcription factors. Immunity 25, 731–744 (2006).

9.

Li, P. et al. Reprogramming of T cells to natural killer-like cells upon Bcl11b deletion. Science 329, 85–89 (2010).

10.

Cobaleda, C., Jochum, W. & Busslinger, M. Conversion of mature B cells into T cells by dedifferentiation to uncommitted progenitors. Nature 449, 473–477 (2007).

11.

Ungerbäck, J., Åhsberg, J., Strid, T., Somasundaram, R. & Sigvardsson, M. Combined heterozygous loss of Ebf1 and Pax5 allows for T-lineage conversion of B cell progenitors. J. Exp. Med. 212, 1109–1123 (2015).

12.

Orkin, S. H. & Zon, L. I. Hematopoiesis: an evolving paradigm for stem cell biology. Cell 132, 631–644 (2008).

13.

Månsson, R. et al. Molecular evidence for hierarchical transcriptional lineage priming in fetal and adult stem cells and multipotent progenitors. Immunity 26, 407–419 (2007).

14.

Chen, J. Y. et al. Hoxb5 marks long-term haematopoietic stem cells and reveals a homogenous perivascular niche. Nature 530, 223–227 (2016).

15.

Bijl, J. et al. Analysis of HSC activity and compensatory Hox gene expression profile in Hoxb cluster mutant fetal liver cells. Blood 108, 116–122 (2006).

16.

Riddell, J. et al. Reprogramming committed murine blood cells to induced hematopoietic stem cells with defined factors. Cell 157, 549–564 (2014).

17.

Ramasamy, I., Brisco, M. & Morley, A. Improved PCR method for detecting monoclonal immunoglobulin heavy chain rearrangement in B cell neoplasms. J. Clin. Pathol. 45, 770–775 (1992).

18.

Ehlich, A., Martin, V., Müller, W. & Rajewsky, K. Analysis of the B-cell progenitor compartment at the level of single cells. Curr. Biol. 4, 573–583 (1994).

19.

Souabni, A., Cobaleda, C., Schebesta, M. & Busslinger, M. Pax5 promotes B lymphopoiesis and blocks T cell development by repressing Notch1. Immunity 17, 781–793 (2002).

20.

Nechanitzky, R. et al. Transcription factor EBF1 is essential for the maintenance of B cell identity and prevention of alternative fates in committed cells. Nat. Immunol. 14, 867–875 (2013).

21.

Lin, H. & Grosschedl, R. Failure of B-cell differentiation in mice lacking the transcription factor EBF. Nature 376, 263–267 (1995).

22.

Liu, P. et al. Bcl11a is essential for normal lymphoid development. Nat. Immunol. 4, 525–532 (2003).

23.

Hu, H. et al. Foxp1 is an essential transcriptional regulator of B cell development. Nat. Immunol. 7, 819–826 (2006).

24.

Lin, Y. C. et al. A global network of transcription factors, involving E2A, EBF1 and Foxo1, that orchestrates B cell fate. Nat. Immunol. 11, 635–643 (2010).

25.

Müller, M. R. et al. Requirement for balanced Ca/NFAT signaling in hematopoietic and embryonic development. . Proc. Natl. Acad. Sci. USA 106, 7034–7039 (2009).

26.

Braunstein, M. & Anderson, M. K. HEB in the spotlight: Transcriptional regulation of T-cell specification, commitment, and developmental plasticity. Clin. Dev. Immunol. 2012, 678705 (2012).

27.

Martins, G. & Calame, K. Regulation and functions of Blimp-1 in T and B lymphocytes. Annu. Rev. Immunol. 26, 133–169 (2008).

28.

Ferrando, A. A. et al. Gene expression signatures define novel oncogenic pathways in T cell acute lymphoblastic leukemia. Cancer Cell 1, 75–87 (2002).

29.

Schwickert, T. A. et al. Stage-specific control of early B cell development by the transcription factor Ikaros. Nat. Immunol. 15, 283–293 (2014).

30.

Schebesta, A. et al. Transcription factor Pax5 activates the chromatin of key genes involved in B cell signaling, adhesion, migration, and immune function. Immunity 27, 49–63 (2007).

31.

McManus, S. et al. The transcription factor Pax5 regulates its target genes by recruiting chromatin-modifying proteins in committed B cells. EMBO J. 30, 2388–2404 (2011).

32.

McMahon, K. A. et al. Mll has a critical role in fetal and adult hematopoietic stem cell self-renewal. Cell Stem Cell 1, 338–345 (2007).

33.

Artinger, E. L. et al. An MLL-dependent network sustains hematopoiesis. Proc. Natl. Acad. Sci. USA 110, 12000–12005 (2013).

34.

Cobaleda, C., Schebesta, A., Delogu, A. & Busslinger, M. Pax5: the guardian of B cell identity and function. Nat. Immunol. 8, 463–470 (2007).

35.

Vaillant, F., Blyth, K., Andrew, L., Neil, J. C. & Cameron, E. R. Enforced expression of Runx2 perturbs T cell development at a stage coincident with β-selection. J. Immunol. 169, 2866–2874 (2002).

36.

Zhang, H. et al. MLL1 inhibition reprograms epiblast stem cells to naive pluripotency. Cell Stem Cell 18, 481–494 (2016).

37.

Zhou, X., Marks, P. A., Rifkind, R. A. & Richon, V. M. Cloning and characterization of a histone deacetylase, HDAC9. Proc. Natl. Acad. Sci. USA 98, 10572–10577 (2001).

38.

Krivega, I., Dale, R. K. & Dean, A. Role of LDB1 in the transition from chromatin looping to transcription activation. Genes Dev. 28, 1278–1290 (2014).

39.

Kokavec, J. et al. The ISWI ATPase Smarca5 (Snf2h) is required for proliferation and differentiation of hematopoietic stem and progenitor cells. Stem Cells 35, 1614–1623 (2017).

40.

Starr, T. K., Jameson, S. C. & Hogquist, K. A. Positive and negative selection of T cells. Annu. Rev. Immunol. 21, 139–176 (2003).

41.

Limón, A. et al. High-titer retroviral vectors containing the enhanced green fluorescent protein gene for efficient expression in hematopoietic cells. Blood 90, 3316–3321 (1997).

42.

Goldschneider, I., Komschlies, K. L. & Greiner, D. L. Studies of thymocytopoiesis in rats and mice. I. Kinetics of appearance of thymocytes using a direct intrathymic adoptive transfer assay for thymocyte precursors. J. Exp. Med. 163, 1–17 (1986).

43.

Wolfer, A., Wilson, A., Nemir, M., MacDonald, H. R. & Radtke, F. Inactivation of Notch1 impairs VDJβ rearrangement and allows pre-TCR-independent survival of early αβ lineage thymocytes. Immunity 16, 869–879 (2002).

44.

Ye, J., Ma, N., Madden, T. L. & Ostell, J. M. IgBLAST: an immunoglobulin variable domain sequence analysis tool. Nucleic Acids Res. 41, W34–40 (2013).

45.

Tang, F. et al. RNA-Seq analysis to capture the transcriptome landscape of a single cell. Nat. Protoc. 5, 516–535 (2010).

46.

Trapnell, C. et al. Differential gene and transcript expression analysis of RNA-seq experiments with TopHat and Cufflinks. Nat. Protoc. 7, 562–578 (2012).

47.

Love, M. I., Huber, W. & Anders, S. Moderated estimation of fold change and dispersion for RNA-seq data with DESeq2. Genome Biol. 15, 550 (2014).

48.

Subramanian, A. et al. Gene set enrichment analysis: a knowledge-based approach for interpreting genome-wide expression profiles. Proc. Natl. Acad. Sci. USA 102, 15545–15550 (2005).

49.

Yu, G., Wang, L. G., Han, Y. & He, Q. Y. clusterProfiler: an R package for comparing biological themes among gene clusters. OMICS 16, 284–287 (2012).

50.

Trickett, A. & Kwan, Y. L. T cell stimulation and expansion using anti-CD3/CD28 beads. J. Immunol. Methods 275, 251–255 (2003).

51.

Lan, P., Tonomura, N., Shimizu, A., Wang, S. & Yang, Y. G. Reconstitution of a functional human immune system in immunodeficient mice through combined human fetal thymus/liver and CD34+ cell transplantation. Blood 108, 487–492 (2006).

52.

Jiang, X. et al. Skin infection generates non-migratory memory CD8+ T(RM) cells providing global skin immunity. Nature 483, 227–231 (2012).

53.

Ai, S. et al. EED orchestration of heart maturation through interaction with HDACs is H3K27me3-independent. eLife 6, e24570 (2017).

54.

He, A. et al. Dynamic GATA4 enhancers shape the chromatin landscape central to heart development and disease. Nat. Commun. 5, 4907 (2014).
Acknowledgements
We thank T. Cheng, D. Pei and E. H. Bresnick for comments on the manuscript; Z. Liu (Institute of Biophysics, CAS, China) for Rag1−/− mice; and the animal center and instrument center of Guangzhou Institutes of Biomedicine and Health for the animal care, cell sorting and skin imaging. Supported by the Major National Research Project of China (2015CB964401 to J.W.; 2015CB964404 to Y.-G.Y. and Z.H.; 2015CB964902 to J.D.; and 2015CB964901 to H.W., CAS Key Research Program of Frontier Sciences (QYZDB-SSW-SMC057), the Major Scientific and Technological Project of Guangdong Province (2014B020225005), the Strategic Priority Research Program of the Chinese Academic of Sciences (XDA01020311), the co-operation program of the Guangdong Natural Science Foundation (2014A030312012), the National Natural Science Foundation of China (31471117 and 81470281 to J.W.; 31600948 to D.Y.; 91642208 to Y.-G.Y.; and 81770222 to D.W.), the National Key Research and Development Program of China (2017YFA0103401 to B.L.; and 2017YFA0103402 to A. H.) and the US National Institutes of Health (AI079087 and HL130724 to D.W.).
Ethics declarations
Competing interests
The authors declare no competing financial interests.
Additional information
Publisher's note: Springer Nature remains neutral with regard to jurisdictional claims in published maps and institutional affiliations.
Integrated supplementary information
Supplementary information
About this article
Cite this article
Zhang, M., Dong, Y., Hu, F. et al. Transcription factor Hoxb5 reprograms B cells into functional T lymphocytes. Nat Immunol 19, 279–290 (2018). https://doi.org/10.1038/s41590-018-0046-x
Received:

Accepted:

Published:

Issue Date: