Abstract
The sensor RIG-I detects double-stranded RNA derived from RNA viruses. Although RIG-I is also known to have a role in the antiviral response to DNA viruses, physiological RNA species recognized by RIG-I during infection with a DNA virus are largely unknown. Using next-generation RNA sequencing (RNAseq), we found that host-derived RNAs, most prominently 5S ribosomal RNA pseudogene 141 (RNA5SP141), bound to RIG-I during infection with herpes simplex virus 1 (HSV-1). Infection with HSV-1 induced relocalization of RNA5SP141 from the nucleus to the cytoplasm, and virus-induced shutoff of host protein synthesis downregulated the abundance of RNA5SP141-interacting proteins, which allowed RNA5SP141 to bind RIG-I and induce the expression of type I interferons. Silencing of RNA5SP141 strongly dampened the antiviral response to HSV-1 and the related virus Epstein-Barr virus (EBV), as well as influenza A virus (IAV). Our findings reveal that antiviral immunity can be triggered by host RNAs that are unshielded following depletion of their respective binding proteins by the virus.
Access options
Access options
Subscribe to Journal
Get full journal access for 1 year
$225.00
only $18.75 per issue
All prices are NET prices.
VAT will be added later in the checkout.
Rent or Buy article
Get time limited or full article access on ReadCube.
from$8.99
All prices are NET prices.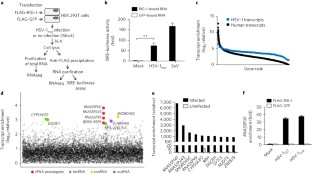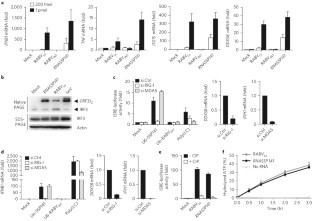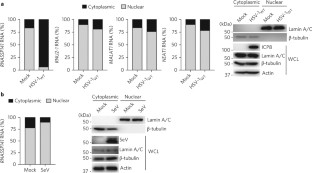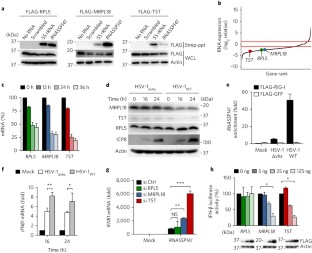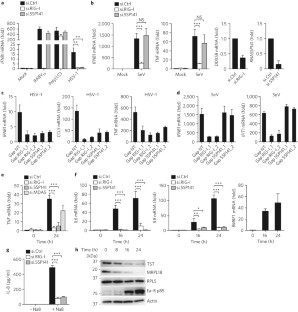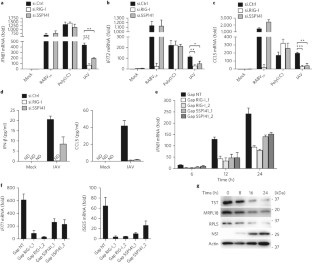 References
1.

Goubau, D., Deddouche, S. & Reis e Sousa, C. Cytosolic sensing of viruses. Immunity 38, 855–869 (2013).

2.

Takeuchi, O. & Akira, S. Pattern recognition receptors and inflammation. Cell 140, 805–820 (2010).

3.

Loo, Y. M. & Gale, M. Jr. Immune signaling by RIG-I-like receptors. Immunity 34, 680–692 (2011).

4.

Wu, J. & Chen, Z. J. Innate immune sensing and signaling of cytosolic nucleic acids. Annu. Rev. Immunol. 32, 461–488 (2014).

5.

Hornung, V. et al. 5′-Triphosphate RNA is the ligand for RIG-I. Science 314, 994–997 (2006).

6.

Pichlmair, A. et al. RIG-I-mediated antiviral responses to single-stranded RNA bearing 5′-phosphates. Science 314, 997–1001 (2006).

7.

Schlee, M. et al. Recognition of 5′ triphosphate by RIG-I helicase requires short blunt double-stranded RNA as contained in panhandle of negative-strand virus. Immunity 31, 25–34 (2009).

8.

Rehwinkel, J. et al. RIG-I detects viral genomic RNA during negative-strand RNA virus infection. Cell 140, 397–408 (2010).

9.

Baum, A., Sachidanandam, R. & García-Sastre, A. Preference of RIG-I for short viral RNA molecules in infected cells revealed by next-generation sequencing. Proc. Natl. Acad. Sci. USA 107, 16303–16308 (2010).

10.

Runge, S. et al. In vivo ligands of MDA5 and RIG-I in measles virus-infected cells. PLoS Pathog. 10, e1004081 (2014).

11.

Goubau, D. et al. Antiviral immunity via RIG-I-mediated recognition of RNA bearing 5′-diphosphates. Nature 514, 372–375 (2014).

12.

Saito, T., Owen, D. M., Jiang, F., Marcotrigiano, J. & Gale, M. Jr. Innate immunity induced by composition-dependent RIG-I recognition of hepatitis C virus RNA. Nature 454, 523–527 (2008).

13.

Ablasser, A. et al. RIG-I-dependent sensing of poly(dA:dT) through the induction of an RNA polymerase III-transcribed RNA intermediate. Nat. Immunol. 10, 1065–1072 (2009).

14.

Chiu, Y. H., Macmillan, J. B. & Chen, Z. J. RNA polymerase III detects cytosolic DNA and induces type I interferons through the RIG-I pathway. Cell 138, 576–591 (2009).

15.

Chan, Y. K. & Gack, M. U. Viral evasion of intracellular DNA and RNA sensing. Nat. Rev. Microbiol. 14, 360–373 (2016).

16.

Sun, L., Wu, J., Du, F., Chen, X. & Chen, Z. J. Cyclic GMP-AMP synthase is a cytosolic DNA sensor that activates the type I interferon pathway. Science 339, 786–791 (2013).

17.

Unterholzner, L. et al. IFI16 is an innate immune sensor for intracellular DNA. Nat. Immunol. 11, 997–1004 (2010).

18.

Peri, P. et al. Herpes simplex virus type 1 Us3 gene deletion influences toll-like receptor responses in cultured monocytic cells. Virol. J. 5, 140 (2008).

19.

Szymański, M., Barciszewska, M. Z., Erdmann, V. A. & Barciszewski, J. 5S rRNA: structure and interactions. Biochem. J. 371, 641–651 (2003).

20.

Cui, S. et al. The C-terminal regulatory domain is the RNA 5′-triphosphate sensor of RIG-I. Mol. Cell 29, 169–179 (2008).

21.

Hiscott, J. Triggering the innate antiviral response through IRF-3 activation. J. Biol. Chem. 282, 15325–15329 (2007).

22.

Civril, F. et al. The RIG-I ATPase domain structure reveals insights into ATP-dependent antiviral signalling. EMBO Rep. 12, 1127–1134 (2011).

23.

Glaunsinger, B. A. & Ganem, D. E. Messenger RNA turnover and its regulation in herpesviral infection. Adv. Virus Res. 66, 337–394 (2006).

24.

Ciganda, M. & Williams, N. Eukaryotic 5S rRNA biogenesis. Wiley Interdiscip. Rev. RNA 2, 523–533 (2011).

25.

Johnson, D. C. & Baines, J. D. Herpesviruses remodel host membranes for virus egress. Nat. Rev. Microbiol. 9, 382–394 (2011).

26.

West, J. A. et al. The long noncoding RNAs NEAT1 and MALAT1 bind active chromatin sites. Mol. Cell 55, 791–802 (2014).

27.

Niazi, A. K. et al. Targeting nucleic acids into mitochondria: progress and prospects. Mitochondrion 13, 548–558 (2013).

28.

Kwong, A. D. & Frenkel, N. Herpes simplex virus-infected cells contain a function(s) that destabilizes both host and viral mRNAs. Proc. Natl. Acad. Sci. USA 84, 1926–1930 (1987).

29.

Simonin, D., Diaz, J. J., Massé, T. & Madjar, J. J. Persistence of ribosomal protein synthesis after infection of HeLa cells by herpes simplex virus type 1. J. Gen. Virol. 78, 435–443 (1997).

30.

Smiley, J. R. Herpes simplex virus virion host shutoff protein: immune evasion mediated by a viral RNase? J. Virol. 78, 1063–1068 (2004).

31.

Strahle, L., Garcin, D. & Kolakofsky, D. Sendai virus defective-interfering genomes and the activation of interferon-beta. Virology 351, 101–111 (2006).

32.

Gack, M. U. et al. Influenza A virus NS1 targets the ubiquitin ligase TRIM25 to evade recognition by the host viral RNA sensor RIG-I. Cell Host Microbe 5, 439–449 (2009).

33.

Ayllon, J. & García-Sastre, A. The NS1 protein: a multitasking virulence factor. Curr. Top. Microbiol. Immunol. 386, 73–107 (2015).

34.

Malathi, K., Dong, B., Gale, M. Jr. & Silverman, R. H. Small self-RNA generated by RNase L amplifies antiviral innate immunity. Nature 448, 816–819 (2007).

35.

Nabet, B. Y. et al. Exosome RNA unshielding couples stromal activation to pattern recognition receptor signaling in cancer. Cell 170, 352–366 (2017).

36.

Schlee, M. & Hartmann, G. Discriminating self from non-self in nucleic acid sensing. Nat. Rev. Immunol. 16, 566–580 (2016).

37.

Barrat, F. J., Elkon, K. B. & Fitzgerald, K. A. Importance of nucleic acid recognition in inflammation and autoimmunity. Annu. Rev. Med. 67, 323–336 (2016).

38.

Gack, M. U. et al. TRIM25 RING-finger E3 ubiquitin ligase is essential for RIG-I-mediated antiviral activity. Nature 446, 916–920 (2007).

39.

Shapira, S. D. et al. A physical and regulatory map of host-influenza interactions reveals pathways in H1N1 infection. Cell 139, 1255–1267 (2009).

40.

Marquitz, A. R., Mathur, A., Shair, K. H. & Raab-Traub, N. Infection of Epstein-Barr virus in a gastric carcinoma cell line induces anchorage independence and global changes in gene expression. Proc. Natl. Acad. Sci. USA 109, 9593–9598 (2012).

41.

Tischer, B. K., Smith, G. A. & Osterrieder, N. En passant mutagenesis: a two step markerless red recombination system. Methods Mol. Biol. 634, 421–430 (2010).

42.

Poon, A. P. & Roizman, B. Differentiation of the shutoff of protein synthesis by virion host shutoff and mutant gamma (1)34.5 genes of herpes simplex virus 1. Virology 229, 98–105 (1997).

43.

Afgan, E. et al. The Galaxy platform for accessible, reproducible and collaborative biomedical analyses: 2016 update. Nucleic Acids Res. 44, W3–W10 (2016). W1.

44.

Martin, M. Cutadapt removes adapter sequences from high-throughput sequencing reads. EMBnet.journal 17, 10–12 (2011).

45.

Andrews, S. FastQC: a quality control tool for high throughput sequence data. Available from: http://www.bioinformatics.babraham.ac.uk/projects/fastqc (2010).

46.

Kim, D. et al. TopHat2: accurate alignment of transcriptomes in the presence of insertions, deletions and gene fusions. Genome Biol. 14, R36 (2013).

47.

Dillies, M. A. et al. A comprehensive evaluation of normalization methods for Illumina high-throughput RNA sequencing data analysis. Brief. Bioinform. 14, 671–683 (2013).

48.

R Core Team. R: A language and environment for statistical computing. (R Foundation for Statistical Computing, Vienna, Austria, 2013).

49.

Wickham, H. Ggplot2: Elegant Graphics for Data Analysis (Springer, New York, 2009).

50.

Gack, M. U. et al. Roles of RIG-I N-terminal tandem CARD and splice variant in TRIM25-mediated antiviral signal transduction. Proc. Natl. Acad. Sci. USA 105, 16743–16748 (2008).

51.

Lin, R., Génin, P., Mamane, Y. & Hiscott, J. Selective DNA binding and association with the CREB binding protein coactivator contribute to differential activation of alpha/beta interferon genes by interferon regulatory factors 3 and 7. Mol. Cell. Biol. 20, 6342–6353 (2000).

52.

Hatzivassiliou, E., Cardot, P., Zannis, V. I. & Mitsialis, S. A. Ultraspiracle, a Drosophila retinoic X receptor alpha homologue, can mobilize the human thyroid hormone receptor to transactivate a human promoter. Biochemistry 36, 9221–9231 (1997).

53.

Dillon, P. J. et al. Tousled-like kinases modulate reactivation of gammaherpesviruses from latency. Cell Host Microbe 13, 204–214 (2013).

54.

Cui, C. et al. Prediction and identification of herpes simplex virus 1-encoded microRNAs. J. Virol. 80, 5499–5508 (2006).

55.

Lässig, C. et al. ATP hydrolysis by the viral RNA sensor RIG-I prevents unintentional recognition of self-RNA. eLife 4, 1–20 (2015).

56.

Maharaj, N. P., Wies, E., Stoll, A. & Gack, M. U. Conventional protein kinase C-α (PKC-α) and PKC-β negatively regulate RIG-I antiviral signal transduction. J. Virol. 86, 1358–1371 (2012).

57.

Lorenz, R. et al. ViennaRNA Package 2.0. Algorithms Mol. Biol. 6, 26 (2011).
Acknowledgements
We thank B. Roizman (University of Chicago) for HSV-1Δvhs mutant and revertant; Y. Kawaguchi (University of Tokyo) for the bacterial artificial chromosome clone of HSV-1; A. Garcia-Sastre (Mount Sinai) for IAV wild-type and ΔNS1 recombinant virus; N. Raab-Traub (UNC-Chapel Hill) for AGS-EBV cells; D. Knipe (Harvard University) for the antibody to ICP8; W. Azab for help with manuscript preparation; and K. Waraska and A. Diallo for discussions. Supported by the US National Institutes of Health (R21 AI133361 and R01 AI087846 to M.U.G.), the German Research Foundation (fellowship SP 1600/1-1 to K.M.J.S.; and HO2489-8 to K.-P.H.) and BioSysNet (K.-P.H. and C.L.).
Ethics declarations
Competing interests
The authors declare no competing financial interests.
Additional information
Publisher's note: Springer Nature remains neutral with regard to jurisdictional claims in published maps and institutional affiliations.
Integrated supplementary information
Supplementary information
Supplementary Figures 1–8