Abstract
Cell-based therapies represent potent enabling technologies in biomedical science. However, current genetic control systems for engineered-cell therapies are predominantly based on the transcription or translation of therapeutic outputs. Here we report a protease-based rapid protein secretion system (PASS) that regulates the secretion of pretranslated proteins retained in the endoplasmic reticulum (ER) owing to an ER-retrieval signal. Upon cleavage by inducible proteases, these proteins are secreted. Three PASS variants (chemPASS, antigenPASS and optoPASS) are developed. With chemPASS, we demonstrate the reversal of hyperglycemia in diabetic mice within minutes via drug-induced insulin secretion. AntigenPASS-equipped cells recognize the tumor antigen and secrete granzyme B and perforin, inducing targeted cell apoptosis. Finally, results from mouse models of diabetes, hypertension and inflammatory pain demonstrate light-induced, optoPASS-mediated therapeutic peptide secretion within minutes, conferring anticipated therapeutic benefits. PASS is a flexible platform for rapid delivery of therapeutic proteins that can facilitate the development and adoption of cell-based precision therapies.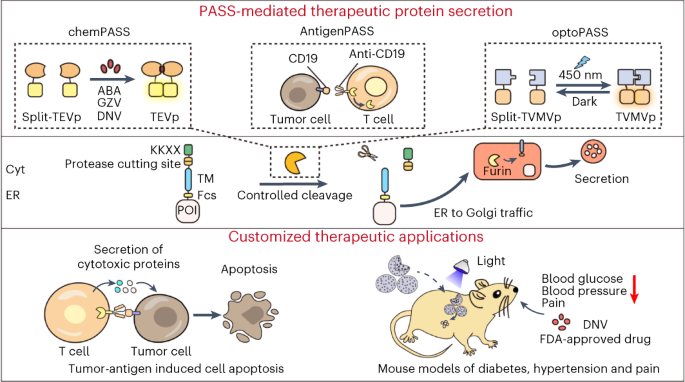 Access options
Access Nature and 54 other Nature Portfolio journals
Get Nature+, our best-value online-access subscription
$29.99 / 30 days
cancel any time
Subscribe to this journal
Receive 12 print issues and online access
$259.00 per year
only $21.58 per issue
Rent or buy this article
Prices vary by article type
from$1.95
to$39.95
Prices may be subject to local taxes which are calculated during checkout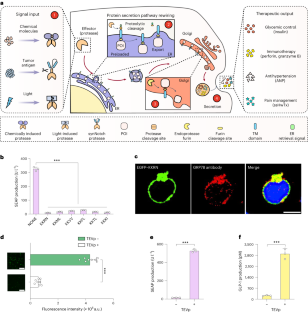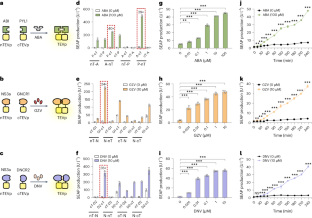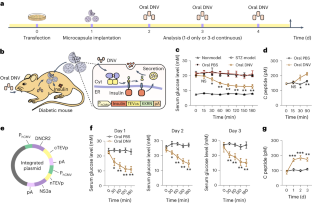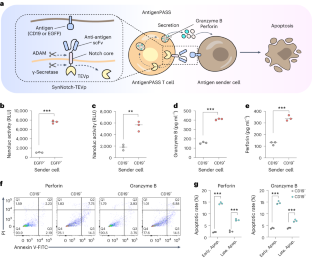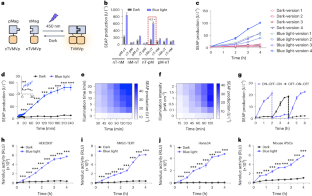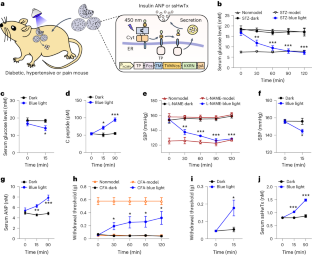 Similar content being viewed by others
Data availability
All data associated with this study are present in the paper or the Supplementary Information. All genetic components related to this paper are available with a material transfer agreement and can be requested from H.Y. Source data are provided with this paper.
References
Kitada, T., DiAndreth, B., Teague, B. & Weiss, R. Programming gene and engineered-cell therapies with synthetic biology. Science 359, eaad1067 (2018).

Cubillos-Ruiz, A. et al. Engineering living therapeutics with synthetic biology. Nat. Rev. Drug Discov. 20, 941–960 (2021).

Lim, W. A. The emerging era of cell engineering: harnessing the modularity of cells to program complex biological function. Science 378, 848–852 (2022).

Yang, L. et al. Engineering genetic devices for in vivo control of therapeutic T cell activity triggered by the dietary molecule resveratrol. Proc. Natl Acad. Sci. USA 118, e2106612118 (2021).

Yu, Y. et al. Optogenetic-controlled immunotherapeutic designer cells for post-surgical cancer immunotherapy. Nat. Commun. 13, 6357 (2022).

Ye, H. et al. Self-adjusting synthetic gene circuit for correcting insulin resistance. Nat. Biomed. Eng. 1, 0005 (2017).

Isabella, V. M. et al. Development of a synthetic live bacterial therapeutic for the human metabolic disease phenylketonuria. Nat. Biotechnol. 36, 857–864 (2018).

Yin, J. et al. A green tea-triggered genetic control system for treating diabetes in mice and monkeys. Sci. Transl. Med. 11, 2318 (2019).

Li, H. S. et al. Multidimensional control of therapeutic human cell function with synthetic gene circuits. Science 378, 1227–1234 (2022).

Mansouri, M. & Fussenegger, M. Therapeutic cell engineering: designing programmable synthetic genetic circuits in mammalian cells. Protein Cell 13, 476–489 (2022).

Wu, C. Y., Roybal, K. T., Puchner, E. M., Onuffer, J. & Lim, W. A. Remote control of therapeutic T cells through a small molecule-gated chimeric receptor. Science 350, aab4077 (2015).

Wang, Y. et al. A versatile genetic control system in mammalian cells and mice responsive to clinically licensed sodium ferulate. Sci. Adv. 6, eabb9484 (2020).

Stanley, S. A. et al. Radio-wave heating of iron oxide nanoparticles can regulate plasma glucose in mice. Science 336, 604–608 (2012).

Ye, H., Daoud-El Baba, M., Peng, R. W. & Fussenegger, M. A synthetic optogenetic transcription device enhances blood-glucose homeostasis in mice. Science 332, 1565–1568 (2011).

Shao, J. et al. Smartphone-controlled optogenetically engineered cells enable semiautomatic glucose homeostasis in diabetic mice. Sci. Transl. Med. 9, eaal2298 (2017).

Zhou, Y. et al. A small and highly sensitive red/far-red optogenetic switch for applications in mammals. Nat. Biotechnol. 40, 262–272 (2022).

Kuwasaki, Y. et al. A red light-responsive photoswitch for deep tissue optogenetics. Nat. Biotechnol. 40, 1672–1679 (2022).

Roybal, K. T. et al. Engineering T cells with customized therapeutic response programs using synthetic notch receptors. Cell 167, 419–432 (2016).

Hyrenius-Wittsten, A. et al. SynNotch CAR circuits enhance solid tumor recognition and promote persistent antitumor activity in mouse models. Sci. Transl. Med. 13, eabd8836 (2021).

Bratanova-Tochkova, T. K. et al. Triggering and augmentation mechanisms, granule pools, and biphasic insulin secretion. Diabetes 51, S83–S90 (2002).

Goodge, K. A. & Hutton, J. C. Translational regulation of proinsulin biosynthesis and proinsulin conversion in the pancreatic β-cell. Semin. Cell Dev. Biol. 11, 235–242 (2000).

Dietz, J. R. Mechanisms of atrial natriuretic peptide secretion from the atrium. Cardiovasc. Res. 68, 8–17 (2005).

Nakagawa, Y., Nishikimi, T. & Kuwahara, K. Atrial and brain natriuretic peptides: hormones secreted from the heart. Peptides 111, 18–25 (2019).

Mellman, I. & Nelson, W. J. Coordinated protein sorting, targeting and distribution in polarized cells. Nat. Rev. Mol. Cell Biol. 9, 833–845 (2008).

Stockklausner, C., Ludwig, J., Ruppersberg, J. P. & Klöcker, N. A sequence motif responsible for ER export and surface expression of Kir2.0 inward rectifier K+ channels. FEBS Lett. 493, 129–133 (2001).

Kelly, R. B. Pathways of protein secretion in eukaryotes. Science 230, 25–32 (1985).

Zerangue, N. et al. Analysis of endoplasmic reticulum trafficking signals by combinatorial screening in mammalian cells. Proc. Natl Acad. Sci. USA 98, 2431–2436 (2001).

Sanchez, M. I. & Ting, A. Y. Directed evolution improves the catalytic efficiency of TEV protease. Nat. Methods 17, 167–174 (2020).

Wehr, M. C. et al. Monitoring regulated protein-protein interactions using split TEV. Nat. Methods 3, 985–993 (2006).

Liang, F. S., Ho, W. Q. & Crabtree, G. R. Engineering the ABA plant stress pathway for regulation of induced proximity. Sci. Signal 4, rs2 (2011).

Foight, G. W. et al. Multi-input chemical control of protein dimerization for programming graded cellular responses. Nat. Biotechnol. 37, 1209–1216 (2019).

Rivera, V. M. et al. A humanized system for pharmacologic control of gene expression. Nat. Med. 2, 1028–1032 (1996).

Kennedy, M. J. et al. Rapid blue-light-mediated induction of protein interactions in living cells. Nat. Methods 7, 973–975 (2010).

Praznik, A. et al. Regulation of protein secretion through chemical regulation of endoplasmic reticulum retention signal cleavage. Nat. Commun. 13, 1323 (2022).

Morsut, L. et al. Engineering customized cell sensing and response behaviors using synthetic notch receptors. Cell 164, 780–791 (2016).

Ramos, C. A. et al. In vivo fate and activity of second- versus third-generation CD19-specific CAR-T cells in B cell non-Hodgkin's lymphomas. Mol. Ther. 26, 2727–2737 (2018).

Emiliani, V. et al. Optogenetics for light control of biological systems. Nat. Rev. Methods Primers 2, 55 (2022).

Ye, H. & Fussenegger, M. Optogenetic medicine: synthetic therapeutic solutions precision-guided by light. Cold Spring Harb. Perspect. Med. 9, a034371 (2019).

Jung, H. et al. Noninvasive optical activation of Flp recombinase for genetic manipulation in deep mouse brain regions. Nat. Commun. 10, 314 (2019).

Sun, P., Austin, B. P., Tözsér, J. & Waugh, D. S. Structural determinants of tobacco vein mottling virus protease substrate specificity. Protein Sci. 19, 2240–2251 (2010).

Canini, L. et al. A pharmacokinetic/viral kinetic model to evaluate the treatment effectiveness of danoprevir against chronic HCV. Antivir. Ther. 20, 469–477 (2015).

Therrien, J. P. et al. A gene therapy approach for long-term normalization of blood pressure in hypertensive mice by ANP-secreting human skin grafts. Proc. Natl Acad. Sci. USA 107, 1178–1183 (2010).

Dueñas, M., Ojeda, B., Salazar, A., Mico, J. A. & Failde, I. A review of chronic pain impact on patients, their social environment and the health care system. J. Pain. Res. 9, 457–467 (2016).

Wang, H., Xie, M., Charpin-El Hamri, G., Ye, H. & Fussenegger, M. Treatment of chronic pain by designer cells controlled by spearmint aromatherapy. Nat. Biomed. Eng. 2, 114–123 (2018).

Vlahos, A. E. et al. Protease-controlled secretion and display of intercellular signals. Nat. Commun. 13, 912 (2022).

Mansouri, M., Ray, P. G., Franko, N., Xue, S. & Fussenegger, M. Design of programmable post-translational switch control platform for on-demand protein secretion in mammalian cells. Nucleic Acids Res. 51, e1 (2023).

Stefanov, B. A. et al. Genetically encoded protein thermometer enables precise electrothermal control of transgene expression. Adv. Sci. (Weinh.) 8, e2101813 (2021).

Daringer, N. M., Dudek, R. M., Schwarz, K. A. & Leonard, J. N. Modular extracellular sensor architecture for engineering mammalian cell-based devices. ACS Synth. Biol. 3, 892–902 (2014).

Scheller, L., Strittmatter, T., Fuchs, D., Bojar, D. & Fussenegger, M. Generalized extracellular molecule sensor platform for programming cellular behavior. Nat. Chem. Biol. 14, 723–729 (2018).

Lee, D. et al. Temporally precise labeling and control of neuromodulatory circuits in the mammalian brain. Nat. Methods 14, 495–503 (2017).

Saito, H., Kubota, M., Roberts, R. W., Chi, Q. & Matsunami, H. RTP family members induce functional expression of mammalian odorant receptors. Cell 119, 679–691 (2004).

Nagano, K., Ishida, J., Unno, M., Matsukura, T. & Fukamizu, A. Apelin elevates blood pressure in ICR mice with L‑NAME‑induced endothelial dysfunction. Mol. Med. Rep. 7, 1371–1375 (2013).

Chang, M., Smith, S., Thorpe, A., Barratt, M. J. & Karim, F. Evaluation of phenoxybenzamine in the CFA model of pain following gene expression studies and connectivity mapping. Mol. Pain. 6, 56 (2010).

Bonin, R. P., Bories, C. & De Koninck, Y. A simplified up-down method (SUDO) for measuring mechanical nociception in rodents using von Frey filaments. Mol. Pain. 10, 26 (2014).
Acknowledgements
This work was financially supported by grants from the National Key R&D Program of China, Synthetic Biology Research (2019YFA0904500), the National Natural Science Foundation of China (NSFC; 32250010, 32261160373 and 31971346), the Science and Technology Commission of Shanghai Municipality (22N31900300), the Open Research Project of Shanghai Key Laboratory of Diabetes Mellitus (SHKLD-KF-2201) and the Fundamental Research Funds for the Central Universities to H.Y. This work was partially supported by the Science and Technology Commission of Shanghai Municipality (23YF1410700) and China Postdoctoral Science Foundation (2022M721163) and the Natural Science Foundation of Chongqing (CSTB2023NSCQ-MSX0126) to Y.Z. This work was also partially supported by the Science and Technology Commission of Shanghai Municipality (22YF1411400) and China Postdoctoral Science Foundation (2021M701224 and BX20220112) to G.Y. We thank the ECNU Multifunctional Platform for Innovation (011) for supporting the mouse studies and the Instruments Sharing Platform of School of Life Sciences, East China Normal University. We also thank the support from the Chinese Academy of Sciences Youth Interdisciplinary Team. We thank W.D. Heo from the Korea Advanced Institute for Science and Technology (KAIST) for providing pMag and nMag plasmids.
Ethics declarations
Competing interests
H.Y., X.W. and L.K. are inventors of patent applications (Chinese patent application: 202310413461.0) filed by ECNU that cover the PASS platform. The remaining authors declare no conflicts of interest.
Peer review
Peer review information
Nature Chemical Biology thanks the anonymous reviewers for their contribution to the peer review of this work.
Additional information
Publisher's note Springer Nature remains neutral with regard to jurisdictional claims in published maps and institutional affiliations.
Supplementary information
Supplementary Figs. 1–6 and Supplementary Tables 1–4.
Statistical source data for Supplementary Fig. 6.
Rights and permissions
Springer Nature or its licensor (e.g. a society or other partner) holds exclusive rights to this article under a publishing agreement with the author(s) or other rightsholder(s); author self-archiving of the accepted manuscript version of this article is solely governed by the terms of such publishing agreement and applicable law.
About this article
Cite this article
Wang, X., Kang, L., Kong, D. et al. A programmable protease-based protein secretion platform for therapeutic applications. Nat Chem Biol (2023). https://doi.org/10.1038/s41589-023-01433-z
Received:

Accepted:

Published:

DOI: https://doi.org/10.1038/s41589-023-01433-z
This article is cited by
Nature Chemical Biology (2023)