Abstract
Molecular glue degraders are an effective therapeutic modality, but their design principles are not well understood. Recently, several unexpectedly diverse compounds were reported to deplete cyclin K by linking CDK12–cyclin K to the DDB1–CUL4–RBX1 E3 ligase. Here, to investigate how chemically dissimilar small molecules trigger cyclin K degradation, we evaluated 91 candidate degraders in structural, biophysical and cellular studies and reveal all compounds acquire glue activity via simultaneous CDK12 binding and engagement of DDB1 interfacial residues, in particular Arg928. While we identify multiple published kinase inhibitors as cryptic degraders, we also show that these glues do not require pronounced inhibitory properties for activity and that the relative degree of CDK12 inhibition versus cyclin K degradation is tuneable. We further demonstrate cyclin K degraders have transcriptional signatures distinct from CDK12 inhibitors, thereby offering unique therapeutic opportunities. The systematic structure–activity relationship analysis presented herein provides a conceptual framework for rational molecular glue design.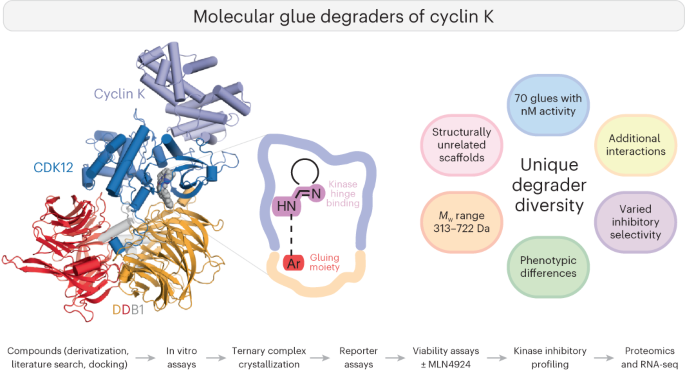 Data Availability
Structural data have been deposited in the PDB under the accession codes 8BU1, 8BU2, 8BU3, 8BU4, 8BU5, 8BU6, 8BU7, 8BU9, 8BUA, 8BUB, 8BUC, 8BUD, 8BUE, 8BUF, 8BUG, 8BUH, 8BUI, 8BUJ, 8BUK, 8BUL, 8BUM, 8BUN, 8BUO, 8BUP, 8BUQ, 8BUR, 8BUS and 8BUT. Proteome quantification data are available in the PRIDE repository (PXD041836) or at https://github.com/fischerlab/. The protein-coding sequences employed can be identified through the following Uniprot entry IDs: human wild-type and mutant versions of DDB1 (Uniprot entry Q16531), CDK12 (Q9NYV4, K965R) and CCNK (O75909). Source data are provided with this paper.
Code availability
Code necessary to reproduce statistical analysis is included as Supplementary Code 1.
References
Giordanetto, F., Schäfer, A. & Ottmann, C. Stabilization of protein–protein interactions by small molecules. Drug Discov. Today 19, 1812–1821 (2014).

Scott, D. E., Bayly, A. R., Abell, C. & Skidmore, J. Small molecules, big targets: drug discovery faces the protein-protein interaction challenge. Nat. Rev. Drug Discov. 15, 533–550 (2016).

Békés, M., Langley, D. R. & Crews, C. M. PROTAC targeted protein degraders: the past is prologue. Nat. Rev. Drug Discov. 21, 181–200 (2022).

Cowan, A. D. & Ciulli, A. Driving E3 ligase substrate specificity for targeted protein degradation: lessons from nature and the laboratory. Annu. Rev. Biochem. https://doi.org/10.1146/annurev-biochem-032620-104421 (2022).

Mullard, A. Targeted protein degraders crowd into the clinic. Nat. Rev. Drug Discov. 20, 247–250 (2021).

Geiger, T. M., Schäfer, S. C., Dreizler, J. K., Walz, M. & Hausch, F. Clues to molecular glues. Curr. Res. Chem. Biol. 2, 100018 (2022).

Ma, X. Discovery and structural characterization of a VHL-mediated molecular glue degrader targeting cysteine dioxygenase. Acta Crystallogr. A 77, a245–a245 (2021).

Mayor-Ruiz, C. et al. Rational discovery of molecular glue degraders via scalable chemical profiling. Nat. Chem. Biol. https://doi.org/10.1038/s41589-020-0594-x (2020).

Han, T. et al. Anticancer sulfonamides target splicing by inducing RBM39 degradation via recruitment to DCAF15. Science 356, 3755 (2017).

Dieter, S. M. et al. Degradation of CCNK/CDK12 is a druggable vulnerability of colorectal cancer. Cell Rep. 36, 109394 (2021).

Lv, L. et al. Discovery of a molecular glue promoting CDK12–DDB1 interaction to trigger Cyclin K degradation. eLife 9, e59994 (2020).

Hanan, E. J. et al. Monomeric targeted protein degraders. J. Med. Chem. 63, 11330–11361 (2020).

Domostegui, A., Nieto-Barrado, L., Perez-Lopez, C. & Mayor-Ruiz, C. Chasing molecular glue degraders: screening approaches. Chem. Soc. Rev. 51, 5498–5517 (2022).

Kozicka, Z. & Thomä, N. H. Haven't got a glue: protein surface variation for the design of molecular glue degraders. Cell Chem. Biol. 28, 1032–1047 (2021).

Słabicki, M. et al. The CDK inhibitor CR8 acts as a molecular glue degrader that depletes cyclin K. Nature https://doi.org/10.1038/s41586-020-2374-x (2020).

Lei, P. et al. Current progress and novel strategies that target CDK12 for drug discovery. Eur. J. Med. Chem. https://doi.org/10.1016/J.EJMECH.2022.114603 (2022).

Liu, H., Liu, K. & Dong, Z. Targeting CDK12 for cancer therapy: function, mechanism, and drug discovery. Cancer Res. 81, 18–26 (2021).

Quereda, V. et al. Therapeutic targeting of CDK12/CDK13 in triple-negative breast cancer. Cancer Cell 36, 545–58.e7 (2019).

Ketley, A. et al. CDK12 inhibition reduces abnormalities in cells from patients with myotonic dystrophy and in a mouse model. Sci. Transl. Med. 12, eaaz2415 (2020).

Nekardová, M. et al. Structural basis of the interaction of cyclin-dependent kinase 2 with roscovitine and its analogues having bioisosteric central heterocycles. ChemPhysChem 18, 785–795 (2017).

Kuchukulla, R. R. et al. Novel 2,6,9-trisubstituted purines as potent CDK inhibitors alleviating trastuzumab-resistance of HER2-positive breast cancers. Pharmaceuticals 15, 1041 (2022).

Parry, D. et al. Dinaciclib (SCH 727965), a novel and potent cyclin-dependent kinase inhibitor. Mol. Cancer Ther. 9, 2344–2353 (2010).

Roush, W. R., Duckett, D. & Monastyrskyi, A. Small molecule inhibitors of CDK12/CDK13. Patent WO2019217421 (2019).

el Hage, K. et al. A Simple isomerization of the purine scaffold of a kinase inhibitor, roscovitine, affords a four- to seven-fold enhancement of its affinity for four CDKs. Could this be traced back to conjugation-induced stiffenings/loosenings of rotational barriers? ACS Omega 2, 3467–3474 (2017).

Popowycz, F. et al. Pyrazolo[1,5-a]-1,3,5-triazine as a purine bioisostere: access to potent cyclin-dependent kinase inhibitor (R)-roscovitine analogue. J. Med. Chem. 52, 655–663 (2009).

Bettayeb, K. et al. N-&-N, a new class of cell death-inducing kinase inhibitors derived from the purine roscovitine. Mol. Cancer Ther. 7, 2713–2724 (2008).

Thede, K. et al. Pyrazolotriazines. Patent WO2021116178 (2021).

Johannes, J. W. et al. Structure-based design of selective noncovalent CDK12 inhibitors. ChemMedChem https://doi.org/10.1002/cmdc.201700695 (2018).

Sterling, T. & Irwin, J. J. ZINC 15—ligand discovery for everyone. J. Chem. Inf. Model. 55, 2324–2337 (2015).

Caligiuri, M. et al. A proteome-wide CDK/CRK-specific kinase inhibitor promotes tumor cell death in the absence of cell cycle progression. Chem. Biol. 12, 1103–1115 (2005).

Henry, K. L. et al. CDK12-mediated transcriptional regulation of noncanonical NF-kB components is essential for signaling. Sci. Signal. 11, eaam821 (2018).

Liu, Y. et al. Discovery of MFH290: a potent and highly selective covalent inhibitor for cyclin-dependent kinase 12/13. J. Med. Chem. 63, 6708–6726 (2020).

Sievers, Q. L. et al. Defining the human C2H2 zinc finger degrome targeted by thalidomide analogs through CRBN. Science 362, eaat0572 (2018).

Delehouzé, C. et al. CDK/CK1 inhibitors roscovitine and CR8 downregulate amplified MYCN in neuroblastoma cells. Oncogene 33, 5675–5687 (2014).

Jiang, B. et al. Discovery and resistance mechanism of a selective CDK12 degrader. Nat. Chem. Biol. 17, 675–683 (2021).

Lenci, E. & Trabocchi, A. Peptidomimetic toolbox for drug discovery. Chem. Soc. Rev. 49, 3262–3277 (2020).

Armstrong, C. T., Mason, P. E., Anderson, J. L. R. & Dempsey, C. E. Arginine side chain interactions and the role of arginine as a gating charge carrier in voltage sensitive ion channels. Sci. Rep. 6, 21759 (2016).

Gallivan, J. P. & Dougherty, D. A. Cation–π interactions in structural biology. Proc. Natl Acad. Sci. USA 96, 9459–9464 (1999).

Kumar, K. et al. Cation–π interactions in protein–ligand binding: theory and data-mining reveal different roles for lysine and arginine. Chem. Sci. 9, 2655–2665 (2018).

Powell, C. E. et al. Selective degradation of GSPT1 by cereblon modulators identified via a focused combinatorial library. ACS Chem. Biol. 15, 2722–2730 (2020).

Leissing, T. M., Luh, L. M. & Cromm, P. M. Structure driven compound optimization in targeted protein degradation. Drug Discov. Today Technol. https://doi.org/10.1016/J.DDTEC.2020.11.005 (2020).

Oumata, N., Ferandin, Y., Meijer, L. & Galons, H. Practical synthesis of roscovitine and CR8. Org. Process Res. Dev. 13, 641–644 (2009).

Monastyrskyi, A. et al. Development of dual casein kinase 1δ/1ε (CK1δ/ε) inhibitors for treatment of breast cancer. Bioorg. Med. Chem. 26, 590–602 (2018).

Larsen, A. F. & Ulven, T. Direct N9-arylation of purines with aryl halides. Chem. Commun. 50, 4997–4999 (2014).

Abdulrahman, W. et al. A set of baculovirus transfer vectors for screening of affinity tags and parallel expression strategies. Anal. Biochem. 385, 383–385 (2009).

Li, T., Pavletich, N. P., Schulman, B. A. & Zheng, N. High-level expression and purification of recombinant SCF ubiquitin ligases. Methods Enzymol. https://doi.org/10.1016/S0076-6879(05)98012-9 (2005).

Fischer, E. S. et al. Structure of the DDB1–CRBN E3 ubiquitin ligase in complex with thalidomide. Nature 512, 49–53 (2014).

Zakeri, B. et al. Peptide tag forming a rapid covalent bond to a protein, through engineering a bacterial adhesin. Proc. Natl Acad. Sci. USA 109, E690–E697 (2012).

Petzold, G., Fischer, E. S. & Thomä, N. H. Structural basis of lenalidomide-induced CK1α degradation by the CRL4 CRBN ubiquitin ligase. Nature 532, 127–130 (2016).

Kabsch, W. Integration, scaling, space-group assignment and post-refinement. Acta Crystallogr. D 66, 133–144 (2010).

Winn, M. D. et al. Overview of the CCP4 suite and current developments. Acta Crystallogr. D 67, 235–242 (2011).

Tickle, I. J., et al. STARANISO. Global Phasing http://staraniso.globalphasing.org/cgi-bin/staraniso.cgi (2016).

McCoy, A. J. et al. Phaser crystallographic software. J. Appl. Crystallogr. 40, 658–674 (2007).

Afonine, P. V. et al. Towards automated crystallographic structure refinement with phenix.refine. Acta Crystallogr. D 68, 352–367 (2012).

Emsley, P., Lohkamp, B., Scott, W. G. & Cowtan, K. Features and development of Coot. Acta Crystallogr. D 66, 486–501 (2010).

Lebedev, A. A. et al. JLigand: a graphical tool for the CCP4 template-restraint library. Acta Crystallogr. D 68, 431 (2012).

Croll, T. I. ISOLDE: a physically realistic environment for model building into low-resolution electron-density maps. Acta Crystallogr. D 74, 519–530 (2018).

Williams, C. J. et al. MolProbity: more and better reference data for improved all-atom structure validation. Protein Sci. 27, 293–315 (2018).

Krissinel, E. & Henrick, K. Inference of macromolecular assemblies from crystalline state. J. Mol. Biol. 372, 774–797 (2007).

Tian, W., Chen, C., Lei, X., Zhao, J. & Liang, J. CASTp 3.0: computed atlas of surface topography of proteins. Nucleic Acids Res. 46, W363–W367 (2018).

Friesner, R. A. et al. Glide: a new approach for rapid, accurate docking and scoring. 1. Method and assessment of docking accuracy. J. Med. Chem. 47, 1739–1749 (2004).

Friesner, R. A. et al. Extra precision glide: docking and scoring incorporating a model of hydrophobic enclosure for protein–ligand complexes. J. Med. Chem. 49, 6177–6196 (2006).

Donovan, K. A. et al. Thalidomide promotes degradation of SALL4, a transcription factor implicated in Duane radial ray syndrome. eLife 7, e38430 (2018).

Meier, F. et al. diaPASEF: parallel accumulation–serial fragmentation combined with data-independent acquisition. Nat. Methods 17, 1229–1236 (2020).

R Core Team. R: A Language and Environment for Statistical Computing (R Foundation for Statistical Computing, 2014).

Ritchie, M. E. et al. limma powers differential expression analyses for RNA-sequencing and microarray studies. Nucleic Acids Res. 43, e47 (2015).

Schmid-Burgk, J. L. & Hornung, V. BrowserGenome.org: web-based RNA-seq data analysis and visualization. Nat. Methods 12, 1001 (2015).

Love, M. I., Huber, W. & Anders, S. Moderated estimation of fold change and dispersion for RNA-seq data with DESeq2. Genome Biol. 15, 550 (2014).

Schmidpeter, P. A. M. & Nimigean, C. M. Fluorescence titrations to determine the binding affinity of cyclic nucleotides to SthK ion channels. Bio Protoc. 8, e3041 (2018).
Acknowledgements
We acknowledge the Paul Scherrer Institute for provision of synchrotron radiation beam time at beamline PXII of the Swiss Light Source. We thank M. McConkey for help with in vivo experiments. We are grateful to E. Cudré-Mauroux and J. Zagar for their help with recording all nuclear magnetic resonance data, as well as their assistance in spectra interpretation. We thank M. Schütz for laboratory management and organization. We are grateful to all Thomä and Ebert lab members, L. Meijer, S. Romero-Lopez, U. Hassiepen and G. Roth for discussions. This work was supported by funding from the European Research Council (ERC) under the European Union's Horizon 2020 Research and Innovation Program grant agreement no. 666068, European Research Council (ERC) under the European Union's H2020 research program (NucEM, no. 884331), SNF 31003A_179541 and 310030_301206, from Krebsforschung (KFS 4980-02-2020), the Gebert Rüf Stiftung (GRS-057/14) and Novartis Research Foundation to N.H.T.; funding from the Swiss National Science Foundation for Sinergia grant no. CRSII5_186230 to D.G. and N.H.T.; the NIH (R01HL082945, P01CA108631 and P50CA206963), the Howard Hughes Medical Institute, the Edward P. Evans Foundation, and the Leukaemia and Lymphoma Society to B.L.E., as well as NIH grants NCI R01CA214608 and R01CA218278 to E.S.F. Z.K. was supported by a European Union's Horizon 2020 Research and Innovation Program under the Marie Skłodowska-Curie grant agreement no. 765445. M.S. received funding from the European Union's Horizon 2020 Research and Innovation Program under the Marie Skłodowska-Curie grant agreement no. 702642. M.J. and J.L.S.-B. were supported by the grant DFG EXC2151–390873048.
Ethics declarations
Competing interests
N.H.T. receives funding from the Novartis Research Foundation and is a scientific advisory board (SAB) member of Monte Rosa Therapeutics and an advisor to Zenith Therapeutics and Ridgeline. B.L.E. has received research funding from Celgene, Deerfield, Novartis and Calico. He has received consulting fees from GRAIL, and he serves on the SABs for and holds equity in Neomorph, TenSixteen Bio, Skyhawk Therapeutics and Exo Therapeutics. E.S.F. is a founder, SAB member and equity holder of Civetta Therapeutics, Lighthorse Therapeutics, Proximity Therapeutics and Neomorph, Inc. (board member). E.S.F. is an equity holder and SAB member for Avilar Therapeutics, Ajax Therapeutics and Photys Therapeutics and a consultant to Novartis, Sanofi, EcoR1 Capital, Odyssey, Astellas and Deerfield. The Fischer lab receives or has received research funding from Novartis, Ajax, Voronoi, Interline, Deerfield and Astellas. D.G. is an SAB member of FoRx therapeutics. The C.M.-R. lab receives research funding from Almirall and Aelin Tx, and C.M.-R. is an SAB member of Nostrum Biodiscovery. G.E.W. is scientific founder and shareholder of Proxygen and Solgate, the Winter laboratory receives research funding from Pfizer. M.S. has received research funding from Calico Life Sciences LLC. G.P. is now an employee of Monte Rosa Therapeutics. C.D.G. is now an employee of VantAI. The remaining authors declare no competing interests.
Peer review
Peer review information
Nature Chemical Biology thanks Philip Chamberlain, Nathanael Gray, Frank Sicheri and the other, anonymous, reviewer(s) for their contribution to the peer review of this work.
Additional information
Publisher's note Springer Nature remains neutral with regard to jurisdictional claims in published maps and institutional affiliations.
Supplementary information
Rights and permissions
Open Access This article is licensed under a Creative Commons Attribution 4.0 International License, which permits use, sharing, adaptation, distribution and reproduction in any medium or format, as long as you give appropriate credit to the original author(s) and the source, provide a link to the Creative Commons license, and indicate if changes were made. The images or other third party material in this article are included in the article's Creative Commons license, unless indicated otherwise in a credit line to the material. If material is not included in the article's Creative Commons license and your intended use is not permitted by statutory regulation or exceeds the permitted use, you will need to obtain permission directly from the copyright holder. To view a copy of this license, visit http://creativecommons.org/licenses/by/4.0/.
About this article
Cite this article
Kozicka, Z., Suchyta, D.J., Focht, V. et al. Design principles for cyclin K molecular glue degraders. Nat Chem Biol (2023). https://doi.org/10.1038/s41589-023-01409-z
Received:

Accepted:

Published:

DOI: https://doi.org/10.1038/s41589-023-01409-z