Abstract
Gene-expressing compartments assembled from simple, modular parts, are a versatile platform for creating minimal synthetic cells with life-like functions. By incorporating gene regulatory motifs into their encapsulated DNA templates, in situ gene expression and, thereby, synthetic cell function can be controlled according to specific stimuli. In this work, cell-free protein synthesis within synthetic cells was controlled using light by encoding genes of interest on light-activated DNA templates. Light-activated DNA contained a photocleavable blockade within the T7 promoter region that tightly repressed transcription until the blocking groups were removed with ultraviolet light. In this way, synthetic cells were activated remotely, in a spatiotemporally controlled manner. By applying this strategy to the expression of an acyl homoserine lactone synthase, BjaI, quorum-sensing-based communication between synthetic cells and bacteria was controlled with light. This work provides a framework for the remote-controlled production and delivery of small molecules from nonliving matter to living matter, with applications in biology and medicine.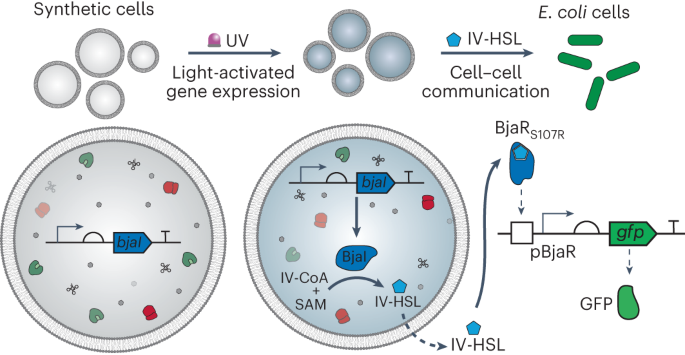 Data availability
All the data generated in this study are available within the article, the supplementary information, figures and source data. Source data for the supplementary figures are available from https://zenodo.org/record/7808487. Source data are provided with this paper.
References
Buddingh, B. C. & van Hest, J. C. M. Artificial cells: synthetic compartments with life-like functionality and adaptivity. Acc. Chem. Res. 50, 769–777 (2017).

Noireaux, V. & Libchaber, A. A vesicle bioreactor as a step toward an artificial cell assembly. Proc. Natl Acad. Sci. USA 101, 17669–17674 (2004).

Gaut, N. J. et al. Programmable fusion and differentiation of synthetic minimal cells. ACS Synth. Biol. 11, 855–866 (2022).

Lentini, R. et al. Integrating artificial with natural cells to translate chemical messages that direct E. coli behaviour. Nat. Commun. 5, 4012 (2014).

Lentini, R. et al. Two-way chemical communication between artificial and natural cells. ACS Cent. Sci. 3, 117–123 (2017).

Adamala, K. P., Martin-Alarcon, D. A., Guthrie-Honea, K. R. & Boyden, E. S. Engineering genetic circuit interactions within and between synthetic minimal cells. Nat. Chem. 9, 431–439 (2017).

Ding, Y., Contreras-Llano, L. E., Morris, E., Mao, M. & Tan, C. Minimizing context dependency of gene networks using artificial cells. ACS Appl. Mater. Interfaces 10, 30137–30146 (2018).

Rampioni, G. et al. Synthetic cells produce a quorum sensing chemical signal perceived by Pseudomonas aeruginosa. Chem. Commun. 54, 2090–2093 (2018).

Niederholtmeyer, H., Chaggan, C. & Devaraj, N. K. Communication and quorum sensing in non-living mimics of eukaryotic cells. Nat. Commun. 9, 5027 (2018).

Tang, T. D. et al. Gene-mediated chemical communication in synthetic protocell communities. ACS Synth. Biol. 7, 339–346 (2018).

Toparlak, O. D. et al. Artificial cells drive neural differentiation. Sci. Adv. 6, eabb4920 (2020).

Smith, J. M., Chowdhry, R. & Booth, M. J. Controlling synthetic cell-cell communication. Front. Mol. Biosci. 8, 809945 (2021).

Lentini, R. et al. Fluorescent proteins and in vitro genetic organization for cell-free synthetic biology. ACS Synth. Biol. 2, 482–489 (2013).

Dwidar, M. et al. Programmable artificial cells using histamine-responsive synthetic riboswitch. J. Am. Chem. Soc. 141, 11103–11114 (2019).

Lynch, S. A. & Gallivan, J. P. A flow cytometry-based screen for synthetic riboswitches. Nucleic Acids Res. 37, 184–192 (2009).

Espah Borujeni, A., Mishler, D. M., Wang, J., Huso, W. & Salis, H. M. Automated physics-based design of synthetic riboswitches from diverse RNA aptamers. Nucleic Acids Res. 44, 1–13 (2016).

Elani, Y., Law, R. V. & Ces, O. Vesicle-based artificial cells as chemical microreactors with spatially segregated reaction pathways. Nat. Commun. 5, 5305 (2014).

Dupin, A. & Simmel, F. C. Signalling and differentiation in emulsion-based multi-compartmentalized in vitro gene circuits. Nat. Chem. 11, 32–39 (2019).

Schroeder, A. et al. Remotely activated protein-producing nanoparticles. Nano Lett. 12, 2685–2689 (2012).

Booth, M. J., Schild, V. R., Graham, A. D., Olof, S. N. & Bayley, H. Light-activated communication in synthetic tissues. Sci. Adv. 2, e1600056 (2016).

Booth, M. J., Restrepo Schild, V., Box, S. J. & Bayley, H. Light-patterning of synthetic tissues with single droplet resolution. Sci. Rep. 7, 9315 (2017).

Lindemann, A. et al. Isovaleryl-homoserine lactone, an unusual branched-chain quorum-sensing signal from the soybean symbiont Bradyrhizobium japonicum. Proc. Natl Acad. Sci. USA 108, 16765–16770 (2011).

Pautot, S., Frisken, B. J. & Weitz, D. A. Production of unilamellar vesicles using an inverted emulsion. Langmuir 19, 2870–2879 (2003).

Olins, P. O. & Rangwala, S. H. A novel sequence element derived from bacteriophage T7 mRNA acts as an enhancer of translation of the lacZ gene in Escherichia coli. J. Biol. Chem. 264, 16973–16976 (1989).

Venancio-Marques, A. et al. Modification-free photocontrol of β-lactam conversion with spatiotemporal resolution. ACS Synth. Biol. 1, 526–531 (2012).

Gonzales, D. T., Yandrapalli, N., Robinson, T., Zechner, C. & Tang, T. D. Cell-free gene expression dynamics in synthetic cell populations. ACS Synth. Biol. 11, 205–215 (2022).

Sakamoto, R., Noireaux, V. & Maeda, Y. T. Anomalous scaling of gene expression in confined cell-free reactions. Sci. Rep. 8, 7364 (2018).

Tekel, S. J. et al. Engineered orthogonal quorum sensing systems for synthetic gene regulation in Escherichia coli. Front. Bioeng. Biotechnol. 7, 80 (2019).

Kimura, Y., Kawai-Noma, S., Saito, K. & Umeno, D. Directed evolution of the stringency of the LuxR Vibrio fischeri quorum sensor without OFF-state selection. ACS Synth. Biol. 9, 567–575 (2020).

Hecht, A. et al. Measurements of translation initiation from all 64 codons in E. coli. Nucleic Acids Res. 45, 3615–3626 (2017).

Weiss, R. et al. Ribosome binding sites/prokaryotic/constitutive/community collection. https://parts.igem.org/Ribosome_Binding_Sites/Prokaryotic/Constitutive/Community_Collection (Accessed 15 June 2023).

Raychaudhuri, A., Jerga, A. & Tipton, P. A. Chemical mechanism and substrate specificity of RhlI, an acylhomoserine lactone synthase from Pseudomonas aeruginosa. Biochemistry 44, 2974–2981 (2005).

Kylilis, N., Tuza, Z. A., Stan, G. B. & Polizzi, K. M. Tools for engineering coordinated system behaviour in synthetic microbial consortia. Nat. Commun. 9, 2677 (2018).

Du, P. et al. De novo design of an intercellular signaling toolbox for multi-channel cell-cell communication and biological computation. Nat. Commun. 11, 4226 (2020).

Helen, B. et al. Synthetic ligands that modulate the activity of the RhlR quorum sensing receptor. https://patentscope.wipo.int/search/en/detail.jsf?docId=WO2017190116 (2017).

Endy:M9 media/supplemented. https://openwetware.org/wiki/Endy:M9_media/supplemented (2007).

Gibson, D. G. et al. Enzymatic assembly of DNA molecules up to several hundred kilobases. Nat. Methods 6, 343–345 (2009).
Acknowledgements
We would like to thank M. Howarth and M. Fairhead (University of Oxford) for providing the monovalent streptavidin, K. Haynes (Emory University) for providing the pSB1A3 BjaRWT GFP plasmid and B. Davis (University of Oxford) for the pET24a plasmid. J.M.S. is supported through the Synthetic Biology Centre for Doctoral Training—EPSRC funding (EP/L016494/1). D.H. is grateful to the EPSRC Centre for Doctoral Training in Synthesis for Biology and Medicine (EP/L015838/1) for a studentship, generously supported by AstraZeneca, Diamond Light Source, Defence Science and Technology Laboratory, Evotec, GlaxoSmithKline, Janssen, Novartis, Pfizer, Syngenta, Takeda, UCB and Vertex. M.J.B. is supported by a Royal Society University Research Fellowship, an EPSRC New Investigator Award (EP/V030434/2), and a BBSRC Engineering Biology Breakthrough Award (BB/W011468/1). For the purpose of open access, the authors have applied for a Creative Commons Attribution (CC BY) license to any author-accepted manuscript version.
Ethics declarations
Competing interests
The authors declare no competing interests.
Peer review
Peer review information
Nature Chemical Biology thanks Simon Moore and the other, anonymous, reviewers for their contribution to the peer review of this work.
Additional information
Publisher's note Springer Nature remains neutral with regard to jurisdictional claims in published maps and institutional affiliations.
Supplementary information
Supplementary Figs. 1–17, Supplementary Tables 1 and 2, Supplementary Methods and Supplementary Note–plasmid sequences.
Source data
Numerical data indicating the mean GFP channel intensity of individual GUVs that were identified using a circular Hough transform.
Numerical data representing the OD600, fluorescence intensity and calculated OD-normalized fluorescence intensity for BjaR receiver cell dose–response curves. Data for each subfigure are given on a separate sheet.
Numerical data representing the OD600, fluorescence intensity and calculated OD-normalized fluorescence intensity for BjaR receiver cell dose–response curves using biosynthetic IV-HSL containing samples. Data for each subfigure are given on a separate sheet. An uncropped image of the autoradiograph indicating the location of the bjaI produced by CFPS. An uncropped image of the Coomassie-stained SDS–PAGE gel of the bjaI CFPS reactions.
Rights and permissions
Open Access This article is licensed under a Creative Commons Attribution 4.0 International License, which permits use, sharing, adaptation, distribution and reproduction in any medium or format, as long as you give appropriate credit to the original author(s) and the source, provide a link to the Creative Commons license, and indicate if changes were made. The images or other third party material in this article are included in the article's Creative Commons license, unless indicated otherwise in a credit line to the material. If material is not included in the article's Creative Commons license and your intended use is not permitted by statutory regulation or exceeds the permitted use, you will need to obtain permission directly from the copyright holder. To view a copy of this license, visit http://creativecommons.org/licenses/by/4.0/.
About this article
Cite this article
Smith, J.M., Hartmann, D. & Booth, M.J. Engineering cellular communication between light-activated synthetic cells and bacteria. Nat Chem Biol 19, 1138–1146 (2023). https://doi.org/10.1038/s41589-023-01374-7
Received:

Accepted:

Published:

Issue Date:

DOI: https://doi.org/10.1038/s41589-023-01374-7