Abstract
Ectodomain phosphatase/phosphodiesterase-1 (ENPP1) is overexpressed on cancer cells and functions as an innate immune checkpoint by hydrolyzing extracellular cyclic guanosine monophosphate adenosine monophosphate (cGAMP). Biologic inhibitors have not yet been reported and could have substantial therapeutic advantages over current small molecules because they can be recombinantly engineered into multifunctional formats and immunotherapies. Here we used phage and yeast display coupled with in cellulo evolution to generate variable heavy (VH) single-domain antibodies against ENPP1 and discovered a VH domain that allosterically inhibited the hydrolysis of cGAMP and adenosine triphosphate (ATP). We solved a 3.2 Å-resolution cryo-electron microscopy structure for the VH inhibitor complexed with ENPP1 that confirmed its new allosteric binding pose. Finally, we engineered the VH domain into multispecific formats and immunotherapies, including a bispecific fusion with an anti-PD-L1 checkpoint inhibitor that showed potent cellular activity.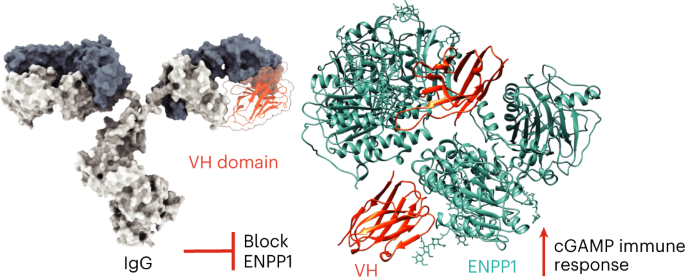 Data availability
Cryo-EM structural data are deposited in the Protein Data Bank (PDB code: 8GHR) and Electron Microscopy Data Bank (EMD-40047). Additional PDB referenced: 6wfj, 4gtw, 6aek and 7jwb. The paper contains extended data, a supplementary table and source data. Additional information is available upon request. Source data are provided with this paper.
References
Carozza, J. A. et al. Extracellular cGAMP is a cancer-cell-produced immunotransmitter involved in radiation-induced anticancer immunity. Nat. Cancer 1, 184–196 (2020).

Carozza, J. A. et al. Structure-aided development of small-molecule inhibitors of ENPP1, the extracellular phosphodiesterase of the immunotransmitter cGAMP. Cell Chem. Biol. 27, 1347–1358 (2020).

Carozza, J. A. et al. ENPP1's regulation of extracellular cGAMP is a ubiquitous mechanism of attenuating STING signaling. Proc. Natl Acad. Sci. USA 119, e2119189119 (2022).

Li, J. et al. Metastasis and immune evasion from extracellular cGAMP hydrolysis. Cancer Discov. 11, 1212–1227 (2021).

Lau, W. M. et al. Enpp1: a potential facilitator of breast cancer bone metastasis. PLoS ONE 8, e66752 (2013).

Goswami, A. et al. AVA-NP-695 selectively inhibits ENPP1 to activate STING pathway and abrogate tumor metastasis in 4T1 breast cancer syngeneic mouse model. Molecules 27, 6721 (2022).

Hu, M. et al. Dysregulated ENPP1 increases the malignancy of human lung cancer by inducing epithelial–mesenchymal transition phenotypes and stem cell features. Am. J. Cancer Res. 9, 134–144 (2019).

Cheng, H. et al. Activation of STING by cGAMP regulates MDSCs to suppress tumor metastasis via reversing epithelial–mesenchymal transition. Front. Oncol. 10, 896 (2020).

Li, T. et al. Antitumor activity of cGAMP via stimulation of cGAS-cGAMP-STING-IRF3 mediated innate immune response. Sci. Rep. 6, 19049 (2016).

Li, L. et al. Hydrolysis of 2′3′-cGAMP by ENPP1 and design of nonhydrolyzable analogs. Nat. Chem. Biol. 10, 1043–1048 (2014).

Gangar, M. et al. Design, synthesis and biological evaluation studies of novel small molecule ENPP1 inhibitors for cancer immunotherapy. Bioorg. Chem. 119, 105549 (2022).

Wang, X., Lu, X., Yan, D., Zhou, Y. & Tan, X. Development of novel ecto-nucleotide pyrophosphatase/phosphodiesterase 1 (ENPP1) inhibitors for tumor immunotherapy. Int. J. Mol. Sci. 23, 7104 (2022).

Kim, S. et al. Abstract LBA009: orally available ENPP1 inhibitor, TXN10128, restores STING activation in tumor microenvironment and confers anti-tumor responses in combination with immune checkpoint blockade. Mol. Cancer Ther. 20, LBA009 (2021).

Baird, J. et al. MV-626, a potent and selective inhibitor of ENPP1 enhances STING activation and augments T-cell mediated anti-tumor activity in vivo. Proceedings of the 33rd Annual Meeting of the Society for Immunotherapy of Cancer (Society for Immunotherapy of Cancer, 2018); https://digitalcommons.psjhealth.org/sitc2018/7

Corrales, L., Matson, V., Flood, B., Spranger, S. & Gajewski, T. F. Innate immune signaling and regulation in cancer immunotherapy. Cell Res. 27, 96–108 (2017).

Woo, S.-R., Corrales, L. & Gajewski, T. F. Innate immune recognition of cancer. Annu. Rev. Immunol. 33, 445–474 (2015).

Fuertes, M. B. et al. Host type I IFN signals are required for antitumor CD8+ T cell responses through CD8α+ dendritic cells. J. Exp. Med. 208, 2005–2016 (2011).

Luen, S. J., Savas, P., Fox, S. B., Salgado, R. & Loi, S. Tumour-infiltrating lymphocytes and the emerging role of immunotherapy in breast cancer. Pathology 49, 141–155 (2017).

García-Teijido, P., Cabal, M. L., Fernández, I. P. & Pérez, Y. F. Tumor-infiltrating lymphocytes in triple negative breast cancer: the future of immune targeting. Clin. Med. Insights Oncol. 10, 31–39 (2016).

Seidel, J. A., Otsuka, A. & Kabashima, K. Anti-PD-1 and anti-CTLA-4 therapies in cancer: mechanisms of action, efficacy, and limitations. Front. Oncol. 8, 86 (2018).

Quesada, J. R., Talpaz, M., Rios, A., Kurzrock, R. & Gutterman, J. U. Clinical toxicity of interferons in cancer patients: a review. J. Clin. Oncol. 4, 234–243 (1986).

Sleijfer, S., Bannink, M., Gool, A. R., Kruit, W. H. J. & Stoter, G. Side effects of interferon-α therapy. Pharm. World Sci. 27, 423–431 (2005).

Meric-Bernstam, F. et al. Phase I dose-escalation trial of MIW815 (ADU-S100), an intratumoral STING agonist, in patients with advanced/metastatic solid tumors or lymphomas. Clin. Cancer Res. 28, 677–688 (2022).

Harrington, K. J. et al. Preliminary results of the first-in-human (FIH) study of MK-1454, an agonist of stimulator of interferon genes (STING), as monotherapy or in combination with pembrolizumab (pembro) in patients with advanced solid tumors or lymphomas. Ann. Oncol. 29, viii712 (2018).

Shree, T. et al. A phase I/II trial of intratumoral CpG, local low-dose radiation, and oral ibrutinib in patients with low-grade B-cell lymphoma. Blood 134, 2825–2825 (2019).

Motedayen Aval, L., Pease, J. E., Sharma, R. & Pinato, D. J. Challenges and opportunities in the clinical development of STING agonists for cancer immunotherapy. J. Clin. Med. 9, 3323 (2020).

Roberts, F., Zhu, D., Farquharson, C. & Macrae, V. E. ENPP1 in the regulation of mineralization and beyond. Trends Biochem. Sci. 44, 616–628 (2019).

Onyedibe, K. I., Wang, M. & Sintim, H. O. ENPP1, an old enzyme with new functions, and small molecule inhibitors—a STING in the tale of ENPP1. Molecules 24, 4192 (2019).

Stefan, C., Jansen, S. & Bollen, M. Modulation of purinergic signaling by NPP-type ectophosphodiesterases. Purinergic Signal. 2, 361–370 (2006).

Goding, J. W., Grobben, B. & Slegers, H. Physiological and pathophysiological functions of the ecto-nucleotide pyrophosphatase/phosphodiesterase family. Biochim. Biophys. Acta 1638, 1–19 (2003).

Johnson, K., Polewski, M., van Etten, D. & Terkeltaub, R. Chondrogenesis mediated by PPi depletion promotes spontaneous aortic calcification in NPP1−/− mice. Arterioscler. Thromb. Vasc. Biol. 25, 686–691 (2005).

Albright, R. A. et al. ENPP1-Fc prevents mortality and vascular calcifications in rodent model of generalized arterial calcification of infancy. Nat. Commun. 6, 10006 (2015).

Nitschke, Y. et al. ENPP1-Fc prevents neointima formation in generalized arterial calcification of infancy through the generation of AMP. Exp. Mol. Med. 50, 1–12 (2018).

Lorenz-Depiereux, B., Schnabel, D., Tiosano, D., Häusler, G. & Strom, T. M. Loss-of-function ENPP1 mutations cause both generalized arterial calcification of infancy and autosomal-recessive hypophosphatemic rickets. Am. J. Hum. Genet. 86, 267–272 (2010).

Rutsch, F., Nitschke, Y. & Terkeltaub, R. Genetics in arterial calcification: pieces of a puzzle and cogs in a wheel. Circ. Res. 109, 578–592 (2011).

Maddux, B. A. et al. Overexpression of the insulin receptor inhibitor PC-1/ENPP1 induces insulin resistance and hyperglycemia. Am. J. Physiol. Endocrinol. Metab. 290, E746–E749 (2006).

Goldfine, I. D. et al. The role of membrane glycoprotein plasma cell antigen 1/ectonucleotide pyrophosphatase phosphodiesterase 1 in the pathogenesis of insulin resistance and related abnormalities. Endocr. Rev. 29, 62–75 (2008).

Wang, H. et al. ATP-degrading ENPP1 is required for survival (or persistence) of long-lived plasma cells. Sci. Rep. 7, 17867 (2017).

Watanabe, R. et al. Enpp1 is an anti-aging factor that regulates Klotho under phosphate overload conditions. Sci. Rep. 7, 7786 (2017).

Kato, K. et al. Crystal structure of Enpp1, an extracellular glycoprotein involved in bone mineralization and insulin signaling. Proc. Natl Acad. Sci. USA 109, 16876–16881 (2012).

Kato, K. et al. Structural insights into cGAMP degradation by ecto-nucleotide pyrophosphatase phosphodiesterase 1. Nat. Commun. 9, 4424 (2018).

Dennis, M. L. et al. Crystal structures of human ENPP1 in apo and bound forms. Acta Crystallogr. D Struct. Biol. 76, 889–898 (2020).

Jansen, S. et al. Structure of NPP1, an ectonucleotide pyrophosphatase/phosphodiesterase involved in tissue calcification. Structure 20, 1948–1959 (2012).

Bracken, C. J. et al. Bi-paratopic and multivalent VH domains block ACE2 binding and neutralize SARS-CoV-2. Nat. Chem. Biol. 17, 113–121 (2021).

Sayles, L. C. et al. Genome-informed targeted therapy for osteosarcoma. Cancer Discov. 9, 46–63 (2019).

Schott, C. R. et al., Development and characterization of new patient-derived xenograft (PDX) models of osteosarcoma with distinct metastatic capacities. Preprint at bioRxiv https://doi.org/10.1101/2023.01.19.524562 (2023).

Wellner, A. et al. Rapid generation of potent antibodies by autonomous hypermutation in yeast. Nat. Chem. Biol. 17, 1057–1064 (2021).

Ravikumar, A., Arzumanyan, G. A., Obadi, M. K. A., Javanpour, A. A. & Liu, C. C. Scalable, continuous evolution of genes at mutation rates above genomic error thresholds. Cell 175, 1946–1957 (2018).

Zhang, F. et al. Structural basis of a novel PD-L1 nanobody for immune checkpoint blockade. Cell Discov. 3, 17004 (2017).

Markham, A. Envafolimab: first approval. Drugs 82, 235–240 (2022).

Scott, A. M., Wolchok, J. D. & Old, L. J. Antibody therapy of cancer. Nat. Rev. Cancer 12, 278–287 (2012).

Imai, M., Landen, C., Ohta, R., Cheung, N.-K. V. & Tomlinson, S. Complement-mediated mechanisms in anti-GD2 monoclonal antibody therapy of murine metastatic cancer. Cancer Res. 65, 10562–10568 (2005).

Musolino, A. et al. Immunoglobulin G fragment C receptor polymorphisms and clinical efficacy of trastuzumab-based therapy in patients with HER-2/neu-positive metastatic breast cancer. J. Clin. Oncol. 26, 1789–1796 (2008).

Nimmerjahn, F. & Ravetch, J. V. Fcγ receptors as regulators of immune responses. Nat. Rev. Immunol. 8, 34–47 (2008).

Yeap, W. H. et al. CD16 is indispensable for antibody-dependent cellular cytotoxicity by human monocytes. Sci. Rep. 6, 34310 (2016).

Salmerón, A., Sánchez-Madrid, F., Ursa, M. A., Fresno, M. & Alarcón, B. A conformational epitope expressed upon association of CD3-ε with either CD3-δ or CD3-γ is the main target for recognition by anti-CD3 monoclonal antibodies. J. Immunol. 147, 3047–3052 (1991).

Compte, M. et al. Functional comparison of single-chain and two-chain anti-CD3-based bispecific antibodies in gene immunotherapy applications. OncoImmunology 3, e28810 (2014).

Cotton, A. D., Nguyen, D. P., Gramespacher, J. A., Seiple, I. B. & Wells, J. A. Development of antibody-based PROTACs for the degradation of the cell-surface immune checkpoint protein PD-L1. J. Am. Chem. Soc. 143, 593–598 (2021).

Pance, K. et al. Modular cytokine receptor-targeting chimeras for targeted degradation of cell surface and extracellular proteins. Nat. Biotechnol. 41, 273–281 (2023).

Ahn, G. et al. LYTACs that engage the asialoglycoprotein receptor for targeted protein degradation. Nat. Chem. Biol. 17, 937–946 (2021).

Gramespacher, J. A., Cotton, A. D., Burroughs, P. W. W., Seiple, I. B. & Wells, J. A. Roadmap for optimizing and broadening antibody-based PROTACs for degradation of cell surface proteins. ACS Chem. Biol. 17, 1259–1268 (2022).

Edgcomb, S. P. & Murphy, K. P. Variability in the pKa of histidine side-chains correlates with burial within proteins. Proteins 49, 1–6 (2002).

Meazza, C. & Scanagatta, P. Metastatic osteosarcoma: a challenging multidisciplinary treatment. Expert Rev. Anticancer Ther. 16, 543–556 (2016).

Schorb, M., Haberbosch, I., Hagen, W. J. H., Schwab, Y. & Mastronarde, D. N. Software tools for automated transmission electron microscopy. Nat. Methods 16, 471–477 (2019).

Pettersen, E. F. et al. UCSF Chimera–a visualization system for exploratory research and analysis. J. Comput. Chem. 25, 1605–1612 (2004).

Emsley, P., Lohkamp, B., Scott, W. G. & Cowtan, K. Features and development of Coot. Acta Crystallogr. D Biol. Crystallogr. 66, 486–501 (2010).

Adams, P. D. et al. PHENIX: a comprehensive Python-based system for macromolecular structure solution. Acta Crystallogr. D Biol. Crystallogr. 66, 213–221 (2010).

Davis, I. W. et al. MolProbity: all-atom contacts and structure validation for proteins and nucleic acids. Nucleic Acids Res. 35, W375–W383 (2007).

Schrodinger. The PyMOL molecular graphics system, version 1.0 (2010); https://www.schrodinger.com/products/pymol

Tan, Y. Z. et al. Addressing preferred specimen orientation in single-particle cryo-EM through tilting. Nat. Methods 14, 793–796 (2017).
Acknowledgements
We gratefully acknowledge B. Kobilka (Stanford) for providing cryo-EM resources and expertise. We thank members of the Wells Lab for their support. We specifically thank K. Schaeffer (UCSF) for her guidance on the preparation of the complex for cryo-EM and T. Owens (UCSF) for assistance with mass photometry characterizations. We thank C. Le (UCSF) for her help purifying binders and S. Remesh (UCSF) and K. Leung (UCSF) for their valuable discussions. J.A.W. thanks the NCI P41 CA196276, the Harry and Dianna Hind Professorship, and Bristol Myers Squibb for generous funding. C.C.L. thanks the NCI R01CA260415 for generous funding. E.A.S.C. and E.P.Y. were generously funded by the St. Baldrick's Foundation Fellowship. J.A.C., H.W. and L.L. thank the NIH R01 CA258427 and the Arc Institute for funding. J.A.C. thanks NIH 5F31CA239510 for funding. Part of this work was performed in the Stanford ChEM-H Macromolecular Structure Knowledge Center.
Ethics declarations
Competing interests
P.E.S., J.A.W. and E.A.S.C. and the Reagents of the University of California have filed a provisional patent application related to this project.
Peer review
Peer review information
Nature Chemical Biology thanks Kazuki Kato and the other, anonymous, reviewers for their contribution to the peer review of this work.
Additional information
Publisher's note Springer Nature remains neutral with regard to jurisdictional claims in published maps and institutional affiliations.
Supplementary information
Rights and permissions
Open Access This article is licensed under a Creative Commons Attribution 4.0 International License, which permits use, sharing, adaptation, distribution and reproduction in any medium or format, as long as you give appropriate credit to the original author(s) and the source, provide a link to the Creative Commons license, and indicate if changes were made. The images or other third party material in this article are included in the article's Creative Commons license, unless indicated otherwise in a credit line to the material. If material is not included in the article's Creative Commons license and your intended use is not permitted by statutory regulation or exceeds the permitted use, you will need to obtain permission directly from the copyright holder. To view a copy of this license, visit http://creativecommons.org/licenses/by/4.0/.
About this article
Cite this article
Solomon, P.E., Bracken, C.J., Carozza, J.A. et al. Discovery of VH domains that allosterically inhibit ENPP1. Nat Chem Biol (2023). https://doi.org/10.1038/s41589-023-01368-5
Received:

Accepted:

Published:

DOI: https://doi.org/10.1038/s41589-023-01368-5