Abstract
5-methylcytosine (5mC) is the most important DNA modification in mammalian genomes. The ideal method for 5mC localization would be both nondestructive of DNA and direct, without requiring inference based on detection of unmodified cytosines. Here we present direct methylation sequencing (DM-Seq), a bisulfite-free method for profiling 5mC at single-base resolution using nanogram quantities of DNA. DM-Seq employs two key DNA-modifying enzymes: a neomorphic DNA methyltransferase and a DNA deaminase capable of precise discrimination between cytosine modification states. Coupling these activities with deaminase-resistant adapters enables accurate detection of only 5mC via a C-to-T transition in sequencing. By comparison, we uncover a PCR-related underdetection bias with the hybrid enzymatic-chemical TET-assisted pyridine borane sequencing approach. Importantly, we show that DM-Seq, unlike bisulfite sequencing, unmasks prognostically important CpGs in a clinical tumor sample by not confounding 5mC with 5-hydroxymethylcytosine. DM-Seq thus offers an all-enzymatic, nondestructive, faithful and direct method for the reading of 5mC alone.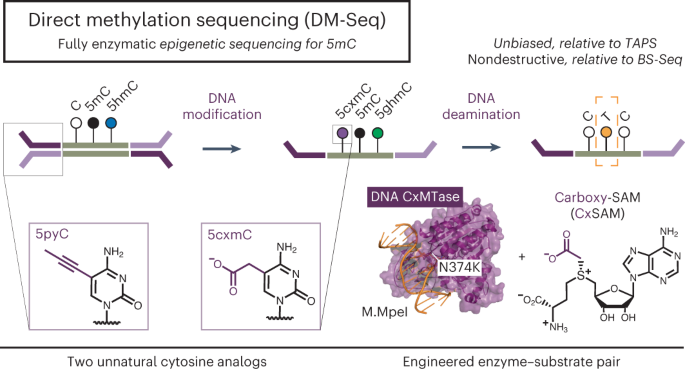 Access options
Access Nature and 54 other Nature Portfolio journals
Get Nature+, our best-value online-access subscription
$29.99 / 30 days
cancel any time
Subscribe to this journal
Receive 12 print issues and online access
$259.00 per year
only $21.58 per issue
Rent or buy this article
Prices vary by article type
from$1.95
to$39.95
Prices may be subject to local taxes which are calculated during checkout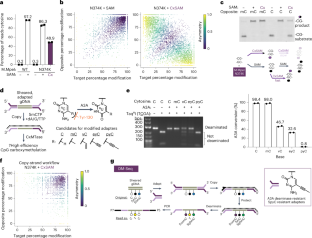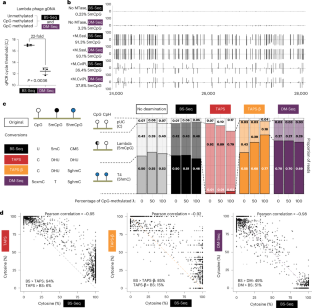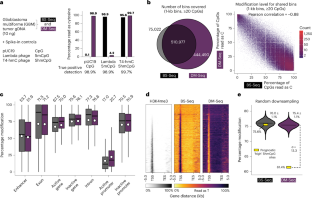 Data availability
Sequencing data supporting the findings of this study are available in the NCBI Gene Expression Omnibus (GEO, GSE225975). The plasmid encoding MBP-t-M.MpeI-N374K-His has be made available from Addgene (197985). Relevant DNA sequences are provided in Supplementary Information. Source data are provided with this paper.
References
Schubeler, D. Function and information content of DNA methylation. Nature 517, 321–326 (2015).

Luo, C., Hajkova, P. & Ecker, J. R. Dynamic DNA methylation: in the right place at the right time. Science 361, 1336–1340 (2018).

Shen, S. Y. et al. Sensitive tumour detection and classification using plasma cell-free DNA methylomes. Nature 563, 579–583 (2018).

Hoadley, K. A. et al. Multiplatform analysis of 12 cancer types reveals molecular classification within and across tissues of origin. Cell 158, 929–944 (2014).

Frommer, M. et al. A genomic sequencing protocol that yields a positive display of 5-methylcytosine residues in individual DNA strands. Proc. Natl Acad. Sci. USA 89, 1827–1831 (1992).

Tanaka, K. & Okamoto, A. Degradation of DNA by bisulfite treatment. Bioorg. Med. Chem. Lett. 17, 1912–1915 (2007).

Huang, Y. et al. The behaviour of 5-hydroxymethylcytosine in bisulfite sequencing. PLoS ONE 5, e8888 (2010).

Kriaucionis, S. & Heintz, N. The nuclear DNA base 5-hydroxymethylcytosine is present in Purkinje neurons and the brain. Science 324, 929–930 (2009).

Johnson, K. C. et al. 5-Hydroxymethylcytosine localizes to enhancer elements and is associated with survival in glioblastoma patients. Nat. Commun. 7, 13177 (2016).

Wang, T., Loo, C. E. & Kohli, R. M. Enzymatic approaches for profiling cytosine methylation and hydroxymethylation. Mol. Metab. 57, 101314 (2021).

Booth, M. J. et al. Quantitative sequencing of 5-methylcytosine and 5-hydroxymethylcytosine at single-base resolution. Science 336, 934–937 (2012).

Yu, M. et al. Base-resolution analysis of 5-hydroxymethylcytosine in the mammalian genome. Cell 149, 1368–1380 (2012).

Liu, Y. et al. Bisulfite-free direct detection of 5-methylcytosine and 5-hydroxymethylcytosine at base resolution. Nat. Biotechnol. 37, 424–429 (2019).

Liu, Y. et al. Subtraction-free and bisulfite-free specific sequencing of 5-methylcytosine and its oxidized derivatives at base resolution. Nat. Commun. 12, 618 (2021).

Schutsky, E. K. et al. Nondestructive, base-resolution sequencing of 5-hydroxymethylcytosine using a DNA deaminase. Nat. Biotech. 36, 1083–1090 (2018).

Vaisvila, R. et al. Enzymatic methyl sequencing detects DNA methylation at single-base resolution from picograms of DNA. Genome Res. 31, 1280–1289 (2021).

Wu, H., Wu, X., Shen, L. & Zhang, Y. Single-base resolution analysis of active DNA demethylation using methylase-assisted bisulfite sequencing. Nat. Biotechnol. 32, 1231–1240 (2014).

Stasevskij, Z., Gibas, P., Gordevicius, J., Kriukiene, E. & Klimasauskas, S. Tethered oligonucleotide-primed sequencing, TOP-Seq: a high-resolution economical approach for DNA epigenome profiling. Mol. Cell 65, 554–564.e6 (2017).

Kriukienė, E. et al. DNA unmethylome profiling by covalent capture of CpG sites. Nat. Commun. 4, 2190 (2013).

Wang, T. & Kohli, R. M. Discovery of an unnatural DNA modification derived from a natural secondary metabolite. Cell. Chem. Biol. 28, 97–104.e4 (2021).

Nabel, C. S. et al. AID/APOBEC deaminases disfavor modified cytosines implicated in DNA demethylation. Nat. Chem. Biol. 8, 751–758 (2012).

Schutsky, E. K., Nabel, C. S., Davis, A. K. F., DeNizio, J. E. & Kohli, R. M. APOBEC3A efficiently deaminates methylated, but not TET-oxidized, cytosine bases in DNA. Nucleic Acids Res. 45, 7655–7665 (2017).

Seiler, C. L. et al. Maintenance DNA methyltransferase activity in the presence of oxidized forms of 5-methylcytosine: structural basis for ten eleven translocation-mediated DNA demethylation. Biochemistry 57, 6061–6069 (2018).

Shi, K. et al. Structural basis for targeted DNA cytosine deamination and mutagenesis by APOBEC3A and APOBEC3B. Nat. Struct. Mol. Biol. 24, 131 (2017).

Ghanty, U., DeNizio, J. E., Liu, M. Y. & Kohli, R. M. Exploiting substrate promiscuity to develop activity-based probes for TET family enzymes. J. Am. Chem. Soc. 140, 17329–17332 (2018).

Chinchilla, R. & Najera, C. The Sonogashira reaction: a booming methodology in synthetic organic chemistry. Chem. Rev. 107, 874–922 (2007).

Kelly, T. K. et al. Genome-wide mapping of nucleosome positioning and DNA methylation within individual DNA molecules. Genome Res. 22, 2497–2506 (2012).

Liu, Y. et al. Accurate targeted long-read DNA methylation and hydroxymethylation sequencing with TAPS. Genome Biol. 21, 54–56 (2020).

Sipa, K. et al. Effect of base modifications on structure, thermodynamic stability, and gene silencing activity of short interfering RNA. RNA 13, 1301–1316 (2007).

Dalluge, J. J., Hashizume, T., Sopchik, A. E., McCloskey, J. A. & Davis, D. R. Conformational flexibility in RNA: the role of dihydrouridine. Nucleic Acids Res. 24, 1073–1079 (1996).

Onodera, A. et al. Roles of TET and TDG in DNA demethylation in proliferating and non-proliferating immune cells. Genome Biol. 22, 186 (2021).

Suvà, M. L. et al. Reconstructing and reprogramming the tumor-propagating potential of glioblastoma stem-like cells. Cell 157, 580–594 (2014).

Klughammer, J. et al. The DNA methylation landscape of glioblastoma disease progression shows extensive heterogeneity in time and space. Nat. Med. 24, 1611–1624 (2018).

Raiber, E. A. et al. Base resolution maps reveal the importance of 5-hydroxymethylcytosine in a human glioblastoma. npj Genom. Med. 2, 6 (2017).

Xie, Q. et al. N6-methyladenine DNA modification in glioblastoma. Cell 175, 1228–1243.e20 (2018).

Zhang, J. & Zheng, Y. G. SAM/SAH analogs as versatile tools for SAM-dependent methyltransferases. ACS Chem. Biol. 11, 583–597 (2016).

Kim, J. et al. Structure-guided discovery of the metabolite carboxy-SAM that modulates tRNA function. Nature 498, 123–126 (2013).

Xiong, J. et al. Bisulfite-free and single-base resolution detection of epigenetic DNA modification of 5-methylcytosine by methyltransferase-directed labeling with APOBEC3A deamination sequencing. Anal. Chem. 94, 15489–15498 (2022).

Siejka-Zielińska, P. et al. Cell-free DNA TAPS provides multimodal information for early cancer detection. Sci. Adv. 7, eabh0534 (2021).

Millar, D., Christova, Y. & Holliger, P. A polymerase engineered for bisulfite sequencing. Nucleic Acids Res. 43, e155 (2015).

Engler, C., Kandzia, R. & Marillonnet, S. A one pot, one step, precision cloning method with high throughput capability. PLoS ONE 3, e3647 (2008).

Wang, T. et al. Bisulfite-free sequencing of 5-hydroxymethylcytosine with APOBEC-Coupled Epigenetic Sequencing (ACE-Seq). Methods Mol. Biol. 2198, 349–367 (2021).

Arora, S., Horne, W. S. & Islam, K. Engineering methyllysine writers and readers for allele-specific regulation of protein-protein interactions. J. Am. Chem. Soc. 141, 15466–15470 (2019).

Krueger, F. & Andrews, S. R. Bismark: a flexible aligner and methylation caller for Bisulfite-Seq applications. Bioinformatics 27, 1571–1572 (2011).
Acknowledgements
We thank Y. Lan, W. Zhou, T. Christopher and the Penn Center for Personalized Diagnostics for useful discussions and reagents. We also thank K. Islam for providing but-2-ynyl-SAM. This work was supported by the National Institutes of Health through grant no. R01-HG010646 (to R.M.K. and H.W.). E.K.S., K.N.B. and J.E.D. were NSF Graduate Research Fellows.
Ethics declarations
Competing interests
The University of Pennsylvania has patents pending for CxMTase enzymes, DNA deaminase-resistant adapters and the DM-Seq pipeline. R.M.K. has served as a scientific advisory board member for Cambridge Epigenetix (CEGX). W.S.G. is an employee of CEGX and T.W. was supported by a fellowship from CEGX. A.D. and N.D. are employees of Integrated DNA Technologies, Inc. The other authors declare no competing interests.
Peer review
Peer review information
Nature Chemical Biology thanks Abdulkadir Abakir and the other, anonymous, reviewer(s) for their contribution to the peer review of this work.
Additional information
Publisher's note Springer Nature remains neutral with regard to jurisdictional claims in published maps and institutional affiliations.
Supplementary information
Supplementary Tables 1–4 and Note (protocol).
Library statistics for comparison to TAPS and TAPS-β.
Rights and permissions
Springer Nature or its licensor (e.g. a society or other partner) holds exclusive rights to this article under a publishing agreement with the author(s) or other rightsholder(s); author self-archiving of the accepted manuscript version of this article is solely governed by the terms of such publishing agreement and applicable law.
About this article
Cite this article
Wang, T., Fowler, J.M., Liu, L. et al. Direct enzymatic sequencing of 5-methylcytosine at single-base resolution. Nat Chem Biol 19, 1004–1012 (2023). https://doi.org/10.1038/s41589-023-01318-1
Received:

Accepted:

Published:

Issue Date:

DOI: https://doi.org/10.1038/s41589-023-01318-1
This article is cited by
Emily B. Fabyanic
Peng Hu
Hao Wu

Nature Biotechnology (2023)

Abdulkadir Abakir
Wolf Reik

Nature Chemical Biology (2023)