Abstract
Bioluminescence imaging (BLI) allows non-invasive visualization of cells and biochemical events in vivo and thus has become an indispensable technique in biomedical research. However, BLI in the central nervous system remains challenging because luciferases show relatively poor performance in the brain with existing substrates. Here, we report the discovery of a NanoLuc substrate with improved brain performance, cephalofurimazine (CFz). CFz paired with Antares luciferase produces greater than 20-fold more signal from the brain than the standard combination of d-luciferin with firefly luciferase. At standard doses, Antares–CFz matches AkaLuc–AkaLumine/TokeOni in brightness, while occasional higher dosing of CFz can be performed to obtain threefold more signal. CFz should allow the growing number of NanoLuc-based indicators to be applied to the brain with high sensitivity. Using CFz, we achieve video-rate non-invasive imaging of Antares in brains of freely moving mice and demonstrate non-invasive calcium imaging of sensory-evoked activity in genetically defined neurons.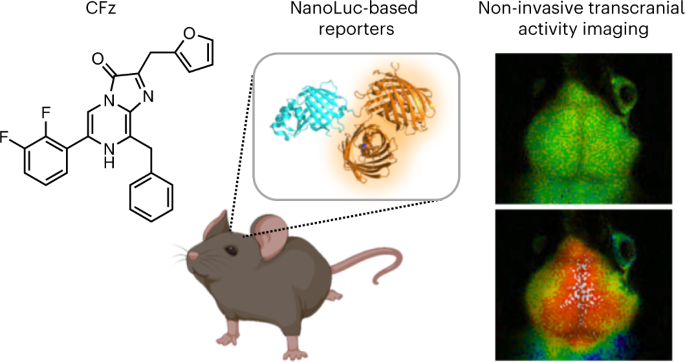 Data availability
The main data supporting the findings of this study are available within the article and its Supplementary Information. The raw data generated in this study are available from the corresponding author upon request.
Code availability
The MATLAB code used for image processing in this work is available from the corresponding author upon request.
References
Liu, S., Su, Y., Lin, M. Z. & Ronald, J. A. Brightening up biology: advances in luciferase systems for in vivo imaging. ACS Chem. Biol. 16, 2707–2718 (2021).

Mezzanotte, L. et al. In vivo molecular bioluminescence imaging: new tools and applications. Trends Biotechnol. 35, 640–652 (2017).

Prescher, J. A. & Contag, C. H. Guided by the light: visualizing biomolecular processes in living animals with bioluminescence. Curr. Opin. Chem. Biol. 14, 80–89 (2010).

Levin, R. A. et al. An optimized triple modality reporter for quantitative in vivo tumor imaging and therapy evaluation. PLoS ONE 9, e97415 (2014).

Ullah, I. et al. Live imaging of SARS-CoV-2 infection in mice reveals that neutralizing antibodies require Fc function for optimal efficacy. Immunity 54, 2143–2158 (2021).

Hochgräfe, K. & Mandelkow, E. M. Making the brain glow: in vivo bioluminescence imaging to study neurodegeneration. Mol. Neurobiol. 47, 868–882 (2013).

Fukuchi, M. et al. Visualization of activity-regulated BDNF expression in the living mouse brain using non-invasive near-infrared bioluminescence imaging. Mol. Brain 13, 122 (2020).

Bakhsheshian, J. et al. Bioluminescent imaging of drug efflux at the blood–brain barrier mediated by the transporter ABCG2. Proc. Natl Acad. Sci. USA 110, 20801–20806 (2013).

Evans, M. S. et al. A synthetic luciferin improves bioluminescence imaging in live mice. Nat. Methods 11, 393–395 (2014).

Iwano, S. et al. Single-cell bioluminescence imaging of deep tissue in freely moving animals. Science 359, 935–939 (2018).

Otto-Duessel, M. et al. In vivo testing of Renilla luciferase substrate analogs in an orthotopic murine model of human glioblastoma. Mol. Imaging 5, 57–64 (2006).

Hall, M. P. et al. Engineered luciferase reporter from a deep sea shrimp utilizing a novel imidazopyrazinone substrate. ACS Chem. Biol. 7, 1848–1857 (2012).

Chu, J. et al. A bright cyan-excitable orange fluorescent protein facilitates dual-emission microscopy and enhances bioluminescence imaging in vivo. Nat. Biotechnol. 34, 760–767 (2016).

Schaub, F. X. et al. Fluorophore-NanoLuc BRET reporters enable sensitive in vivo optical imaging and flow cytometry for monitoring tumorigenesis. Cancer Res. 75, 5023–5033 (2015).

Suzuki, K. et al. Five colour variants of bright luminescent protein for real-time multicolour bioimaging. Nat. Commun. 7, 13718 (2016).

Su, Y. et al. Novel NanoLuc substrates enable bright two-population bioluminescence imaging in animals. Nat. Methods 17, 852–860 (2020).

Gaspar, N. et al. Evaluation of NanoLuc substrates for bioluminescence imaging of transferred cells in mice. J. Photochem. Photobiol. B 216, 112128 (2021).

Germain-Genevois, C., Garandeau, O. & Couillaud, F. Detection of brain tumors and systemic metastases using NanoLuc and Fluc for dual reporter imaging. Mol. Imaging Biol. 18, 62–69 (2016).

Berglund, K. et al. Luminopsins integrate opto- and chemogenetics by using physical and biological light sources for opsin activation. Proc. Natl Acad. Sci. USA 113, E358–E367 (2016).

Yang, J. & Johnson, C. H. Bioluminescent sensors for Ca++ flux imaging and the introduction of a new intensity-based Ca++ sensor. Front. Bioeng. Biotechnol. 9, 773353 (2021).

Tsien, J. Z. et al. Subregion- and cell type-restricted gene knockout in mouse brain. Cell 87, 1317–1326 (1996).

Vong, L. et al. Leptin action on GABAergic neurons prevents obesity and reduces inhibitory tone to POMC neurons. Neuron 71, 142–154 (2011).

Coutant, E. P. et al. Bioluminescence profiling of NanoKAZ/NanoLuc luciferase using a chemical library of coelenterazine analogues. Chemistry 26, 948–958 (2020).

Bodratti, A. M. & Alexandridis, P. Formulation of poloxamers for drug delivery. J. Funct. Biomater. 9, E11 (2018).

Irizarry Rovira, A. R. et al. Scientific and regulatory policy committee points to consider: histopathologic evaluation in safety assessment studies for PEGylated pharmaceutical products. Toxicol. Pathol. 46, 616–635 (2018).

Bosshard, S. C. et al. Assessment of brain responses to innocuous and noxious electrical forepaw stimulation in mice using BOLD fMRI. Pain 151, 655–663 (2010).

Schroeter, A., Schlegel, F., Seuwen, A., Grandjean, J. & Rudin, M. Specificity of stimulus-evoked fMRI responses in the mouse: the influence of systemic physiological changes associated with innocuous stimulation under four different anesthetics. NeuroImage 94, 372–384 (2014).

Mandino, F. et al. Animal functional magnetic resonance imaging: trends and path toward standardization. Front. Neuroinform. 13, 78 (2019).

Ma, Y. et al. Resting-state hemodynamics are spatiotemporally coupled to synchronized and symmetric neural activity in excitatory neurons. Proc. Natl Acad. Sci. USA 113, E8463–E8471 (2016).

Wright, P. W. et al. Functional connectivity structure of cortical calcium dynamics in anesthetized and awake mice. PLoS ONE 12, e0185759 (2017).

Rungta, R. L., Chaigneau, E., Osmanski, B. F. & Charpak, S. Vascular compartmentalization of functional hyperemia from the synapse to the pia. Neuron 99, 362–375 (2018).

Yang, J. et al. Coupling optogenetic stimulation with NanoLuc-based luminescence (BRET) Ca++ sensing. Nat. Commun. 7, 13268 (2016).

Farhana, I., Hossain, M. N., Suzuki, K., Matsuda, T. & Nagai, T. Genetically encoded fluorescence/bioluminescence bimodal indicators for Ca2+ imaging. ACS Sens. 4, 1825–1834 (2019).

Qian, Y., Rancic, V., Wu, J., Ballanyi, K. & Campbell, R. E. A bioluminescent Ca2+ indicator based on a topological variant of GCaMP6s. ChemBioChem 20, 516–520 (2019).

Mertes, N. et al. Fluorescent and bioluminescent calcium indicators with tuneable colors and affinities. J. Am. Chem. Soc. 144, 6928–6935 (2022).

Oh, Y. et al. An orange calcium-modulated bioluminescent indicator for non-invasive activity imaging. Nat. Chem. Biol. 15, 433–436 (2019).

Aswendt, M., Adamczak, J., Couillard-Despres, S. & Hoehn, M. Boosting bioluminescence neuroimaging: an optimized protocol for brain studies. PLoS ONE 8, e55662 (2013).

Mofford, D. M. & Miller, S. C. Luciferins behave like drugs. ACS Chem. Neurosci. 6, 1273–1275 (2015).

Shipunova, V. O., Shilova, O. N., Shramova, E. I., Deyev, S. M. & Proshkina, G. M. A highly specific substrate for NanoLUC luciferase furimazine is toxic in vitro and in vivo. Russ. J. Bioorg. Chem. 44, 225–228 (2018).

Kuchimaru, T. et al. A luciferin analogue generating near-infrared bioluminescence achieves highly sensitive deep-tissue imaging. Nat. Commun. 7, 11856 (2016).

Amadeo, F. et al. Firefly luciferase offers superior performance to AkaLuc for tracking the fate of administered cell therapies. Eur. J. Nucl. Med. Mol. Imaging 49, 796–808 (2022).

Nakayama, J. et al. High sensitivity in vivo imaging of cancer metastasis using a near-infrared luciferin analogue seMpai. Int. J. Mol. Sci. 21, E7896 (2020).

Gross, S., Abraham, U., Prior, J. L., Herzog, E. D. & Piwnica-Worms, D. Continuous delivery of d-luciferin by implanted micro-osmotic pumps enables true real-time bioluminescence imaging of luciferase activity in vivo. Mol. Imaging 6, 121–130 (2007).

Simonyan, H., Hurr, C. & Young, C. N. A synthetic luciferin improves in vivo bioluminescence imaging of gene expression in cardiovascular brain regions. Physiol. Genomics 48, 762–770 (2016).

Tian, X. et al. A luciferase prosubstrate and a red bioluminescent calcium indicator for imaging neuronal activity in mice. Nat. Commun. 13, 3967 (2022).

Rynes, M. L. et al. Miniaturized head-mounted microscope for whole-cortex mesoscale imaging in freely behaving mice. Nat. Methods 18, 417–425 (2021).

Shakhmin, A. et al. Three efficient methods for preparation of coelenterazine analogues. Chemistry 22, 10369–10375 (2016).

Tasic, B. et al. Site-specific integrase-mediated transgenesis in mice via pronuclear injection. Proc. Natl Acad. Sci. USA 108, 7902–7907 (2011).

Schindelin, J. et al. Fiji: an open-source platform for biological-image analysis. Nat. Methods 9, 676–682 (2012).
Acknowledgements
We thank the Stanford Transgenic, Knockout and Tumor Model Center for generating transgenic mice and the Stanford Gene Vector and Virus Core for packaging and titering AAV. We thank ChemPartner (Shanghai) for in vivo substrate pharmacokinetics measurements and analysis. Illustrations were created with Biorender.com. Funding was provided by NIH grants R21NS122055 (Y.S. and M.Z.L.) and 1R21DA048252 (M.Z.L.) and a Stanford Discovery Innovation Award (M.Z.L.).
Ethics declarations
Competing interests
J.R.W., M.A.K., M.P.H., L.P.E. and T.A.K. are employees of Promega Corporation and inventors on a patent describing Fz and Fz derivatives. Y.S., L.X.L., X.W., K.M.C., G.H., and M.Z.L. declare no competing interests.
Peer review
Peer review information
Nature Chemical Biology thanks Elena Goun and the other, anonymous, reviewer(s) for their contribution to the peer review of this work.
Additional information
Publisher's note Springer Nature remains neutral with regard to jurisdictional claims in published maps and institutional affiliations.
Supplementary information
Rights and permissions
Open Access This article is licensed under a Creative Commons Attribution 4.0 International License, which permits use, sharing, adaptation, distribution and reproduction in any medium or format, as long as you give appropriate credit to the original author(s) and the source, provide a link to the Creative Commons license, and indicate if changes were made. The images or other third party material in this article are included in the article's Creative Commons license, unless indicated otherwise in a credit line to the material. If material is not included in the article's Creative Commons license and your intended use is not permitted by statutory regulation or exceeds the permitted use, you will need to obtain permission directly from the copyright holder. To view a copy of this license, visit http://creativecommons.org/licenses/by/4.0/.
About this article
Cite this article
Su, Y., Walker, J.R., Hall, M.P. et al. An optimized bioluminescent substrate for non-invasive imaging in the brain. Nat Chem Biol 19, 731–739 (2023). https://doi.org/10.1038/s41589-023-01265-x
Received:

Accepted:

Published:

Issue Date:

DOI: https://doi.org/10.1038/s41589-023-01265-x