Abstract
Critical to a sustainable energy future are microbial platforms that can process aromatic carbons from the largely untapped reservoir of lignin and plastic feedstocks. Comamonas species present promising bacterial candidates for such platforms because they can use a range of natural and xenobiotic aromatic compounds and often possess innate genetic constraints that avoid competition with sugars. However, the metabolic reactions of these species are underexplored, and the regulatory mechanisms are unknown. Here we identify multilevel regulation in the conversion of lignin-related natural aromatic compounds, 4-hydroxybenzoate and vanillate, and the plastics-related xenobiotic aromatic compound, terephthalate, in Comamonas testosteroni KF-1. Transcription-level regulation controls initial catabolism and cleavage, but metabolite-level thermodynamic regulation governs fluxes in central carbon metabolism. Quantitative 13C mapping of tricarboxylic acid cycle and cataplerotic reactions elucidates key carbon routing not evident from enzyme abundance changes. This scheme of transcriptional activation coupled with metabolic fine-tuning challenges outcome predictions during metabolic manipulations.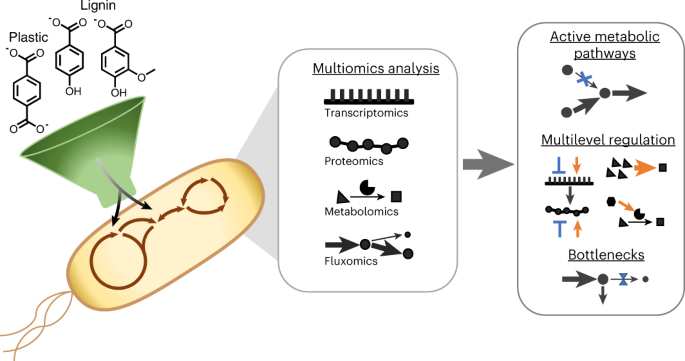 Data availability
Proteomic mass spectral data are available via ProteomeXchange under accession number PXD029813 and the MassIVE repository (massive.ucsd.edu) under accession number MSV000088418. Stable isotope-assisted metabolomics LC–HRMS data are deposited in the MetaboLights repository (www.ebi.ac.uk/metabolights/) under accession number MTBLS3947. The RNA-sequencing datasets generated during this study are available at the Gene Expression Omnibus with accession number GSE192852. The NCBI Reference Sequence for C. testosteroni KF-1 was NZ_AAUJ02000001.1.
References
Tang, Q., Lu, T. & Liu, S. J. Developing a synthetic biology toolkit for Comamonas testosteroni, an emerging cellular chassis for bioremediation. ACS Synth. Biol. 7, 1753–1762 (2018).

Wang, Y. H., Huang, Z. & Liu, S. J. Chemotaxis towards aromatic compounds: insights from Comamonas testosteroni. Int. J. Mol. Sci. 20, 2701 (2019).

Weiss, M. et al. Permanent draft genome sequence of Comamonas testosteroni KF-1. Stand. Genom. Sci. 8, 239–254 (2013).

Zhu, D. et al. Genomics and biochemistry investigation on the metabolic pathway of milled wood and alkali lignin-derived aromatic metabolites of Comamonas serinivorans SP-35. Biotechnol. Biofuels 11, 338 (2018).

Ni, B. et al. Assimilation of aromatic compounds by Comamonas testosteroni: characterization and spreadability of protocatechuate 4,5-cleavage pathway in bacteria. Appl. Microbiol. Biotechnol. 97, 6031–6041 (2013).

Hosaka, M. et al. Novel tripartite aromatic acid transporter essential for terephthalate uptake in Comamonas sp. strain E6. Appl. Environ. Microbiol. 7, 6148–6155 (2013).

Liu, L. et al. High correlation between genotypes and phenotypes of environmental bacteria Comamonas testosteroni strains. BMC Genomics 16, 110 (2015).

Ladino-Orjuela, G., Gomes, E., da Silva, R., Salt, C. & Parsons, J. R. in Reviews of Environmental Contamination and Toxicology, Vol. 237 (ed. de Voogt, W.P.) 105–121 (Springer, 2016).

Fuchs, G., Boll, M. & Heider, J. Microbial degradation of aromatic compounds—from one strategy to four. Nat. Rev. Microbiol. 9, 803–816 (2011).

Jiménez, J. I., Miñambres, B., Luis García, J. & Díaz, E. Genomic analysis of the aromatic catabolic pathways from Pseudomonas putida KT2440. Environ. Microbiol. 4, 824–841 (2002).

Kasai, D. et al. Uncovering the protocatechuate 2,3-cleavage pathway genes. J. Bacteriol. 191, 6758–6768 (2009).

Hara, H., Masai, E., Miyauchi, K., Katayama, Y. & Fukuda, M. Characterization of the 4-carboxy-4-hydroxy-2-oxoadipate aldolase gene and operon structure of the protocatechuate 4,5-cleavage pathway genes in Sphingomonas paucimobilis SYK-6. J. Bacteriol. 185, 41–50 (2003).

Varman, A. M. et al. Decoding how a soil bacterium extracts building blocks and metabolic energy from ligninolysis provides road map for lignin valorization. Proc. Natl Acad. Sci. USA 40, E5802–E5811 (2016).

Westphal, A. H. et al. Pyridine nucleotide coenzyme specificity of p-hydroxybenzoate hydroxylase and related flavoprotein monooxygenases. Front. Microbiol. 9, 3050 (2018).

Providenti, M. A., O'Brien, J. M., Ruff, J., Cook, A. M. & Lambert, I. B. Metabolism of isovanillate, vanillate, and veratrate by Comamonas testosteroni strain BR6020. J. Bacteriol. 188, 3862–3869 (2006).

Sasoh, M. et al. Characterization of the terephthalate degradation genes of Comamonas sp. strain E6. Appl. Environ. Microbiol. 72, 1825–1832 (2006).

Schlafli, H. R., Weiss, M. A., Leisinger, T. & Cook, A. M. Terephthalate 1,2-dioxygenase system from Comamonas testosteroni T-2: purification and some properties of the oxygenase component. J. Bacteriol. 176, 6644–6652 (1994).

Wilkes, R. A., Waldbauer, J. & Aristilde, L. Analogous metabolic decoupling in Pseudomonas putida and Comamonas testosteroni implies energetic bypass to facilitate gluconeogenic growth. mBio 12, e0325921 (2021).

Otsuka, Y. et al. Efficient production of 2-pyrone 4,6-dicarboxylic acid as a novel polymer-based material from protocatechuate by microbial function. Appl. Microbiol. Biotechnol. 71, 608–614 (2006).

Johnson, C. W. et al. Innovative chemicals and materials from bacterial aromatic catabolic pathways. Joule 3, 1523–1537 (2019).

Rosenberg, J. & Commichau, F. M. Harnessing underground metabolism for pathway development. Trends Biotechnol. 37, 29–37 (2019).

Lanzavecchia, A. et al. Interdependence of cell growth and gene expression: origins and consequences. Science 330, 1099–1102 (2010).

E. J. O'Brien, J. & Utrilla, B. O. Palsson, quantification and classification of E. coli proteome utilization and unused protein costs across environments. PLoS Comput. Biol. 12, e1004998 (2016).

Bennett, B. D. et al. Absolute metabolite concentrations and implied enzyme active site occupancy in Escherichia coli. Nat. Chem. Biol. 5, 593–599 (2009).

Park, J. O. et al. Metabolite concentrations, fluxes and free energies imply efficient enzyme usage. Nat. Chem. Biol. 12, 482–489 (2016).

Kukurugya, M. A. M. A. et al. Multi-omics analysis unravels a segregated metabolic flux network that tunes co-utilization of sugar and aromatic carbons in Pseudomonas putida. J. Biol. Chem. 294, 8464–8479 (2019).

Hackett, S. R. et al. Systems-level analysis of mechanisms regulating yeast metabolic flux. Science 354, aaf2786-1 (2016).

Chubukov, V. et al. Transcriptional regulation is insufficient to explain substrate-induced flux changes in Bacillus subtilis. Mol. Syst. Biol. 9, 709 (2013).

Tepper, N. et al. Steady-state metabolite concentrations reflect a balance between maximizing enzyme efficiency and minimizing total metabolite load. PLoS ONE 8, e75370 (2013).

Richter, H. et al. Ethanol production in syngas-fermenting Clostridium ljungdahlii is controlled by thermodynamics rather than by enzyme expression. Energy Environ. Sci. 9, 2392–2399 (2016).

Chulavatnatol, M. & Atkinson, D. E. Phosphoenolpyruvate synthetase from Escherichia coli. J. Biol. Chem. 248, 2712–2715 (1973).

Cheng, V. W. T. et al. Redox state of flavin adenine dinucleotide drives substrate binding and product release in Escherichia coli succinate dehydrogenase. Biochemistry 54, 1043–1052 (2015).

van der Rest, M. E., Frank, C. & Molenaar, D. Functions of the membrane-associated and cytoplasmic malate dehydrogenases in the citric acid cycle of Escherichia coli. J. Bacteriol. 182, 6892–6899 (2000).

Molenaar, D., van der Rest, M. E., Petrović, S. P. & Zentrallabor, B. Biochemical and genetic characterization of the membrane-associated malate dehydrogenase (acceptor) from Corynebacterium glutamicum. Eur. J. Biochem. 254, 395–403 (1998).

Masai, E. et al. Genetic and biochemical characterization of 4-carboxy-2-hydroxymuconate-6-semialdehyde dehydrogenase and its role in the protocatechuate 4,5-cleavage pathway in Sphingomonas paucimobilis SYK-6. J. Bacteriol. 182, 6651–6658 (2000).

Bologna, F. P., Andreo, C. S. & Drincovich, M. F. Escherichia coli malic enzymes: two isoforms with substantial differences in kinetic properties, metabolic regulation, and structure. J. Bacteriol. 189, 5937–5946 (2007).

Calero, P. & Nikel, P. I. Chasing bacterial chassis for metabolic engineering: a perspective review from classical to non-traditional microorganisms. Microb. Biotechnol. 12, 98–124 (2019).

Blank, L. M., Narancic, T., Mampel, J., Tiso, T. & O'Connor, K. Biotechnological upcycling of plastic waste and other non-conventional feedstocks in a circular economy. Curr. Opin. Biotechnol. 62, 212–219 (2020).

Tiso, T. et al. Towards bio-upcycling of polyethylene terephthalate. Metab. Eng. 66, 167–178 (2021).

Becker, J. & Wittmann, C. A field of dreams: lignin valorization into chemicals, materials, fuels, and health-care products. Biotechnol. Adv. 37, 107360 (2019).

Kamimura, N. et al. Bacterial catabolism of lignin-derived aromatics: new findings in a recent decade: update on bacterial lignin catabolism. Environ. Microbiol. Rep. 9, 679–705 (2017).

Panda, S. K., Sahu, L., Behera, S. K. & Ray, R. C. in Bioprocessing for Biomolecules Production (eds Molina, G. et al.) 195–209 (Wiley, 2019).

Akita, H., Nakashima, N. & Hoshino, T. Pyruvate production using engineered Escherichia coli. AMB Express 6, 94 (2016).

Sano, C. History of glutamate production. Am. J. Clin. Nutr. 90, 728S–732S (2009).

Lassek, C., Berger, A., Zühlke, D., Wittmann, C. & Riedel, K. Proteome and carbon flux analysis of Pseudomonas aeruginosa clinical isolates from different infection sites. Proteomics 16, 1381–1385 (2016).

Schilling, O. et al. Transcriptional and metabolic responses of Bacillus subtilis to the availability of organic acids: transcription regulation is important but not sufficient to account for metabolic adaptation. Appl. Environ. Microbiol. 73, 499–507 (2007).

Haverkorn Van Rijsewijk, B. R. B., Nanchen, A., Nallet, S., Kleijn, R. J. & Sauer, U. Large-scale 13C-flux analysis reveals distinct transcriptional control of respiratory and fermentative metabolism in Escherichia coli. Mol. Syst. Biol. 7, 477 (2011).

Monk, J. M. et al. Multi-omics quantification of species variation of Escherichia coli links molecular features with strain phenotypes. Cell Syst. 3, 238–251 (2016).

Toya, Y. et al. 13C-metabolic flux analysis in heterologous cellulase production by Bacillus subtilis genome-reduced strain. J. Biotechnol. 179, 42–49 (2014).

Johnson, C. W. & Beckham, G. T. Aromatic catabolic pathway selection for optimal production of pyruvate and lactate from lignin. Metab. Eng. 28, 240–247 (2015).

Paczia, N. et al. Extensive exometabolome analysis reveals extended overflow metabolism in various microorganisms. Microb. Cell Fact. 11, 122 (2012).

Bray, N. L., Pimentel, H., Páll, M. & Pachter, L. Near-optimal probabilistic RNA-seq quantification. Nat. Biotechnol. 34, 525–527 (2016).

Powell, D. R. Degust: interactive RNA-seq analysis. Zenodo https://doi.org/10.5281/zenodo.3258932 (2019).

Erde, J., Loo, R. R. O. & Loo, J. A. Enhanced FASP (eFASP) to increase proteome coverage and sample recovery for quantitative proteomic experiments. J. Proteome Res. 13, 1885–1895 (2014).

Waldbauer, J., Zhang, L., Rizzo, A. & Muratore, D. diDO-IPTL: a peptide-labeling strategy for precision quantitative proteomics. Anal. Chem. 89, 11498–11504 (2017).

Clasquin, M. F., Melamud, E. & Rabinowitz, J. D. LC–MS data processing with MAVEN: a metabolomic analysis and visualization engine. Curr. Protoc. Bioinformatics 37, 14.11.1–14.11.23 (2012).

Millard, P. et al. IsoCor: isotope correction for high-resolution MS labeling experiments. Bioinformatics 35, 4484–4487 (2019).

Kappelmann, J., Klein, B., Geilenkirchen, P. & Noack, S. Comprehensive and accurate tracking of carbon origin of LC–tandem mass spectrometry collisional fragments for 13C-MFA. Anal. Bioanal. Chem. 409, 2309–2326 (2017).

Notonier, S. et al. Metabolism of syringyl lignin-derived compounds in Pseudomonas putida enables convergent production of 2-pyrone-4,6-dicarboxylic acid. Metab. Eng. 65, 111–122 (2021).

Hefni, M. E., Amann, L. S. & Witthöft, C. M. A HPLC-UV method for the quantification of phenolic acids in cereals. Food Anal. Methods 12, 2802–2812 (2019).

Shupletsov, M. S. et al. OpenFLUX2: 13C-MFA modeling software package adjusted for the comprehensive analysis of single and parallel labeling experiments. Microb. Cell Fact. 13, 152 (2014).

Cavaleiro, A. M., Kim, S. H., Seppälä, S., Nielsen, M. T. & Nørholm, M. H. H. Accurate DNA assembly and genome engineering with optimized uracil excision cloning. ACS Synth. Biol. 4, 1042–1046 (2015).

Burnell, J. N. Cloning and characterization of Escherichia coli DUF299: a bifunctional ADP-dependent kinase–π-dependent pyrophosphorylase from bacteria. BMC Biochem. 11, 1 (2010).

Kovach, M. E. et al. Four new derivatives of the broad-host-range cloning vector pBBR1MCS, carrying different antibiotic-resistance cassettes. Gene 166, 175–176 (1995).

Lee, T. S. et al. BglBrick vectors and datasheets: a synthetic biology platform for gene expression. J. Biol. Eng. 5, 12 (2011).

Marx, C. J. Development of a broad-host-range sacB-based vector for unmarked allelic exchange. BMC Res. Notes 1, 1 (2008).

Halper, S. M., Hossain, A. & Salis, H. M. Synthesis success calculator: predicting the rapid synthesis of DNA fragments with machine learning. ACS Synth. Biol. 9, 1563–1571 (2020).

Elmore, J. R., Furches, A., Wolff, G. N., Gorday, K. & Guss, A. M. Development of a high efficiency integration system and promoter library for rapid modification of Pseudomonas putida KT2440. Metab. Eng. Commun. 5, 1–8 (2017).
Acknowledgements
The US National Science Foundation (NSF) Graduate Research Fellowship Program (DGE-1650441) provided support for R.A.W. Metabolomics studies were funded by a grant awarded to L.A. from the US NSF (CBET-2022854). This work was authored, in part, by Oak Ridge National Laboratory, which is managed by UT-Battelle, LLC, for the US Department of Energy (DOE) under contract DE-AC05-00OR22725. Funding was provided, in part, by the US DOE, Office of Energy Efficiency and Renewable Energy, Advanced Manufacturing Office and Bioenergy Technologies Office as part of the BOTTLE Consortium. We thank D. Salvachúa and C. Hoyt of the National Renewable Energy Laboratory (NREL) for synthesizing and supplying the 2-pyrone-4,6-dicarboxylic acid standard for quantification by HPLC. We thank G. Beckham of NREL for his feedback to early drafts of this manuscript. We acknowledge E. Hartmann of Northwestern University for granting access to their laboratory for RNA extractions.
Ethics declarations
Competing interests
The authors declare no competing interests.
Peer review
Peer review information
Nature Chemical Biology thanks Yinjie Tang and the other, anonymous, reviewer(s) for their contribution to the peer review of this work.
Additional information
Publisher's note Springer Nature remains neutral with regard to jurisdictional claims in published maps and institutional affiliations.
Extended data
a) Kinetics of 4HB depletion (orange), VAN depletion (blue), and TER depletion (red) throughout cellular growth (grey) in C. testosteroni KF-1. Biological replicates (n = 3) are shown separately with the average represented by the line through the points. b) Kinetics and rates of metabolite secretion during growth on 4HB. Secretion data were from biological replicates (n = 3) shown as individual data points. Metabolite abbreviations: protocatechuate, PCA; 2-pyrone-4,6-dicarboxylate, PDC; pyruvate, Pyr; α-ketoglutarate, αKG.
Transcript abundance represents triplicate measurements of log2 fold changes for cells grown on the aromatic compounds relative to succinate.
Strain AG9493 was grown on 100 mM C of succinate (green), 4-hydroxybenzoate (orange), vanillate (blue), or terephthalate (red). No growth was observed on the aromatic compounds after 42 h.
Supplementary information
Supplementary Figs. 1–13 and Tables 1–24.
DNA synthesis and plasmid sequences for plasmid construction and statistical information for Fig. 1b,c.
Rights and permissions
Open Access This article is licensed under a Creative Commons Attribution 4.0 International License, which permits use, sharing, adaptation, distribution and reproduction in any medium or format, as long as you give appropriate credit to the original author(s) and the source, provide a link to the Creative Commons license, and indicate if changes were made. The images or other third party material in this article are included in the article's Creative Commons license, unless indicated otherwise in a credit line to the material. If material is not included in the article's Creative Commons license and your intended use is not permitted by statutory regulation or exceeds the permitted use, you will need to obtain permission directly from the copyright holder. To view a copy of this license, visit http://creativecommons.org/licenses/by/4.0/.
About this article
Cite this article
Wilkes, R.A., Waldbauer, J., Caroll, A. et al. Complex regulation in a Comamonas platform for diverse aromatic carbon metabolism. Nat Chem Biol 19, 651–662 (2023). https://doi.org/10.1038/s41589-022-01237-7
Received:

Accepted:

Published:

Issue Date:

DOI: https://doi.org/10.1038/s41589-022-01237-7
This article is cited by
Yinjie J. Tang
Tae Seok Moon

Nature Chemical Biology (2023)