Abstract
G protein-coupled receptors (GPCRs) selectively activate at least one of the four families of heterotrimeric G proteins, but the mechanism of coupling selectivity remains unclear. Structural studies emphasize structural complementarity of GPCRs and nucleotide-free G proteins, but selectivity is likely to be determined by transient intermediate-state complexes that exist before nucleotide release. Here we study coupling to nucleotide-decoupled G protein variants that can adopt conformations similar to receptor-bound G proteins without releasing nucleotide, and are therefore able to bypass intermediate-state complexes. We find that selectivity is degraded when nucleotide release is not required for GPCR–G protein complex formation, to the extent that most GPCRs interact with most nucleotide-decoupled G proteins. These findings demonstrate the absence of absolute structural incompatibility between noncognate receptor–G protein pairs, and are consistent with the hypothesis that transient intermediate states are partly responsible for coupling selectivity.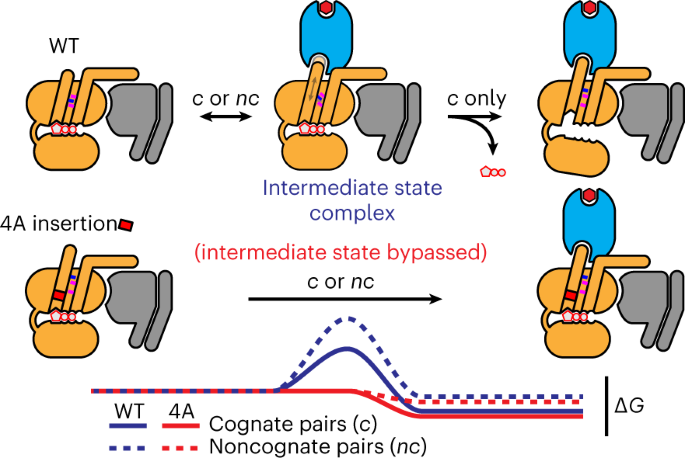 Access options
Access Nature and 54 other Nature Portfolio journals
Get Nature+, our best-value online-access subscription
$29.99 per month
cancel any time
Subscribe to this journal
Receive 12 print issues and online access
$259.00 per year
only $21.58 per issue
Rent or buy this article
Get just this article for as long as you need it
$39.95
Prices may be subject to local taxes which are calculated during checkout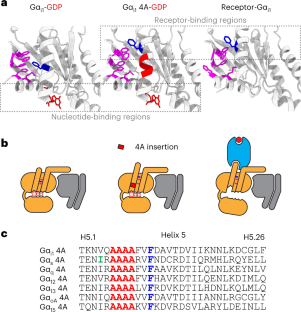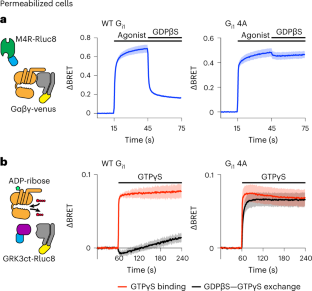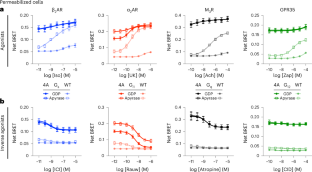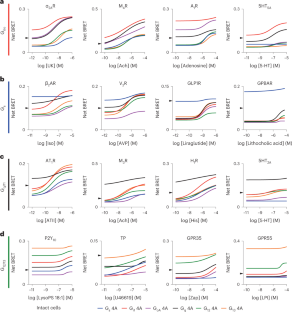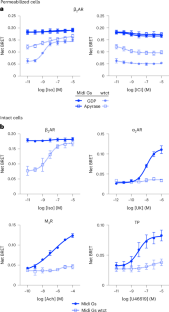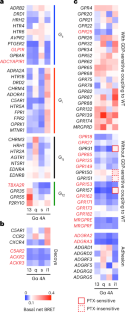 Data availability
All data generated or analyzed during this study are included in this published article and the accompanying Source data files. Plasmids encoding GPCR-Rluc8 and nucleotide-decoupled G protein constructs used in this study are freely available upon request. Structures 1GP2, 7CMV and 5KDO used to construct Fig. 1 are deposited in the Protein Data Bank (PDB) at https://www.rcsb.org/.
References
Pierce, K. L., Premont, R. T. & Lefkowitz, R. J. Seven-transmembrane receptors. Nat. Rev. Mol. Cell Biol. 3, 639–650 (2002).

Gilman, A. G. G proteins: transducers of receptor-generated signals. Annu. Rev. Biochem. 56, 615–649 (1987).

Wess, J. Molecular basis of receptor/G-protein-coupling selectivity. Pharmacol. Therapeutics 80, 231–264 (1998).

Conklin, B. R., Farfel, Z., Lustig, K. D., Julius, D. & Bourne, H. R. Substitution of three amino acids switches receptor specificity of Gqα to that of Giα. Nature 363, 274–276 (1993).

Qiao, A. et al. Structural basis of G(s) and G(i) recognition by the human glucagon receptor. Science 367, 1346–1352 (2020).

Mobbs, J. I. et al. Structures of the human cholecystokinin 1 (CCK1) receptor bound to Gs and Gq mimetic proteins provide insight into mechanisms of G protein selectivity. PLoS Biol. 19, e3001295–e3001295 (2021).

Rasmussen, S. G. F. et al. Crystal structure of the beta2 adrenergic receptor-Gs protein complex. Nature 477, 549–555 (2011).

Harris, J. A. et al. Selective G protein signaling driven by substance P-neurokinin receptor dynamics. Nat. Chem. Biol. 18, 109–115 (2022).

Mahoney, J. P. & Sunahara, R. K. Mechanistic insights into GPCR–G protein interactions. Curr. Opin. Struct. Biol. 41, 247–254 (2016).

Liu, X. et al. Structural insights into the process of GPCR-G protein complex formation. Cell 177, 1243–1251.e12 (2019).

Du, Y. et al. Assembly of a GPCR-G protein complex. Cell 177, 1232–1242.e11 (2019).

Kato, H. E. et al. Conformational transitions of a neurotensin receptor 1–Gi1 complex. Nature 572, 80–85 (2019).

Kaya, A. I. et al. A conserved hydrophobic core in Gα subi1/sub regulates G protein activation and release from activated receptor. J. Biol. Chem. 291, 19674–19686 (2016).

Dror, R. O. et al. SIGNAL TRANSDUCTION. Structural basis for nucleotide exchange in heterotrimeric G proteins. Science 348, 1361–1365 (2015).

Alexander, N. S. et al. Energetic analysis of the rhodopsin-G-protein complex links the α5 helix to GDP release. Nat. Struct. Mol. Biol. 21, 56–63 (2014).

Flock, T. et al. Universal allosteric mechanism for Gα activation by GPCRs. Nature 524, 173–179 (2015).

Grundmann, M. et al. Lack of beta-arrestin signaling in the absence of active G proteins. Nat. Commun. 9, 341–341 (2018).

Knight, K. M. et al. A universal allosteric mechanism for G protein activation. Mol. Cell 81, 1384–1396.e6 (2021).

Hollins, B., Kuravi, S., Digby, G. J. & Lambert, N. A. The C-terminus of GRK3 indicates rapid dissociation of G protein heterotrimers. Cell. Signal. 21, 1015–1021 (2009).

Kooistra, A. J. et al. GPCRdb in 2021: integrating GPCR sequence, structure and function. Nucleic Acids Res. 49, D335–D343 (2021).

Avet, C. et al. Effector membrane translocation biosensors reveal G protein and βarrestin coupling profiles of 100 therapeutically relevant GPCRs. eLife 11, e74101 (2022).

Rose, A. S. et al. Position of transmembrane Helix 6 determines receptor G protein coupling specificity. J. Am. Chem. Soc. 136, 11244–11247 (2014).

Kang, Y. et al. Cryo-EM structure of human rhodopsin bound to an inhibitory G protein. Nature 558, 553–558 (2018).

García-Nafría, J., Nehmé, R., Edwards, P. C. & Tate, C. G. Cryo-EM structure of the serotonin 5-HT1B receptor coupled to heterotrimeric Go. Nature 558, 620–623 (2018).

Koehl, A. et al. Structure of the µ-opioid receptor–Gi protein complex. Nature 558, 547–552 (2018).

Nehmé, R. et al. Mini-G proteins: novel tools for studying GPCRs in their active conformation. PLoS ONE 12, e0175642–e0175642 (2017).

Carpenter, B. & Tate, C. G. Engineering a minimal G protein to facilitate crystallisation of G protein-coupled receptors in their active conformation. Protein Eng. Des. Selection 29, 583–594 (2016).

Liang, Y. L. et al. Dominant negative G proteins enhance formation and purification of Agonist-GPCR-G Protein complexes for structure determination. ACS Pharm. Transl. Sci. 1, 12–20 (2018).

Yao, X. J. et al. The effect of ligand efficacy on the formation and stability of a GPCR-G protein complex. Proc. Natl Acad. Sci. USA 106, 9501–9506 (2009).

Gregorio, G. G. et al. Single-molecule analysis of ligand efficacy in β2AR-G-protein activation. Nature 547, 68–73 (2017).

Graham, G. J. D6 and the atypical chemokine receptor family: novel regulators of immune and inflammatory processes. Eur. J. Immunol. 39, 342–351 (2009).

Lu, S., Jang, W., Inoue, A. & Lambert, N. A. Constitutive G protein coupling profiles of understudied orphan GPCRs. PLoS ONE 16, e0247743–e0247743 (2021).

Vizurraga, A., Adhikari, R., Yeung, J., Yu, M. & Tall, G. G. Mechanisms of adhesion G protein-coupled receptor activation. J. Biol. Chem. 295, 14065–14083 (2020).

Flock, T. et al. Selectivity determinants of GPCR-G-protein binding. Nature 545, 317–322 (2017).

Okashah, N. et al. Variable G protein determinants of GPCR coupling selectivity. Proc. Natl Acad. Sci. USA 116, 12054–12059 (2019).

Brandt, D. R. & Ross, E. M. GTPase activity of the stimulatory GTP-binding regulatory protein of adenylate cyclase, Gs. Accumulation and turnover of enzyme-nucleotide intermediates. J. Biol. Chem. 260, 266–272 (1985).

Higashijima, T., Ferguson, K. M., Sternweis, P. C., Smigel, M. D. & Gilman, A. G. Effects of Mg2+ and the beta gamma-subunit complex on the interactions of guanine nucleotides with G proteins. J. Biol. Chem. 262, 762–766 (1987).

Stoveken, H. M., Hajduczok, A. G., Xu, L. & Tall, G. G. Adhesion G protein-coupled receptors are activated by exposure of a cryptic tethered agonist. Proc. Natl Acad. Sci. USA 112, 6194–6199 (2015).

Martin, A. L., Steurer, M. A. & Aronstam, R. S. Constitutive activity among orphan Class-A G protein coupled receptors. PLoS ONE 10, e0138463 (2015).

Takeo, Y., Kurabayashi, N., Nguyen, M. D. & Sanada, K. The G protein-coupled receptor GPR157 regulates neuronal differentiation of radial glial progenitors through the Gq-IP3 pathway. Sci. Rep. 6, 25180 (2016).

Kohno, M. et al. Identification of N-arachidonylglycine as the endogenous ligand for orphan G-protein-coupled receptor GPR18. Biochem. Biophys. Res. Commun. 347, 827–832 (2006).

Li, X. et al. Gpr125 modulates Dishevelled distribution and planar cell polarity signaling. Development 140, 3028–3039 (2013).

Eubelen, M. et al. A molecular mechanism for Wnt ligand-specific signaling. Science 361, eaat1178 (2018).

Kroeze, W. K. et al. PRESTO-Tango as an open-source resource for interrogation of the druggable human GPCRome. Nat. Struct. Mol. Biol. 22, 362–369 (2015).

Wan, Q. et al. Mini G protein probes for active G protein–coupled receptors (GPCRs) in live cells. J. Biol. Chem. 293, 7466–7473 (2018).

Lan, T.-H., Liu, Q., Li, C., Wu, G. & Lambert, N. A. Sensitive and high resolution localization and tracking of membrane proteins in live cells with BRET. Traffic 13, 1450–1456 (2012).
Acknowledgements
We thank A. Inoue for providing CRISPR-modified cells lacking Gα subunits and H. Hamm, S. Ikeda, K. Martemyanov, B. Roth and C. Zhang for providing plasmid DNA. This study was supported by National Institutes of Health grant nos. GM130142 and GM145284 (N.A.L.), GM136397 (G.W.) and a PhRMA Foundation Predoctoral Fellowship in Drug Discovery (W.J.).
Ethics declarations
Competing interests
The authors declare no competing interests.
Peer review
Peer review information
Nature Chemical Biology thanks Alexander Hauser and the other, anonymous, reviewer(s) for their contribution to the peer review of this work.
Additional information
Publisher's note Springer Nature remains neutral with regard to jurisdictional claims in published maps and institutional affiliations.
Supplementary information
Rights and permissions
Springer Nature or its licensor (e.g. a society or other partner) holds exclusive rights to this article under a publishing agreement with the author(s) or other rightsholder(s); author self-archiving of the accepted manuscript version of this article is solely governed by the terms of such publishing agreement and applicable law.
About this article
Cite this article
Jang, W., Lu, S., Xu, X. et al. The role of G protein conformation in receptor–G protein selectivity. Nat Chem Biol (2023). https://doi.org/10.1038/s41589-022-01231-z
Received:

Accepted:

Published:

DOI: https://doi.org/10.1038/s41589-022-01231-z