Abstract
The production efficiency of microbial cell factories is sometimes limited by the lack of effective methods to regulate multiple targets in a coordinated manner. Here taking the biosynthesis of glucosamine-6-phosphate (GlcN6P) in Bacillus subtilis as an example, a 'design–build–test–learn' framework was proposed to achieve efficient multiplexed optimization of metabolic pathways. A platform strain was built to carry biosensor signal-amplifying circuits and two genetic regulation circuits. Then, a synthetic CRISPR RNA array blend for boosting and leading (ScrABBLE) device was integrated into the platform strain, which generated 5,184 combinatorial assemblies targeting three genes. The best GlcN6P producer was screened and engineered for the synthesis of valuable pharmaceuticals N-acetylglucosamine and N-acetylmannosamine. The N-acetylglucosamine titer reached 183.9 g liter–1 in a 15-liter bioreactor. In addition, the potential generic application of the ScrABBLE device was also verified using three fluorescent proteins as a case study.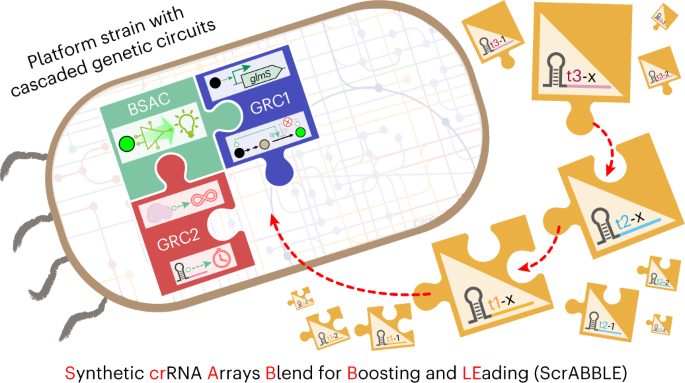 Access options
Access Nature and 54 other Nature Portfolio journals
Get Nature+, our best-value online-access subscription
$29.99 per month
cancel any time
Subscribe to this journal
Receive 12 print issues and online access
$259.00 per year
only $21.58 per issue
Rent or buy this article
Get just this article for as long as you need it
$39.95
Prices may be subject to local taxes which are calculated during checkout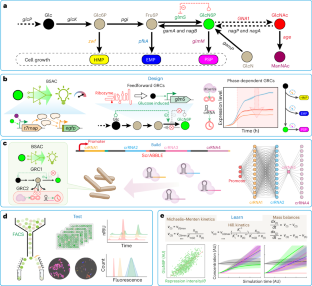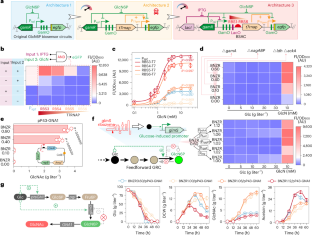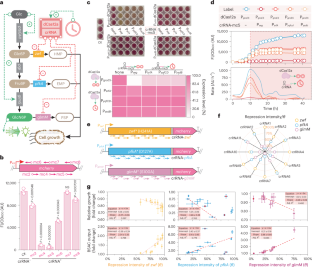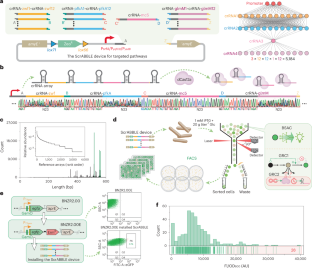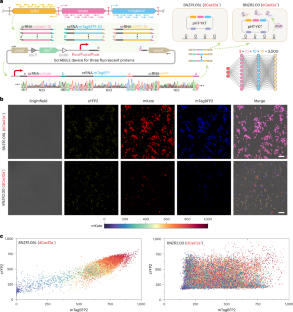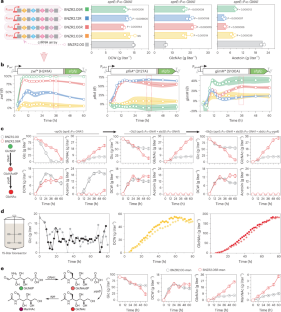 References
Meng, F. & Ellis, T. The second decade of synthetic biology: 2010–2020. Nat. Commun. 11, 5174 (2020).

Voigt, C. A. Synthetic biology 2020–2030: six commercially-available products that are changing our world. Nat. Commun. 11, 6379 (2020).

Naseri, G. & Koffas, M. A. G. Application of combinatorial optimization strategies in synthetic biology. Nat. Commun. 11, 2446 (2020).

Brooks, S. M. & Alper, H. S. Applications, challenges, and needs for employing synthetic biology beyond the lab. Nat. Commun. 12, 1390 (2021).

Xu, P. Production of chemicals using dynamic control of metabolic fluxes. Curr. Opin. Biotechnol. 53, 12–19 (2018).

Keasling, J. et al. Microbial production of advanced biofuels. Nat. Rev. Microbiol. 19, 701–715 (2021).

Lee, S. Y. et al. A comprehensive metabolic map for production of bio-based chemicals. Nat. Catal. 2, 18–33 (2019).

Nielsen, J. & Keasling, J. D. Engineering cellular metabolism. Cell 164, 1185–1197 (2016).

Hossain, G. S., Saini, M., Miyake, R., Ling, H. & Chang, M. W. Genetic biosensor design for natural product biosynthesis in microorganisms. Trends Biotechnol. 38, 797–810 (2020).

Peralta-Yahya, P. P., Zhang, F., Del Cardayre, S. B. & Keasling, J. D. Microbial engineering for the production of advanced biofuels. Nature 488, 320–328 (2012).

You, J. et al. Microbial production of riboflavin: biotechnological advances and perspectives. Metab. Eng. 68, 46–58 (2021).

Luo, X. et al. Complete biosynthesis of cannabinoids and their unnatural analogues in yeast. Nature 567, 123–126 (2019).

Leyn, S. A. et al. Genomic reconstruction of the transcriptional regulatory network in Bacillus subtilis. J. Bacteriol. 195, 2463–2473 (2013).

Kalamorz, F., Reichenbach, B., März, W., Rak, B. & Görke, B. Feedback control of glucosamine-6-phosphate synthase GlmS expression depends on the small RNA GlmZ and involves the novel protein YhbJ in Escherichia coli. Mol. Microbiol. 65, 1518–1533 (2007).

Winkler, W. C., Nahvi, A., Roth, A., Collins, J. A. & Breaker, R. R. Control of gene expression by a natural metabolite-responsive ribozyme. Nature 428, 281–286 (2004).

Park, S. A. et al. Bacillus subtilis as a robust host for biochemical production utilizing biomass. Crit. Rev. Biotechnol. 41, 827–848 (2021).

Wu, Y. et al. Design of a programmable biosensor–CRISPRi genetic circuits for dynamic and autonomous dual-control of metabolic flux in Bacillus subtilis. Nucleic Acids Res. 48, 996–1009 (2020).

Chen, J. K., Shen, C. R. & Liu, C. L. N-Acetylglucosamine: production and applications. Mar. Drugs 8, 2493–2516 (2010).

Carrillo, N. et al. Safety and efficacy of N-acetylmannosamine (ManNAc) in patients with GNE myopathy: an open-label phase 2 study. Genet. Med. 23, 2067–2075 (2021).

Teng, Y. et al. Biosensor-enabled pathway optimization in metabolic engineering. Curr. Opin. Biotechnol. 75, 102696 (2022).

Tian, R. et al. Synthetic N-terminal coding sequences for fine-tuning gene expression and metabolic engineering in Bacillus subtilis. Metab. Eng. 55, 131–141 (2019).

Tan, S. -I. & Ng, I. -S. New insight into plasmid-driven T7 RNA polymerase in Escherichia coli and use as a genetic amplifier for a biosensor. ACS Synth. Biol. 9, 613–622 (2020).

Espah Borujeni, A., Channarasappa, A. S. & Salis, H. M. Translation rate is controlled by coupled trade-offs between site accessibility, selective RNA unfolding and sliding at upstream standby sites. Nucleic Acids Res. 42, 2646–2659 (2014).

Liu, Y. et al. A dynamic pathway analysis approach reveals a limiting futile cycle in N-acetylglucosamine overproducing Bacillus subtilis. Nat. Commun. 7, 11933 (2016).

Klein, D. J. Structural basis of glmS ribozyme activation by glucosamine-6-phosphate. Science 313, 1752–1756 (2006).

Blencke, H. -M. et al. Transcriptional profiling of gene expression in response to glucose in Bacillus subtilis: regulation of the central metabolic pathways. Metab. Eng. 5, 133–149 (2003).

Yang, S., Du, G., Chen, J. & Kang, Z. Characterization and application of endogenous phase-dependent promoters in Bacillus subtilis. Appl. Microbiol. Biotechnol. 101, 4151–4161 (2017).

Wu, Y. et al. CAMERS-B: CRISPR/Cpf1 assisted multiple-genes editing and regulation system for Bacillus subtilis. Biotechnol. Bioeng. 117, 1817–1825 (2020).

Lee, S. W. & Oh, M. K. A synthetic suicide riboswitch for the high-throughput screening of metabolite production in Saccharomyces cerevisiae. Metab. Eng. 28, 143–150 (2015).

Na, D. et al. Metabolic engineering of Escherichia coli using synthetic small regulatory RNAs. Nat. Biotechnol. 31, 170–174 (2013).

McCarty, N. S., Graham, A. E., Studená, L. & Ledesma-Amaro, R. Multiplexed CRISPR technologies for gene editing and transcriptional regulation. Nat. Commun. 11, 1281 (2020).

Qi, L. S. et al. Repurposing CRISPR as an RNA-guided platform for sequence-specific control of gene expression. Cell 152, 1173–1183 (2013).

Li, H. et al. Combinatorial CRISPR interference library for enhancing 2,3-BDO production and elucidating key genes in cyanobacteria. Front. Bioeng. Biotechnol. 10, 913820 (2022).

Shaw, W. M. et al. Inducible expression of large gRNA arrays for multiplexed CRISPRai applications. Nat. Commun. 13, 4984 (2022).

Larson, M. H. et al. CRISPR interference (CRISPRi) for sequence-specific control of gene expression. Nat. Protoc. 8, 2180–2196 (2013).

Magnusson, J. P., Rios, A. R., Wu, L. & Qi, L. S. Enhanced Cas12a multi-gene regulation using a CRISPR array separator. eLife 10, e66406 (2021).

Liao, C. et al. Modular one-pot assembly of CRISPR arrays enables library generation and reveals factors influencing crRNA biogenesis. Nat. Commun. 10, 2948 (2019).

Qin, L., Liu, X., Xu, K. & Li, C. Mining and design of biosensors for engineering microbial cell factory. Curr. Opin. Biotechnol. 75, 102694 (2022).

Lu, Z. et al. CRISPR-assisted multi-dimensional regulation for fine-tuning gene expression in Bacillus subtilis. Nucleic Acids Res. 47, e40 (2019).

Schilling, C., Koffas, M. A. G., Sieber, V. & Schmid, J. Novel prokaryotic CRISPR–Cas12a-based tool for programmable transcriptional activation and repression. ACS Synth. Biol. 9, 3353–3363 (2020).

Liu, Y., Wan, X. & Wang, B. Engineered CRISPRa enables programmable eukaryote-like gene activation in bacteria. Nat. Commun. 10, 3693 (2019).

Dong, C., Fontana, J., Patel, A., Carothers, J. M. & Zalatan, J. G. Synthetic CRISPR–Cas gene activators for transcriptional reprogramming in bacteria. Nat. Commun. 9, 2489 (2018).

Ho, H.-I., Fang, J. R., Cheung, J. & Wang, H. H. Programmable CRISPR–Cas transcriptional activation in bacteria. Mol. Syst. Biol. 16, e9427 (2020).

Zalatan, J. G. et al. Engineering complex synthetic transcriptional programs with CRISPR RNA scaffolds. Cell 160, 339–350 (2015).

Deaner, M., Mejia, J. & Alper, H. S. Enabling graded and large-scale multiplex of desired genes using a dual-mode dCas9 activator in Saccharomyces cerevisiae. ACS Synth. Biol. 6, 1931–1943 (2017).

Gaugué, I., Oberto, J. & Plumbridge, J. Regulation of amino sugar utilization in Bacillus subtilis by the GntR family regulators, NagR and GamR. Mol. Microbiol. 92, 100–115 (2014).

Bowman, E. K. & Alper, H. S. Microdroplet-assisted screening of biomolecule production for metabolic engineering applications. Trends Biotechnol. 38, 701–714 (2020).

Gibson, D. G. et al. Enzymatic assembly of DNA molecules up to several hundred kilobases. Nat. Methods 6, 343–345 (2009).

Rahmer, R., Heravi, K. M. & Altenbuchner, J. Construction of a super-competent Bacillus subtilis 168 using the PmtlA-comKS inducible cassette. Front. Microbiol. 6, 1431 (2015).

Niu, T. et al. Engineering a glucosamine-6-phosphate responsive glmS ribozyme switch enables dynamic control of metabolic flux in Bacillus subtilis for overproduction of N-acetylglucosamine. ACS Synth. Biol. 7, 2423–2435 (2018).

Liu, H. & Naismith, J. H. An efficient one-step site-directed deletion, insertion, single and multiple-site plasmid mutagenesis protocol. BMC Biotechnol. 8, 91 (2008).

Altenbuchner, J. Editing of the Bacillus subtilis genome by the CRISPR–Cas9 system. Appl. Environ. Microbiol. 82, 5421–5427 (2016).

Sato, K., Akiyama, M. & Sakakibara, Y. RNA secondary structure prediction using deep learning with thermodynamic integration. Nat. Commun. 12, 941 (2021).

Meyer, A. J., Segall-Shapiro, T. H., Glassey, E., Zhang, J. & Voigt, C. A. Escherichia coli 'Marionette' strains with 12 highly optimized small-molecule sensors. Nat. Chem. Biol. 15, 196–204 (2019).
Acknowledgements
This work was supported by the National Key R&D Program of China (2020YFA0908300 to L.L. and 2018YFA0900300 to G.D.), the National Natural Science Foundation of China (32021005 and 32070085 to L.L. and 31930085 to G.D.), the China National Postdoctoral Program for Innovative Talents (BX2021113 to Y.W.), the China Postdoctoral Science Foundation (2021M701458 to Y.W.), the Natural Science Foundation of Jiangsu Province (BK20221083 to Y.W.) and the Fundamental Research Funds for the Central Universities (USRP52019A and JUSRP221013 to L.L. and JUSRP121010 to X.L.).
Ethics declarations
Competing interests
The authors declare no competing interests.
Peer review
Peer review information
Nature Chemical Biology thanks the anonymous reviewers for their contribution to the peer review of this work.
Additional information
Publisher's note Springer Nature remains neutral with regard to jurisdictional claims in published maps and institutional affiliations.
Supplementary information
Supplementary Figs. 1–10, Tables 1–4, Notes 1–6 and References.
Statistical source data for Supplementary Figs. 2, 5 and 6.
Rights and permissions
Springer Nature or its licensor (e.g. a society or other partner) holds exclusive rights to this article under a publishing agreement with the author(s) or other rightsholder(s); author self-archiving of the accepted manuscript version of this article is solely governed by the terms of such publishing agreement and applicable law.
About this article
Cite this article
Wu, Y., Li, Y., Jin, K. et al. CRISPR–dCas12a-mediated genetic circuit cascades for multiplexed pathway optimization. Nat Chem Biol 19, 367–377 (2023). https://doi.org/10.1038/s41589-022-01230-0
Received:

Accepted:

Published:

Issue Date:

DOI: https://doi.org/10.1038/s41589-022-01230-0