Abstract
Fluorescent light-up aptamers (FLAPs) have emerged as valuable tools to visualize RNAs, but are mostly limited by their poor brightness, low photostability, and high fluorescence background in live cells. Exploiting the avidity concept, here we present two of the brightest FLAPs with the strongest aptamer–dye interaction, high fluorogenicity, and remarkable photostability. They consist of dimeric fluorophore-binding aptamers (biRhoBAST and biSiRA) embedded in an RNA scaffold and their bivalent fluorophore ligands (bivalent tetramethylrhodamine TMR2 and silicon rhodamine SiR2). Red fluorescent biRhoBAST–TMR2 and near-infrared fluorescent biSiRA–SiR2 are orthogonal to each other, facilitating simultaneous visualization of two different RNA species in live cells. One copy of biRhoBAST allows for simple and robust mRNA imaging with strikingly higher signal-to-background ratios than other FLAPs. Moreover, eight biRhoBAST repeats enable single-molecule mRNA imaging and tracking with minimal perturbation of their localization, translation, and degradation, demonstrating the potential of avidity-enhanced FLAPs for imaging RNA dynamics.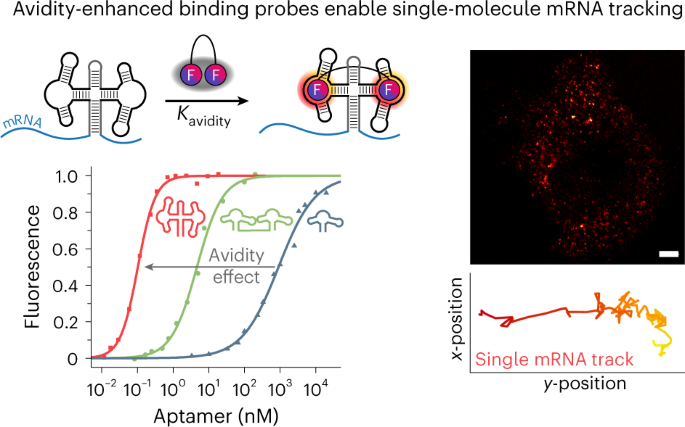 Access options
Access Nature and 54 other Nature Portfolio journals
Get Nature+, our best-value online-access subscription
$29.99 / 30 days
cancel any time
Subscribe to this journal
Receive 12 print issues and online access
$259.00 per year
only $21.58 per issue
Rent or buy this article
Get just this article for as long as you need it
$39.95
Prices may be subject to local taxes which are calculated during checkout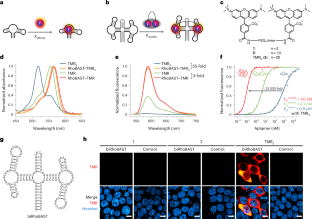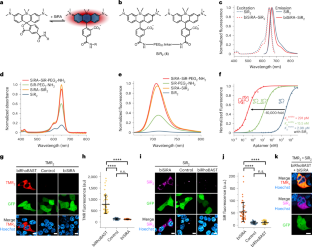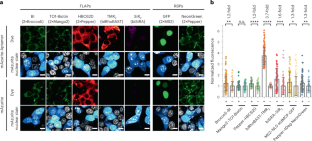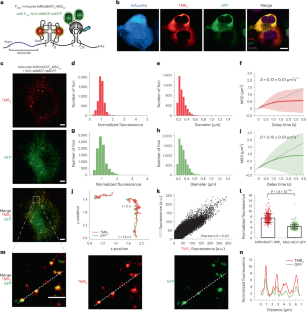 Data availability
The data that support the findings of this study are available within the paper and its Supplementary Information.
References
Liu, Z., Lavis, L. D. & Betzig, E. Imaging live-cell dynamics and structure at the single-molecule level. Mol. Cell 58, 644–659 (2015).

Lippincott-Schwartz, J., Snapp, E. & Kenworthy, A. Studying protein dynamics in living cells. Nat. Rev. Mol. Cell Biol. 2, 444–456 (2001).

Davidson, M. W. & Campbell, R. E. Engineered fluorescent proteins: innovations and applications. Nat. Methods 6, 713–717 (2009).

Femino, A. M., Fay, F. S., Fogarty, K. & Singer, R. H. Visualization of single RNA transcripts in situ. Science 280, 585–590 (1998).

Raj, A. et al. Imaging individual mRNA molecules using multiple singly labeled probes. Nat. Methods 5, 877–879 (2008).

Bertrand, E. et al. Localization of ASH1 mRNA particles in living yeast. Mol. Cell 2, 437–445 (1998).

Fusco, D. et al. Single mRNA molecules demonstrate probabilistic movement in living mammalian cells. Curr. Biol. 13, 161–167 (2003).

Grünwald, D. & Singer, R. H. In vivo imaging of labelled endogenous β-actin mRNA during nucleocytoplasmic transport. Nature 467, 604–607 (2010).

Horvathova, I. et al. The dynamics of mRNA turnover revealed by single-molecule imaging in single cells. Mol. Cell 68, 615–625 (2017).

Tutucci, E. et al. An improved MS2 system for accurate reporting of the mRNA life cycle. Nat. Methods 15, 81–89 (2018).

Tutucci, E., Vera, M. & Singer, R. H. Single-mRNA detection in living S. cerevisiae using a re-engineered MS2 system. Nat. Protoc. 13, 2268–2296 (2018).

Wu, J. et al. Live imaging of mRNA using RNA-stabilized fluorogenic proteins. Nat. Methods 16, 862–865 (2019).

Haimovich, G. et al. Intercellular mRNA trafficking via membrane nanotube-like extensions in mammalian cells. Proc. Natl Acad. Sci. 114, E9873–E9882 (2017).

Li, W. et al. An improved imaging system that corrects MS2-induced RNA destabilization. Nat. Methods 19, 1558–1562 (2022).

Garcia, J. F. & Parker, R. MS2 coat proteins bound to yeast mRNAs block 5′ to 3′ degradation and trap mRNA decay products: implications for the localization of mRNAs by MS2-MCP system. RNA 21, 1393–1395 (2015).

Sunbul, M. et al. Super-resolution RNA imaging using a rhodamine-binding aptamer with fast exchange kinetics. Nat. Biotechnol. 39, 686–690 (2021).

Braselmann, E. et al. A multicolor riboswitch-based platform for imaging of RNA in live mammalian cells. Nat. Chem. Biol. 14, 964–971 (2018).

Paige, J. S., Wu, K. Y. & Jaffrey, S. R. RNA mimics of green fluorescent protein. Science 333, 642–646 (2011).

Strack, R. L., Disney, M. D. & Jaffrey, S. R. A superfolding Spinach2 reveals the dynamic nature of trinucleotide repeat-containing RNA. Nat. Methods 10, 1219–1224 (2013).

Li, X. et al. Fluorophore‐promoted RNA folding and photostability enables imaging of single broccoli‐tagged mRNAs in live mammalian cells. Angew. Chem. Int. Ed. 59, 4511–4518 (2020).

Dolgosheina, E. V. et al. RNA mango aptamer-fluorophore: a bright, high-affinity complex for RNA labeling and tracking. ACS Chem. Biol. 9, 2412–2420 (2014).

Cawte, A. D., Unrau, P. J. & Rueda, D. S. Live cell imaging of single RNA molecules with fluorogenic Mango II arrays. Nat. Commun. 11, 1–11 (2020).

Chen, X. et al. Visualizing RNA dynamics in live cells with bright and stable fluorescent RNAs. Nat. Biotechnol. 37, 1287–1293 (2019).

Wang, L., Frei, M. S., Salim, A. & Johnsson, K. Small-molecule fluorescent probes for live-cell super-resolution microscopy. J. Am. Chem. Soc. 141, 2770–2781 (2018).

Lavis, L. D. & Raines, R. T. Bright building blocks for chemical biology. ACS Chem. Biol. 9, 855–866 (2014).

Sunbul, M. & Jäschke, A. Contact‐mediated quenching for RNA imaging in bacteria with a fluorophore‐binding aptamer. Angew. Chem. 125, 13643–13646 (2013).

Arora, A., Sunbul, M. & Jäschke, A. Dual-colour imaging of RNAs using quencher-and fluorophore-binding aptamers. Nucleic Acids Res. 43, e144–e144 (2015).

Bouhedda, F. et al. A dimerization-based fluorogenic dye-aptamer module for RNA imaging in live cells. Nat. Chem. Biol. 16, 69–76 (2020).

Wirth, R. et al. SiRA: a silicon rhodamine-binding aptamer for live-cell super-resolution RNA imaging. J. Am. Chem. Soc. 141, 7562–7571 (2019).

Braselmann, E. et al. Detection and quantification of single mRNA dynamics with the Riboglow fluorescent RNA tag. Preprint at bioRxiv https://doi.org/10.1101/701649 (2019).

Krishnamurthy, V.M., Estroff, L.A. & Whitesides, G.M. in Fragment‐based Approaches in Drug Discovery (eds Mannhold, R., Kubinyi, H., Folkers, G.) 11–53 (Wiley, 2006).

Mack, E. T. et al. Dependence of avidity on linker length for a bivalent ligand–bivalent receptor model system. J. Am. Chem. Soc. 134, 333–345 (2012).

Terdale, S. & Tantray, A. Spectroscopic study of the dimerization of rhodamine 6G in water and different organic solvents. J. Mol. Liq. 225, 662–671 (2017).

Valdes-Aguilera, O. & Neckers, D. C. Aggregation phenomena in xanthene dyes. Acc. Chem. Res. 22, 171–177 (1989).

Setiawan, D., Kazaryan, A., Martoprawiro, M. A. & Filatov, M. A first principles study of fluorescence quenching in rhodamine B dimers: how can quenching occur in dimeric species? Phys. Chem. Chem. Phys. 12, 11238–11244 (2010).

Kitov, P. I. & Bundle, D. R. On the nature of the multivalency effect: a thermodynamic model. J. Am. Chem. Soc. 125, 16271–16284 (2003).

Litke, J. L. & Jaffrey, S. R. Highly efficient expression of circular RNA aptamers in cells using autocatalytic transcripts. Nat. Biotechnol. 37, 667–675 (2019).

Hopper, A. K., Pai, D. A. & Engelke, D. R. Cellular dynamics of tRNAs and their genes. FEBS Lett. 584, 310–317 (2010).

Stanĕk, D., Rader, S. D., Klingauf, M. & Neugebauer, K. M. Targeting of U4/U6 small nuclear RNP assembly factor SART3/p110 to Cajal bodies. J. Cell Biol. 160, 505–516 (2003).

Staněk, D. & Neugebauer, K. M. The Cajal body: a meeting place for spliceosomal snRNPs in the nuclear maze. Chromosoma 115, 343–354 (2006).

Rodriguez, A. J., Shenoy, S. M., Singer, R. H. & Condeelis, J. Visualization of mRNA translation in living cells. J. Cell Biol. 175, 67–76 (2006).

Zurla, C., Lifland, A. W. & Santangelo, P. J. Characterizing mRNA interactions with RNA granules during translation initiation inhibition. PLoS ONE 6, e19727 (2011).

McEwen, E. et al. Heme-regulated inhibitor kinase-mediated phosphorylation of eukaryotic translation initiation factor 2 inhibits translation, induces stress granule formation, and mediates survival upon arsenite exposure. J. Biol. Chem. 280, 16925–16933 (2005).

Lawrence, J. B. & Singer, R. H. Intracellular localization of messenger RNAs for cytoskeletal proteins. Cell 45, 407–415 (1986).

Ogawa, M., Kosaka, N., Choyke, P. L. & Kobayashi, H. H-type dimer formation of fluorophores: a mechanism for activatable, in vivo optical molecular imaging. ACS Chem. Biol. 4, 535–546 (2009).

Conley, N. R. et al. Bulk and single-molecule characterization of an improved molecular beacon utilizing H-dimer excitonic behavior. J. Phys. Chem. B 111, 7929–7931 (2007).

Sunbul, M. & Jäschke, A. SRB-2: a promiscuous rainbow aptamer for live-cell RNA imaging. Nucleic Acids Res. 46, e110–e110 (2018).

Laing, C. & Schlick, T. Analysis of four-way junctions in RNA structures. J. Mol. Biol. 390, 547–559 (2009).

Filonov, G. S., Kam, C. W., Song, W. & Jaffrey, S. R. In-gel imaging of RNA processing using broccoli reveals optimal aptamer expression strategies. Chem. Biol. 22, 649–660 (2015).

Autour, A. et al. Fluorogenic RNA Mango aptamers for imaging small non-coding RNAs in mammalian cells. Nat. Commun. 9, 1–12 (2018).

Karstens, T. & Kobs, K. J. Rhodamine B and rhodamine 101 as reference substances for fluorescence quantum yield measurements. J. Phys. Chem. 84, 1871–1872 (1980).

Rurack, K. & Spieles, M. Fluorescence quantum yields of a series of red and near-infrared dyes emitting at 600−1000 nm. Anal. Chem. 83, 1232–1242 (2011).

Schindelin, J. et al. Fiji: an open-source platform for biological-image analysis. Nat. Methods 9, 676–682 (2012).

Bolte, S. & Cordelières, F. P. A guided tour into subcellular colocalization analysis in light microscopy. J. Microsc. 224, 213–232 (2006).

Tinevez, J.-Y. et al. TrackMate: an open and extensible platform for single-particle tracking. Methods 115, 80–90 (2017).

Tarantino, N. et al. TNF and IL-1 exhibit distinct ubiquitin requirements for inducing NEMO–IKK supramolecular structures. J. Cell Biol. 204, 231–245 (2014).

Sage, D. et al. Automatic tracking of individual fluorescence particles: application to the study of chromosome dynamics. IEEE Trans. Image Process. 14, 1372–1383 (2005).

Ponchon, L. & Dardel, F. Recombinant RNA technology: the tRNA scaffold. Nat. Methods 4, 571–576 (2007).

Garneau, N. L., Wilusz, J. & Wilusz, C. J. The highways and byways of mRNA decay. Nat. Rev. Mol. Cell Biol. 8, 113–126 (2007).

Franks, T. M. & Lykke-Andersen, J. TTP and BRF proteins nucleate processing body formation to silence mRNAs with AU-rich elements. Genes Dev. 21, 719–735 (2007).
Acknowledgements
M.S. and A.J. were supported by the Deutsche Forschungsgemeinschaft (DFG grant no. Ja794/11). We thank the Nikon Imaging Center, Heidelberg for granting access to their facilities and U. Engel for technical advice in fluorescence microscopy.
Ethics declarations
Competing interests
The authors declare no competing interests.
Peer review
Peer review information
Nature Chemical Biology thanks Yi Yang and the other, anonymous, reviewer(s) for their contribution to the peer review of this work.
Additional information
Publisher's note Springer Nature remains neutral with regard to jurisdictional claims in published maps and institutional affiliations.
Supplementary information
Verification of single mRNA tagging with a biRhoBAST-MS2 tandem construct. Mobile puncta were imaged in live Cos7 cells co-expressing MCP-GFP and (i) mAzurite-biRhoBAST8-MS224 mRNA (ii) mAzurite-biRhoBAST8 mRNA (iii) mAzurite-MS224 mRNA were imaged in the presence of TMR2 (500 nM). Exposure time per frame: 100 ms. Scale bar, 5 µm.
Rights and permissions
Springer Nature or its licensor (e.g. a society or other partner) holds exclusive rights to this article under a publishing agreement with the author(s) or other rightsholder(s); author self-archiving of the accepted manuscript version of this article is solely governed by the terms of such publishing agreement and applicable law.
About this article
Cite this article
Bühler, B., Schokolowski, J., Benderoth, A. et al. Avidity-based bright and photostable light-up aptamers for single-molecule mRNA imaging. Nat Chem Biol 19, 478–487 (2023). https://doi.org/10.1038/s41589-022-01228-8
Received:

Accepted:

Published:

Issue Date:

DOI: https://doi.org/10.1038/s41589-022-01228-8