Abstract
Metal ions have various important biological roles in proteins, including structural maintenance, molecular recognition and catalysis. Previous methods of predicting metal-binding sites in proteomes were based on either sequence or structural motifs. Here we developed a co-evolution-based pipeline named 'MetalNet' to systematically predict metal-binding sites in proteomes. We applied MetalNet to proteomes of four representative prokaryotic species and predicted 4,849 potential metalloproteins, which substantially expands the currently annotated metalloproteomes. We biochemically and structurally validated previously unannotated metal-binding sites in several proteins, including apo-citrate lyase phosphoribosyl-dephospho-CoA transferase citX, an Escherichia coli enzyme lacking structural or sequence homology to any known metalloprotein (Protein Data Bank (PDB) codes: 7DCM and 7DCN). MetalNet also successfully recapitulated all known zinc-binding sites from the human spliceosome complex. The pipeline of MetalNet provides a unique and enabling tool for interrogating the hidden metalloproteome and studying metal biology.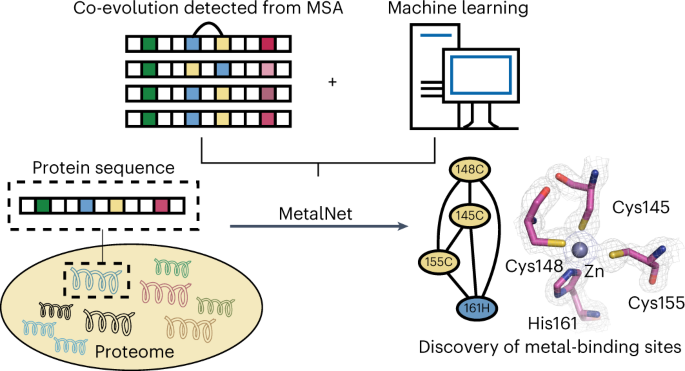 Access options
Access Nature and 54 other Nature Portfolio journals
Get Nature+, our best-value online-access subscription
$29.99 per month
cancel any time
Subscribe to this journal
Receive 12 print issues and online access
$259.00 per year
only $21.58 per issue
Rent or buy this article
Get just this article for as long as you need it
$39.95
Prices may be subject to local taxes which are calculated during checkout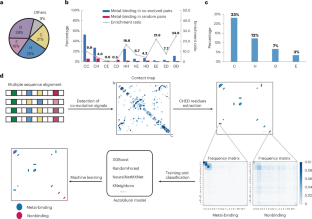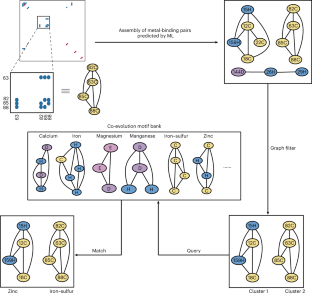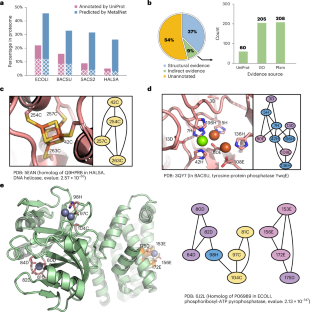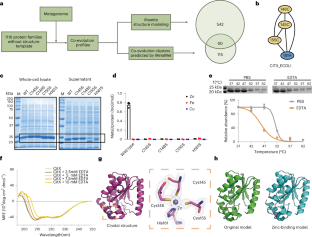 References
Gladyshev, V. N. & Zhang, Y. Comparative genomics analysis of the metallomes. Met. Ions Life Sci. 12, 529–580 (2013).

Waldron, K. J. & Robinson, N. J. How do bacterial cells ensure that metalloproteins get the correct metal? Nat. Rev. Microbiol. 7, 25–35 (2009).

Yannone, S. M., Hartung, S., Menon, A. L., Adams, M. W. & Tainer, J. A. Metals in biology: defining metalloproteomes. Curr. Opin. Biotechnol. 23, 89–95 (2012).

Waldron, K. J., Rutherford, J. C., Ford, D. & Robinson, N. J. Metalloproteins and metal sensing. Nature 460, 823–830 (2009).

Cvetkovic, A. et al. Microbial metalloproteomes are largely uncharacterized. Nature 466, 779–782 (2010).

Pace, N. J. & Weerapana, E. A competitive chemical-proteomic platform to identify zinc-binding cysteines. ACS Chem. Biol. 9, 258–265 (2014).

Sevcenco, A. M. et al. Exploring the microbial metalloproteome using MIRAGE. Metallomics 3, 1324–1330 (2011).

Andreini, C., Banci, L., Bertini, I. & Rosato, A. Counting the zinc-proteins encoded in the human genome. J. Proteome Res. 5, 196–201 (2006).

Passerini, A., Punta, M., Ceroni, A., Rost, B. & Frasconi, P. Identifying cysteines and histidines in transition‐metal‐binding sites using support vector machines and neural networks. Proteins Struct. Funct. Bioinf. 65, 305–316 (2006).

Passerini, A., Lippi, M. & Frasconi, P. MetalDetector v2.0: predicting the geometry of metal binding sites from protein sequence. Nucleic Acids Res. 39, W288–W292 (2011).

Haberal, İ. & Oğul, H. Prediction of protein metal binding sites using deep neural networks. Mol. Inf. 38, e1800169 (2019).

Babor, M., Gerzon, S., Raveh, B., Sobolev, V. & Edelman, M. Prediction of transition metal-binding sites from apoprotein structures. Proteins 70, 208–217 (2008).

Lin, Y. F. et al. MIB: metal ion-binding site prediction and docking server. J. Chem. Inf. Model. 56, 2287–2291 (2016).

Zhang, C., Freddolino, P. L. & Zhang, Y. COFACTOR: improved protein function prediction by combining structure, sequence and protein-protein interaction information. Nucleic Acids Res. 45, W291–W299 (2017).

Gobel, U., Sander, C., Schneider, R. & Valencia, A. Correlated mutations and residue contacts in proteins. Proteins 18, 309–317 (1994).

Shindyalov, I. N., Kolchanov, N. A. & Sander, C. Can three-dimensional contacts in protein structures be predicted by analysis of correlated mutations? Protein Eng. Des. Select. 7, 349–358 (1994).

Martin, L. C., Gloor, G. B., Dunn, S. D. & Wahl, L. M. Using information theory to search for co-evolving residues in proteins. Bioinformatics 21, 4116–4124 (2005).

Morcos, F. et al. Direct-coupling analysis of residue coevolution captures native contacts across many protein families. Proc. Natl Acad. Sci. USA 108, E1293–E1301 (2011).

Balakrishnan, S., Kamisetty, H., Carbonell, J. G., Lee, S. I. & Langmead, C. J. Learning generative models for protein fold families. Proteins 79, 1061–1078 (2011).

Jones, D. T., Buchan, D. W., Cozzetto, D. & Pontil, M. PSICOV: precise structural contact prediction using sparse inverse covariance estimation on large multiple sequence alignments. Bioinformatics 28, 184–190 (2012).

Marks, D. S., Hopf, T. A. & Sander, C. Protein structure prediction from sequence variation. Nat. Biotechnol. 30, 1072–1080 (2012).

Ovchinnikov, S. et al. Protein structure determination using metagenome sequence data. Science 355, 294–298 (2017).

Xu, J. Distance-based protein folding powered by deep learning. Proc. Natl Acad. Sci. USA 116, 16856–16865 (2019).

Ovchinnikov, S., Kamisetty, H. & Baker, D. Robust and accurate prediction of residue-residue interactions across protein interfaces using evolutionary information. eLife 3, e02030 (2014).

Cong, Q., Anishchenko, I., Ovchinnikov, S. & Baker, D. Protein interaction networks revealed by proteome coevolution. Science 365, 185–189 (2019).

Toth-Petroczy, A. et al. Structured states of disordered proteins from genomic sequences. Cell 167, 158–170 (2016).

Chakrabarti, S. & Panchenko, A. R. Coevolution in defining the functional specificity. Proteins 75, 231–240 (2009).

Kuipers, R. K. et al. Correlated mutation analyses on super-family alignments reveal functionally important residues. Proteins 76, 608–616 (2009).

Chakrabarti, S. & Panchenko, A. R. Structural and functional roles of coevolved sites in proteins. PLoS One 5, e8591 (2010).

Jeong, C. S. & Kim, D. Structure-based Markov random field model for representing evolutionary constraints on functional sites. BMC Bioinf. 17, 99 (2016).

Wang, G. & Dunbrack, R. L. Jr. PISCES: a protein sequence culling server. Bioinformatics 19, 1589–1591 (2003).

Anishchenko, I., Ovchinnikov, S., Kamisetty, H. & Baker, D. Origins of coevolution between residues distant in protein 3D structures. Proc. Natl Acad. Sci. USA 114, 9122–9127 (2017).

Altschul, S. F., Gish, W., Miller, W., Myers, E. W. & Lipman, D. J. Basic local alignment search tool. J. Mol. Biol. 215, 403–410 (1990).

Cariss, S. J. L. et al. YieJ (CbrC) mediates CreBC-dependent colicin E2 tolerance in Escherichia coli. J. Bacteriol. 192, 3329–3336 (2010).

Schneider, K., Dimroth, P. & Bott, M. Biosynthesis of the prosthetic group of citrate lyase. Biochemistry 39, 9438–9450 (2000).

Will, C. L. & Luhrmann, R. Spliceosome structure and function. Csh Perspect. Biol. 3, a003707 (2011).

Charenton, C., Wilkinson, M. E. & Nagai, K. Mechanism of 5′ splice site transfer for human spliceosome activation. Science 364, 362–367 (2019).

Zhang, X. F. et al. Structures of the human spliceosomes before and after release of the ligated exon. Cell Res. 29, 274–285 (2019).

Zhang, C. X., Zheng, W., Mortuza, S. M., Li, Y. & Zhang, Y. DeepMSA: constructing deep multiple sequence alignment to improve contact prediction and fold-recognition for distant-homology proteins. Bioinformatics 36, 2105–2112 (2020).

Piazza, I. et al. A map of protein-metabolite interactions reveals principles of chemical communication. Cell 172, 358–372 (2018).

Zhuang, S., Li, Q., Cai, L., Wang, C. & Lei, X. Chemoproteomic profiling of bile acid interacting proteins. ACS Cent. Sci. 3, 501–509 (2017).

Horning, B. D. et al. Chemical proteomic profiling of human methyltransferases. J. Am. Chem. Soc. 138, 13335–13343 (2016).

Jumper, J. et al. Highly accurate protein structure prediction with AlphaFold. Nature 596, 583–589 (2021).

Baek, M. et al. Accurate prediction of protein structures and interactions using a three-track neural network. Science 373, 871–876 (2021).

Cock, P. J. A. et al. Biopython: freely available Python tools for computational molecular biology and bioinformatics. Bioinformatics 25, 1422–1423 (2009).

Steinegger, M. et al. HH-suite3 for fast remote homology detection and deep protein annotation. BMC Bioinform. 20, 473 (2019).

Varoquaux, G., Vaught, T., & Millman, J. (eds.). Exploring network structure, dynamics, and function using networkX. In Proceedings of the 7th Python in Science Conference 11–15 (SciPy, 2008).

Huang, Y., Niu, B. F., Gao, Y., Fu, L. M. & Li, W. Z. CD-HIT suite: a web server for clustering and comparing biological sequences. Bioinformatics 26, 680–682 (2010).

Mirdita, M. et al. ColabFold: making protein folding accessible to all. Nat. Methods 19, 679–682 (2022).

Hulsen, T., de Vlieg, J. & Alkema, W. BioVenn—a web application for the comparison and visualization of biological lists using area-proportional Venn diagrams. BMC Genom. 9, 488 (2008).

Song, Y. F. et al. High-resolution comparative modeling with RosettaCM. Structure 21, 1735–1742 (2013).

Wang, C., Vernon, R., Lange, O., Tyka, M. & Baker, D. Prediction of structures of zinc-binding proteins through explicit modeling of metal coordination geometry. Protein Sci. 19, 494–506 (2010).

Sheldrick, G. M. Experimental phasing with SHELXC/D/E: combining chain tracing with density modification. Acta Crystallogr. D Biol. Crystallogr. 66, 479–485 (2010).

Adams, P. D. et al. PHENIX: building new software for automated crystallographic structure determination. Acta Crystallogr. D Biol. Crystallogr. 58, 1948–1954 (2002).

Emsley, P. & Cowtan, K. Coot: model-building tools for molecular graphics. Acta Crystallogr. D Biol. Crystallogr. 60, 2126–2132 (2004).

Abraham, M. J. et al. GROMACS: high-performance molecular simulations through multi-level parallelism from laptops to supercomputers. SoftwareX 1, 19–25 (2015).

PyMOL. The PyMOL Molecular Graphics System, Version 2.4 (Schrodinger Inc., 2015).

Bussi, G., Donadio, D. & Parrinello, M. Canonical sampling through velocity rescaling. J. Chem. Phys. 126, 014101 (2007).

Wang, H., Dommert, F. & Holm, C. Optimizing working parameters of the smooth particle mesh Ewald algorithm in terms of accuracy and efficiency. J. Chem. Phys. 133, 034117 (2010).
Acknowledgements
We thank H. Tang in Chu Wang's lab and the Institute of Geographic Sciences and Natural Resources Research, CAS for the help with ICP measurements. We thank National Center for Protein Sciences at Peking University, Beijing for the help with Circular Dichroism measurements, and the staff of the Shanghai Synchrotron Radiation Facility and KEK Photon Factory for assistance with X-ray data collection. Funding: C.W. was supported by the National Natural Science Foundation of China (grants 21925701, 91953109 and 92153301).
Ethics declarations
Competing interests
The authors declare no competing interests.
Peer review
Peer review information
Nature Chemical Biology thanks Kevin Yang, Rosalin Bonetta Valentino and the other, anonymous, reviewer(s) for their contribution to the peer review of this work.
Additional information
Publisher's note Springer Nature remains neutral with regard to jurisdictional claims in published maps and institutional affiliations.
Supplementary information
Rights and permissions
Springer Nature or its licensor (e.g. a society or other partner) holds exclusive rights to this article under a publishing agreement with the author(s) or other rightsholder(s); author self-archiving of the accepted manuscript version of this article is solely governed by the terms of such publishing agreement and applicable law.
About this article
Cite this article
Cheng, Y., Wang, H., Xu, H. et al. Co-evolution-based prediction of metal-binding sites in proteomes by machine learning. Nat Chem Biol (2023). https://doi.org/10.1038/s41589-022-01223-z
Received:

Accepted:

Published:

DOI: https://doi.org/10.1038/s41589-022-01223-z