Abstract
Drug efflux is a common resistance mechanism found in bacteria and cancer cells, but studies providing comprehensive functional insights are scarce. In this study, we performed deep mutational scanning (DMS) on the bacterial ABC transporter EfrCD to determine the drug efflux activity profile of more than 1,430 single variants. These systematic measurements revealed that the introduction of negative charges at different locations within the large substrate binding pocket results in strongly increased efflux activity toward positively charged ethidium, whereas additional aromatic residues did not display the same effect. Data analysis in the context of an inward-facing cryogenic electron microscopy structure of EfrCD uncovered a high-affinity binding site, which releases bound drugs through a peristaltic transport mechanism as the transporter transits to its outward-facing conformation. Finally, we identified substitutions resulting in rapid Hoechst influx without affecting the efflux activity for ethidium and daunorubicin. Hence, single mutations can convert EfrCD into a drug-specific ABC importer.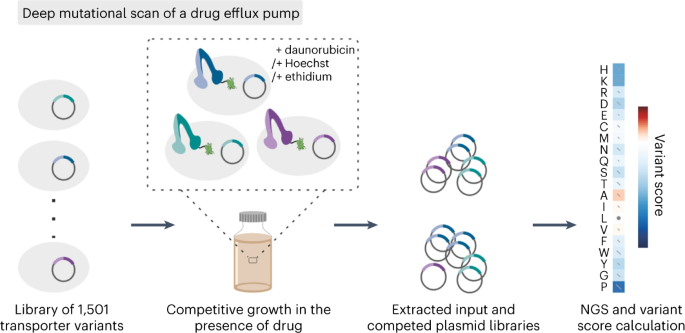 Access options
Subscribe to Nature+
Get immediate online access to Nature and 55 other Nature journal
Subscribe to Journal
Get full journal access for 1 year
$119.00
only $9.92 per issue
All prices are NET prices.
VAT will be added later in the checkout.
Tax calculation will be finalised during checkout.
Buy article
Get time limited or full article access on ReadCube.
$32.00
All prices are NET prices.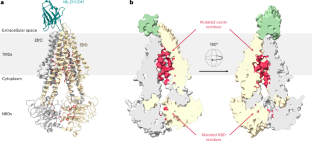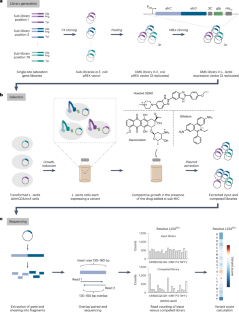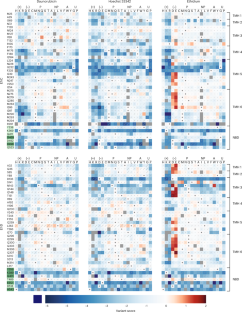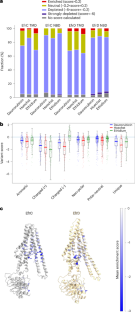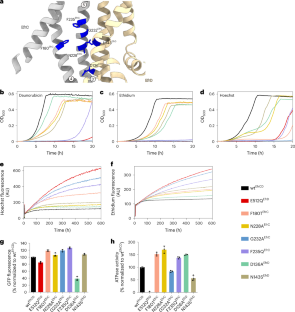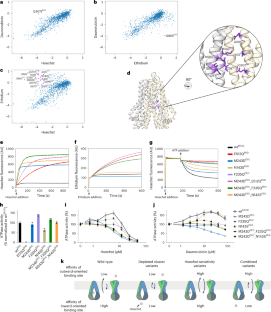 Data availability
The cryo-EM map and coordinates for the EfrCD structure have been deposited in the EM Data Bank with accession code EMD-12816 and the Protein Data Bank with accession code 7OCY. NGS datasets have been deposited in the National Center for Biotechnology Information's Gene Expression Omnibus (GEO) and are accessible through GEO Series accession number GSE189399. Source data are provided with this paper.
References
Theodoulou, F. L. & Kerr, I. D. ABC transporter research: going strong 40 years on. Biochem. Soc. Trans. 43, 1033–1040 (2015).

Du, D. et al. Multidrug efflux pumps: structure, function and regulation. Nat. Rev. Microbiol. 16, 523–539 (2018).

Schumacher, M. A., Miller, M. C. & Brennan, R. G. Structural mechanism of the simultaneous binding of two drugs to a multidrug-binding protein. EMBO J. 23, 2923–2930 (2004).

Eicher, T. et al. Transport of drugs by the multidrug transporter AcrB involves an access and a deep binding pocket that are separated by a switch-loop. Proc. Natl Acad. Sci. USA 109, 5687–5692 (2012).

Murakami, S., Nakashima, R., Yamashita, E., Matsumoto, T. & Yamaguchi, A. Crystal structures of a multidrug transporter reveal a functionally rotating mechanism. Nature 443, 173–179 (2006).

Alam, A., Kowal, J., Broude, E., Roninson, I. & Locher, K. P. Structural insight into substrate and inhibitor discrimination by human P-glycoprotein. Science 363, 753–775 (2019).

Le, C. A., Harvey, D. S. & Aller, S. G. Structural definition of polyspecific compensatory ligand recognition by P-glycoprotein. IUCrJ 7, 663–672 (2020).

Debruycker, V. et al. An embedded lipid in the multidrug transporter LmrP suggests a mechanism for polyspecificity. Nat. Struct. Mol. Biol. 27, 829–835 (2020).

Heng, J. et al. Substrate-bound structure of the E. coli multidrug resistance transporter MdfA. Cell Res. 25, 1060–1073 (2015).

Saini, P. et al. Alanine scanning of transmembrane helix 11 of Cdr1p ABC antifungal efflux pump of Candida albicans: identification of amino acid residues critical for drug efflux. J. Antimicrob. Chemother. 56, 77–86 (2005).

Fowler, D. M. & Fields, S. Deep mutational scanning: a new style of protein science. Nat. Methods 11, 801–807 (2014).

Zinkus-Boltz, J., DeValk, C. & Dickinson, B. C. A phage-assisted continuous selection approach for deep mutational scanning of protein–protein interactions. ACS Chem. Biol. 14, 2757–2767 (2019).

Romero, P. A., Tran, T. M. & Abate, A. R. Dissecting enzyme function with microfluidic-based deep mutational scanning. Proc. Natl Acad. Sci. USA 112, 7159–7164 (2015).

Srikant, S. & Gaudet, R. Mechanics and pharmacology of substrate selection and transport by eukaryotic ABC exporters. Nat. Struct. Mol. Biol. 26, 792–801 (2019).

Thomas, C. et al. Structural and functional diversity calls for a new classification of ABC transporters. FEBS Lett. 594, 3767–3775 (2020).

Hürlimann, L. M. et al. The heterodimeric ABC transporter EfrCD mediates multidrug efflux in Enterococcus faecalis. Antimicrob. Agents Chemother. 60, 5400–5411 (2016).

Hürlimann, L. M., Hohl, M. & Seeger, M. A. Split tasks of asymmetric nucleotide-binding sites in the heterodimeric ABC exporter EfrCD. FEBS J. 284, 1672–1687 (2017).

Hohl, M. et al. Structural basis for allosteric cross-talk between the asymmetric nucleotide binding sites of a heterodimeric ABC exporter. Proc. Natl Acad. Sci. USA 111, 11025–11030 (2014).

Fowler, D. M. et al. High-resolution mapping of protein sequence–function relationships. Nat. Methods 7, 741–746 (2010).

Rubin, A. F. et al. A statistical framework for analyzing deep mutational scanning data. Genome Biol. 18, 150 (2017).

Kowalsky, C. A. et al. High-resolution sequence-function mapping of full-length proteins. PLoS ONE 10, e0118193 (2015).

Luedtke, N. W., Liu, Q. & Tor, Y. On the electronic structure of ethidium. Chemistry 11, 495–508 (2005).

Mazurkiewicz, P., Poelarends, G. J., Driessen, A. J. M. & Konings, W. N. Facilitated drug influx by an energy-uncoupled secondary multidrug transporter. J. Biol. Chem. 279, 103–108 (2004).

Swain, B. M. et al. Complexities of a protonatable substrate in measurements of Hoechst 33342 transport by multidrug transporter LmrP. Sci. Rep. 10, 20026 (2020).

Ambudkar, S. V. et al. Partial-purification and reconstitution of the human multidrug-resistance pump—characterization of the drug-stimulatable ATP hydrolysis. Proc. Natl Acad. Sci. USA 89, 8472–8476 (1992).

Arnold, F. M. et al. The ABC exporter IrtAB imports and reduces mycobacterial siderophores. Nature 580, 413–441 (2020).

Al-Shawi, M. K., Polar, M. K., Omote, H. & Figler, R. A. Transition state analysis of the coupling of drug transport to ATP hydrolysis by P-glycoprotein. J. Biol. Chem. 278, 52629–52640 (2003).

Hegedus, C. et al. Ins and outs of the ABCG2 multidrug transporter: an update on in vitro functional assays. Adv. Drug Delivery Rev. 61, 47–56 (2009).

Loo, T. W. & Clarke, D. M. Mutational analysis of ABC proteins. Arch. Biochem. Biophys. 476, 51–64 (2008).

Tutulan-Cunita, A. C., Mikoshi, M., Mizunuma, M., Hirata, D. & Miyakawa, T. Mutational analysis of the yeast multidrug resistance ABC transporter Pdr5p with altered drug specificity. Genes Cells 10, 409–420 (2005).

Srikant, S., Gaudet, R. & Murray, A. W. Selecting for altered substrate specificity reveals the evolutionary flexibility of ATP-binding cassette transporters. Curr. Biol. 30, 1689–1702 (2020).

Schuster, S. et al. Random mutagenesis of the multidrug transporter AcrB from Escherichia coli for identification of putative target residues of efflux pump inhibitors. Antimicrob. Agents Chemother. 58, 6870–6878 (2014).

Swartz, D. J. et al. Replacing the eleven native tryptophans by directed evolution produces an active P-glycoprotein with site-specific, non-conservative substitutions. Sci. Rep. 10, 3224 (2020).

Adler, J. & Bibi, E. Promiscuity in the geometry of electrostatic interactions between the Escherichia coli multidrug resistance transporter MdfA and cationic substrates. J. Biol. Chem. 280, 2721–2729 (2005).

Tirosh, O. et al. Manipulating the drug/proton antiport stoichiometry of the secondary multidrug transporter MdfA. Proc. Natl Acad. Sci. USA 109, 12473–12478 (2012).

Brown, K., Li, W. & Kaur, P. Role of aromatic and negatively charged residues of DrrB in multisubstrate specificity conferred by the DrrAB system of Streptomyces peucetius. Biochemistry 56, 1921–1931 (2017).

Sjuts, H. et al. Molecular basis for inhibition of AcrB multidrug efflux pump by novel and powerful pyranopyridine derivatives. Proc. Natl Acad. Sci. USA 113, 3509–3514 (2016).

Seeger, M. A. et al. Structural asymmetry of AcrB trimer suggests a peristaltic pump mechanism. Science 313, 1295–1298 (2006).

Aller, S. G. et al. Structure of P-glycoprotein reveals a molecular basis for poly-specific drug binding. Science 323, 1718–1722 (2009).

Ernst, R. et al. A mutation of the H-loop selectively affects rhodamine transport by the yeast multidrug ABC transporter Pdr5. Proc. Natl Acad. Sci. USA 105, 5069–5074 (2008).

Stockner, T., Gradisch, R. & Schmitt, L. The role of the degenerate nucleotide binding site in type I ABC exporters. FEBS Lett. 594, 3815–3838 (2020).

Mishra, S. et al. Conformational dynamics of the nucleotide binding domains and the power stroke of a heterodimeric ABC transporter. eLife 3, e02740 (2014).

Rempel, S. et al. A mycobacterial ABC transporter mediates the uptake of hydrophilic compounds. Nature 580, 409–412 (2020).

Sajid, A. et al. Reversing the direction of drug transport mediated by the human multidrug transporter P-glycoprotein. Proc. Natl Acad. Sci. USA 117, 29609–29617 (2020).

Geertsma, E. R. & Dutzler, R. A versatile and efficient high-throughput cloning tool for structural biology. Biochemistry 50, 3272–3278 (2011).

Geertsma, E. R. & Poolman, B. High-throughput cloning and expression in recalcitrant bacteria. Nat. Methods 4, 705–707 (2007).

Kille, S. et al. Reducing codon redundancy and screening effort of combinatorial protein libraries created by saturation mutagenesis. ACS Synth. Biol. 2, 83–92 (2013).

Egloff, P. et al. Engineered peptide barcodes for in-depth analyses of binding protein libraries. Nat. Methods 16, 421–428 (2019).

Kunji, E. R. S., Slotboom, D. J. & Poolman, B. Lactococcus lactis as host for overproduction of functional membrane proteins. Biochim. Biophys. Acta 1610, 97–108 (2003).

Guffick, C. et al. Drug-dependent inhibition of nucleotide hydrolysis in the heterodimeric ABC multidrug transporter PatAB from Streptococcus pneumoniae. FEBS J. 289, 3770–3788 (2022).

Starita, L. M. & Fields, S. Deep mutational scanning: library construction, functional selection, and high-throughput sequencing. Cold Spring Harb. Protoc. 2015, 777–780 (2015).

Newberry, R. W., Leong, J. T., Chow, E. D., Kampmann, M. & DeGrado, W. F. Deep mutational scanning reveals the structural basis for α-synuclein activity. Nat. Chem. Biol. 16, 653–659 (2020).

Jones, E. M. et al. Structural and functional characterization of G protein-coupled receptors with deep mutational scanning. eLife 9, e54895 (2020).

Rhoads, A. & Au, K. F. PacBio sequencing and its applications. Genomics Proteomics Bioinformatics 13, 278–289 (2015).

Cho, N. et al. De novo assembly and next-generation sequencing to analyse full-length gene variants from codon-barcoded libraries. Nat. Commun. 6, 8351 (2015).

Hutter, C. A. J. et al. The extracellular gate shapes the energy profile of an ABC exporter. Nat. Commun. 10, 2260 (2019).

Zimmermann, I. et al. Synthetic single domain antibodies for the conformational trapping of membrane proteins. eLife 7, e34317 (2018).

Zimmermann, I. et al. Generation of synthetic nanobodies against delicate proteins. Nat. Protoc. 15, 1707–1741 (2020).

Brown, A. et al. Tools for macromolecular model building and refinement into electron cryo-microscopy reconstructions. Acta Crystallogr. D Biol. Crystallogr. 71, 136–153 (2015).

Goddard, T. D. et al. UCSF ChimeraX: meeting modern challenges in visualization and analysis. Protein Sci. 27, 14–25 (2018).
Acknowledgements
We wish to thank all members of the Seeger and Barandun laboratories for scientific discussions. G.M. and M.A.S. thank the Functional Genomics Center Zurich (M. D. Moccia, L. Poveda and W. Qi) for their assistance with deep sequencing. We thank S. Štefanić of the Nanobody Service Facility, University of Zurich, for alpaca immunization. C. Perez is acknowledged for initial help with grid freezing of EfrCD. The electron microscopy data were collected at the Umeå Core Facility for Electron Microscopy, a node of the Cryo-EM Swedish National Facility, funded by the Knut and Alice Wallenberg Foundation, the Erling-Persson Family Foundation, the Kempe Foundation, SciLifeLab, Stockholm University and Umeå University. J.B. acknowledges funding from the Swedish Research Council (2019-02011), the SciLifeLab National Fellows program and Molecular Infection Medicine Sweden. This work was funded by a Swiss National Science Foundation Professorship (PP00P3_144823, to M.A.S.), a Swiss National Science Foundation Project Grant (310030_188817, to M.A.S.), a European Research Council (ERC) Consolidator Grant (MycoRailway, no. 772190, to M.A.S.) and an ERC Starting Grant (PolTube, no. 948655, to J.B.).
Ethics declarations
Competing interests
The authors declare no competing interests.
Peer review
Peer review information
Nature Chemical Biology thanks Parjit Kaur, Dirk Slotboom and the other, anonymous, reviewer(s) for their contribution to the peer review of this work.
Additional information
Publisher's note Springer Nature remains neutral with regard to jurisdictional claims in published maps and institutional affiliations.
Supplementary information
Supplementary Tables 1–3 and Supplementary Figs. 1–6
Statistical Source Data for Supplementary Figs. 3–6
Rights and permissions
Springer Nature or its licensor (e.g. a society or other partner) holds exclusive rights to this article under a publishing agreement with the author(s) or other rightsholder(s); author self-archiving of the accepted manuscript version of this article is solely governed by the terms of such publishing agreement and applicable law.
About this article
Cite this article
Meier, G., Thavarasah, S., Ehrenbolger, K. et al. Deep mutational scan of a drug efflux pump reveals its structure–function landscape. Nat Chem Biol (2022). https://doi.org/10.1038/s41589-022-01205-1
Received:

Accepted:

Published:

DOI: https://doi.org/10.1038/s41589-022-01205-1