Abstract
Non-nucleoside reverse transcriptase inhibitors (NNRTIs) induce pyroptosis of HIV-1-infected CD4+ T cells through induction of intracellular HIV-1 protease activity, which activates the CARD8 inflammasome. Because high concentrations of NNRTIs are required for efficient elimination of HIV-1-infected cells, it is important to elucidate ways to sensitize the CARD8 inflammasome to NNRTI-induced activation. We show that this sensitization can be achieved through chemical inhibition of the CARD8 negative regulator DPP9. The DPP9 inhibitor Val-boroPro (VbP) can kill HIV-1-infected cells without the presence of NNRTIs and act synergistically with NNRTIs to promote clearance of HIV-1-infected cells in vitro and in humanized mice. More importantly, VbP is able to enhance clearance of residual HIV-1 in CD4+ T cells isolated from people living with HIV (PLWH). We also show that VbP can partially overcome NNRTI resistance. This offers a promising strategy for enhancing NNRTI efficacy in the elimination of HIV-1 reservoirs in PLWH.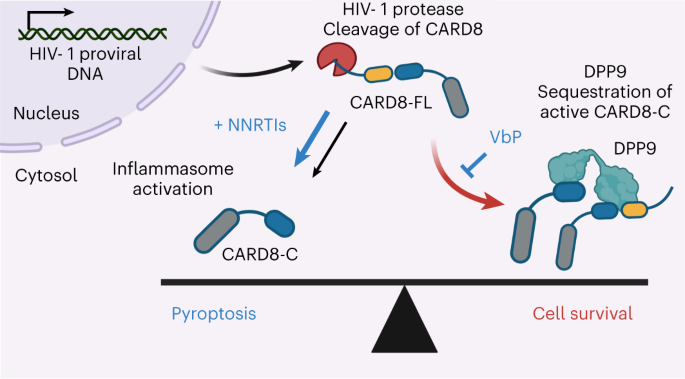 Access options
Access Nature and 54 other Nature Portfolio journals
Get Nature+, our best-value online-access subscription
$29.99 / 30 days
cancel any time
Subscribe to this journal
Receive 12 print issues and online access
$259.00 per year
only $21.58 per issue
Rent or buy this article
Prices vary by article type
from$1.95
to$39.95
Prices may be subject to local taxes which are calculated during checkout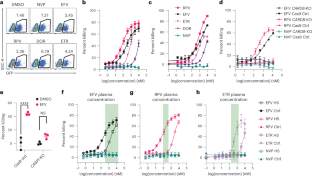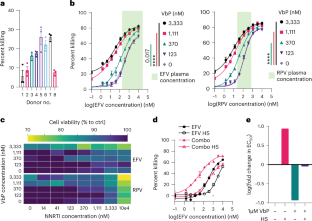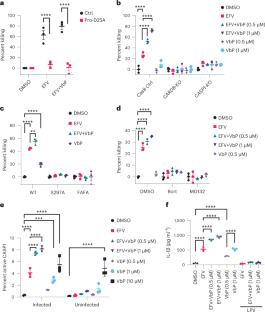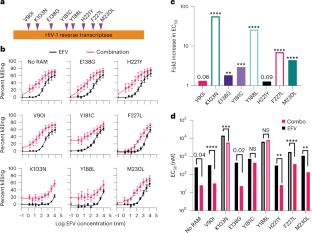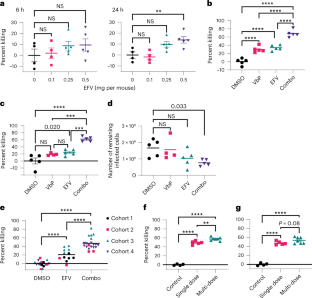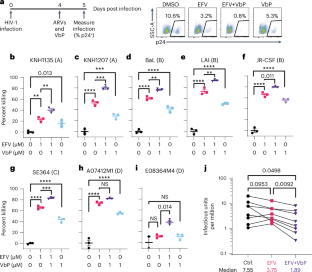 Data availability
Data supporting the findings of this study are available within the paper and its Supplementary Information files. Raw data generated with flow cytometry are available upon request from the corresponding author. Unprocessed western blots from the Supplementary figures are provided at the end of the Supplementary Information file. Source data are provided with this paper.
References
Gupta, R. K. et al. HIV-1 remission following CCR5Δ32/Δ32 haematopoietic stem-cell transplantation. Nature 568, 244–248 (2019).

Hütter, G. et al. Long-term control of HIV by CCR5Δ32/Δ32 stem-cell transplantation. N. Engl. J. Med. 360, 692–698 (2009).

Castro-Gonzalez, S., Colomer-Lluch, M. & Serra-Moreno, R. Barriers for HIV cure: the latent reservoir. AIDS Res. Hum. Retroviruses 34, 739–759 (2018).

Finzi, D. et al. Identification of a reservoir for HIV-1 in patients on highly active antiretroviral therapy. Science 278, 1295–1300 (1997).

Ganor, Y. et al. HIV-1 reservoirs in urethral macrophages of patients under suppressive antiretroviral therapy. Nat. Microbiol. 4, 633–644 (2019).

Eisele, E. & Siliciano, R. F. Redefining the viral reservoirs that prevent HIV-1 eradication. Immunity 37, 377–388 (2012).

Kim, Y., Anderson, J. L. & Lewin, S. R. Getting the 'kill' into 'shock and kill': strategies to eliminate latent HIV. Cell Host Microbe 23, 14–26 (2018).

Wang, Q. et al. CARD8 is an inflammasome sensor for HIV-1 protease activity. Science 371, eabe1707 (2021).

Broz, P. & Dixit, V. M. Inflammasomes: mechanism of assembly, regulation and signaling. Nat. Rev. Immunol. 16, 407–420 (2016).

Gross, O., Thomas, C. J., Guarda, G. & Tschopp, J. The inflammasome: an integrated view. Immunol. Rev. 243, 136–151 (2011).

Johnson, D. C. et al. DPP8/9 inhibitors activate the CARD8 inflammasome in resting lymphocytes. Cell Death Dis. 11, 628 (2020).

Linder, A. et al. CARD8 inflammasome activation triggers pyroptosis in human T cells. EMBO J. 39, e105071 (2020).

Hollingsworth, L. R. et al. DPP9 sequesters the C terminus of NLRP1 to repress inflammasome activation. Nature 592, 778–783 (2021).

D'Osualdo, A. et al. CARD8 and NLRP1 undergo autoproteolytic processing through a ZU5-like domain. PLoS ONE 6, e27396 (2011).

Hsiao, J. C. et al. A ubiquitin-independent proteasome pathway controls activation of the CARD8 inflammasome. J. Biol. Chem. 298, 102032 (2022).

Sharif, H. et al. Dipeptidyl peptidase 9 sets a threshold for CARD8 inflammasome formation by sequestering its active C-terminal fragment. Immunity 54, 1392–1404 (2021).

Figueiredo, A. et al. Potent nonnucleoside reverse transcriptase inhibitors target HIV-1 Gag-Pol. PLoS Pathog. 2, e119 (2006).

Phillips, R. E. et al. Human immunodeficiency virus genetic variation that can escape cytotoxic T-cell recognition. Nature 354, 453–459 (1991).

Kwong, P. D. et al. HIV-1 evades antibody-mediated neutralization through conformational masking of receptor-binding sites. Nature 420, 678–682 (2002).

Caskey, M. et al. Viraemia suppressed in HIV-1-infected humans by broadly neutralizing antibody 3BNC117. Nature 522, 487–491 (2015).

Rhee, S. Y. et al. HIV-1 protease, reverse transcriptase and integrase variation. J. Virol. 90, 6058–6070 (2016).

Jochmans, D. et al. Selective killing of human immunodeficiency virus infected cells by non-nucleoside reverse transcriptase inhibitor-induced activation of HIV protease. Retrovirology 7, 89 (2010).

Zerbato, J. M., Tachedjian, G. & Sluis-Cremer, N. Nonnucleoside reverse transcriptase inhibitors reduce HIV-1 production from latently infected resting CD4. Antimicrob. Agents Chemother. 61, e01736–16 (2017).

Boffito, M. et al. Protein binding in antiretroviral therapies. AIDS Res. Hum. Retroviruses 19, 825–835 (2003).

Almond, L. M., Hoggard, P. G., Edirisinghe, D., Khoo, S. H. & Back, D. J. Intracellular and plasma pharmacokinetics of efavirenz in HIV-infected individuals. J. Antimicrob. Chemother. 56, 738–744 (2005).

Rotger, M. et al. Influence of CYP2B6 polymorphism on plasma and intracellular concentrations and toxicity of efavirenz and nevirapine in HIV-infected patients. Pharmacogenet. Genomics 15, 1–5 (2005).

Tanaka, R. et al. Intracellular efavirenz levels in peripheral blood mononuclear cells from human immunodeficiency virus-infected individuals. Antimicrob. Agents Chemother. 52, 782–785 (2008).

Griswold, A. et al. DPP9's enzymatic activity and not its binding to CARD8 inhibits inflammasome activation. ACS Chem. Biol. 14, 2424–2429 (2019).

Wu, J. J. et al. Biochemistry, pharmacokinetics and toxicology of a potent and selective DPP8/9 inhibitor. Biochem. Pharmacol. 78, 203–210 (2009).

Lankas, G. R. et al. Dipeptidyl peptidase IV inhibition for the treatment of type 2 diabetes: potential importance of selectivity over dipeptidyl peptidases 8 and 9. Diabetes 54, 2988–2994 (2005).

Ianevski, A., Giri, A. & Aittokallio, T. SynergyFinder 2.0: visual analytics of multi-drug combination strategies. Nucleic Acids Res. 48, W488–W493 (2020).

Loewe, S. The problem of synergism and antagonism of combined drugs. Arzneimiettelforschung 3, 286–290 (1953).

Nie, Z. et al. HIV-1 protease processes procaspase 8 to cause mitochondrial release of cytochrome c, caspase cleavage and nuclear fragmentation. Cell Death Differ. 9, 1172–1184 (2002).

Preston, B. D. & Dougherty, J. P. Mechanisms of retroviral mutation. Trends Microbiol. 4, 16–21 (1996).

Azijn, H. et al. TMC278, a next-generation nonnucleoside reverse transcriptase inhibitor (NNRTI), active against wild-type and NNRTI-resistant HIV-1. Antimicrob. Agents Chemother. 54, 718–727 (2010).

Waters, J. M. et al. Mutations in the thumb-connection and RNase H domain of HIV type-1 reverse transcriptase of antiretroviral treatment-experienced patients. Antivir. Ther. 14, 231–239 (2009).

King, R. W., Klabe, R. M., Reid, C. D. & Erickson-Viitanen, S. K. Potency of nonnucleoside reverse transcriptase inhibitors (NNRTIs) used in combination with other human immunodeficiency virus NNRTIs, NRTIs or protease inhibitors. Antimicrob. Agents Chemother. 46, 1640–1646 (2002).

Basson, A. E. et al. Impact of drug resistance-associated amino acid changes in HIV-1 subtype C on susceptibility to newer nonnucleoside reverse transcriptase inhibitors. Antimicrob. Agents Chemother. 59, 960–971 (2015).

Rongvaux, A. et al. Development and function of human innate immune cells in a humanized mouse model. Nat. Biotechnol. 32, 364–372 (2014).

Herndler-Brandstetter, D. et al. Humanized mouse model supports development, function and tissue residency of human natural killer cells. Proc. Natl Acad. Sci. USA 114, E9626–E9634 (2017).

Siliciano, J. D. et al. Enhanced culture assay for detection and quantitation of latently infected, resting CD4+ T cells carrying replication-competent virus in HIV-1 infected individuals. Methods Mol. Biol. 304, 3–15 (2005).

Rao, S. D. et al. M24B aminopeptidase inhibitors selectively activate the CARD8 inflammasome. Nat. Chem. Biol. 18, 565–574 (2022).

Laird, G. M. et al. Measuring the frequency of latent HIV-1 in resting CD4+ T cells using a limiting dilution coculture assay. Methods Mol. Biol. 1354, 239–253 (2016).
Acknowledgements
We thank the volunteers who participated in this study, and L. Kessels, M. Klebert, A. Haile, T. Spitz and T. Minor for study subject recruitment. We thank Regeneron Pharmaceuticals and the Richard Flavell Laboratory at Yale University for generating the human cytokine knock-in mice. The following reagents were obtained through the AIDS Research and Reference Reagent Program, Division of AIDS, NIAID, NIH: rilpivirine, efavirenz, lopinavir, etravirine, nevirapine, maraviroc, T-20, tenofovir, raltegravir, pNL4-3-GFP, international HIV-1 isolates and HIV-1 p24 antibodies. Funding in support of this work was provided by NIH grants nos. R01AI162203 and R01AI155162 (L.S.) and F31AI165251 (K.M.C.). The organizations that supplied these funds had no part in the planning or execution of the work presented in this study.
Ethics declarations
Competing interests
The authors declare no competing interests.
Peer review
Peer review information
Nature Chemical Biology thanks Andrew Badley, Bernhard Ellinger, Franklin Zhong and the other, anonymous, reviewer(s) for their contribution to the peer review of this work.
Additional information
Publisher's note Springer Nature remains neutral with regard to jurisdictional claims in published maps and institutional affiliations.
Supplementary information
Supplementary Tables 1 and 2.
Source data
Uncropped, unprocessed scans of blots.
Uncropped, unprocessed scans of blots.
Uncropped, unprocessed scans of blots.
Rights and permissions
Springer Nature or its licensor (e.g. a society or other partner) holds exclusive rights to this article under a publishing agreement with the author(s) or other rightsholder(s); author self-archiving of the accepted manuscript version of this article is solely governed by the terms of such publishing agreement and applicable law.
About this article
Cite this article
Clark, K.M., Kim, J.G., Wang, Q. et al. Chemical inhibition of DPP9 sensitizes the CARD8 inflammasome in HIV-1-infected cells. Nat Chem Biol 19, 431–439 (2023). https://doi.org/10.1038/s41589-022-01182-5
Received:

Accepted:

Published:

Issue Date:

DOI: https://doi.org/10.1038/s41589-022-01182-5