Abstract
Coenzyme A (CoA) is one of the central cofactors of metabolism, yet a method for measuring its concentration in living cells is missing. Here we introduce the first biosensor for measuring CoA levels in different organelles of mammalian cells. The semisynthetic biosensor is generated through the specific labeling of an engineered GFP–HaloTag fusion protein with a fluorescent ligand. Its readout is based on CoA-dependent changes in Förster resonance energy transfer efficiency between GFP and the fluorescent ligand. Using this biosensor, we probe the role of numerous proteins involved in CoA biosynthesis and transport in mammalian cells. On the basis of these studies, we propose a cellular map of CoA biosynthesis that suggests how pools of cytosolic and mitochondrial CoA are maintained.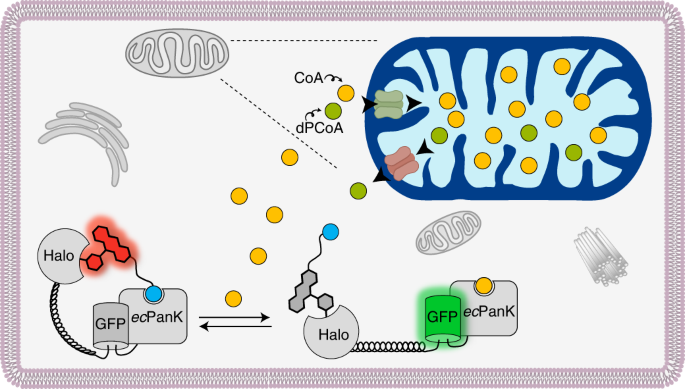 Data availability
The crystal structures for mtPanK and ecPanK were previously reported with Protein Data Bank ID of 4BFU and 1ESM, respectively. The data supporting the findings of this study are available within the paper and its Supplementary Information. Additional information and files are available from the corresponding author upon reasonable request. Source data are provided with this paper.
References
Gout, I. Coenzyme A, protein CoAlation and redox regulation in mammalian cells. Biochem. Soc. Trans. 46, 721–728 (2018).

Leonardi, R., Zhang, Y., Rock, C. & Jackowski, S. Coenzyme A: back in action. Prog. Lipid Res. 44, 125–153 (2005).

Naquet, P., Kerr, E. W., Vickers, S. D. & Leonardi, R. Regulation of coenzyme A levels by degradation: the 'Ins and Outs'. Prog. Lipid Res. 78, 101028 (2020).

Simithy, J. et al. Characterization of histone acylations links chromatin modifications with metabolism. Nat. Commun. 8, 1141 (2017).

Czumaj, A. et al. The pathophysiological role of CoA. Int. J. Mol. Sci. 21, 9057 (2020).

Brown, G. M. The metabolism of pantothenic acid. J. Biol. Chem. 234, 370–378 (1959).

Daugherty, M. et al. Complete reconstitution of the human coenzyme A biosynthetic pathway via comparative genomics. J. Biol. Chem. 277, 21431–21439 (2002).

Subramanian, C. et al. Allosteric regulation of mammalian pantothenate kinase. J. Biol. Chem. 291, 22302–22314 (2016).

Zhang, Y.-M., Rock, C. O. & Jackowski, S. Feedback regulation of murine pantothenate kinase 3 by coenzyme A and coenzyme A thioesters. J. Biol. Chem. 280, 32594–32601 (2005).

Alfonso-Pecchio, A., Garcia, M., Leonardi, R. & Jackowski, S. Compartmentalization of mammalian pantothenate kinases. PLoS One 7, e49509 (2012).

Skrede, S. & Halvorsen, O. Mitochondrial pantetheinephosphate adenylyltransferase and dephospho-CoA kinase. Eur. J. Biochem. 131, 57–63 (1983).

Tahiliani, A. & Neely, J. Mitochondrial synthesis of coenzyme a is on the external surface. J. Mol. Cell. Cardiol. 19, 1161 (1987).

Zhyvoloup, A. et al. Subcellular localization and regulation of coenzyme A synthase. J. Biol. Chem. 278, 50316–50321 (2003).

Rhee, H. W. et al. Proteomic mapping of mitochondria in living cells via spatially restricted enzymatic tagging. Science 339, 1328–1331 (2013).

Fiermonte, G., Paradies, E., Todisco, S., Marobbio, C. M. T. & Palmieri, F. A novel member of solute carrier family 25 (SLC25A42) is a transporter of coenzyme A and adenosine 3′,5′-diphosphate in human mitochondria. J. Biol. Chem. 284, 18152–18159 (2009).

Khan, S. et al. A homozygous missense mutation in SLC25A16 associated with autosomal recessive isolated fingernail dysplasia in a Pakistani family. Br. J. Dermatol. 178, 556–558 (2018).

Prohl, C. et al. The yeast mitochondrial carrier Leu5p and its human homologue Graves' disease protein are required for accumulation of coenzyme A in the matrix. Mol. Cell. Biol. 21, 1089–1097 (2001).

Kerr, E. W., Shumar, S. A. & Leonardi, R. Nudt8 is a novel CoA diphosphohydrolase that resides in the mitochondria. FEBS Lett. 593, 1133–1143 (2019).

Tsuchiya, Y., Pham, U. & Gout, I. Methods for measuring CoA and CoA derivatives in biological samples. Biochem. Soc. Trans. 42, 1107–1111 (2014).

Farrants, H., Hiblot, J., Griss, R. & Johnsson, K. Rational design and applications of semisynthetic modular biosensors: SNIFITs and LUCIDs. Methods Mol. Biol. 1596, 101–117 (2017).

Brun, M. A., Tan, K.-T., Nakata, E., Hinner, M. J. & Johnsson, K. Semisynthetic fluorescent sensor proteins based on self-labeling protein tags. JACS 131, 5873–5884 (2009).

Rock, C. O., Park, H.-W. & Jackowski, S. Role of feedback regulation of pantothenate kinase (CoaA) in control of coenzyme A levels in Escherichia coli. J. Bacteriol. 185, 3410–3415 (2003).

Yun, M. et al. Structural basis for the feedback regulation of escherichia coli pantothenate kinase by coenzyme A. J. Biol. Chem. 275, 28093–28099 (2000).

Reddy, B. K. K. et al. Assessment of mycobacterium tuberculosis pantothenate kinase vulnerability through target knockdown and mechanistically diverse inhibitors. Antimicrob. Agents Chemother. 58, 3312–3326 (2014).

Björkelid, C. et al. Structural and biochemical characterization of compounds inhibiting mycobacterium tuberculosis pantothenate kinase. J. Biol. Chem. 288, 18260–18270 (2013).

Wang, L. et al. A general strategy to develop cell permeable and fluorogenic probes for multicolour nanoscopy. Nat. Chem. 12, 165–172 (2020).

Gout, E., Rebeille, F., Douce, R. & Bligny, R. Interplay of Mg2+, ADP, and ATP in the cytosol and mitochondria: unravelling the role of Mg2+ in cell respiration. Proc. Natl Acad. Sci. 111, E4560–E4567 (2014).

Rangaraju, V., Calloway, N. & Ryan, T. A. Activity-driven Local ATP synthesis is required for synaptic function. Cell 156, 825–835 (2014).

Pathak, D. et al. The role of mitochondrially derived ATP in synaptic vesicle recycling. J. Biol. Chem. 290, 22325–22336 (2015).

Carling, D., Mayer, F. V., Sanders, M. J. & Gamblin, S. J. AMP-activated protein kinase: nature's energy sensor. Nat. Chem. Biol. 7, 512–518 (2011).

Hardie, D. G., Ross, F. A. & Hawley, S. A. AMPK: a nutrient and energy sensor that maintains energy homeostasis. Nat. Rev. Mol. Cell Biol. 13, 251–262 (2012).

Pietrocola, F., Galluzzi, L., Bravo-San Pedro, J. M., Madeo, F. & Kroemer, G. Acetyl coenzyme A: a central metabolite and second messenger. Cell Metab. 21, 805–821 (2015).

Lee, J. V. et al. Akt-Dependent metabolic reprogramming regulates tumor cell histone acetylation. Cell Metab. 20, 306–319 (2014).

Liu, X. et al. High-resolution metabolomics with acyl-CoA profiling reveals widespread remodeling in response to diet. Mol. Cell. Proteom. 14, 1489–1500 (2015).

Knudsen, J., Neergaard, T. B., Gaigg, B., Jensen, M. V. & Hansen, J. K. Role of acyl-CoA binding protein in acyl-CoA metabolism and acyl-CoA-mediated cell signaling. J. Nutr. 130, 294S–298S (2000).

Sharma, L. K. et al. A therapeutic approach to pantothenate kinase associated neurodegeneration. Nat. Commun. 9, 4399 (2018).

Zhang, Y.-M. et al. Chemical knockout of pantothenate kinase reveals the metabolic and genetic program responsible for hepatic coenzyme A homeostasis. Chem. Biol. 14, 291–302 (2007).

Mostert, K. J. et al. The coenzyme A level modulator hopantenate (HoPan) inhibits phosphopantotenoylcysteine synthetase activity. ACS Chem. Biol. 16, 2401–2414 (2021).

Srinivasan, B. et al. Extracellular 4′-phosphopantetheine is a source for intracellular coenzyme A synthesis. Nat. Chem. Biol. 11, 784–792 (2015).

Zhang, Y.-M., Rock, C. O. & Jackowski, S. Biochemical properties of human pantothenate kinase 2 isoforms and mutations linked to pantothenate kinase-associated neurodegeneration. J. Biol. Chem. 281, 107–114 (2006).

Leonardi, R., Rock, C. O., Jackowski, S. & Zhang, Y. M. Activation of human mitochondrial pantothenate kinase 2 by palmitoylcarnitine. Proc. Natl Acad. Sci. 104, 1494–1499 (2007).

Leonardi, R. et al. Modulation of pantothenate kinase 3 activity by small molecules that interact with the substrate/allosteric regulatory domain. Chem. Biol. 17, 892–902 (2010).

Lee, K., Kerner, J. & Hoppel, C. L. Mitochondrial carnitine palmitoyltransferase 1a (CPT1a) is part of an outer membrane fatty acid transfer complex. J. Biol. Chem. 286, 25655–25662 (2011).

Zaidi, N., Swinnen, J. V. & Smans, K. ATP-citrate lyase: a key player in cancer metabolism. Cancer Res. 72, 3709–3714 (2012).

Vozza, A. et al. Biochemical characterization of a new mitochondrial transporter of dephosphocoenzyme A in Drosophila melanogaster. Biochim. Biophys. Acta Bioenerg. 1858, 137–146 (2017).

Chen, L.-C., Lloyd, W. R., Chang, C.-W., Sud, D. & Mycek, M.-A. Fluorescence lifetime imaging microscopy for quantitative biological imaging. Methods Cell. Biol. 114, 457–488 (2013).

Elbaum, D. et al. Fosmetpantotenate (RE-024), a phosphopantothenate replacement therapy for pantothenate kinase-associated neurodegeneration: mechanism of action and efficacy in nonclinical models. PLoS One 13, e0192028 (2018).

Klopstock, T. et al. Fosmetpantotenate randomized controlled trial in pantothenate kinase–associated neurodegeneration. Mov. Disord. 36, 1342–1352 (2021).

Murthy, M. S. & Pande, S. V. Malonyl-CoA binding site and the overt carnitine palmitoyltransferase activity reside on the opposite sides of the outer mitochondrial membrane. Proc. Natl Acad. Sci. 84, 378–382 (1987).

Dansie, L. E. et al. Physiological roles of the pantothenate kinases. Biochem. Soc. Trans. 42, 1033–1036 (2014).

Forbes, C. R. et al. Insights into thiol–aromatic interactions: a stereoelectronic basis for S–H/π Interactions. JACS 139, 1842–1855 (2017).

Ivey, R. A. et al. The structure of the pantothenate kinase·ADP·pantothenate ternary complex reveals the relationship between the binding sites for substrate, allosteric regulator, and antimetabolites. J. Biol. Chem. 279, 35622–35629 (2004).

Rueden, C. T. et al. ImageJ2: ImageJ for the next generation of scientific image data. BMC Bioinf. 18, 529 (2017).

Feige, J. N., Sage, D., Wahli, W., Desvergne, B. & Gelman, L. PixFRET, an ImageJ plug-in for FRET calculation that can accommodate variations in spectral bleed-throughs. Microsc. Res. Tech. 68, 51–58 (2005).

Lukinavičius, G. et al. A near-infrared fluorophore for live-cell super-resolution microscopy of cellular proteins. Nat. Chem. 5, 132–139 (2013).

Rao, X., Huang, X., Zhou, Z. & Lin, X. An improvement of the 2−ΔΔCT method for quantitative real-time polymerase chain reaction data analysis. Biostat. Bioinforma. Biomath. 3, 71–85 (2013).

Imamura, H. et al. Visualization of ATP levels inside single living cells with fluorescence resonance energy transfer-based genetically encoded indicators. Proc. Natl Acad. Sci. 106, 15651–15656 (2009).

Cambronne, X. A. et al. Biosensor reveals multiple sources for mitochondrial NAD+. Science 352, 1474–1477 (2016).

Bhakdi, S. et al. A guide to the use of pore-forming toxins for controlled permeabilization of cell membranes. Med. Microbiol. Immunol. 182, 167–175 (1993).

Hong, B. S. et al. Crystal structures of human pantothenate kinases. J. Biol. Chem. 282, 27984–27993 (2007).
Acknowledgements
This work was supported by the Max Planck Society and the Ecole Polytechnique Federale de Lausane. M.S.F. was supported by the Deutsche Forschungsgemeinschaft (DFG, German Research Foundation) SFB TRR 186. We acknowledge the RESOLUTE project for support (https://re-solute.eu/). This project has received funding from the Innovative Medicines Initiative 2 Joint Undertaking under grant agreement 777372. This Joint Undertaking receives support from the European Union's Horizon 2020 research and innovation program and EFPIA.
Funding
Open access funding provided by Max Planck Society.
Ethics declarations
Competing interests
The authors declare no competing interests.
Peer review
Peer review information
Nature Chemical Biology thanks Erick Strauss and the other, anonymous, reviewer(s) for their contribution to the peer review of this work.
Additional information
Publisher's note Springer Nature remains neutral with regard to jurisdictional claims in published maps and institutional affiliations.
Supplementary information
Supplementary Figs 1–17, Supplementary Tables 1–6, Supplementary Note for chemical synthesis, NMR spectra for the compounds.
Information of protein sequences, antibodies, esiRNA used in this study and statistical information.
Rights and permissions
Open Access This article is licensed under a Creative Commons Attribution 4.0 International License, which permits use, sharing, adaptation, distribution and reproduction in any medium or format, as long as you give appropriate credit to the original author(s) and the source, provide a link to the Creative Commons license, and indicate if changes were made. The images or other third party material in this article are included in the article's Creative Commons license, unless indicated otherwise in a credit line to the material. If material is not included in the article's Creative Commons license and your intended use is not permitted by statutory regulation or exceeds the permitted use, you will need to obtain permission directly from the copyright holder. To view a copy of this license, visit http://creativecommons.org/licenses/by/4.0/.
About this article
Cite this article
Xue, L., Schnacke, P., Frei, M.S. et al. Probing coenzyme A homeostasis with semisynthetic biosensors. Nat Chem Biol 19, 346–355 (2023). https://doi.org/10.1038/s41589-022-01172-7
Received:

Accepted:

Published:

Issue Date:

DOI: https://doi.org/10.1038/s41589-022-01172-7
This article is cited by
Timothy R. Bishop
Chitra Subramanian
Michael A. Erb

Nature Chemical Biology (2023)