Abstract
Glutamine synthetase (GS) activity is conserved from prokaryotes to humans, where the ATP-dependent production of glutamine from glutamate and ammonia is essential for neurotransmission and ammonia detoxification. Here, we show that mammalian GS uses glutamate and methylamine to produce a methylated glutamine analog, N5-methylglutamine. Untargeted metabolomics revealed that liver-specific GS deletion and its pharmacological inhibition in mice suppress hepatic and circulating levels of N5-methylglutamine. This alternative activity of GS was confirmed in human recombinant enzyme and cells, where a pathogenic mutation in the active site (R324C) promoted the synthesis of N5-methylglutamine over glutamine. N5-methylglutamine is detected in the circulation, and its levels are sustained by the microbiome, as demonstrated by using germ-free mice. Finally, we show that urine levels of N5-methylglutamine correlate with tumor burden and GS expression in a β-catenin-driven model of liver cancer, highlighting the translational potential of this uncharacterized metabolite.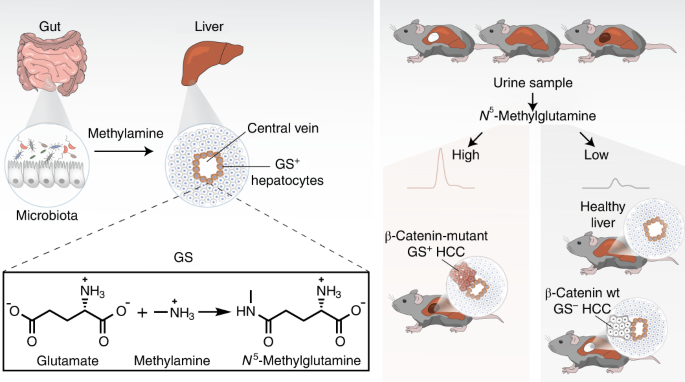 Data availability
All the data supporting the findings of this study are available within the article. Source data files that support the findings of this study are stored at the Cancer Research UK Beatson Institute and are available from the corresponding author upon reasonable request. Requests for unique biological materials can be made to the corresponding author. Source data are provided with this paper.
References
Kumada, Y. et al. Evolution of the glutamine synthetase gene, one of the oldest existing and functioning genes. Proc. Natl Acad. Sci. USA 90, 3009–3013 (1993).

Elliott, W. H. Adenosinetriphosphate in glutamine synthesis. Nature 161, 128–129 (1948).

Eelen, G. et al. Role of glutamine synthetase in angiogenesis beyond glutamine synthesis. Nature 561, 63–69 (2018).

Shang, M. et al. Macrophage-derived glutamine boosts satellite cells and muscle regeneration. Nature 587, 626–631 (2020).

Bak, L. K., Schousboe, A. & Waagepetersen, H. S. The glutamate/GABA–glutamine cycle: aspects of transport, neurotransmitter homeostasis and ammonia transfer. J. Neurochem. 98, 641–653 (2006).

He, Y. et al. Glutamine synthetase deficiency in murine astrocytes results in neonatal death. Glia 58, 741–754 (2010).

Häberle, J. et al. Congenital glutamine deficiency with glutamine synthetase mutations. N. Engl. J. Med. 353, 1926–1933 (2005).

Qvartskhava, N. et al. Hyperammonemia in gene-targeted mice lacking functional hepatic glutamine synthetase. Proc. Natl Acad. Sci. USA 112, 5521–5526 (2015).

Hakvoort, T. B. M. et al. Pivotal role of glutamine synthetase in ammonia detoxification. Hepatology 65, 281–293 (2017).

Tardito, S. et al. Glutamine synthetase activity fuels nucleotide biosynthesis and supports growth of glutamine-restricted glioblastoma. Nat. Cell Biol. 17, 1556–1568 (2015).

Bott, A. J. et al. Glutamine anabolism plays a critical role in pancreatic cancer by coupling carbon and nitrogen metabolism. Cell Rep. 29, 1287–1298 (2019).

Kiourtis, C. et al. Specificity and off-target effects of AAV8-TBG viral vectors for the manipulation of hepatocellular gene expression in mice. Biol. Open 10, bio058678 (2021).

Nakai, H. et al. Unrestricted hepatocyte transduction with adeno-associated virus serotype 8 vectors in mice. J. Virol. 79, 214–224 (2005).

Roifman, M. et al. Homozygous GLUL deletion is embryonically viable and leads to glutamine synthetase deficiency. Clin. Genet. 98, 613–619 (2020).

Jang, C. et al. Metabolite exchange between mammalian organs quantified in pigs. Cell Metab. 30, 594–606 (2019).

Wellner, V. P., Zoukis, M. & Meister, A. Activity of glutamine synthetase toward the optical isomers of α-aminoadipic acid. Biochemistry 5, 3509–3514 (1966).

Zhang, P. et al. Revisiting fragmentation reactions of protonated α-amino acids by high-resolution electrospray ionization tandem mass spectrometry with collision-induced dissociation. Sci. Rep. 9, 6453 (2019).

Schubert, H. L., Phillips, J. D. & Hill, C. P. Structures along the catalytic pathway of PrmC/HemK, an N5-glutamine AdoMet-dependent methyltransferase. Biochemistry 42, 5592–5599 (2003).

Levitch, M. E. The demonstration of two discrete enzymes catalyzing the synthesis of glutamine and γ-glutamylmethylamide in Pseudomonas MS. Biochem. Biophys. Res. Commun. 76, 609–614 (1977).

Barnes, E. M., Zimniak, P. & Jayakumar, A. Role of glutamine synthetase in the uptake and metabolism of methylammonium by Azotobacter vinelandii. J. Bacteriol. 156, 752–757 (1983).

Golebiewska, A. et al. Patient-derived organoids and orthotopic xenografts of primary and recurrent gliomas represent relevant patient avatars for precision oncology. Acta Neuropathol. 140, 919–949 (2020).

Wang, Y. Human PAD4 regulates histone arginine methylation levels via demethylimination. Science 306, 279–283 (2004).

Davis, E. J. & De Ropp, R. S. Metabolic origin of urinary methylamine in the rat. Nature 190, 636–637 (1961).

Zeisel, S. H., Wishnok, J. S. & Blusztajn, J. K. Formation of methylamines from ingested choline and lecithin. J. Pharmacol. Exp. Ther. 225, 320–324 (1983).

Rath, S., Heidrich, B., Pieper, D. H. & Vital, M. Uncovering the trimethylamine-producing bacteria of the human gut microbiota. Microbiome 5, 54 (2017).

Cadoret, A. et al. New targets of β-catenin signaling in the liver are involved in the glutamine metabolism. Oncogene 21, 8293–8301 (2002).

Dal Bello, B. et al. Glutamine synthetase immunostaining correlates with pathologic features of hepatocellular carcinoma and better survival after radiofrequency thermal ablation. Clin. Cancer Res. 16, 2157–2166 (2010).

Huels, D. J. et al. E‐cadherin can limit the transforming properties of activating β‐catenin mutations. EMBO J. 34, 2321–2333 (2015).

Kruspig, B. et al. The ERBB network facilitates KRAS-driven lung tumorigenesis. Sci. Transl. Med. 10, eaao2565 (2018).

Losman, J. A., Koivunen, P. & Kaelin, W. G. 2-Oxoglutarate-dependent dioxygenases in cancer. Nat. Rev. Cancer 20, 710–726 (2020).

Huang, D. Q., El-Serag, H. B. & Loomba, R. Global epidemiology of NAFLD-related HCC: trends, predictions, risk factors and prevention. Nat. Rev. Gastroenterol. Hepatol. 18, 223–238 (2021).

Müller, M. et al. Human-correlated genetic HCC models identify combination therapy for precision medicine. Preprint at Research Square https://doi.org/10.21203/rs.3.rs-1638504/v1 (2022).

Vande Voorde, J. et al. Improving the metabolic fidelity of cancer models with a physiological cell culture medium. Sci. Adv. 5, eaau7314 (2019).

Sanjana, N. E., Shalem, O. & Zhang, F. Improved vectors and genome-wide libraries for CRISPR screening HHS public access supplementary material. Nat. Methods 11, 783–784 (2014).

Shalem, O. et al. Genome-scale CRISPR–Cas9 knockout screening in human cells. Science 343, 84–87 (2014).

Badertscher, L. et al. Genome-wide RNAi screening identifies protein modules required for 40S subunit synthesis in human cells. Cell Rep. 13, 2879–2891 (2015).

Wellner, V. P. & Meister, A. Binding of adenosine triphosphate and adenosine diphosphate by glutamine synthetase. Biochemistry 5, 872–879 (1966).

Listrom, C. D. et al. Expression, purification, and characterization of recombinant human glutamine synthetase. Biochem. J. 328, 159–163 (1997).

Li, H., Luo, W., Lin, J., Lin, Z. & Zhang, Y. Assay of plasma semicarbazide-sensitive amine oxidase and determination of its endogenous substrate methylamine by liquid chromatography. J. Chromatogr. B Analyt. Technol. Biomed. Life Sci. 810, 277–282 (2004).

Nalazek-Rudnicka, K. & Wasik, A. Development and validation of an LC–MS/MS method for the determination of biogenic amines in wines and beers. Monatsh. Chem. 148, 1685–1696 (2017).
Acknowledgements
We thank the Core Services and Advanced Technologies at the Cancer Research UK Beatson Institute (C596/A17196 and A31287) and particularly the Metabolomics, Translational Molecular Imaging, Biological Services Unit, Histology Service and Molecular Technologies. We acknowledge M. Mazzone (KU Leuven) for providing the mice carrying the Glultm3Whla fl allele, U. Kutay (ETH Zurich) for providing the GLUL pcDNA/FRT/TOcHA (wt, R324A, R324C) plasmids, J.P. Morton for providing the KPC mice and S. Niclou (Luxembourg Institute of Health) for providing the T16 glioblastoma cells. We acknowledge C. Winchester for comments on the manuscript and all members of the Oncometabolism laboratory and the Metabolomics Facility for constructive discussions. This work was funded by Cancer Research UK awards A17196 and A31287 (CRUK Beatson Institute), Cancer Research UK RadNet Glasgow Centre award A28803 (A.B.), Wellcome Trust grant WT107492Z (T.G.B. and M.M.), Cancer Research UK HUNTER accelerator award A26813 (E.H.T.), Cancer Research UK award A25045 and DRCQQR-May21\100002 (O.J.S.), Cancer Research UK award A29256 (D.T.H.), Cancer Research UK award A29799 (K.B.), Cancer Research UK award A25006 (D.Y.L.) and Cancer Research UK award A23982 (S.T.).
Ethics declarations
Competing interests
J.O. is employed at Bruker Daltonics GmbH & Co. KG. All other authors declare no competing interests.
Peer review
Peer review information
Nature Chemical Biology thanks Jing Fan and the other, anonymous, reviewer(s) for their contribution to the peer review of this work.
Additional information
Publisher's note Springer Nature remains neutral with regard to jurisdictional claims in published maps and institutional affiliations.
Supplementary information
Rights and permissions
Open Access This article is licensed under a Creative Commons Attribution 4.0 International License, which permits use, sharing, adaptation, distribution and reproduction in any medium or format, as long as you give appropriate credit to the original author(s) and the source, provide a link to the Creative Commons license, and indicate if changes were made. The images or other third party material in this article are included in the article's Creative Commons license, unless indicated otherwise in a credit line to the material. If material is not included in the article's Creative Commons license and your intended use is not permitted by statutory regulation or exceeds the permitted use, you will need to obtain permission directly from the copyright holder. To view a copy of this license, visit http://creativecommons.org/licenses/by/4.0/.
About this article
Cite this article
Villar, V.H., Allega, M.F., Deshmukh, R. et al. Hepatic glutamine synthetase controls N5-methylglutamine in homeostasis and cancer. Nat Chem Biol 19, 292–300 (2023). https://doi.org/10.1038/s41589-022-01154-9
Received:

Accepted:

Published:

Issue Date:

DOI: https://doi.org/10.1038/s41589-022-01154-9
This article is cited by
Massimiliano Mazzone
Alessandra Castegna

Nature Chemical Biology (2023)