Abstract
Ferroptosis is a type of cell death caused by radical-driven lipid peroxidation, leading to membrane damage and rupture. Here we show that enzymatically produced sulfane sulfur (S0) species, specifically hydropersulfides, scavenge endogenously generated free radicals and, thereby, suppress lipid peroxidation and ferroptosis. By providing sulfur for S0 biosynthesis, cysteine can support ferroptosis resistance independently of the canonical GPX4 pathway. Our results further suggest that hydropersulfides terminate radical chain reactions through the formation and self-recombination of perthiyl radicals. The autocatalytic regeneration of hydropersulfides may explain why low micromolar concentrations of persulfides suffice to produce potent cytoprotective effects on a background of millimolar concentrations of glutathione. We propose that increased S0 biosynthesis is an adaptive cellular response to radical-driven lipid peroxidation, potentially representing a primordial radical protection system.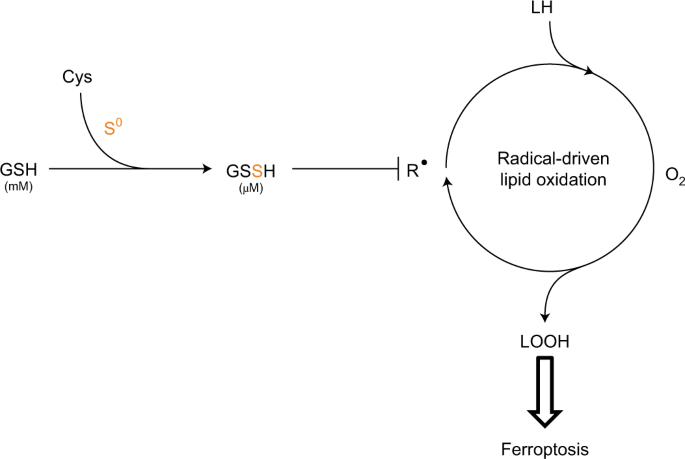 Data availability
All data generated and analyzed in this study are included in this article and its Supplementary Information files. Source data are provided with this paper.
References
Dixon, S. J. & Stockwell, B. R. The hallmarks of ferroptosis. Annu. Rev. Cancer Biol. 3, 35–54 (2019).

Ursini, F. & Maiorino, M. Lipid peroxidation and ferroptosis: the role of GSH and GPx4. Free Radic. Biol. Med. 152, 175–185 (2020).

Stockwell, B. R. et al. Ferroptosis: a regulated cell death nexus linking metabolism, redox biology, and disease. Cell 171, 273–285 (2017).

Doll, S. et al. ACSL4 dictates ferroptosis sensitivity by shaping cellular lipid composition. Nat. Chem. Biol. 13, 91–98 (2017).

Dixon, S. J. et al. Ferroptosis: an iron-dependent form of nonapoptotic cell death. Cell 149, 1060–1072 (2012).

Shah, R., Shchepinov, M. S. & Pratt, D. A. Resolving the role of lipoxygenases in the initiation and execution of ferroptosis. ACS Cent. Sci. 4, 387–396 (2018).

Doll, S. et al. FSP1 is a glutathione-independent ferroptosis suppressor. Nature 575, 693–698 (2019).

Bersuker, K. et al. The CoQ oxidoreductase FSP1 acts parallel to GPX4 to inhibit ferroptosis. Nature 575, 688–692 (2019).

Soula, M. et al. Metabolic determinants of cancer cell sensitivity to canonical ferroptosis inducers. Nat. Chem. Biol. 16, 1351–1360 (2020).

Banjac, A. et al. The cystine/cysteine cycle: a redox cycle regulating susceptibility versus resistance to cell death. Oncogene 27, 1618–1628 (2008).

Ingold, I. et al. Selenium utilization by GPX4 is required to prevent hydroperoxide-induced ferroptosis. Cell 172, 409–422 (2018).

Viswanathan, V. S. et al. Dependency of a therapy-resistant state of cancer cells on a lipid peroxidase pathway. Nature 547, 453–457 (2017).

Rennekamp, A. J. The ferrous awakens. Cell 171, 1225–1227 (2017).

Filipovic, M. R., Zivanovic, J., Alvarez, B. & Banerjee, R. Chemical biology of H2S signaling through persulfidation. Chem. Rev. 118, 1253–1337 (2018).

Ida, T. et al. Reactive cysteine persulfides and S-polythiolation regulate oxidative stress and redox signaling. Proc. Natl Acad. Sci. USA111, 7606–7611 (2014).

Ezeriņa, D., Takano, Y., Hanaoka, K., Urano, Y. & Dick, T. P. N-acetyl cysteine functions as a fast-acting antioxidant by triggering intracellular H2S and sulfane sulfur production. Cell Chem. Biol. 25, 447–459 (2018).

Horie, T., Awazu, S., Itakura, Y. & Fuwa, T. Identified diallyl polysulfides from an aged garlic extract which protects the membranes from lipid peroxidation. Planta Med. 58, 468–469 (1992).

Everett, S. A., Folkes, L. K., Wardman, P. & Asmus, K. D. Free-radical repair by a novel perthiol: reversible hydrogen transfer and perthiyl radical formation. Free Radic. Res. 20, 387–400 (1994).

Poon, J.-F. & Pratt, D. A. Recent insights on hydrogen atom transfer in the inhibition of hydrocarbon autoxidation. Acc. Chem. Res. 51, 1996–2005 (2018).

Chauvin, J.-P. R., Griesser, M. & Pratt, D. A. The antioxidant activity of polysulfides: it's radical! Chem. Sci. 10, 4999–5010 (2019).

Ono, K. et al. Synthesis of l-cysteine derivatives containing stable sulfur isotopes and application of this synthesis to reactive sulfur metabolome. Free Radic. Biol. Med. 106, 69–79 (2017).

Seiler, A. et al. Glutathione peroxidase 4 senses and translates oxidative stress into 12/15-lipoxygenase dependent- and AIF-mediated cell death. Cell Metab. 8, 237–248 (2008).

Lam, S. S. et al. Directed evolution of APEX2 for electron microscopy and proximity labeling. Nat. Methods 12, 51–54 (2015).

Votyakova, T. V. & Reynolds, I. J. Detection of hydrogen peroxide with Amplex Red: interference by NADH and reduced glutathione auto-oxidation. Arch. Biochem. Biophys. 431, 138–144 (2004).

Greiner, R. et al. Polysulfides link H2S to protein thiol oxidation. Antioxid. Redox Signal. 19, 1749–1765 (2013).

Zivanovic, J. et al. Selective persulfide detection reveals evolutionarily conserved antiaging effects of S-sulfhydration. Cell Metab. 31, 207 (2020).

Henderson, C. F. et al. Cysteine trisulfide protects E. coli from electrophile-induced death through the generation of cysteine hydropersulfide. Chem. Res. Toxicol. 33, 678–686 (2020).

Erdélyi, K. et al. Reprogrammed transsulfuration promotes basal-like breast tumor progression via realigning cellular cysteine persulfidation. Proc. Natl Acad. Sci. USA 118, e2100050118 (2021).

Borisenko, G. G. et al. Glutathione propagates oxidative stress triggered by myeloperoxidase in HL-60 cells. Evidence for glutathionyl radical-induced peroxidation of phospholipids and cytotoxicity. J. Biol. Chem. 279, 23453–23462 (2004).

Massey, V., Williams, C. H. & Palmer, G. The presence of So-containing impurities in commercial samples of oxidized glutathione and their catalytic effect on the reduction of cytochrome c. Biochem. Biophys. Res. Commun. 42, 730–738 (1971).

Chauvin, J.-P. R., Griesser, M. & Pratt, D. A. Hydropersulfides: H-atom transfer agents par excellence. J. Am. Chem. Soc. 139, 6484–6493 (2017).

Bianco, C. L. et al. The chemical biology of the persulfide (RSSH)/perthiyl (RSS•) redox couple and possible role in biological redox signaling. Free Radic. Biol. Med. 101, 20–31 (2016).

Chauvin, J.-P. R., Haidasz, E. A., Griesser, M. & Pratt, D. A. Polysulfide-1-oxides react with peroxyl radicals as quickly as hindered phenolic antioxidants and do so by a surprising concerted homolytic substitution. Chem. Sci. 7, 6347–6356 (2016).

Winterbourn, C. C. Superoxide as an intracellular radical sink. Free Radic. Biol. Med. 14, 85–90 (1993).

Halliwell, B. & Gutteridge, J. M. C. Free Radicals in Biology and Medicine (Oxford University Press, 2015).

Bowry, V. W. & Stocker, R. Tocopherol-mediated peroxidation. The prooxidant effect of vitamin E on the radical-initiated oxidation of human low-density lipoprotein. J. Am. Chem. Soc. 115, 6029–6044 (1993).

Moutiez, M. et al. Reduction of a trisulfide derivative of glutathione by glutathione reductase. Biochem. Biophys. Res. Commun. 202, 1380–1386 (1994).

Everett, S. A., Schoeneich, C., Stewart, J. H. & Asmus, K. D. Perthiyl radicals, trisulfide radical ions, and sulfate formation: a combined photolysis and radiolysis study on redox processes with organic di- and trisulfides. J. Phys. Chem. 96, 306–314 (1992).

Wu, Z. & Pratt, D. A. Radical substitution provides a unique route to disulfides. J. Am. Chem. Soc. 142, 10284–10290 (2020).

Schöneich, C., Dillinger, U., von Bruchhausen, F. & Asmus, K.-D. Oxidation of polyunsaturated fatty acids and lipids through thiyl and sulfonyl radicals: Reaction kinetics, and influence of oxygen and structure of thiyl radicals. Arch. Biochem. Biophys. 292, 456–467 (1992).

Niki, E., Tsuchiya, J., Tanimura, R. & Kamiya, Y. Regeneration of vitamin E from α-chromanoxyl radical by glutathione and vitamin C. Chem. Lett. https://doi.org/10.1246/CL.1982.789 (1982)

Laguerre, M., Bily, A., Roller, M. & Birtić, S. Mass transport phenomena in lipid oxidation and antioxidation. Annu. Rev. Food Sci. Technol. 28, 391–411 (2017).

Schilling, D. et al. Commonly used alkylating agents limit persulfide detection by converting protein persulfides into thioethers. Angew. Chem. 134, e202203684 (2022).

Vemula, V., Ni, Z. & Fedorova, M. Fluorescence labeling of carbonylated lipids and proteins in cells using coumarin-hydrazide. Redox Biol. 5, 195–204 (2015).

Agrawal, S. et al. El-MAVEN: a fast, robust, and user-friendly mass spectrometry data processing engine for metabolomics. in High-Throughput Metabolomics: Methods and Protocols (ed D'Alessandro, A.) 301–321 (Springer, 2019).

MacLean, B. et al. Skyline: an open source document editor for creating and analyzing targeted proteomics experiments. Bioinformatics 26, 966–968 (2010).

Stoll, S. & Schweiger, A. EasySpin, a comprehensive software package for spectral simulation and analysis in EPR. J. Magn. Reson. 178, 42–55 (2006).

Savige, W. E., Eager, J., Maclaren, J. A. & Roxburgh, C. M. The S-monoxides of cystine, cystamine and homocystine. Tetrahedron Lett. 5, 3289–3293 (1964).

Frisch, M. J. et al. Gaussian 09, Revision D.01 (Gaussian Inc., Wallingford, CT, 2016).

Barbati, S. et al. 31P labeled cyclic nitrones: a new class of spin traps for free radicals in biological milieu. In Free Radicals in Biology and Environment (ed Minisci, F.) 39–47 (Springer, Dordrecht, 1997).
Acknowledgements
We thank V. Crétet Malak and A.-L. Schramm for technical assistance. We acknowledge technical support by M. Langlotz (ZMBH Flow Cytometry & FACS Core Facility). We thank R. Steimbach and J. Lohbeck for help with organic synthesis. We acknowledge experimental advice from P. Kritsiligkou and D. Talwar. We thank M. Fedorova for mass spectrometry advice. We thank R. Radi for helpful discussions. We gratefully acknowledge funding by the Deutsche Forschungsgemeinschaft (Priority Program SPP2306, to T.P.D., J.P.F.A. and A.S., and Collaborative Research Center TRR186, to T.P.D.); by the European Commission (742039, to T.P.D., and 101002812, to F.G.); by the Klaus Tschira Foundation (to F.G.); and by the University of Würzburg (Rudolf Virchow Center Junior Group Leader Program, to J.P.F.A).
Funding
Open access funding provided by Deutsches Krebsforschungszentrum (DKFZ).
Ethics declarations
Competing interests
The authors declare no conflicts of interest.
Peer review
Peer review information
Nature Chemical Biology thanks Jon Fukuto and the other, anonymous, reviewer(s) for their contribution to the peer review of this work.
Additional information
Publisher's note Springer Nature remains neutral with regard to jurisdictional claims in published maps and institutional affiliations.
Supplementary information
Supplementary Tables 1 and 2, Supplementary Figs. 1 and 2 and Supplementary Note 1
Rights and permissions
Open Access This article is licensed under a Creative Commons Attribution 4.0 International License, which permits use, sharing, adaptation, distribution and reproduction in any medium or format, as long as you give appropriate credit to the original author(s) and the source, provide a link to the Creative Commons license, and indicate if changes were made. The images or other third party material in this article are included in the article's Creative Commons license, unless indicated otherwise in a credit line to the material. If material is not included in the article's Creative Commons license and your intended use is not permitted by statutory regulation or exceeds the permitted use, you will need to obtain permission directly from the copyright holder. To view a copy of this license, visit http://creativecommons.org/licenses/by/4.0/.
About this article
Cite this article
Barayeu, U., Schilling, D., Eid, M. et al. Hydropersulfides inhibit lipid peroxidation and ferroptosis by scavenging radicals. Nat Chem Biol 19, 28–37 (2023). https://doi.org/10.1038/s41589-022-01145-w
Received:

Accepted:

Published:

Issue Date:

DOI: https://doi.org/10.1038/s41589-022-01145-w