Abstract
Colibactin, a DNA cross-linking agent produced by gut bacteria, is implicated in colorectal cancer. Its biosynthesis uses a prodrug resistance mechanism: a non-toxic precursor assembled in the cytoplasm is activated after export to the periplasm. This activation is mediated by ClbP, an inner-membrane peptidase with an N-terminal periplasmic catalytic domain and a C-terminal three-helix transmembrane domain. Although the transmembrane domain is required for colibactin activation, its role in catalysis is unclear. Our structure of full-length ClbP bound to a product analog reveals an interdomain interface important for substrate binding and enzyme stability and interactions that explain the selectivity of ClbP for the N-acyl-d-asparagine prodrug motif. Based on structural and biochemical evidence, we propose that ClbP dimerizes to form an extended substrate-binding site that can accommodate a pseudodimeric precolibactin with its two terminal prodrug motifs in the two ClbP active sites, thus enabling the coordinated activation of both electrophilic warheads.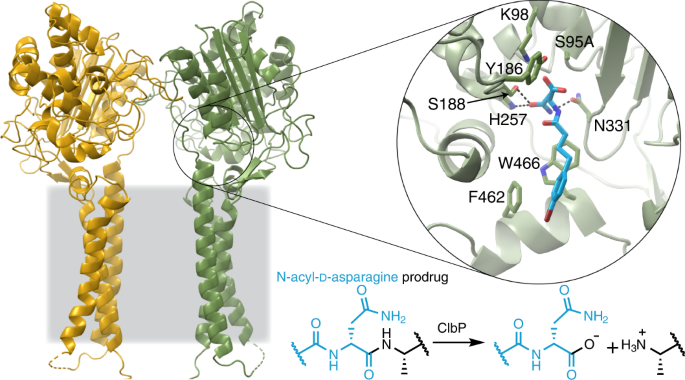 Data availability
Atomic coordinates and structure factors for the reported crystal structures in this work have been deposited to the Protein Data Bank under accession numbers 7MDE (Monoolein-bound S95A-L454M-I478M (SeMet) ClbP) and 7MDF (Product-bound S95A-L454M-I478M ClbP). Corresponding X-ray diffraction images have been deposited to the SBGrid Data Bank under accession numbers 833 (doi:10.15785/SBGRID/833) and 831 (doi:10.15785/SBGRID/831), respectively. The map of the cryo-EM reconstruction has been deposited to the Electron Microscopy Data Bank (accession number: EMD-26593) and the refined coordinates to the PDB (ID: 7UL6). The sequences for bioinformatic analyses were procured from PFAM (seed alignment version 33.1), UniProt (2021_02 release), GenBank (release 242), ENA (2021.03.03) and MEROPS (12.4), and the dataset (SSN, aligned sequences and phylogenetic tree) is in the Supplementary Data. Source data for Figs. 2 and 3 and Extended Data Figs. 3, 4, 6 and 8 are provided with this paper.
References
Nougayrede, J. P. et al. Escherichia coli induces DNA double-strand breaks in eukaryotic cells. Science 313, 848–851 (2006).

Buc, E. et al. High prevalence of mucosa-associated E. coli producing cyclomodulin and genotoxin in colon cancer. PLoS ONE 8, e56964 (2013).

Arthur, J. C. et al. Microbial genomic analysis reveals the essential role of inflammation in bacteria-induced colorectal cancer. Nat. Commun. 5, 4724 (2014).

Cuevas-Ramos, G. et al. Escherichia coli induces DNA damage in vivo and triggers genomic instability in mammalian cells. Proc. Natl Acad. Sci. USA 107, 11537–11542 (2010).

Arthur, J. C. et al. Intestinal inflammation targets cancer-inducing activity of the microbiota. Science 338, 120–123 (2012).

Putze, J. et al. Genetic structure and distribution of the colibactin genomic island among members of the family Enterobacteriaceae. Infect. Immun. 77, 4696–4703 (2009).

Sarshar, M. et al. Genetic diversity, phylogroup distribution and virulence gene profile of pks positive Escherichia coli colonizing human intestinal polyps. Micro. Pathog. 112, 274–278 (2017).

Wernke, K. M. et al. Structure and bioactivity of colibactin. Bioorg. Med. Chem. Lett. 30, 127280 (2020).

Xue, M. et al. Structure elucidation of colibactin and its DNA cross-links. Science 365, eaax2685 (2019).

Jiang, Y. et al. Reactivity of an unusual amidase may explain colibactin's DNA cross-linking activity. J. Am. Chem. Soc. 141, 11489–11496 (2019).

Healy, A. R., Nikolayevskiy, H., Patel, J. R., Crawford, J. M. & Herzon, S. B. A mechanistic model for colibactin-induced genotoxicity. J. Am. Chem. Soc. 138, 15563–15570 (2016).

Wilson, M. R. et al. The human gut bacterial genotoxin colibactin alkylates DNA. Science 363, eaar7785 (2019).

Bossuet-Greif, N. et al. The colibactin genotoxin generates DNA interstrand cross-links in infected cells. mBio 9, e02393–02317 (2018).

Xue, M., Wernke, K. M. & Herzon, S. B. Depurination of colibactin-derived interstrand cross-links. Biochemistry 59, 892–900 (2020).

Brotherton, C. A. & Balskus, E. P. A prodrug resistance mechanism is involved in colibactin biosynthesis and cytotoxicity. J. Am. Chem. Soc. 135, 3359–3362 (2013).

Balskus, E. P. Colibactin: understanding an elusive gut bacterial genotoxin. Nat. Prod. Rep. 32, 1534–1540 (2015).

Reimer, D. & Bode, H. B. A natural prodrug activation mechanism in the biosynthesis of nonribosomal peptides. Nat. Prod. Rep. 31, 154–159 (2014).

Rawlings, N. D. et al. The MEROPS database of proteolytic enzymes, their substrates and inhibitors in 2017 and a comparison with peptidases in the PANTHER database. Nucleic Acids Res. 46, D624–D632 (2018).

Dubois, D. et al. ClbP is a prototype of a peptidase subgroup involved in biosynthesis of nonribosomal peptides. J. Biol. Chem. 286, 35562–35570 (2011).

Volpe, M. R. et al. In Vitro characterization of the colibactin-activating peptidase ClbP enables development of a fluorogenic activity probe. ACS Chem. Biol. 14, 1097–1101 (2019).

Cougnoux, A. et al. Analysis of structure-function relationships in the colibactin-maturating enzyme ClbP. J. Mol. Biol. 424, 203–214 (2012).

Volpe, M. R. et al. A small molecule inhibitor prevents gut bacterial genotoxin production. Nat. Chem. Biol. https://doi.org/10.1038/s41589-022-01147-8

Terekhov, S. S. et al. Ultrahigh-throughput functional profiling of microbiota communities. Proc. Natl Acad. Sci. USA 115, 9551–9556 (2018).

Westman, E. L., Yan, M., Waglechner, N., Koteva, K. & Wright, G. D. Self resistance to the atypical cationic antimicrobial peptide edeine of Brevibacillus brevis Vm4 by the N-acetyltransferase EdeQ. Chem. Biol. 20, 983–990 (2013).

Garcia-Gonzalez, E. et al. Biological effects of paenilamicin, a secondary metabolite antibiotic produced by the honey bee pathogenic bacterium Paenibacillus larvae. MicrobiologyOpen 3, 642–656 (2014).

Park, D. et al. Genetic analysis of xenocoumacin antibiotic production in the mutualistic bacterium Xenorhabdus nematophila. Mol. Microbiol. 73, 938–949 (2009).

Kevany, B. M., Rasko, D. A. & Thomas, M. G. Characterization of the complete zwittermicin A biosynthesis gene cluster from Bacillus cereus. Appl. Environ. Microbiol. 75, 1144–1155 (2009).

Lefurgy, S. T., de Jong, R. M. & Cornish, V. W. Saturation mutagenesis of Asn152 reveals a substrate selectivity switch in P99 cephalosporinase. Protein Sci. 16, 2636–2646 (2007).

Krissinel, E. & Henrick, K. Inference of macromolecular assemblies from crystalline state. J. Mol. Biol. 372, 774–797 (2007).

Massip, C. et al. Deciphering the interplay between the genotoxic and probiotic activities of Escherichia coli Nissle 1917. PLoS Pathog. 15, e1008029 (2019).

Silpe, J. E., Wong, J. W. H., Owen, S. V., Baym, M. & Balskus, E. P. The bacterial toxin colibactin triggers prophage induction. Nature 603, 315–320 (2022).

Chen, J. et al. A commensal-encoded genotoxin drives restriction of Vibrio cholerae colonization and host gut microbiome remodeling. Proc. Natl Acad. Sci. USA 119, e2121180119 (2022).

Van Duyne, G. D., Standaert, R. F., Karplus, P. A., Schreiber, S. L. & Clardy, J. Atomic structures of the human immunophilin FKBP-12 complexes with FK506 and rapamycin. J. Mol. Biol. 229, 105–124 (1993).

Kabsch, W. XDS. Acta Crystallogr. D Biol. Crystallogr. 66, 125–132 (2010).

Evans, P. R. & Murshudov, G. N. How good are my data and what is the resolution. Acta Crystallogr. D Biol. Crystallogr. 69, 1204–1214 (2013).

Liebschner, D. et al. Macromolecular structure determination using X-rays, neutrons and electrons: recent developments in Phenix. Acta Crystallogr. D Struct. Biol. 75, 861–877 (2019).

Emsley, P., Lohkamp, B., Scott, W. G. & Cowtan, K. Features and development of Coot. Acta Crystallogr. D Biol. Crystallogr. 66, 486–501 (2010).

Ennifar, E., Carpentier, P., Ferrer, J. L., Walter, P. & Dumas, P. X-ray-induced debromination of nucleic acids at the Br K absorption edge and implications for MAD phasing. Acta Crystallogr. D Biol. Crystallogr. 58, 1262–1268 (2002).

Morin, A. et al. Collaboration gets the most out of software. eLife 2, e01456 (2013).

Mastronarde, D. N. Automated electron microscope tomography using robust prediction of specimen movements. J. Struct. Biol. 152, 36–51 (2005).

Zheng, S. Q. et al. MotionCor2: anisotropic correction of beam-induced motion for improved cryo-electron microscopy. Nat. Methods 14, 331–332 (2017).

Rohou, A. & Grigorieff, N. CTFFIND4: fast and accurate defocus estimation from electron micrographs. J. Struct. Biol. 192, 216–221 (2015).

Wagner, T. et al. SPHIRE-crYOLO is a fast and accurate fully automated particle picker for cryo-EM. Commun. Biol. 2, 218 (2019).

Scheres, S. H. RELION: implementation of a Bayesian approach to cryo-EM structure determination. J. Struct. Biol. 180, 519–530 (2012).

Punjani, A., Rubinstein, J. L., Fleet, D. J. & Brubaker, M. A. cryoSPARC: algorithms for rapid unsupervised cryo-EM structure determination. Nat. Methods 14, 290–296 (2017).

Croll, T. I. ISOLDE: a physically realistic environment for model building into low-resolution electron-density maps. Acta Crystallogr. D Struct. Biol. 74, 519–530 (2018).

Jones, P. et al. InterProScan 5: genome-scale protein function classification. Bioinformatics 30, 1236–1240 (2014).

Bachmann, B. O. & Ravel, J. Chapter 8. Methods for in silico prediction of microbial polyketide and nonribosomal peptide biosynthetic pathways from DNA sequence data. Methods Enzymol. 458, 181–217 (2009).

Blin, K. et al. antiSMASH 5.0: updates to the secondary metabolite genome mining pipeline. Nucleic Acids Res. 47, W81–W87 (2019).

Skinnider, M. A., Merwin, N. J., Johnston, C. W. & Magarvey, N. A. PRISM 3: expanded prediction of natural product chemical structures from microbial genomes. Nucleic Acids Res. 45, W49–W54 (2017).

Zallot, R., Oberg, N. & Gerlt, J. A. The EFI web resource for genomic enzymology tools: leveraging protein, genome, and metagenome databases to discover novel enzymes and metabolic pathways. Biochemistry 58, 4169–4182 (2019).

Shannon, P. et al. Cytoscape: a software environment for integrated models of biomolecular interaction networks. Genome Res. 13, 2498–2504 (2003).

Potter, S. C. et al. HMMER web server: 2018 update. Nucleic Acids Res. 46, W200–W204 (2018).

Lefort, V., Longueville, J. E. & Gascuel, O. SMS: Smart Model Selection in PhyML. Mol. Biol. Evol. 34, 2422–2424 (2017).

Han, M. V. & Zmasek, C. M. phyloXML: XML for evolutionary biology and comparative genomics. BMC Bioinformatics 10, 356 (2009).

Engel, P., Vizcaino, M. I. & Crawford, J. M. Gut symbionts from distinct hosts exhibit genotoxic activity via divergent colibactin biosynthesis pathways. Appl. Environ. Microbiol. 81, 1502–1512 (2015).

Naughton, L. M., Romano, S., O'Gara, F. & Dobson, A. D. W. Identification of secondary metabolite gene clusters in the Pseudovibrio genus reveals encouraging biosynthetic potential toward the production of novel bioactive compounds. Front. Microbiol. 8, 1494 (2017).

Bondarev, V. et al. The genus Pseudovibrio contains metabolically versatile bacteria adapted for symbiosis. Environ. Microbiol. 15, 2095–2113 (2013).

Alex, A. & Antunes, A. Whole genome sequencing of the symbiont Pseudovibrio sp. from the intertidal marine sponge Polymastia penicillus revealed a gene repertoire for host-switching permissive lifestyle. Genome Biol. Evol. 7, 3022–3032 (2015).

Moretti, C. et al. Erwinia oleae sp. nov., isolated from olive knots caused by Pseudomonas savastanoi pv. savastanoi. Int. J. Syst. Evol. Microbiol. 61, 2745–2752 (2011).
Acknowledgements
We dedicate this paper to the memory of our late colleague, Ethan Winter. We acknowledge the early efforts by Ethan Winter and C. Zimanyi to determine the structure of ClbP and the help of Y. Jiang and E. Carlson in functional assays. This work was funded, in part, by National Institute of General Medical Sciences (NIGMS) grant R01GM120996 (R.G.), R01CA208834 (E.P.B.) and the Damon Runyon-Rachleff Innovation Award (E.P.B). E.P.B. is a Howard Hughes Medical Institute (HHMI) Investigator. J.A.V. acknowledges support from an HHMI James H. Gilliam Fellowship; M.R.V. acknowledges support from National Cancer Institute fellowship F31CA247069; and G.E.K acknowledges support from fellowship DRG-2369-19 from the Damon Runyon Cancer Research Foundation. Diffraction data reported in this study were collected at NE-CAT beamlines in the Advanced Photon Source. NE-CAT is funded by NIGMS grant P30 GM124165, and the Advanced Photon Source is a US Department of Energy Facility operated by Argonne National Laboratory under contract number DE-AC02-06CH11357. We acknowledge use of resources from the Harvard Cryo-EM Center for Structural Biology.
Ethics declarations
Competing interests
E.P.B. and M.R.V. are listed as inventors on a provisional patent (US application 63/135,825) which relates to the methods and ClbP inhibitors described in Reference 22. The other authors declare no competing interests.
Peer review
Peer review information
Nature Chemical Biology thanks Shingo Nagano and the other, anonymous, reviewer(s) for their contribution to the peer review of this work.
Additional information
Publisher's note Springer Nature remains neutral with regard to jurisdictional claims in published maps and institutional affiliations.
Supplementary information
Supplementary Tables 1–3, Supplementary Figs. 1–5 and Supplementary Note
Data for sequence analyses
Rights and permissions
Open Access This article is licensed under a Creative Commons Attribution 4.0 International License, which permits use, sharing, adaptation, distribution and reproduction in any medium or format, as long as you give appropriate credit to the original author(s) and the source, provide a link to the Creative Commons license, and indicate if changes were made. The images or other third party material in this article are included in the article's Creative Commons license, unless indicated otherwise in a credit line to the material. If material is not included in the article's Creative Commons license and your intended use is not permitted by statutory regulation or exceeds the permitted use, you will need to obtain permission directly from the copyright holder. To view a copy of this license, visit http://creativecommons.org/licenses/by/4.0/.
About this article
Cite this article
Velilla, J.A., Volpe, M.R., Kenney, G.E. et al. Structural basis of colibactin activation by the ClbP peptidase. Nat Chem Biol 19, 151–158 (2023). https://doi.org/10.1038/s41589-022-01142-z
Received:

Accepted:

Published:

Issue Date:

DOI: https://doi.org/10.1038/s41589-022-01142-z
This article is cited by
Matthew R. Volpe
José A. Velilla
Emily P. Balskus

Nature Chemical Biology (2023)