Abstract
Orthosomycin antibiotics inhibit protein synthesis by binding to the large ribosomal subunit in the tRNA accommodation corridor, which is traversed by incoming aminoacyl-tRNAs. Structural and biochemical studies suggested that orthosomycins block accommodation of any aminoacyl-tRNAs in the ribosomal A-site. However, the mode of action of orthosomycins in vivo remained unknown. Here, by carrying out genome-wide analysis of antibiotic action in bacterial cells, we discovered that orthosomycins primarily inhibit the ribosomes engaged in translation of specific amino acid sequences. Our results reveal that the predominant sites of orthosomycin-induced translation arrest are defined by the nature of the incoming aminoacyl-tRNA and likely by the identity of the two C-terminal amino acid residues of the nascent protein. We show that nature exploits this antibiotic-sensing mechanism for directing programmed ribosome stalling within the regulatory open reading frame, which may control expression of an orthosomycin-resistance gene in a variety of bacterial species.

Access options
Subscribe to Nature+
Get immediate online access to Nature and 55 other Nature journal
Subscribe to Journal
Get full journal access for 1 year
$119.00
only $9.92 per issue
All prices are NET prices.
VAT will be added later in the checkout.
Tax calculation will be finalised during checkout.
Buy article
Get time limited or full article access on ReadCube.
$32.00
All prices are NET prices.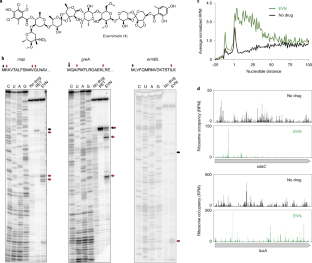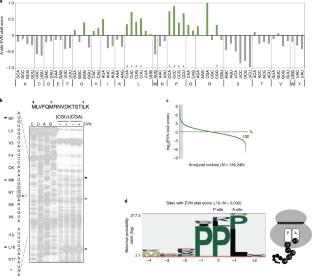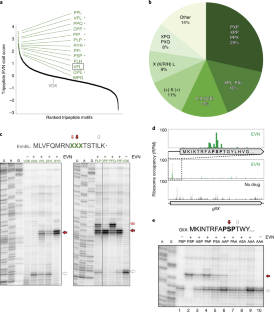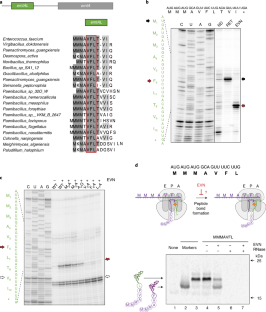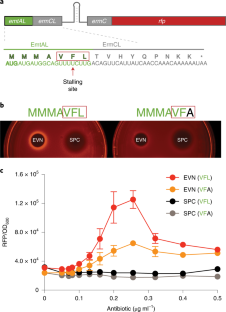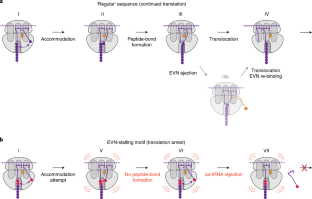 Data availability
Ribosome profiling (Ribo-seq) data have been deposited to the Gene Expression Omnibus (GEO) database under accession number GSE193270. Source data are provided with this paper.
References
McCranie, E. K. & Bachmann, B. O. Bioactive oligosaccharide natural products. Nat. Prod. Rep. 31, 1026–1042 (2014).

McNicholas, P. M. et al. Evernimicin binds exclusively to the 50S ribosomal subunit and inhibits translation in cell-free systems derived from both Gram-positive and Gram-negative bacteria. Antimicrob. Agents Chemother. 44, 1121–1126 (2000).

Lin, J., Zhou, D., Steitz, T. A., Polikanov, Y. S. & Gagnon, M. G. Ribosome-targeting antibiotics: modes of action, mechanisms of resistance, and implications for drug design. Annu. Rev. Biochem. 87, 451–478 (2018).

Adrian, P. V. et al. Evernimicin (SCH27899) inhibits a novel ribosome target site: analysis of 23S ribosomal DNA mutants. Antimicrob. Agents Chemother. 44, 3101–3106 (2000).

Belova, L., Tenson, T., Xiong, L., McNicholas, P. M. & Mankin, A. S. A novel site of antibiotic action in the ribosome: interaction of evernimicin with the large ribosomal subunit. Proc. Natl Acad. Sci. USA 98, 3726–3731 (2001).

Krupkin, M. et al. Avilamycin and evernimicin induce structural changes in rProteins uL16 and CTC that enhance the inhibition of A-site tRNA binding. Proc. Natl Acad. Sci. USA 113, E6796–E6805 (2016).

Arenz, S. et al. Structures of the orthosomycin antibiotics avilamycin and evernimicin in complex with the bacterial 70S ribosome. Proc. Natl Acad. Sci. USA 113, 7527–7532 (2016).

Mikolajka, A. et al. Differential effects of thiopeptide and orthosomycin antibiotics on translational GTPases. Chem. Biol. 18, 589–600 (2011).

Wolf, H. Avilamycin, an inhibitor of the 30 S ribosomal subunits function. FEBS Lett. 36, 181–186 (1973).

Gibbs, M. R. et al. Conserved GTPase LepA (elongation factor 4) functions in biogenesis of the 30S subunit of the 70S ribosome. Proc. Natl Acad. Sci. USA 114, 980–985 (2017).

Choi, E. & Hwang, J. The GTPase BipA expressed at low temperature in Escherichia coli assists ribosome assembly and has chaperone-like activity. J. Biol. Chem. 293, 18404–18419 (2018).

Morse, J. C. et al. Elongation factor-Tu can repetitively engage aminoacyl-tRNA within the ribosome during the proofreading stage of tRNA selection. Proc. Natl Acad. Sci. USA 117, 3610–3620 (2020).

Orelle, C. et al. Tools for characterizing bacterial protein synthesis inhibitors. Antimicrob. Agents Chemother. 57, 5994–6004 (2013).

Ingolia, N. T., Ghaemmaghami, S., Newman, J. R. & Weissman, J. S. Genome-wide analysis in vivo of translation with nucleotide resolution using ribosome profiling. Science 324, 218–223 (2009).

Oh, E. et al. Selective ribosome profiling reveals the cotranslational chaperone action of trigger factor in vivo. Cell 147, 1295–1308 (2011).

Davis, A. R., Gohara, D. W. & Yap, M. N. Sequence selectivity of macrolide-induced translational attenuation. Proc. Natl Acad. Sci. USA 111, 15379–15384 (2014).

Kannan, K. et al. The general mode of translation inhibition by macrolide antibiotics. Proc. Natl Acad. Sci. USA 111, 15958–15963 (2014).

Vazquez-Laslop, N. & Mankin, A. S. Context-specific action of ribosomal antibiotics. Annu. Rev. Microbiol. 72, 185–207 (2018).

Eggert, U. S. et al. Genetic basis for activity differences between vancomycin and glycolipid derivatives of vancomycin. Science 294, 361–364 (2001).

Meydan, S. et al. Retapamulin-assisted ribosome profiling reveals the alternative bacterial proteome. Mol. Cell 74, 481–493 (2019).

Weaver, J., Mohammad, F., Buskirk, A. R. & Storz, G. Identifying small proteins by ribosome profiling with stalled initiation complexes. mBio 10, 02819-18 (2019).

Schuller, A. P., Wu, C. C., Dever, T. E., Buskirk, A. R. & Green, R. eIF5A functions globally in translation elongation and termination. Mol. Cell 66, 194–205 (2017).

Sothiselvam, S. et al. Binding of macrolide antibiotics leads to ribosomal selection against specific substrates based on their charge and size. Cell Rep. 16, 1789–1799 (2016).

Svetlov, M. S. et al. Context-specific action of macrolide antibiotics on the eukaryotic ribosome. Nat. Commun. 12, 2803 (2021).

Weisblum, B. Insights into erythromycin action from studies of its activity as inducer of resistance. Antimicrob. Agents Chemother. 39, 797–805 (1995).

Mann, P. A. et al. EmtA, a rRNA methyltransferase conferring high-level evernimicin resistance. Mol. Microbiol. 41, 1349–1356 (2001).

Bailey, M., Chettiath, T. & Mankin, A. S. Induction of ermC expression by 'non-inducing' antibiotics. Antimicrob. Agents Chemother. 52, 866–874 (2008).

Cantara, W. A. et al. Modifications modulate anticodon loop dynamics and codon recognition of E. coli tRNA(Arg1,2). J. Mol. Biol. 416, 579–597 (2012).

Curran, J. F. Decoding with the A:I wobble pair is inefficient. Nucleic Acids Res. 23, 683–688 (1995).

Muramatsu, T. et al. Codon and amino-acid specificities of a transfer RNA are both converted by a single post-transcriptional modification. Nature 336, 179–181 (1988).

Soma, A. et al. An RNA-modifying enzyme that governs both the codon and amino acid specificities of isoleucine tRNA. Mol. Cell 12, 689–698 (2003).

Voorhees, R. M. et al. The structural basis for specific decoding of AUA by isoleucine tRNA on the ribosome. Nat. Struct. Molec. Biol. 20, 641–643 (2013).

Bjork, G. R. et al. A primordial tRNA modification required for the evolution of life? EMBO J. 20, 231–239 (2001).

Masuda, I. et al. Loss of N1-methylation of G37 in tRNA induces ribosome stalling and reprograms gene expression. eLife 10, 70619 (2021).

Muto, H. & Ito, K. Peptidyl-prolyl-tRNA at the ribosomal P-site reacts poorly with puromycin. Biochem. Biophys. Res. Commun. 366, 1043–1047 (2008).

Wohlgemuth, I., Brenner, S., Beringer, M. & Rodnina, M. V. Modulation of the rate of peptidyl transfer on the ribosome by the nature of substrates. J. Biol. Chem. 283, 32229–32235 (2008).

Ude, S. et al. Translation elongation factor EF-P alleviates ribosome stalling at polyproline stretches. Science 339, 82–85 (2013).

Doerfel, L. K. et al. EF-P is essential for rapid synthesis of proteins containing consecutive proline residues. Science 339, 85–88 (2013).

Woolstenhulme, C. J. et al. Nascent peptides that block protein synthesis in bacteria. Proc. Natl Acad. Sci. USA 110, E878–E887 (2013).

Rajkovic, A. et al. Translation control of swarming proficiency in Bacillus subtilis by 5-amino-pentanolylated elongation factor P. J. Biol. Chem. 291, 10976–10985 (2016).

Beckert, B. et al. Structural and mechanistic basis for translation inhibition by macrolide and ketolide antibiotics. Nat. Commun. 12, 4466 (2021).

Pelechano, V. & Alepuz, P. eIF5A facilitates translation termination globally and promotes the elongation of many non polyproline-specific tripeptide sequences. Nucleic Acids Res. 45, 7326–7338 (2017).

Chadani, Y. et al. Intrinsic ribosome destabilization underlies translation and provides an organism with a strategy of environmental sensing. Mol. Cell 68, 528–539 (2017).

Chadani, Y. et al. Nascent polypeptide within the exit tunnel stabilizes the ribosome to counteract risky translation. EMBO J. 40, e108299 (2021).

Delsol, A. A. et al. Effect of the growth promoter avilamycin on emergence and persistence of antimicrobial resistance in enteric bacteria in the pig. J. Appl. Microbiol. 98, 564–571 (2005).

Gupta, P., Sothiselvam, S., Vazquez-Laslop, N. & Mankin, A. S. Deregulation of translation due to post-transcriptional modification of rRNA explains why erm genes are inducible. Nat. Commun. 4, 1984 (2013).

Gupta, P. et al. Nascent peptide assists the ribosome in recognizing chemically distinct small molecules. Nat. Chem. Biol. 12, 153–158 (2016).

Marks, J. et al. Context-specific inhibition of translation by ribosomal antibiotics targeting the peptidyl transferase center. Proc. Natl Acad. Sci. USA 113, 12150–12155 (2016).

Orelle, C. et al. Identifying the targets of aminoacyl-tRNA synthetase inhibitors by primer extension inhibition. Nucleic Acids Res. 41, e144 (2013).

Becker, A. H., Oh, E., Weissman, J. S., Kramer, G. & Bukau, B. Selective ribosome profiling as a tool for studying the interaction of chaperones and targeting factors with nascent polypeptide chains and ribosomes. Nat. Prot. 8, 2212–2239 (2013).

McGlincy, N. J. & Ingolia, N. T. Transcriptome-wide measurement of translation by ribosome profiling. Methods 126, 112–129 (2017).

Mangano, K. et al. Genome-wide effects of the antimicrobial peptide apidaecin on translation termination in bacteria. eLife 9, 62655 2020).

Aleksashin, N. A. et al. Assembly and functionality of the ribosome with tethered subunits. Nat. Commun. 10, 930 (2019).

Saha, C. K., Sanches Pires, R., Brolin, H., Delannoy, M. & Atkinson, G. C. FlaGs and webFlaGs: discovering novel biology through the analysis of gene neighbourhood conservation. Bioinformatics 37, 1312–1314 (2021).

Katoh, K. & Standley, D. M. MAFFT multiple sequence alignment software version 7: improvements in performance and usability. Mol. Biol. Evol. 30, 772–780 (2013).

Capella-Gutierrez, S., Silla-Martinez, J. M. & Gabaldon, T. trimAl: a tool for automated alignment trimming in large-scale phylogenetic analyses. Bioinformatics 25, 1972–1973 (2009).

Miller, M. A., Pfeiffer, W., Schwartz, T. The CIPRES science gateway: a community resource for phylogenetic analyses. In Proc. 2011 TeraGrid Conference: Extreme Digital Discovery (ACM, 2011).

Minh, B. Q. et al. IQ-TREE 2: new models and efficient methods for phylogenetic inference in the genomic era. Mol. Biol. Evol. 37, 1530–1534 (2020).

Larsson, A. AliView: a fast and lightweight alignment viewer and editor for large datasets. Bioinformatics 30, 3276–3278 (2014).

Krishnamoorthy, G. et al. Breaking the permeability barrier of Escherichia coli by controlled hyperporination of the outer membrane. Antimicrob. Agents Chemother. 60, 7372–7381 (2016).
Acknowledgements
We thank A. Innis and E. Leroy (University of Bordeaux) for structural insights, S. Meydan (University of Illinois at Chicago) for advice with some experiments, M. Svetlov for help with the figures and M. Ibba (Ohio State University) for sharing the B. subtilis strains. We are grateful to Y.-M. Hou (Thomas Jefferson University) for insights into the role of tRNA modification in decoding and to P. Mann and T. Black (Merck) for the advice on antibiotic-sensitive bacterial strains and information about preclinical development of evernimicin (Ziracin). This work was supported by the NIH grant R35-GM127134 to A.S.M. K.M. was supported by a NIH Training Grant (5T32AT007533). G.C.A. was supported by grants from the Knut and Alice Wallenberg Foundation (KAW 2020.0037), Umeå University Medical Faculty (Biotechnology grant to G.C.A), Kempestiftelserna (SMK-1858.3 to G.C.A), Carl Tryggers Stiftelse för Vetenskaplig Forskning (CTS19:24), and the Swedish Research Council (2019-01085). C.K.S. acknowledges support from Stiftelsen J.C. Kempes Stipendiefond.
Ethics declarations
Competing interests
The authors declare no competing interests.
Peer review
Peer review information
Nature Chemical Biology thanks the anonymous reviewers for their contribution to the peer review of this work.
Additional information
Publisher's note Springer Nature remains neutral with regard to jurisdictional claims in published maps and institutional affiliations.
Supplementary information
DNA oligonucleotides used in the study.
Ranking of tripeptides by the EVN stalling score.
Rights and permissions
Springer Nature or its licensor holds exclusive rights to this article under a publishing agreement with the author(s) or other rightsholder(s); author self-archiving of the accepted manuscript version of this article is solely governed by the terms of such publishing agreement and applicable law.
About this article
Cite this article
Mangano, K., Marks, J., Klepacki, D. et al. Context-based sensing of orthosomycin antibiotics by the translating ribosome. Nat Chem Biol 18, 1277–1286 (2022). https://doi.org/10.1038/s41589-022-01138-9
Received:

Accepted:

Published:

Issue Date:

DOI: https://doi.org/10.1038/s41589-022-01138-9