Abstract
Molecular fluorescent indicators are versatile tools for dynamic imaging of biological systems. We now report a class of indicators that are based on the chemigenetic combination of a synthetic ion-recognition motif and a protein-based fluorophore. Specifically, we have developed a calcium ion (Ca2+) indicator that is based on genetic insertion of circularly permuted green fluorescent protein into HaloTag protein self-labeled with a ligand containing the Ca2+ chelator 1,2-bis(2-aminophenoxy)ethane-N,N,N′,N′-tetraacetic acid. We have demonstrated the versatility of this design by also developing a sodium ion (Na+) indicator using a crown-ether-containing ligand. This approach affords bright and sensitive ion indicators that can be applicable to cell imaging. This design can enable the development of chemigenetic indicators with ion or molecular specificities that have not been realized with fully protein-based indicators.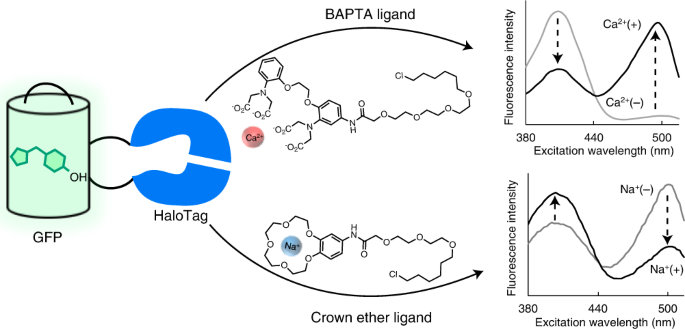 Access options
Subscribe to Nature+
Get immediate online access to Nature and 55 other Nature journal
Subscribe to Journal
Get full journal access for 1 year
$119.00
only $9.92 per issue
All prices are NET prices.
VAT will be added later in the checkout.
Tax calculation will be finalised during checkout.
Buy article
Get time limited or full article access on ReadCube.
$32.00
All prices are NET prices.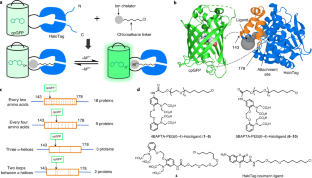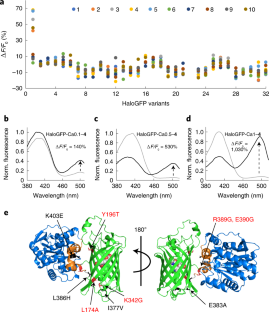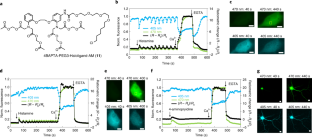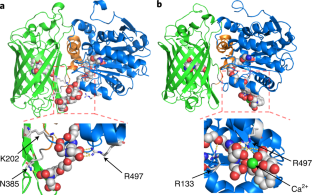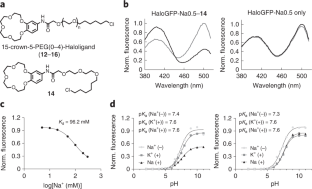 Data availability
The authors declare that all custom software and data supporting the findings of this study are available within the paper and its Supplementary Information or are available from the corresponding author upon reasonable request. Source data are provided with this paper.
References
Grynkiewicz, G., Poenie, M. & Tsien, R. Y. A new generation of Ca2+ indicators with greatly improved fluorescence properties. J. Biol. Chem. 260, 3440–3450 (1985).

Dana, H. et al. High-performance calcium sensors for imaging activity in neuronal populations and microcompartments. Nat. Methods 16, 649–657 (2019).

Carter, K. P., Young, A. M. & Palmer, A. E. Fluorescent sensors for measuring metal ions in living systems. Chem. Rev. 114, 4564–4601 (2014).

Terai, T. & Nagano, T. Fluorescent probes for bioimaging applications. Curr. Opin. Chem. Biol. 12, 515–521 (2008).

Bruemmer, K. J., Crossley, S. W. M. & Chang, C. J. Activity-based sensing: a synthetic methods approach for selective molecular imaging and beyond. Angew. Chem. Int. Ed. Engl. 59, 13734–13762 (2020).

Greenwald, E. C., Mehta, S. & Zhang, J. Genetically encoded fluorescent biosensors illuminate the spatiotemporal regulation of signaling networks. Chem. Rev. 118, 11707–11794 (2018).

Lavis, L. D. Live and let dye. Biochemistry 60, 3539–3546 (2021).

Brustad, E. M. & Arnold, F. H. Optimizing non-natural protein function with directed evolution. Curr. Opin. Chem. Biol. 15, 201–210 (2011).

Nasu, Y., Shen, Y., Kramer, L. & Campbell, R. E. Structure- and mechanism-guided design of single fluorescent protein-based biosensors. Nat. Chem. Biol. 17, 509–518 (2021).

Nakai, J., Ohkura, M. & Imoto, K. A high signal-to-noise Ca2+ probe composed of a single green fluorescent protein. Nat. Biotechnol. 19, 137–141 (2001).

Abdelfattah, A. S. et al. Bright and photostable chemigenetic indicators for extended in vivo voltage imaging. Science 365, 699–704 (2019).

Deo, C. et al. The HaloTag as a general scaffold for far-red tunable chemigenetic indicators. Nat. Chem. Biol. 17, 718–723 (2021).

Wang, L., Hiblot, J., Popp, C., Xue, L. & Johnsson, K. Environmentally sensitive color-shifting fluorophores for bioimaging. Angew. Chem. Int. Ed. Engl. 59, 21880–21884 (2020).

Kamiya, M. & Johnsson, K. Localizable and highly sensitive calcium indicator based on a BODIPY fluorophore. Anal. Chem. 82, 6472–6479 (2010).

Hirata, T. et al. Protein-coupled fluorescent probe to visualize potassium ion transition on cellular membranes. Anal. Chem. 88, 2693–2700 (2016).

Deo, C., Sheu, S.-H., Seo, J., Clapham, D. E. & Lavis, L. D. Isomeric tuning yields bright and targetable red Ca2+ indicators. J. Am. Chem. Soc. 141, 13734–13738 (2019).

Sakamoto, S., Kiyonaka, S. & Hamachi, I. Construction of ligand assay systems by protein-based semisynthetic biosensors. Curr. Opin. Chem. Biol. 50, 10–18 (2019).

Los, G. V. et al. HaloTag: a novel protein labeling technology for cell imaging and protein analysis. ACS Chem. Biol. 3, 373–382 (2008).

Tsien, R. Y. New calcium indicators and buffers with high selectivity against magnesium and protons: design, synthesis, and properties of prototype structures. Biochemistry 19, 2396–2404 (1980).

Conyard, J. et al. Chemically modulating the photophysics of the GFP chromophore. J. Phys. Chem. B 115, 1571–1577 (2011).

Kang, M.-G. et al. Structure-guided synthesis of a protein-based fluorescent sensor for alkyl halides. Chem. Commun. 53, 9226–9229 (2017).

Los, G. et al. HaloTagTM Interchangeable labeling technology for cell imaging and protein capture. Cell Notes 11, 2–6 (2005).

Marvin, J. S. et al. Stability, affinity, and chromatic variants of the glutamate sensor iGluSnFR. Nat. Methods 15, 936–939 (2018).

Chen, T.-W. et al. Ultrasensitive fluorescent proteins for imaging neuronal activity. Nature 499, 295–300 (2013).

Jumper, J. et al. Highly accurate protein structure prediction with AlphaFold. Nature 596, 583–589 (2021).

Tsien, R. Y. A non-disruptive technique for loading calcium buffers and indicators into cells. Nature 290, 527–528 (1981).

Vay, L. et al. Modulation of Ca2+ release and Ca2+ oscillations in HeLa cells and fibroblasts by mitochondrial Ca2+ uniporter stimulation. J. Physiol. 580, 39–49 (2007).

Pethig, R. et al. On the dissociation constants of BAPTA-type calcium buffers. Cell Calcium 10, 491–498 (1989).

Molina, R. S. et al. Understanding the fluorescence change in red genetically encoded calcium ion indicators. Biophys. J. 116, 1873–1886 (2019).

Park, S.-H., Kwon, N., Lee, J.-H., Yoon, J. & Shin, I. Synthetic ratiometric fluorescent probes for detection of ions. Chem. Soc. Rev. 49, 143–179 (2020).

Qian, Y. et al. A genetically encoded near-infrared fluorescent calcium ion indicator. Nat. Methods 16, 171–174 (2019).

Ding, J., Luo, A. F., Hu, L., Wang, D. & Shao, F. Structural basis of the ultrasensitive calcium indicator GCaMP6. Sci. China Life Sci. 57, 269–274 (2014).

Tsien, R. & Pozzan, T. Measurement of cytosolic free Ca2+ with quin2. Methods Enzymol. 172, 230–262 (1989).

Cranfill, P. J. et al. Quantitative assessment of fluorescent proteins. Nat. Methods 13, 557–562 (2016).

Virtanen, P. et al. SciPy 1.0: fundamental algorithms for scientific computing in Python. Nat. Methods 17, 261–272 (2020).

Chen, Y. et al. Structural insight into enhanced calcium indicator GCaMP3 and GCaMPJ to promote further improvement. Protein Cell 4, 299–309 (2013).

Pettersen, E. F. et al. UCSF Chimera–a visualization system for exploratory research and analysis. J. Comput. Chem. 25, 1605–1612 (2004).

Case, D. A. et al. AMBER 2020 (University of California, 2020).

Hess, B., Kutzner, C., van der Spoel, D. & Lindahl, E. GROMACS 4: algorithms for highly efficient, load-balanced, and scalable molecular simulation. J. Chem. Theory Comput. 4, 435–447 (2008).
Acknowledgements
We thank T. Ueno and Y. Urano (Graduate School of Pharmaceutical Sciences, The University of Tokyo) for providing access to their instruments. We thank H. Sato, Y. Hori, and T. Tomita (Graduate School of Pharmaceutical Sciences, The University of Tokyo) for technical advice on rat primary neuron culture. We thank JSPS KAKENHI (19H05633 to R.E.C.; 18H02103 and 21H00273 to T.Terai) and Kato Memorial Bioscience Foundation (to Y.N.) for financial support. W.Z. was supported by the MERIT-WINGS program of The University of Tokyo. T.Terai was also supported by Tokuyama Science Foundation and The Asahi Glass Foundation. T.Terada was supported by Research Support Project for Life Science and Drug Discovery (Basis for Supporting Innovative Drug Discovery and Life Science Research (BINDS)) from AMED under Grant Numbers JP21am0101107 and JP22ama121027.
Ethics declarations
Competing interests
The authors declare no competing interest.
Peer review
Peer review information
Nature Chemical Biology thanks the anonymous reviewers for their contribution to the peer review of this work.
Additional information
Publisher's note Springer Nature remains neutral with regard to jurisdictional claims in published maps and institutional affiliations.
Supplementary information
Rights and permissions
Springer Nature or its licensor holds exclusive rights to this article under a publishing agreement with the author(s) or other rightsholder(s); author self-archiving of the accepted manuscript version of this article is solely governed by the terms of such publishing agreement and applicable law.
About this article
Cite this article
Zhu, W., Takeuchi, S., Imai, S. et al. Chemigenetic indicators based on synthetic chelators and green fluorescent protein. Nat Chem Biol (2022). https://doi.org/10.1038/s41589-022-01134-z
Received:

Accepted:

Published:

DOI: https://doi.org/10.1038/s41589-022-01134-z