Abstract
SARS-CoV-2 entry into cells requires specific host proteases; however, no successful in vivo applications of host protease inhibitors have yet been reported for treatment of SARS-CoV-2 pathogenesis. Here we describe a chemically engineered nanosystem encapsulating CRISPR–Cas13d, developed to specifically target lung protease cathepsin L (Ctsl) messenger RNA to block SARS-CoV-2 infection in mice. We show that this nanosystem decreases lung Ctsl expression in normal mice efficiently, specifically and safely. We further show that this approach extends survival of mice lethally infected with SARS-CoV-2, correlating with decreased lung virus burden, reduced expression of proinflammatory cytokines/chemokines and diminished severity of pulmonary interstitial inflammation. Postinfection treatment by this nanosystem dramatically lowers the lung virus burden and alleviates virus-induced pathological changes. Our results indicate that targeting lung protease mRNA by Cas13d nanosystem represents a unique strategy for controlling SARS-CoV-2 infection and demonstrate that CRISPR can be used as a potential treatment for SARS-CoV-2 infection.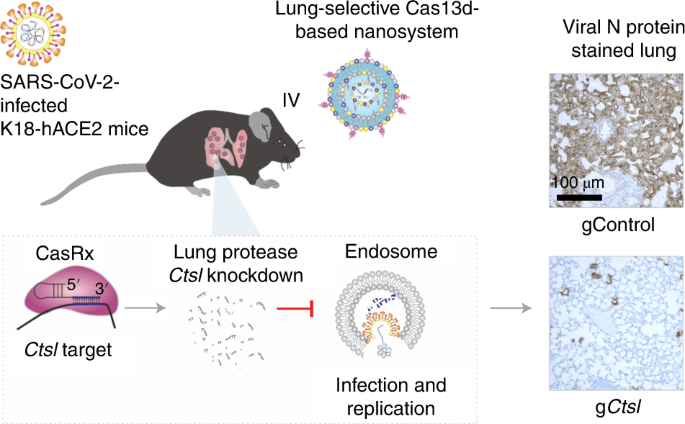 Data availability
Source data for Figs. 1–6 and Extended Data Fig. 1–10 are provided with this paper. The RNA-seq data generated in this study have been deposited in the Gene Expression Omnibus database under accession number GSE203052. All the other data that support this study are provided in the Supplementary Information files. The LNP reagents are available from the corresponding authors upon reasonable request.
References
Beigel, J. H. et al. Remdesivir for the treatment of COVID-19—final report. N. Engl. J. Med. 383, 1813–1826 (2020).

Taylor, P. C. et al. Neutralizing monoclonal antibodies for treatment of COVID-19. Nat. Rev. Immunol. 21, 382–393 (2021).

Mlcochova, P. et al. SARS-CoV-2 B.1.617.2 Delta variant replication and immune evasion. Nature 599, 114–119 (2021).

Planas, D. et al. Considerable escape of SARS-CoV-2 Omicron to antibody neutralization. Nature 602, 671–675 (2022).

Ledford, H. COVID antiviral pills: what scientists still want to know. Nature 599, 358–359 (2021).

Jayk Bernal, A. et al. Molnupiravir for oral treatment of COVID-19 in nonhospitalized patients. N. Engl. J. Med. 386, 509–520 (2022).

Hammond, J. et al. Oral nirmatrelvir for high-risk, nonhospitalized adults with COVID-19. N. Engl. J. Med. 386, 1397–1408 (2022).

Zhou, S. et al. beta-d-N4-hydroxycytidine inhibits SARS-CoV-2 through lethal mutagenesis but is also mutagenic to mammalian cells. J. Infect. Dis. 224, 415–419 (2021).

Lamb, Y. N. Nirmatrelvir plus ritonavir: first approval. Drugs 82, 585–591 (2022).

Hoffmann, M. et al. SARS-CoV-2 cell entry depends on ACE2 and TMPRSS2 and is blocked by a clinically proven protease inhibitor. Cell 181, 271–280.e8 (2020).

Gordon, D. E. et al. A SARS-CoV-2 protein interaction map reveals targets for drug repurposing. Nature 583, 459–468 (2020).

Wei, J. et al. Genome-wide CRISPR screens reveal host factors critical for SARS-CoV-2 Infection. Cell 184, 76–91 e13 (2021).

Daniloski, Z. et al. Identification of required host factors for SARS-CoV-2 infection in human cells. Cell 184, 92–105.e16 (2021).

Liu, T., Luo, S., Libby, P. & Shi, G. P. Cathepsin L-selective inhibitors: a potentially promising treatment for COVID-19 patients. Pharmacol. Ther. 213, 107587 (2020).

Ou, X. et al. Characterization of spike glycoprotein of SARS-CoV-2 on virus entry and its immune cross-reactivity with SARS-CoV. Nat. Commun. 11, 1620 (2020).

Smieszek, S. P., Przychodzen, B. P. & Polymeropoulos, M. H. Amantadine disrupts lysosomal gene expression: a hypothesis for COVID19 treatment. Int. J. Antimicrob. Agents 55, 106004 (2020).

Zhou, Y. et al. Protease inhibitors targeting coronavirus and filovirus entry. Antivir. Res 116, 76–84 (2015).

Simmons, G. et al. Inhibitors of cathepsin L prevent severe acute respiratory syndrome coronavirus entry. Proc. Natl Acad. Sci. USA 102, 11876–11881 (2005).

Zhao, M. M. et al. Cathepsin L plays a key role in SARS-CoV-2 infection in humans and humanized mice and is a promising target for new drug development. Signal Transduct. Target Ther. 6, 134 (2021).

Steuten, K. et al. Challenges for targeting SARS-CoV-2 proteases as a therapeutic strategy for COVID-19. ACS Infect. Dis. 7, 1457–1468 (2021).

Yadati, T., Houben, T., Bitorina, A. & Shiri-Sverdlov, R. The ins and outs of cathepsins: physiological function and role in disease management. Cells 9, 1679 (2020).

Konermann, S. et al. Transcriptome engineering with RNA-targeting type VI-D CRISPR effectors. Cell 173, 665–676.e14 (2018).

Birmingham, A. et al. 3′ UTR seed matches, but not overall identity, are associated with RNAi off-targets. Nat. Methods 3, 199–204 (2006).

Sigoillot, F. D. et al. A bioinformatics method identifies prominent off-targeted transcripts in RNAi screens. Nat. Methods 9, 363–366 (2012).

Cox, D. B. T. et al. RNA editing with CRISPR–Cas13. Science 358, 1019–1027 (2017).

Kranz, L. M. et al. Systemic RNA delivery to dendritic cells exploits antiviral defence for cancer immunotherapy. Nature 534, 396–401 (2016).

Cheng, Q. et al. Selective organ targeting (SORT) nanoparticles for tissue-specific mRNA delivery and CRISPR-Cas gene editing. Nat. Nanotechnol. 15, 313–320 (2020).

Mullard, A. FDA approves landmark RNAi drug. Nat. Rev. Drug Disco. 17, 613 (2018).

Eoh, J. & Gu, L. Biomaterials as vectors for the delivery of CRISPR–Cas9. Biomater. Sci. 7, 1240–1261 (2019).

Tong, S., Moyo, B., Lee, C. M., Leong, K. & Bao, G. Engineered materials for in vivo delivery of genome-editing machinery. Nat. Rev. Mater. 4, 726–737 (2019).

Yin, H. et al. Therapeutic genome editing by combined viral and non-viral delivery of CRISPR system components in vivo. Nat. Biotechnol. 34, 328–333 (2016).

Oladunni, F. S. et al. Lethality of SARS-CoV-2 infection in K18 human angiotensin-converting enzyme 2 transgenic mice. Nat. Commun. 11, 6122 (2020).

Zheng, J. et al. COVID-19 treatments and pathogenesis including anosmia in K18-hACE2 mice. Nature 589, 603–607 (2021).

Yinda, C. K. et al. K18-hACE2 mice develop respiratory disease resembling severe COVID-19. PLoS Pathog. 17, e1009195 (2021).

Winkler, E. S. et al. SARS-CoV-2 infection of human ACE2-transgenic mice causes severe lung inflammation and impaired function. Nat. Immunol. 21, 1327–1335 (2020).

Arce, V. M. & Costoya, J. A. SARS-CoV-2 infection in K18-ACE2 transgenic mice replicates human pulmonary disease in COVID-19. Cell Mol. Immunol. 18, 513–514 (2021).

Coperchini, F., Chiovato, L., Croce, L., Magri, F. & Rotondi, M. The cytokine storm in COVID-19: an overview of the involvement of the chemokine/chemokine-receptor system. Cytokine Growth Factor Rev. 53, 25–32 (2020).

Del Valle, D. M. et al. An inflammatory cytokine signature predicts COVID-19 severity and survival. Nat. Med. 26, 1636–1643 (2020).

Chou, S. H. et al. Global incidence of neurological manifestations among patients hospitalized with COVID-19—a report for the GCS-NeuroCOVID Consortium and the ENERGY Consortium. JAMA Netw. Open 4, e2112131 (2021).

Yang, A. C. et al. Dysregulation of brain and choroid plexus cell types in severe COVID-19. Nature 595, 565–571 (2021).

Beers, C. et al. Cathepsin S controls MHC class II-mediated antigen presentation by epithelial cells in vivo. J. Immunol. 174, 1205–1212 (2005).

Shi, G. P. et al. Cathepsin S required for normal MHC class II peptide loading and germinal center development. Immunity 10, 197–206 (1999).

Honey, K., Nakagawa, T., Peters, C. & Rudensky, A. Cathepsin L regulates CD4+ T cell selection independently of its effect on invariant chain: a role in the generation of positively selecting peptide ligands. J. Exp. Med. 195, 1349–1358 (2002).

Nakagawa, T. et al. Cathepsin L: critical role in Ii degradation and CD4 T cell selection in the thymus. Science 280, 450–453 (1998).

Abbott, T. R. et al. Development of CRISPR as an antiviral strategy to combat SARS-CoV-2 and influenza. Cell 181, 865–876.e12 (2020).

Blanchard, E. L. et al. Treatment of influenza and SARS-CoV-2 infections via mRNA-encoded Cas13a in rodents. Nat. Biotechnol. 39, 717–726 (2021).

Lopez-Otin, C. & Bond, J. S. Proteases: multifunctional enzymes in life and disease. J. Biol. Chem. 283, 30433–30437 (2008).

Meganck, R. M. & Baric, R. S. Developing therapeutic approaches for twenty-first-century emerging infectious viral diseases. Nat. Med. 27, 401–410 (2021).

Meng, B. et al. Altered TMPRSS2 usage by SARS-CoV-2 Omicron impacts infectivity and fusogenicity. Nature 603, 706–714 (2022).

Baddeley, H. J. E. & Isalan, M. The application of CRISPR/Cas systems for antiviral therapy. Front Genome Ed. 3, 745559 (2021).

Chen, Z. et al. Diverse AR-V7 cistromes in castration-resistant prostate cancer are governed by HoxB13. Proc. Natl Acad. Sci. USA 115, 6810–6815 (2018).

Zeng, C. et al. Neutralizing antibody against SARS-CoV-2 spike in COVID-19 patients, health care workers, and convalescent plasma donors. JCI Insight 5, e743213 (2020).

Li, B., Luo, X. & Dong, Y. Effects of chemically modified messenger RNA on protein expression. Bioconjug Chem. 27, 849–853 (2016).

Li, B., Zeng, C. & Dong, Y. Design and assessment of engineered CRISPR-Cpf1 and its use for genome editing. Nat. Protoc. 13, 899–914 (2018).

Saunders, K. O. et al. Neutralizing antibody vaccine for pandemic and pre-emergent coronaviruses. Nature 594, 553–559 (2021).
Acknowledgements
We thank A. Karlsson, K. Riebe, R. Asrican and T. Oguin III from the Duke RBL for performing authentic SARS-CoV-2 infection experiments in vitro and in vivo. We thank Z. Su from the Duke BioRepository and Precision Pathology Center for performing the IHC assays. We also thank L. Wang from the Animal Histopathology and Laboratory Medicine Core at UNC-Chapel Hill for performing animal hematological and clinical chemistry tests. We thank M. Sokolsky and A. Shankar Kumbhar from Nanomedicines Characterization Core Facility and Nanopformulation Core Facility at UNC-Chapel Hill for TEM and limulus test (to determine endotoxin level in LNPs). We thank M. Wiesner (Duke) for allowing us to use his Zetasizer. The following reagents were deposited by the Centers for Disease Control and Prevention and obtained through BEI Resources, NIAID, NIH: SARS-Related Coronavirus 2, Isolate USA-WA1/2020, NR-52281; SARS-Related Coronavirus 2, Isolate hCoV-19/USA/PHC658/2021 (Lineage B.1.617.2; Delta Variant), NR-55611, contributed by R. Webby and A. Patel. This work was supported by the Department of Pathology, Duke University School of Medicine (to Q.W.); NIH/NIAID (grant no. UC6-AI058607) (to Duke RBL); NIH/NIAID (grant no. R01 AI150473), NIH/NCI (grant no. U54 CA260582) and an anonymous private donor to The Ohio State University (to S.-L.L.) and NIH/NIGMS (grant no. R35 GM144117) (to Y.D.).
Ethics declarations
Competing interests
Q.W., Z.C. and Y.D. are inventors on a patent (US Patent Application no. 17/626,482 entitled 'Nanoparticle Systems for Targeted Delivery of CRISPR–Cas13 and Methods of Using Same' filed 12 January, 2022, patent pending; European Patent Application no. 20840456.6 entitled 'Nanoparticle Systems for Targeted Delivery of CRISPR–Cas13 and Methods of Using Same' filed 12 January, 2022, patent pending) filed by Duke University that relates to the research reported in this paper. J.H. is a consultant for or owns shares in the following companies: Kingmed, MoreHealth, OptraScan, Genetron, Omnitura, Vetonco, York Biotechnology, Genecode, VIVA Biotech and Sisu Pharma and received grants from Zenith Epigenetics, BioXcel Therapeutics, Inc. and Fortis Therapeutics. The remaining authors declare no competing interests.
Peer review
Peer review information
Nature Chemical Biology thanks Nigel McMillan and the other, anonymous, reviewer(s) for their contribution to the peer review of this work.
Additional information
Publisher's note Springer Nature remains neutral with regard to jurisdictional claims in published maps and institutional affiliations.
Supplementary information
Supplementary Fig. 1, Tables 1 and 2 and references.
About this article
Cite this article
Cui, Z., Zeng, C., Huang, F. et al. Cas13d knockdown of lung protease Ctsl prevents and treats SARS-CoV-2 infection. Nat Chem Biol 18, 1056–1064 (2022). https://doi.org/10.1038/s41589-022-01094-4
Received:

Accepted:

Published:

Issue Date:

DOI: https://doi.org/10.1038/s41589-022-01094-4
This article is cited by
Xiao Guo
Dongying Liu
Xinghong Gao

Virology Journal (2023)

Shuying Feng
Xin Xie
Pau Loke Show

Journal of Nanobiotechnology (2023)

Annette E. LaBauve
Edwin A. Saada
Oscar A. Negrete

Scientific Reports (2023)