Abstract
Chemoproteomics has emerged as a key technology to expand the functional space in complex proteomes for probing fundamental biology and for discovering new small-molecule-based therapies. Here we report a modification-centric computational tool termed pChem to provide a streamlined pipeline for unbiased performance assessment of chemoproteomic probes. The pipeline starts with an experimental setting for isotopically coding probe-derived modifications that can be automatically recognized by pChem, with masses accurately calculated and sites precisely localized. pChem exports on-demand reports by scoring the profiling efficiency, modification homogeneity and proteome-wide residue selectivity of a tested probe. The performance and robustness of pChem were benchmarked by applying it to eighteen bioorthogonal probes. These analyses reveal that the formation of unexpected probe-derived modifications can be driven by endogenous reactive metabolites (for example, bioactive aldehydes and glutathione). pChem is a powerful and user-friendly tool that aims to facilitate the development of probes for the ever-growing field of chemoproteomics.

Access options
Access Nature and 54 other Nature Portfolio journals
Get Nature+, our best-value online-access subscription
$29.99 / 30 days
cancel any time
Subscribe to this journal
Receive 12 print issues and online access
$259.00 per year
only $21.58 per issue
Rent or buy this article
Prices vary by article type
from$1.95
to$39.95
Prices may be subject to local taxes which are calculated during checkout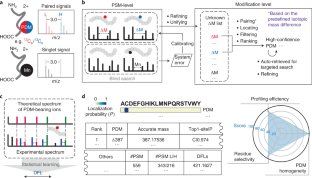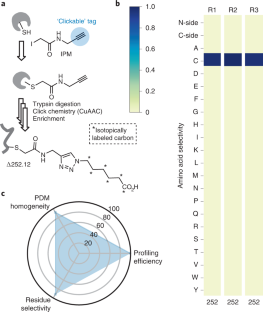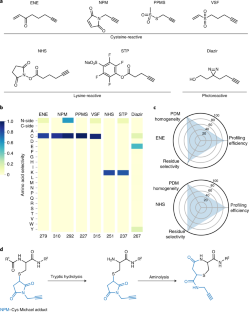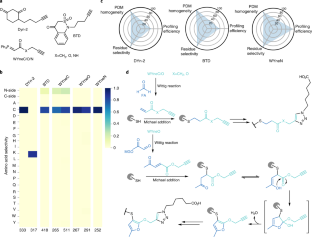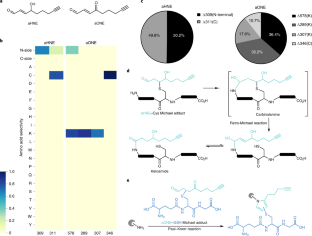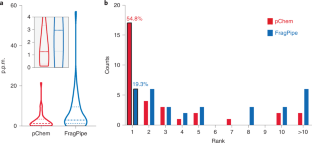 Data availability
The newly generated chemoproteomic datasets have been deposited to the ProteomeXchange Consortium via the PRIDE59 partner repository with the dataset identifiers PXD027755, PXD027758, PXD030064, PXD027789, and PXD027756; previously published data were also used to benchmark pChem in repositories with identifiers PXD027591, PXD027764, PXD027762, PXD027760, and PXD032392. The FASTA canonical protein sequence databases from various species were embedded into the pChem software and could also be obtained from Uniprot60. Source data are provided with this paper.
References
Parker, C. G. & Pratt, M. R. Click chemistry in proteomic investigations. Cell 180, 605–632 (2020).

Grammel, M. & Hang, H. C. Chemical reporters for biological discovery. Nat. Chem. Biol. 9, 475–484 (2013).

Grams, R. J. & Hsu, K. L. Reactive chemistry for covalent probe and therapeutic development. Trends Pharmacol. Sci. 43, 249–262 (2022).

den Ridder, M., Daran-Lapujade, P. & Pabst, M. Shot-gun proteomics: why thousands of unidentified signals matter. FEMS Yeast Res. 20, foz088 (2020).

Dasari, S. et al. TagRecon: high-throughput mutation identification through sequence tagging. J. Proteome Res. 9, 1716–1726 (2010).

Akter, S. et al. Chemical proteomics reveals new targets of cysteine sulfinic acid reductase. Nat. Chem. Biol. 14, 995–1004 (2018).

Gupta, V., Yang, J., Liebler, D. C. & Carroll, K. S. Diverse redoxome reactivity profiles of carbon nucleophiles. J. Am. Chem. Soc. 139, 5588–5595 (2017).

Tian, C., Liu, K., Sun, R., Fu, L. & Yang, J. Chemoproteomics reveals unexpected lysine/arginine-specific cleavage of peptide chains as a potential protein degradation machinery. Anal. Chem. 90, 794–800 (2018).

Sun, R. et al. Chemoproteomics reveals chemical diversity and dynamics of 4-Oxo-2-nonenal modifications in cells. Mol. Cell Proteomics 16, 1789–1800 (2017).

Kong, A. T., Leprevost, F. V., Avtonomov, D. M., Mellacheruvu, D. & Nesvizhskii, A. I. MSFragger: ultrafast and comprehensive peptide identification in mass spectrometry-based proteomics. Nat. Methods 14, 513–520 (2017).

Zanon, P. R. A. et al. Profiling the proteome-wide selectivity of diverse electrophiles. Preprint at ChemRxiv https://doi.org/10.26434/chemrxiv.14186561.v1 (2021).

Chi, H. et al. Comprehensive identification of peptides in tandem mass spectra using an efficient open search engine. Nat. Biotechnol. 36, 1059–1061 (2018).

Creasy, D. M. & Cottrell, J. S. Unimod: protein modifications for mass spectrometry. Proteomics 4, 1534–1536 (2004).

Yang, H. et al. pSite: amino acid confidence evaluation for quality control of de novo peptide sequencing and modification site localization. J. Proteome Res. 17, 119–128 (2018).

Dancik, V., Addona, T. A., Clauser, K. R., Vath, J. E. & Pevzner, P. A. De novo peptide sequencing via tandem mass spectrometry. J. Comput. Biol. 6, 327–342 (1999).

Fu, L. et al. A quantitative thiol reactivity profiling platform to analyze redox and electrophile reactive cysteine proteomes. Nat. Protoc. 15, 2891–2919 (2020).

Chambers, M. C. et al. A cross-platform toolkit for mass spectrometry and proteomics. Nat. Biotechnol. 30, 918–920 (2012).

Wu, C. W. & Yarbrough, L. R. N-(1-pyrene)maleimide: a fluorescent cross-linking reagent. Biochemistry 15, 2863–2868 (1976).

Halloran, M. W. & Lumb, J. P. Recent applications of diazirines in chemical proteomics. Chemistry 25, 4885–4898 (2019).

West, A. V. et al. Labeling preferences of diazirines with protein biomolecules. J. Am. Chem. Soc. 143, 6691–6700 (2021).

Qin, W., Cho, K. F., Cavanagh, P. E. & Ting, A. Y. Deciphering molecular interactions by proximity labeling. Nat. Methods 18, 133–143 (2021).

Bar, D. Z. et al. Biotinylation by antibody recognition—a method for proximity labeling. Nat. Methods 15, 127–133 (2018).

Udeshi, N. D. et al. Antibodies to biotin enable large-scale detection of biotinylation sites on proteins. Nat. Methods 14, 1167–1170 (2017).

Massari, J. et al. Acetyl radical production by the methylglyoxal-peroxynitrite system: a possible route for l-lysine acetylation. Chem. Res. Toxicol. 23, 1762–1770 (2010).

Sadler, A., Subrahmanyam, V. V. & Ross, D. Oxidation of catechol by horseradish peroxidase and human leukocyte peroxidase: reactions of o-benzoquinone and o-benzosemiquinone. Toxicol. Appl. Pharmacol. 93, 62–71 (1988).

Paulsen, C. E. & Carroll, K. S. Cysteine-mediated redox signaling: chemistry, biology, and tools for discovery. Chem. Rev. 113, 4633–4679 (2013).

Alcock, L. J., Perkins, M. V. & Chalker, J. M. Chemical methods for mapping cysteine oxidation. Chem. Soc. Rev. 47, 231–268 (2018).

Huang, J. et al. Mining for protein S-sulfenylation in Arabidopsis uncovers redox-sensitive sites. Proc. Natl Acad. Sci. USA 116, 21256–21261 (2019).

Meng, J. et al. Global profiling of distinct cysteine redox forms reveals wide-ranging redox regulation in C. elegans. Nat. Commun. 12, 1415 (2021).

Pople, J. M. M. & Chalker, J. M. A critical evaluation of probes for cysteine sulfenic acid. Curr. Opin. Chem. Biol. 60, 55–65 (2021).

Shi, Y. & Carroll, K. S. Comments on 'A critical evaluation of probes for cysteine sulfenic acid'. Curr. Opin. Chem. Biol. 60, 131–133 (2021).

Yang, J. et al. Global, in situ, site-specific analysis of protein S-sulfenylation. Nat. Protoc. 10, 1022–1037 (2015).

Fu, L., Liu, K., Ferreira, R. B., Carroll, K. S. & Yang, J. Proteome-wide analysis of cysteine S-sulfenylation using a benzothiazine-based probe. Curr. Protoc. Protein Sci. 95, e76 (2019).

Shi, Y., Fu, L., Yang, J. & Carroll, K. S. Wittig reagents for chemoselective sulfenic acid ligation enables global site stoichiometry analysis and redox-controlled mitochondrial targeting. Nat. Chem. 13, 1140–1150 (2021).

Ohata, J., Bruemmer, K. J. & Chang, C. J. Activity-based sensing methods for monitoring the reactive carbon species carbon monoxide and formaldehyde in living systems. Acc. Chem. Res. 52, 2841–2848 (2019).

Ramasamy, R., Yan, S. F. & Schmidt, A. M. Methylglyoxal comes of AGE. Cell 124, 258–260 (2006).

Palaniappan, K. K. & Bertozzi, C. R. Chemical glycoproteomics. Chem. Rev. 116, 14277–14306 (2016).

Qin, W. et al. Artificial cysteine S-glycosylation induced by per-O-acetylated unnatural monosaccharides during metabolic glycan labeling. Angew. Chem. Int. Ed. Engl. 57, 1817–1820 (2018).

Sayre, L. M., Lin, D., Yuan, Q., Zhu, X. & Tang, X. Protein adducts generated from products of lipid oxidation: focus on HNE and one. Drug Metab. Rev. 38, 651–675 (2006).

Yang, J., Tallman, K. A., Porter, N. A. & Liebler, D. C. Quantitative chemoproteomics for site-specific analysis of protein alkylation by 4-hydroxy-2-nonenal in cells. Anal. Chem. 87, 2535–2541 (2015).

Zhu, X., Gallogly, M. M., Mieyal, J. J., Anderson, V. E. & Sayre, L. M. Covalent cross-linking of glutathione and carnosine to proteins by 4-oxo-2-nonenal. Chem. Res. Toxicol. 22, 1050–1059 (2009).

Zanon, P. R. A., Lewald, L. & Hacker, S. M. Isotopically labeled desthiobiotin azide (isoDTB) tags enable global profiling of the bacterial cysteinome. Angew. Chem. Int. Ed. Engl. 59, 2829–2836 (2020).

Qin, K. et al. Quantitative profiling of protein O-GlcNAcylation sites by an isotope-tagged cleavable linker. ACS Chem. Biol. 13, 1983–1989 (2018).

Abo, M., Li, C. & Weerapana, E. Isotopically-labeled iodoacetamide-alkyne probes for quantitative cysteine-reactivity profiling. Mol. Pharm. 15, 743–749 (2018).

Li, J. et al. An isotope-coded photocleavable probe for quantitative profiling of protein O-GlcNAcylation. ACS Chem. Biol. 14, 4–10 (2019).

Patiny, L. & Borel, A. ChemCalc: a building block for tomorrow's chemical infrastructure. J. Chem. Inf. Model. 53, 1223–1228 (2013).

Dave, K. A. et al. Sulfonation and phosphorylation of regions of the dioxin receptor susceptible to methionine modifications. Mol. Cell Proteomics 8, 706–719 (2009).

Wang, M. R., He, J. Y., He, J. X., Liu, K. K. & Yang, J. A Paal–Knorr agent for chemoproteomic profiling of targets of isoketals in cells. Chem. Sci. 12, 14557–14563 (2021).

Pedregosa, F. et al. Scikit-learn: machine learning in Python. J. Mach. Learn. Res. 12, 2825–2830 (2011).

Elias, J. E. & Gygi, S. P. Target-decoy search strategy for increased confidence in large-scale protein identifications by mass spectrometry. Nat. Methods 4, 207–214 (2007).

Petrova, B. et al. Dynamic redox balance directs the oocyte-to-embryo transition via developmentally controlled reactive cysteine changes. Proc. Natl Acad. Sci. USA 115, E7978–E7986 (2018).

Wang, W. et al. An Arabidopsis secondary metabolite directly targets expression of the bacterial type III secretion system to inhibit bacterial virulence. Cell Host Microbe 27, 601–613.e7 (2020).

Sun, R. et al. A chemoproteomic platform to assess bioactivation potential of drugs. Chem. Res. Toxicol. 30, 1797–1803 (2017).

Lin, D., Saleh, S. & Liebler, D. C. Reversibility of covalent electrophile-protein adducts and chemical toxicity. Chem. Res. Toxicol. 21, 2361–2369 (2008).

Weerapana, E., Simon, G. M. & Cravatt, B. F. Disparate proteome reactivity profiles of carbon electrophiles. Nat. Chem. Biol. 4, 405–407 (2008).

Pan, S. et al. A suite of "minimalist" photo-crosslinkers for live-cell imaging and chemical proteomics: case study with BRD4 inhibitors. Angew. Chem. Int. Ed. Engl. 56, 11816–11821 (2017).

Yoo, S. D., Cho, Y. H. & Sheen, J. Arabidopsis mesophyll protoplasts: a versatile cell system for transient gene expression analysis. Nat. Protoc. 2, 1565–1572 (2007).

Liu, C. et al. pQuant improves quantitation by keeping out interfering signals and evaluating the accuracy of calculated ratios. Anal. Chem. 86, 5286–5294 (2014).

Perez-Riverol, Y. et al. The PRIDE database and related tools and resources in 2019: improving support for quantification data. Nucleic Acids Res. 47, D442–D450 (2019).

UniProt Consortium. UniProt: a worldwide hub of protein knowledge. Nucleic Acids Res. 47, D506–D515 (2019).
Acknowledgements
We thank S.-X. Gao and C. C. L. Wong from Peking University for their help on the use of timsTOF; Z.-Q. Li from Jinan University for providing the alkyl diazirine probe and for performing beta-testing; K. Qin, X. Chen from Peking University for providing the Ac4ManNAz-based glycoproteomic dataset; P.-Y. Gong and C. Liu for their help on the quantitative analyses of aHNE/aONE datasets; H.-F. Jin from Peking University for providing rat CRL-1444 cells; X. Xiao from Shanghai Jiaotong University for providing E. coli strain MG1655; G.-Zhi Bi from Institute of Genetics and Developmental Biology, CAS, for his help in preparation of Arabidopsis protoplasts; C. Wang and X.-G. Lei from Peking University, G. Li from Shenzhen Bay lab, H. Ye from China Pharmaceutical University, Y.-Y. Zhang from Shanghai Institute of Organic Chemistry, CAS, M.-L. Ye from Dalian Institute of Chemical Physics, CAS, N. Chen from the ChomIX Biotech, and U. Seneviratne from Pfizer for performing beta-besting. C.-R. Liu from Central China Normal University, Y.-L. Shi and K. S. Carroll from the Scripps Research Institute, P. Zou from Peking University, Q. Zhang from Fudan University, S.-M. He from Institute of Computing Technology, CAS, Y. Fu from Academy of Mathematics and Systems Science, CAS, and R.-X. Sun from National Institute of Biological Sciences, Beijing, for many insightful discussions and/or for proofreading the manuscript, S. M. Hacker from Technical University of Munich and A. I. Nesvizhskii from University of Michigan for their generous guidance in the use of FragPipe; K. Vicari for designing the graphical abstract. The work was supported by grants from the Natural Science Foundation of China (21922702, 81973279, and 31770885) to J.Y., (32022046) to H.C., and (32088101) to F.C.H., the National Key R&D Program of China (2016YFA0501303) to J.Y., and (2016YFA0501301) to H.C., and the State Key Laboratory of Proteomics (SKLP-K201703 and SKLP-K201804) to J.Y.
Ethics declarations
Competing interests
The authors declare no competing interests.
Peer review
Peer review information
Nature Chemical Biology thanks Alexander Leitner and the other, anonymous, reviewer(s) for their contribution to the peer review of this work.
Additional information
Publisher's note Springer Nature remains neutral with regard to jurisdictional claims in published maps and institutional affiliations.
Supplementary information
About this article
Cite this article
He, JX., Fei, ZC., Fu, L. et al. A modification-centric assessment tool for the performance of chemoproteomic probes. Nat Chem Biol 18, 904–912 (2022). https://doi.org/10.1038/s41589-022-01074-8
Received:

Accepted:

Published:

Issue Date:

DOI: https://doi.org/10.1038/s41589-022-01074-8
This article is cited by
Nature Chemical Biology (2022)