Abstract
A key bottleneck in the microbial production of therapeutic plant metabolites is identifying enzymes that can improve yield. The facile identification of genetically encoded biosensors can overcome this limitation and become part of a general method for engineering scaled production. We have developed a combined screening and selection approach that quickly refines the affinities and specificities of generalist transcription factors; using RamR as a starting point, we evolve highly specific (>100-fold preference) and sensitive (half-maximum effective concentration (EC50) < 30 μM) biosensors for the alkaloids tetrahydropapaverine, papaverine, glaucine, rotundine and noscapine. High-resolution structures reveal multiple evolutionary avenues for the malleable effector-binding site and the creation of new pockets for different chemical moieties. These sensors further enabled the evolution of a streamlined pathway for tetrahydropapaverine, a precursor to four modern pharmaceuticals, collapsing multiple methylation steps into a single evolved enzyme. Our methods for evolving biosensors enable the rapid engineering of pathways for therapeutic alkaloids.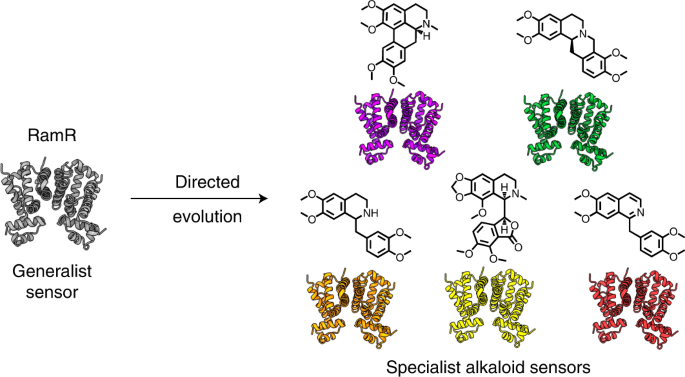 Data availability
The coordinates for the complex structures have been deposited in the PDB: RamR in complex with berberine, PDB 3VW2; PAP4 in complex with PAP, PDB 7N53; ROTU4 in complex with ROTU, PDB 7N4W; NOS4 in complex with NOS, PDB 7N4Z; GLAU4 in complex with GLAU, PDB 7N54. Protein sequence information was retrieved from the NCBI database: RamR, 3VVX_A; TtgR, WP_010952495.1; QacR, WP_001807342.1; SmeT, WP_014648459.1; NalD, WP_003092152.1; Bm3R1, WP_013083972.1; GfOMT1, AKO60152.1. Plasmid sequences relevant to this study (Supplementary Notes 1 and 2) were deposited in Addgene. Source data are provided with this paper.
References
Ro, D.-K. et al. Production of the antimalarial drug precursor artemisinic acid in engineered yeast. Nature 440, 940–943 (2006).

Luo, X. et al. Complete biosynthesis of cannabinoids and their unnatural analogues in yeast. Nature 567, 123–126 (2019).

Galanie, S., Thodey, K., Trenchard, I. J., Interrante, M. F. & Smolke, C. D. Complete biosynthesis of opioids in yeast. Science 349, 1095–1100 (2015).

Nakagawa, A. et al. Total biosynthesis of opiates by stepwise fermentation using engineered Escherichia coli. Nat. Commun. 7, 10390 (2016).

Srinivasan, P. & Smolke, C. D. Biosynthesis of medicinal tropane alkaloids in yeast. Nature 585, 614–619 (2020).

Hodgman, C. E. & Jewett, M. C. Cell-free synthetic biology: thinking outside the cell. Metab. Eng. 14, 261–269 (2012).

Rienzo, M. et al. High-throughput screening for high-efficiency small-molecule biosynthesis. Metab. Eng. 63, 102–125 (2021).

Mitchler, M. M., Garcia, J. M., Montero, N. E. & Williams, G. J. Transcription factor-based biosensors: a molecular-guided approach for natural product engineering. Curr. Opin. Biotechnol. 69, 172–181 (2021).

Hossain, G. S., Saini, M., Miyake, R., Ling, H. & Chang, M. W. Genetic biosensor design for natural product biosynthesis in microorganisms. Trends Biotechnol. 38, 797–810 (2020).

Della Corte, D. et al. Engineering and application of a biosensor with focused ligand specificity. Nat. Commun. 11, 4851 (2020).

Yao, J. et al. Developing a highly efficient hydroxytyrosol whole-cell catalyst by de-bottlenecking rate-limiting steps. Nat. Commun. 11, 1515 (2020).

Snoek, T. et al. Evolution-guided engineering of small-molecule biosensors. Nucleic Acids Res. 48, e3 (2020).

Machado, L., F. M., Currin, A. & Dixon, N. Directed evolution of the PcaV allosteric transcription factor to generate a biosensor for aromatic aldehydes. J. Biol. Eng. 13, 91 (2019).

Trudeau, D. L. & Tawfik, D. S. Protein engineers turned evolutionists—the quest for the optimal starting point. Curr. Opin. Biotechnol. 60, 46–52 (2019).

Wade, H. MD recognition by MDR gene regulators. Curr. Opin. Struct. Biol. 20, 489–496 (2010).

Xiong, D. et al. Improving key enzyme activity in phenylpropanoid pathway with a designed biosensor. Metab. Eng. 40, 115–123 (2017).

Li, Y. et al. Complete biosynthesis of noscapine and halogenated alkaloids in yeast. Proc. Natl Acad. Sci. USA 115, E3922–E3931 (2018).

Valentic, T. R., Payne, J. T. & Smolke, C. D. Structure-guided engineering of a scoulerine 9-O-methyltransferase enables the biosynthesis of tetrahydropalmatrubine and tetrahydropalmatine in yeast. ACS Catal. 10, 4497–4509 (2020).

Stanton, B. C. et al. Genomic mining of prokaryotic repressors for orthogonal logic gates. Nat. Chem. Biol. 10, 99–105 (2014).

Morita, Y., Cao, L., Gould, V. C., Avison, M. B. & Poole, K. nalD encodes a second repressor of the mexAB–oprM multidrug efflux operon of Pseudomonas aeruginosa. J. Bacteriol. 188, 8649–8654 (2006).

Sánchez, P., Alonso, A. & Martinez, J. L. Cloning and characterization of SmeT, a repressor of the Stenotrophomonas maltophilia multidrug efflux pump SmeDEF. Antimicrob. Agents Chemother. 46, 3386–3393 (2002).

Yamasaki, S. et al. The crystal structure of multidrug-resistance regulator RamR with multiple drugs. Nat. Commun. 4, 2078 (2013).

Meyer, A. J., Segall-Shapiro, T. H., Glassey, E., Zhang, J. & Voigt, C. A. Escherichia coli 'Marionette' strains with 12 highly optimized small-molecule sensors. Nat. Chem. Biol. 15, 196–204 (2019).

Tominaga, M., Nozaki, K., Umeno, D., Ishii, J. & Kondo, A. Robust and flexible platform for directed evolution of yeast genetic switches. Nat. Commun. 12, 1846 (2021).

Gatignol, A., Durand, H. & Tiraby, G. Bleomycin resistance conferred by a drug-binding protein. FEBS Lett. 230, 171–175 (1988).

d'Oelsnitz, S., Nguyen, V., Alper, H. S. & Ellington, A. D. Evolving a generalist biosensor for bicyclic monoterpenes. ACS Synth. Biol. 11, 265–272 (2022).

Ehrenworth, A. M. & Peralta-Yahya, P. Accelerating the semisynthesis of alkaloid-based drugs through metabolic engineering. Nat. Chem. Biol. 13, 249–258 (2017).

Agarwal, P. et al. 3′O-methyltransferase, Ps3′OMT, from opium poppy: involvement in papaverine biosynthesis. Plant Cell Rep. 38, 1235–1248 (2019).

Chang, L., Hagel, J. M. & Facchini, P. J. Isolation and characterization of O-methyltransferases involved in the biosynthesis of glaucine in Glaucium flavum. Plant Physiol. 169, 1127–1140 (2015).

Collins, C. H., Arnold, F. H. & Leadbetter, J. R. Directed evolution of Vibrio fischeri LuxR for increased sensitivity to a broad spectrum of acyl-homoserine lactones. Mol. Microbiol. 55, 712–723 (2005).

Collins, C. H., Leadbetter, J. R. & Arnold, F. H. Dual selection enhances the signaling specificity of a variant of the quorum-sensing transcriptional activator LuxR. Nat. Biotechnol. 24, 708–712 (2006).

Renata, H., Wang, Z. J. & Arnold, F. H. Expanding the enzyme universe: accessing non-natural reactions by mechanism-guided directed evolution. Angew. Chem. Int. Ed. Engl. 54, 3351–3367 (2015).

Goldsmith, M. & Tawfik, D. S. Directed enzyme evolution: beyond the low-hanging fruit. Curr. Opin. Struct. Biol. 22, 406–412 (2012).

Wu, J. et al. Design and application of a lactulose biosensor. Sci. Rep. 7, 45994 (2017).

Nakagawa, A. et al. A bacterial platform for fermentative production of plant alkaloids. Nat. Commun. 2, 326 (2011).

Wei, T., Cheng, B.-Y. & Liu, J.-Z. Genome engineering Escherichia coli for l-DOPA overproduction from glucose. Sci. Rep. 6, 30080 (2016).

Chen, H., Wang, Z., Cai, H. & Zhou, C. Progress in the microbial production of S-adenosyl-l-methionine. World J. Microbiol. Biotechnol. 32, 153 (2016).

Bohand, X., Jordan, D. & Dubois, F. Managing the risk of shortages and medication errors with curares during the COVID-19 pandemic: a hospital pharmacy experience. Eur. J. Hosp. Pharm. https://doi.org/10.1136/ejhpharm-2020-002605 (2021).

Ricci, J. A. et al. Comparing the outcomes of different agents to treat vasospasm at microsurgical anastomosis during the papaverine shortage. Plast. Reconstr. Surg. 138, 401e–408e (2016).

Welsch, M. E., Snyder, S. A. & Stockwell, B. R. Privileged scaffolds for library design and drug discovery. Curr. Opin. Chem. Biol. 14, 347–361 (2010).

Cravens, A., Payne, J. & Smolke, C. D. Synthetic biology strategies for microbial biosynthesis of plant natural products. Nat. Commun. 10, 2142 (2019).

Huffman, M. A. et al. Design of an in vitro biocatalytic cascade for the manufacture of islatravir. Science 366, 1255–1259 (2019).

Hartline, C. J., Schmitz, A. C., Han, Y. & Zhang, F. Dynamic control in metabolic engineering: theories, tools, and applications. Metab. Eng. 63, 126–140 (2021).

Rugbjerg, P., Sarup-Lytzen, K., Nagy, M. & Sommer, M. O. A. Synthetic addiction extends the productive life time of engineered Escherichia coli populations. Proc. Natl Acad. Sci. USA 115, 2347–2352 (2018).

Wan, X. et al. Cascaded amplifying circuits enable ultrasensitive cellular sensors for toxic metals. Nat. Chem. Biol. 15, 540–548 (2019).

Ho, J. M. L., Miller, C. A., Parks, S. E., Mattia, J. R. & Bennett, M. R. A suppressor tRNA-mediated feedforward loop eliminates leaky gene expression in bacteria. Nucleic Acids Res. 49, e25 (2021).

Nagahashi, S. et al. Regulation by tetracycline of gene expression in Saccharomyces cerevisiae. Mol. Gen. Genet. 255, 372–375 (1997).

Gatz, C. & Quail, P. H. Tn10-encoded tet repressor can regulate an operator-containing plant promoter. Proc. Natl Acad. Sci. USA 85, 1394–1397 (1988).

Gossen, M. & Bujard, H. Tight control of gene expression in mammalian cells by tetracycline-responsive promoters. Proc. Natl Acad. Sci. USA 89, 5547–5551 (1992).

Liebschner, D. et al. Macromolecular structure determination using X-rays, neutrons and electrons: recent developments in Phenix. Acta Crystallogr. D Struct. Biol. 75, 861–877 (2019).

Emsley, P. & Cowtan, K. Coot: model-building tools for molecular graphics. Acta Crystallogr. D Struct. Biol. 60, 2126–2132 (2004).

Williams, C. J. et al. MolProbity: more and better reference data for improved all-atom structure validation. Protein Sci. 27, 293–315 (2018).
Acknowledgements
Funding from DARPA Soils (HR00111920019 to A.D.E.), Welch (F-1654 to A.D.E.) and AFSOR (FA9550-14-1-0089 to H.S.A. and A.D.E.) is acknowledged. This work is partially supported by grants from the National Institutes of Health (R01GM104896 and R01GM125882 to Y.Z.). We thank K.J. Blake in the Chemistry Department at the University of Texas at Austin for performing LC–MS analysis and S. Kar for his thoughtful advice on selection circuit design.
Ethics declarations
Competing interests
S.d.O., K.J., R.T. and A.D.E. have filed two patent applications on materials described in this text. R.T. and A.D.E have equity in GRO Biosciences, a company developing protein therapeutics. The other authors declare no conflict of interest.
Peer review
Peer review information
Nature Chemical Biology thanks Michael Jensen and the other, anonymous, reviewer(s) for their contribution to the peer review of this work.
Additional information
Publisher's note Springer Nature remains neutral with regard to jurisdictional claims in published maps and institutional affiliations.
Extended data
The same promoter was used to express variants from each evolutionary trajectory (see methods). Individual fluorescent measurements for each condition performed in biological triplicate are shown alongside error bars that represent the SE ± the mean.
Fold-response is shown for all BIAs for the native RamR protein, the first, second, third, and fourth generations from top to bottom, respectively. 100 μM of the indicated BIA was applied in all conditions. Measurements for each condition represent the average of three biological replicates.
Supplementary information
Supplementary Figs. 1–21, Tables 1–3 and Notes 1 and 2
About this article
Cite this article
d'Oelsnitz, S., Kim, W., Burkholder, N.T. et al. Using fungible biosensors to evolve improved alkaloid biosyntheses. Nat Chem Biol 18, 981–989 (2022). https://doi.org/10.1038/s41589-022-01072-w
Received:

Accepted:

Published:

Issue Date:

DOI: https://doi.org/10.1038/s41589-022-01072-w