Abstract
Ubiquitination-dependent histone crosstalk plays critical roles in chromatin-associated processes and is highly associated with human diseases. Mechanism studies of the crosstalk have been of the central focus. Here our study on the crosstalk between H2BK34ub and Dot1L-catalyzed H3K79me suggests a novel mechanism of ubiquitination-induced nucleosome distortion to stimulate the activity of an enzyme. We determined the cryo-electron microscopy structures of Dot1L–H2BK34ub nucleosome complex and the H2BK34ub nucleosome alone. The structures reveal that H2BK34ub induces an almost identical orientation and binding pattern of Dot1L on nucleosome as H2BK120ub, which positions Dot1L for the productive conformation through direct ubiquitin–enzyme contacts. However, H2BK34-anchored ubiquitin does not directly interact with Dot1L as occurs in the case of H2BK120ub, but rather induces DNA and histone distortion around the modified site. Our findings establish the structural framework for understanding the H2BK34ub–H3K79me trans-crosstalk and highlight the diversity of mechanisms for histone ubiquitination to activate chromatin-modifying enzymes.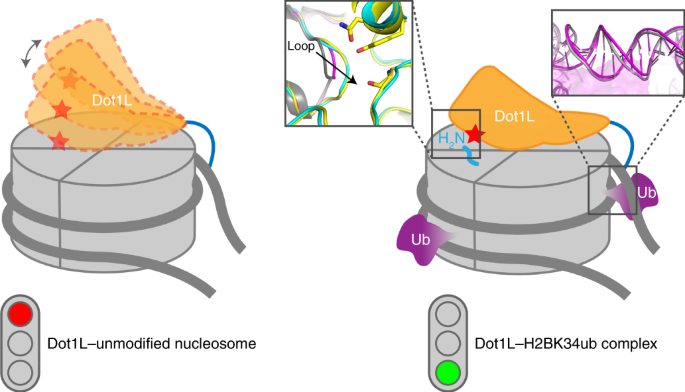 Access options
Subscribe to Nature+
Get immediate online access to the entire Nature family of 50+ journals
Subscribe to Journal
Get full journal access for 1 year
$119.00
only $9.92 per issue
All prices are NET prices.
VAT will be added later in the checkout.
Tax calculation will be finalised during checkout.
Buy article
Get time limited or full article access on ReadCube.
$32.00
All prices are NET prices.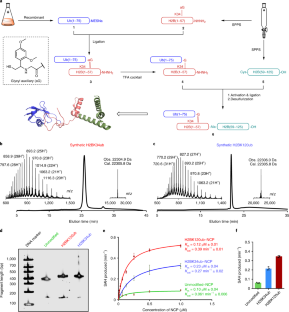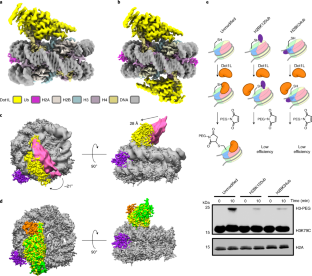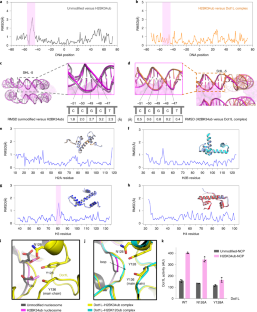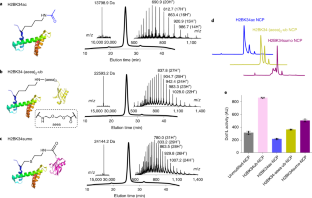 Data availability
The 1:1 and 2:1 maps of the Dot1L–H2BK34ub-H3K79Nle complex have been deposited in the EMDB with accession codes EMD-33126 and EMD-33127, and the atomic models in the Protein Data Bank under accession codes PDB 7XCR and 7XCT, respectively. The Dot1L–H2BK34ub-H3K79Nle complex map containing the additional Dot1L density (C-tail) was deposited in the EMDB under accession codes EMD-33128. The maps of unmodified nucleosome were deposited in the EMDB under accession codes EMD-33132 and the PDB under accession number 7XD1. The maps of native H2BK34ub nucleosome were deposited in the EMDB under accession codes EMD-33131 and the PDB under accession number 7XD0. The maps of Dot1L–H3K79Nleactive complex and Dot1L–H3K79Nleinactive were deposited in the EMDB under accession codes EMD-33139 and EMD-33141. The raw electron microscopy data are available on request. Source data are provided with this paper.
References
Patel, D. J. & Wang, Z. Readout of epigenetic modifications. Annu. Rev. Biochem. 82, 81–118 (2013).

Kouzarides, T. Chromatin modifications and their function. Cell 128, 693–705 (2007).

Suganuma, T. & Workman, J. L. Crosstalk among histone modifications. Cell 135, 604–607 (2008).

Fischle, W., Wang, Y. & Allis, C. D. Histone and chromatin cross-talk. Curr. Opin. Cell Biol. 15, 172–183 (2003).

Briggs, S. D. et al. Gene silencing: trans-histone regulatory pathway in chromatin. Nature 418, 498–498 (2002).

Krivtsov, A. V. et al. H3K79 methylation profiles define murine and human MLL-AF4 leukemias. Cancer Cell 14, 355–368 (2008).

Bernt, K. M. et al. MLL-rearranged leukemia is dependent on aberrant H3K79 methylation by DOT1L. Cancer Cell 20, 66–78 (2011).

Chen, C. W. & Armstrong, S. A. Targeting DOT1L and HOX gene expression in MLL-rearranged leukemia and beyond. Exp. Hematol. 43, 673–684 (2015).

Zhu, B. et al. Monoubiquitination of human histone H2B: the factors involved and their roles in HOX gene regulation. Mol. Cell 20, 601–611 (2005).

Wang, E. et al. Histone H2B ubiquitin ligase RNF20 is required for MLL-rearranged leukemia. Proc. Natl Acad. Sci. USA 110, 3901–3906 (2013).

Hu, Q. et al. Mechanisms of BRCA1–BARD1 nucleosome recognition and ubiquitylation. Nature 596, 438–443 (2021).

Dai, L. et al. Structural insight into BRCA1–BARD1 complex recruitment to damaged chromatin. Mol. Cell 81, 2765–2777 (2021).

Worden, E. J., Hoffmann, N. A., Hicks, C. W. & Wolberger, C. Mechanism of cross-talk between H2B ubiquitination and H3 methylation by Dot1L. Cell 176, 1490–1501 (2019).

Valencia-Sánchez, M. I. et al. Structural basis of Dot1L stimulation by histone H2B lysine 120 ubiquitination. Mol. Cell 74, 1010–1019 (2019).

Yao, T. H. et al. Structural basis of the crosstalk between histone H2B monoubiquitination and H3 lysine 79 methylation on nucleosome. Cell Res. 29, 330–333 (2019).

Jang, S. et al. Structural basis of recognition and destabilization of the histone H2B ubiquitinated nucleosome by the DOT1L histone H3 Lys79 methyltransferase. Genes Dev. 33, 620–625 (2019).

Anderson, C. J. et al. Structural basis for recognition of ubiquitylated nucleosome by Dot1L methyltransferase. Cell Rep. 26, 1681–1690 (2019).

Worden, E. J., Zhang, X. & Wolberger, C. Structural basis for COMPASS recognition of an H2B-ubiquitinated nucleosome. eLife 9, e53199 (2020).

Hsu, P. L. et al. Structural basis of H2B ubiquitination-dependent H3K4 methylation by COMPASS. Mol. Cell 76, 712–723 (2019).

Feng, Q. et al. Methylation of H3-lysine 79 is mediated by a new family of HMTases without a SET domain. Curr. Biol. 12, 1052–1058 (2002).

Van Leeuwen, F., Gafken, P. R. & Gottschling, D. E. Dot1p modulates silencing in yeast by methylation of the nucleosome core. Cell 109, 745–756 (2002).

Kouskouti, A. & Talianidis, I. Histone modifications defining active genes persist after transcriptional and mitotic inactivation. EMBO J. 24, 347–357 (2005).

Takahashi, Y. H. et al. Dot1 and histone H3K79 methylation in natural telomeric and HM silencing. Mol. Cell 42, 118–126 (2011).

Giannattasio, M., Lazzaro, F., Plevani, P. & Muzi-Falconi, M. The DNA damage checkpoint response requires histone H2B ubiquitination by Rad6-Bre1 and H3 methylation by Dot1. J. Biol. Chem. 280, 9879–9886 (2005).

Ng, H. H., Xu, R. M., Zhang, Y. & Struhl, K. Ubiquitination of histone H2B by Rad6 is required for efficient Dot1-mediated methylation of histone H3 lysine 79. J. Biol. Chem. 277, 34655–34657 (2002).

McGinty, R. K., Kim, J., Chatterjee, C., Roeder, R. G. & Muir, T. W. Chemically ubiquitylated histone H2B stimulates hDot1L-mediated intranucleosomal methylation. Nature 453, 812–816 (2008).

Wu, L. P. et al. The RING finger protein MSL2 in the MOF complex is an E3 ubiquitin ligase for H2B K34 and is involved in crosstalk with H3 K4 and K79 methylation. Mol. Cell 43, 132–144 (2011).

Wu, L. P. et al. H2B ubiquitylation promotes RNA Pol II processivity via PAF1 and pTEFb. Mol. Cell 54, 920–931 (2014).

Valencia-Sánchez, M. I. et al. Regulation of the Dot1 histone H3K79 methyltransferase by histone H4K16 acetylation. Science 371, 6527 (2021).

Li, J. et al. Chemical synthesis of K34-ubiquitylated H2B for nucleosome reconstitution and single-particle cryo-electron microscopy structural analysis. ChemBioChem 18, 176–180 (2017).

Chu, G. C. et al. Cysteine-aminoethylation-assisted chemical ubiquitination of recombinant histones. J. Am. Chem. Soc. 141, 3654–3663 (2019).

Jbara, M. et al. Chemical chromatin ubiquitylation. Curr. Opin. Chem. Biol. 45, 18–26 (2018).

Dhall, A. & Chatterjee, C. Chemical approaches to understand the language of histone modifications. ACS Chem. Biol. 6, 987–999 (2011).

Long, L., Furgason, M. & Yao, T. Generation of nonhydrolyzable ubiquitin-histone mimics. Methods 70, 134–138 (2014).

Morgan, M., Jbara, M., Brik, A. & Wolberger, C. Semisynthesis of ubiquitinated histone H2B with a native or nonhydrolyzable linkage. Meth. Enzymol. 618, 1–27 (2019).

Ai, H. et al. Examination of the deubiquitylation site selectivity of USP51 by using chemically synthesized ubiquitylated histones. ChemBioChem 20, 221–229 (2019).

Krajewski, W. A., Li, J. & Dou, Y. Effects of histone H2B ubiquitylation on the nucleosome structure and dynamics. Nucleic Acids Res. 46, 7631–7642 (2018).

Krajewski, W. A. Effects of DNA superhelical stress on the stability of H2B-ubiquitylated nucleosomes. J. Mol. Biol. 430, 5002–5014 (2018).

Krajewski, W. A. Ubiquitylation: how nucleosomes use histones to evict histones. Trends Cell Biol. 29, 689–694 (2019).

Jayaram, H. et al. S-adenosyl methionine is necessary for inhibition of the methyltransferase G9a by the lysine 9 to methionine mutation on histone H3. Proc. Natl Acad. Sci. USA 113, 6182–6187 (2016).

Zhou, L. et al. Evidence that ubiquitylated H2B corrals hDot1L on the nucleosomal surface to induce H3K79 methylation. Nat. Commun. 7, 10589 (2016).

Luger, K. et al. Crystal structure of the nucleosome core particle at 2.8 Å resolution. Nature 389, 251–260 (1997).

Henry, K. W. & Berger, S. L. Trans-tail histone modifications: wedge or bridge? Nat. Struct. Mol. Biol. 9, 565–566 (2002).

Xue, H. et al. Structural basis of nucleosome recognition and modification by MLL methyltransferases. Nature 573, 445–449 (2019).

Li, G. et al. CRL4DCAF8 ubiquitin ligase targets histone H3K79 and promotes H3K9 methylation in the liver. Cell Rep. 18, 1499–1511 (2017).

Kim, K. et al. Linker histone H1. 2 cooperates with Cul4A and PAF1 to drive H4K31 ubiquitylation-mediated transactivation. Cell Rep. 5, 1690–1703 (2013).

Fang, G. M. et al. Protein chemical synthesis by ligation of peptide hydrazides. Angew. Chem. Int. Ed. 50, 7645–7649 (2011).

Lei, J. & Frank, J. Automated acquisition of cryo-electron micrographs for single particle reconstruction on an FEI Tecnai electron microscope. J. Struct. Biol. 150, 69–80 (2005).

Zheng, S. Q. et al. MotionCor2: anisotropic correction of beam-induced motion for improved cryo-electron microscopy. Nat. Methods 14, 331–332 (2017).

Zhang, K. Gctf: real-time CTF determination and correction. J. Struct. Biol. 193, 1–12 (2016).

Emsley, P. & Cowtan, K. Coot: model-building tools for molecular graphics. Acta Crystallogr. D. Biol. Crystallogr. 60, 2126–2132 (2004).

Maestro (Schrödinger, LLC, 2021).

Gaussian 09 Rev. A.02 (Gaussian Inc., 2016).

Maier, J. A. et al. ff14SB: improving the accuracy of protein side chain and backbone parameters from ff99SB. J. Chem. Theory Comput. 11, 3696–3713 (2015).

Galindo-Murillo, R. et al. Assessing the current state of amber force field modifications for DNA. J. Chem. Theory Comput. 12, 4114–4127 (2016).

Abraham, M. J. et al. GROMACS: high performance molecular simulations through multi-level parallelism from laptops to supercomputers. SoftwareX 1, 19–25 (2015).
Acknowledgements
We acknowledge the Tsinghua University Branch of China National Center for Protein Sciences Beijing for cryo-EM sample screening in 200 kV Arctica Tecnai microscopy and cryo-EM data collection in 300 kV TitanKiros microscopy. We thank X. Tian and H. Deng in the Center of Protein Analysis Technology, Tsinghua University, for HDX-MS analysis. We also thank Hefei KS-V Peptide Biological Technology Co. Ltd. for providing synthetic peptides (or proteins). This study was supported by the National Key R&D Program of China (2017YFA0505200), the National Natural Science Foundation of China (21977090, 32122024, 22137005, 91753205 and 81621002). Q.Q. was supported by the fund of National Facility for Translational Medicine (Shanghai).
Ethics declarations
Competing interests
The authors declare no competing interests.
Peer review
Peer review information
Nature Chemical Biology thanks Mehmet Öztürk and the other, anonymous, reviewer(s) for their contribution to the peer review of this work.
Additional information
Publisher's note Springer Nature remains neutral with regard to jurisdictional claims in published maps and institutional affiliations.
Supplementary information
Supplementary Figures 1–4 and Supplementary Tables 1–3.
Source data
Unprocessed western blots.
About this article
Cite this article
Ai, H., Sun, M., Liu, A. et al. H2B Lys34 Ubiquitination Induces Nucleosome Distortion to Stimulate Dot1L Activity. Nat Chem Biol 18, 972–980 (2022). https://doi.org/10.1038/s41589-022-01067-7
Received:

Accepted:

Published:

Issue Date:

DOI: https://doi.org/10.1038/s41589-022-01067-7