Abstract
The Hippo pathway plays a key role in development, organ size control and tissue homeostasis, and its dysregulation contributes to cancer. The LATS tumor suppressor kinases phosphorylate and inhibit the YAP/TAZ transcriptional co-activators to suppress gene expression and cell growth. Through a screen of marine natural products, we identified microcolin B (MCB) as a Hippo activator that preferentially kills YAP-dependent cancer cells. Structure–activity optimization yielded more potent MCB analogs, which led to the identification of phosphatidylinositol transfer proteins α and β (PITPα/β) as the direct molecular targets. We established a critical role of PITPα/β in regulating LATS and YAP. Moreover, we showed that PITPα/β influence the Hippo pathway via plasma membrane phosphatidylinositol-4-phosphate. This study uncovers a previously unrecognized role of PITPα/β in Hippo pathway regulation and as potential cancer therapeutic targets.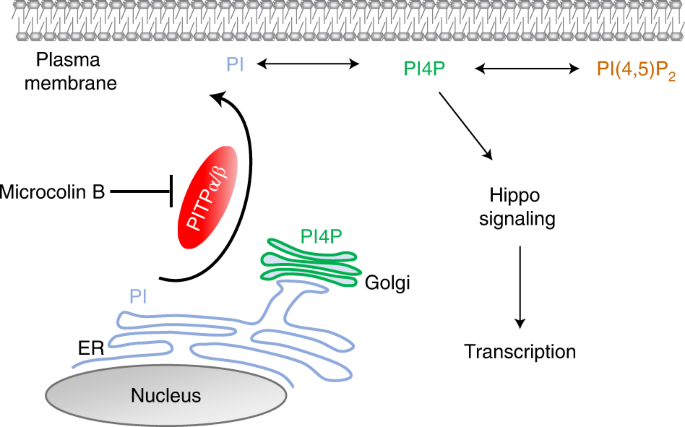 Access options
Subscribe to Nature+
Get immediate online access to the entire Nature family of 50+ journals
Subscribe to Journal
Get full journal access for 1 year
$119.00
only $9.92 per issue
All prices are NET prices.
VAT will be added later in the checkout.
Tax calculation will be finalised during checkout.
Buy article
Get time limited or full article access on ReadCube.
$32.00
All prices are NET prices.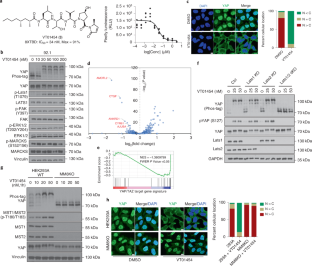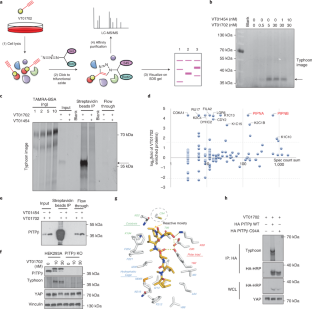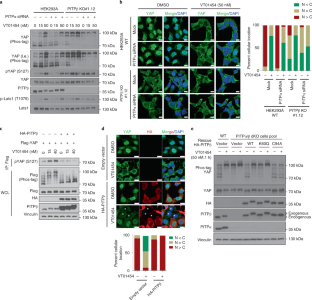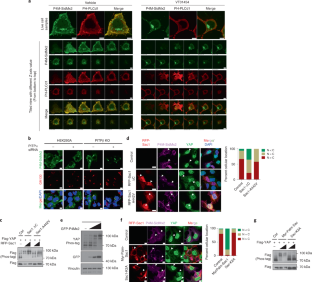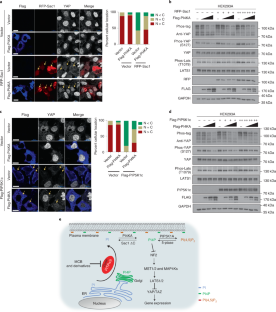 Data availability
The RNA-seq data are available at the Gene Expression Omnibus (GEO) database with accession 'GSE198890'. The PITPα receptor model was prepared from available structures of human PITPα (PDB ID: 1UW5). All the other data are available within the article and its Supplementary Information. Source data are provided with this paper.
References
Ma, S. et al. The Hippo pathway: biology and pathophysiology. Annu. Rev. Biochem. 88, 577–604 (2019).

Zheng, Y. & Pan, D. The Hippo signaling pathway in development and disease. Dev. Cell 50, 264–282 (2019).

Harvey, K. F., Zhang, X. & Thomas, D. M. The Hippo pathway and human cancer. Nat. Rev. Cancer 13, 246–257 (2013).

Meng, Z. et al. MAP4K family kinases act in parallel to MST1/2 to activate LATS1/2 in the Hippo pathway. Nat. Commun. 6, 8357 (2015).

Zheng, Y. et al. Identification of Happyhour/MAP4K as alternative Hpo/Mst-like kinases in the Hippo kinase cascade. Dev. Cell 34, 642–655 (2015).

Li, Q. et al. The conserved misshapen-warts-Yorkie pathway acts in enteroblasts to regulate intestinal stem cells in Drosophila. Dev. Cell 31, 291–304 (2014).

Wu, S. et al. The TEAD/TEF family protein Scalloped mediates transcriptional output of the Hippo growth-regulatory pathway. Dev. Cell 14, 388–398 (2008).

Zhao, B. et al. TEAD mediates YAP-dependent gene induction and growth control. Genes Dev. 22, 1962–1971 (2008).

Yoder, M. D. et al. Structure of a multifunctional protein. Mammalian phosphatidylinositol transfer protein complexed with phosphatidylcholine. J. Biol. Chem. 276, 9246–9252 (2001).

De Vries, K. J. et al. Fluorescently labeled phosphatidylinositol transfer protein isoforms (alpha and beta), microinjected into fetal bovine heart endothelial cells, are targeted to distinct intracellular sites. Exp. Cell. Res. 227, 33–39 (1996).

Nile, A. H., Bankaitis, V. A. & Grabon, A. Mammalian diseases of phosphatidylinositol transfer proteins and their homologs. Clin. Lipidol. 5, 867–897 (2010).

Schaaf, G. et al. Functional anatomy of phospholipid binding and regulation of phosphoinositide homeostasis by proteins of the sec14 superfamily. Mol. Cell 29, 191–206 (2008).

Hamilton, B. A. et al. The vibrator mutation causes neurodegeneration via reduced expression of PITP alpha: positional complementation cloning and extragenic suppression. Neuron 18, 711–722 (1997).

Xie, Z. et al. A Golgi lipid signaling pathway controls apical Golgi distribution and cell polarity during neurogenesis. Dev. Cell 44, 725–740.e4 (2018).

Koehn, F. E., Longley, R. E. & Reed, J. K. Microcolins A and B, new immunosuppressive peptides from the blue–green alga Lyngbya majuscula. J. Nat. Prod. 55, 613–619 (1992).

Zhang, L. H. & Longley, R. E. Induction of apoptosis in mouse thymocytes by microcolin A and its synthetic analog. Life Sci. 64, 1013–1028 (1999).

Zhang, L. H., Longley, R. E. & Koehn, F. E. Antiproliferative and immunosuppressive properties of microcolin A, a marine-derived lipopeptide. Life Sci. 60, 751–762 (1997).

Yu, F. X. et al. Mutant Gq/11 promote uveal melanoma tumorigenesis by activating YAP. Cancer Cell 25, 822–830 (2014).

Feng, X. et al. Hippo-independent activation of YAP by the GNAQ uveal melanoma oncogene through a trio-regulated rho GTPase signaling circuitry. Cancer Cell 25, 831–845 (2014).

Koehn, F. E. et al. Analogues of the marine immunosuppressant microcolin A: preparation and biological activity. J. Med. Chem. 37, 3181–3186 (1994).

Wang, Y. et al. Comprehensive molecular characterization of the Hippo signaling pathway in cancer. Cell Rep. 25, 1304–1317 e5 (2018).

Liu-Chittenden, Y. et al. Genetic and pharmacological disruption of the TEAD–YAP complex suppresses the oncogenic activity of YAP. Genes Dev. 26, 1300–1305 (2012).

Han, H. et al. Hippo signaling dysfunction induces cancer cell addiction to YAP. Oncogene 37, 6414–6424 (2018).

Pham, T. H. et al. Machine-learning and chemicogenomics approach defines and predicts cross-talk of Hippo and MAPK pathways. Cancer Discov. 11, 778–793 (2021).

Speers, A. E. & Cravatt, B. F. Activity-based protein profiling (ABPP) and click chemistry (CC)-ABPP by MudPIT mass spectrometry. Curr. Protoc. Chem. Biol. 1, 29–41 (2009).

Wirtz, K. W. Phospholipid transfer proteins. Annu. Rev. Biochem. 60, 73–99 (1991).

Tilley, S. J. et al. Structure–function analysis of human [corrected] phosphatidylinositol transfer protein alpha bound to phosphatidylinositol. Structure 12, 317–326 (2004).

Grabon, A., Bankaitis, V. A. & McDermott, M. I. The interface between phosphatidylinositol transfer protein function and phosphoinositide signaling in higher eukaryotes. J. Lipid Res. 60, 242–268 (2019).

Carvou, N. et al. Phosphatidylinositol- and phosphatidylcholine-transfer activity of PITPbeta is essential for COPI-mediated retrograde transport from the Golgi to the endoplasmic reticulum. J. Cell Sci. 123, 1262–1273 (2010).

Shadan, S. et al. Dynamics of lipid transfer by phosphatidylinositol transfer proteins in cells. Traffic 9, 1743–1756 (2008).

Hong, A. W. et al. Critical roles of phosphoinositides and NF2 in Hippo pathway regulation. Genes Dev. 34, 511–525 (2020).

Del Bel, L. M. & Brill, J. A. Sac1, a lipid phosphatase at the interface of vesicular and nonvesicular transport. Traffic 19, 301–318 (2018).

Burke, J. E. Structural basis for regulation of phosphoinositide kinases and their involvement in human disease. Mol. Cell 71, 653–673 (2018).

Ile, K. E. et al. Zebrafish class 1 phosphatidylinositol transfer proteins: PITPbeta and double cone cell outer segment integrity in retina. Traffic 11, 1151–1167 (2010).

Hammond, G. R., Machner, M. P. & Balla, T. A novel probe for phosphatidylinositol 4-phosphate reveals multiple pools beyond the Golgi. J. Cell Biol. 205, 113–126 (2014).

Stauffer, T. P., Ahn, S. & Meyer, T. Receptor-induced transient reduction in plasma membrane PtdIns(4,5)P2 concentration monitored in living cells. Curr. Biol. 8, 343–346 (1998).

Hammond, G. R. et al. PI4P and PI(4,5)P2 are essential but independent lipid determinants of membrane identity. Science 337, 727–730 (2012).

Nakatsu, F. et al. PtdIns4P synthesis by PI4KIIIalpha at the plasma membrane and its impact on plasma membrane identity. J. Cell Biol. 199, 1003–1016 (2012).

Kanai, F. et al. The PX domains of p47phox and p40phox bind to lipid products of PI(3)K. Nat. Cell Biol. 3, 675–678 (2001).

D'Angelo, G. et al. The multiple roles of PtdIns(4)P–not just the precursor of PtdIns(4,5)P2. J. Cell Sci. 121, 1955–1963 (2008).

Delage, E. et al. Signal transduction pathways involving phosphatidylinositol 4-phosphate and phosphatidylinositol 4,5-bisphosphate: convergences and divergences among eukaryotic kingdoms. Prog. Lipid Res. 52, 1–14 (2013).

Zewe, J. P. et al. SAC1 degrades its lipid substrate PtdIns4. eLife 7, e35588 (2018).

Blagoveshchenskaya, A. et al. Integration of Golgi trafficking and growth factor signaling by the lipid phosphatase SAC1. J. Cell Biol. 180, 803–812 (2008).

Bojjireddy, N. et al. Pharmacological and genetic targeting of the PI4KA enzyme reveals its important role in maintaining plasma membrane phosphatidylinositol 4-phosphate and phosphatidylinositol 4,5-bisphosphate levels. J. Biol. Chem. 289, 6120–6132 (2014).

Hirao, M. et al. Regulation mechanism of ERM (ezrin/radixin/moesin) protein/plasma membrane association: possible involvement of phosphatidylinositol turnover and Rho-dependent signaling pathway. J. Cell Biol. 135, 37–51 (1996).

Balla, T. Phosphoinositides: tiny lipids with giant impact on cell regulation. Physiol. Rev. 93, 1019–1137 (2013).

Plouffe, S. W. et al. Characterization of Hippo pathway components by gene inactivation. Mol. Cell 64, 993–1008 (2016).

Bar-Peled, L. et al. Chemical proteomics identifies druggable vulnerabilities in a genetically defined cancer. Cell 171, 696–709 e23 (2017).

Inloes, J. M. et al. The hereditary spastic paraplegia-related enzyme DDHD2 is a principal brain triglyceride lipase. Proc. Natl Acad. Sci. USA 111, 14924–14929 (2014).

Niphakis, M. J. et al. A global map of lipid-binding proteins and their ligandability in cells. Cell 161, 1668–1680 (2015).

Weerapana, E. et al. Quantitative reactivity profiling predicts functional cysteines in proteomes. Nature 468, 790–795 (2010).

Cong, L. et al. Multiplex genome engineering using CRISPR/Cas systems. Science 339, 819–823 (2013).

Ran, F. A. et al. Genome engineering using the CRISPR–Cas9 system. Nat. Protoc. 8, 2281–2308 (2013).

Subramanian, A. et al. Gene set enrichment analysis: a knowledge-based approach for interpreting genome-wide expression profiles. Proc. Natl Acad. Sci. USA 102, 15545–15550 (2005).
Acknowledgements
We thank E. Fatti and F.-X. Yu for assistance in the initial chemical library screen. This work was supported by National Institutes of Health (NIH) grants GM51586, CA217642 and CA268179 to K.-L.G. J.M.F. is supported by NIH grant T32CA009523.
Ethics declarations
Competing interests
K.-L.G. is a cofounder of and has equity interest in Vivace Therapeutics. T.T., A.K. and X.P. are Vivace Therapeutics employees. The other authors declare no competing interests.
Peer review
Peer review information
Nature Chemical Biology thanks the anonymous reviewers for their contribution to the peer review of this work.
Additional information
Publisher's note Springer Nature remains neutral with regard to jurisdictional claims in published maps and institutional affiliations.
Supplementary information
Supplementary Fig. 1 and Notes 1 and 2.
Supplementary Dataset 1. Information of the marine compounds library; Supplementary Dataset 2. List of proteins enriched by VT01702 over DMSO; Supplementary Dataset 3. Proteins list of excised gel identified by MS.
About this article
Cite this article
Li, FL., Fu, V., Liu, G. et al. Hippo pathway regulation by phosphatidylinositol transfer protein and phosphoinositides. Nat Chem Biol (2022). https://doi.org/10.1038/s41589-022-01061-z
Received:

Accepted:

Published:

DOI: https://doi.org/10.1038/s41589-022-01061-z
Further reading
Nature Chemical Biology (2022)