Abstract
Activated B cells increase central carbon metabolism to fulfill their bioenergetic demands, yet the mechanistic basis for this, as well as metabolic regulation in B cells, remains largely unknown. Here, we demonstrate that B-cell activation reprograms the tricarboxylic acid cycle and boosts the expression of fumarate hydratase (FH), leading to decreased cellular fumarate abundance. Fumarate accumulation by FH inhibition or dimethyl-fumarate treatment suppresses B-cell activation, proliferation and antibody production. Mechanistically, fumarate is a covalent inhibitor of tyrosine kinase LYN, a key component of the BCR signaling pathway. Fumarate can directly succinate LYN at C381 and abrogate LYN activity, resulting in a block to B-cell activation and function in vitro and in vivo. Therefore, our findings uncover a previously unappreciated metabolic regulation of B cells, and reveal LYN is a natural sensor of fumarate, connecting cellular metabolism to B-cell antigen receptor signaling.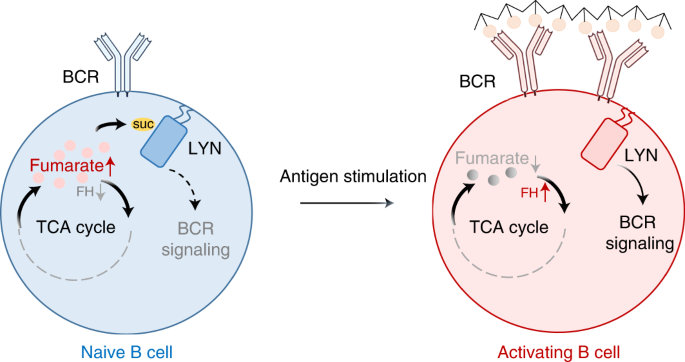 Your institute does not have access to this article
Access options
Subscribe to Nature+
Get immediate online access to the entire Nature family of 50+ journals
Subscribe to Journal
Get full journal access for 1 year
$119.00
only $9.92 per issue
All prices are NET prices.
VAT will be added later in the checkout.
Tax calculation will be finalised during checkout.
Buy article
Get time limited or full article access on ReadCube.
$32.00
All prices are NET prices.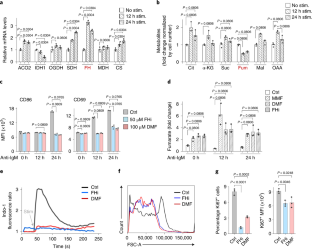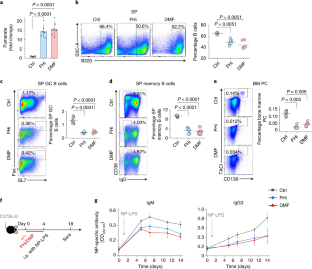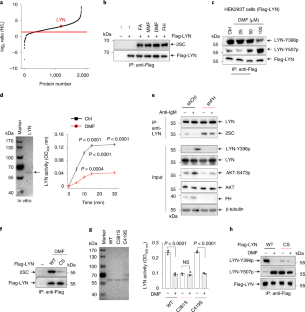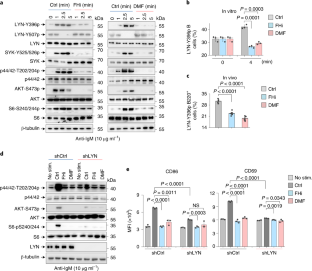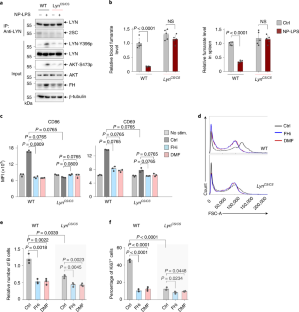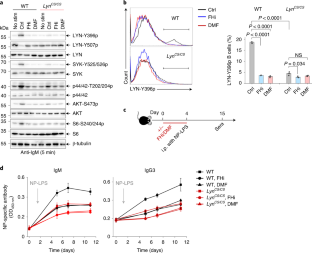 Data availability
The source data underlying Figs. 1–6 as well as Extended Data Figs. 1–8 are provided as a source data file with this paper. All the other data supporting the findings of this study are available within the article and its supplementary information files, and from the corresponding author on reasonable request. A reporting summary for this article is available as a Supplementary Information file. The FACS gating strategies are described in Supplementary Fig. 1. LYN crystal structure (PDB ID 5XY1) is available on the RCSB PDB. Proteome database (mouse, Mus musculus, UP000000589) is available on the UniProt (https://www.uniprot.org/proteomes/UP000000589).
References
Batista, F. D. & Harwood, N. E. The who, how and where of antigen presentation to B cells. Nat. Rev. Immunol. 9, 15–27 (2009).

Reth, M. Antigen receptor tail clue. Nature 338, 383–384 (1989).

Irving, B. & Weiss, A. A clue to antigen receptor tails. J. Immunol. 192, 4013–4014 (2014).

Rolli, V. et al. Amplification of B cell antigen receptor signaling by a Syk/ITAM positive feedback loop. Mol. Cell 10, 1057–1069 (2002).

Reth, M. & Wienands, J. Initiation and processing of signals from the B cell antigen receptor. Ann. Rev. Immunol. 15, 453–479 (1997).

Scharenberg, A. M., Humphries, L. A. & Rawlings, D. J. Calcium signalling and cell-fate choice in B cells. Nat. Rev. Immunol. 7, 778–789 (2007).

Victora, G. D. & Nussenzweig, M. C. Germinal centers. Ann. Rev. Immunol. 30, 429–457 (2012).

Burger, J. A. & Wiestner, A. Targeting B cell receptor signalling in cancer: preclinical and clinical advances. Nat. Rev. Cancer 18, 148–167 (2018).

Chang, C. H. & Pearce, E. L. Emerging concepts of T cell metabolism as a target of immunotherapy. Nat. Immunol. 17, 364–368 (2016).

Chapman, N. M., Boothby, M. R. & Chi, H. Metabolic coordination of T cell quiescence and activation. Nat. Rev. Immunol. 20, 55–70 (2020).

Caro-Maldonado, A. et al. Metabolic reprogramming is required for antibody production that is suppressed in anergic but exaggerated in chronically BAFF-exposed B cells. J. Immunol. 192, 3626–3636 (2014).

Vander Heiden, M. G., Cantley, L. C. & Thompson, C. B. Understanding the Warburg effect: the metabolic requirements of cell proliferation. Science 324, 1029–1033 (2009).

Doughty, C. A. et al. Antigen receptor-mediated changes in glucose metabolism in B lymphocytes: role of phosphatidylinositol 3-kinase signaling in the glycolytic control of growth. Blood 107, 4458–4465 (2006).

Jellusova, J. et al. Gsk3 is a metabolic checkpoint regulator in B cells. Nat. Immunol. 18, 303–312 (2017).

Ryan, D. G. et al. Coupling Krebs cycle metabolites to signalling in immunity and cancer. Nat. Metab. 1, 16–33 (2019).

Qin, W. et al. S-glycosylation-based cysteine profiling reveals regulation of glycolysis by itaconate. Nat. Chem. Biol. 15, 983–991 (2019).

Kulkarni, R. A. et al. A chemoproteomic portrait of the oncometabolite fumarate. Nat. Chem. Biol. 15, 391–400 (2019).

Blatnik, M., Frizzell, N., Thorpe, S. R. & Baynes, J. W. Inactivation of glyceraldehyde-3-phosphate dehydrogenase by fumarate in diabetes: formation of S-(2-succinyl)cysteine, a novel chemical modification of protein and possible biomarker of mitochondrial stress. Diabetes 57, 41–49 (2008).

Kornberg, M. D. et al. Dimethyl fumarate targets GAPDH and aerobic glycolysis to modulate immunity. Science 360, 449–453 (2018).

Humphries, F. et al. Succination inactivates gasdermin D and blocks pyroptosis. Science 369, 1633–1637 (2020).

Ternette, N. et al. Inhibition of mitochondrial aconitase by succination in fumarate hydratase deficiency. Cell Rep. 3, 689–700 (2013).

Adam, J. et al. Renal cyst formation in Fh1-deficient mice is independent of the Hif/Phd pathway: roles for fumarate in KEAP1 succination and Nrf2 signaling. Cancer Cell 20, 524–537 (2011).

Ooi, A. et al. An antioxidant response phenotype shared between hereditary and sporadic type 2 papillary renal cell carcinoma. Cancer Cell 20, 511–523 (2011).

Burgener, A. V. et al. SDHA gain-of-function engages inflammatory mitochondrial retrograde signaling via KEAP1-Nrf2. Nat. Immunol. 20, 1311–1321 (2019).

Traub, J. et al. Dimethyl fumarate impairs differentiated B cells and fosters central nervous system integrity in treatment of multiple sclerosis. Brain Pathol. 29, 640–657 (2019).

Holm Hansen, R., Hojsgaard Chow, H., Christensen, J. R., Sellebjerg, F. & von Essen, M. R. Dimethyl fumarate therapy reduces memory T cells and the CNS migration potential in patients with multiple sclerosis. Mult. Scler. Relat. Disord. 37, 101451 (2020).

Montes Diaz, G., Fraussen, J., Van Wijmeersch, B., Hupperts, R. & Somers, V. Dimethyl fumarate induces a persistent change in the composition of the innate and adaptive immune system in multiple sclerosis patients. Sci. Rep. 8, 8194 (2018).

Li, R. et al. Dimethyl fumarate treatment mediates an anti-inflammatory shift in B cell subsets of patients with multiple sclerosis. J. Immunol. 198, 691–698 (2017).

Scheffler, I. E. Mitochondria 2nd edn (John Wiley & Sons, Inc., 2008).

Alderson, N. L. et al. S-(2-Succinyl)cysteine: a novel chemical modification of tissue proteins by a Krebs cycle intermediate. Arch. Biochem. Biophys. 450, 1–8 (2006).

Weerapana, E. et al. Quantitative reactivity profiling predicts functional cysteines in proteomes. Nature 468, 790–795 (2010).

Burkhardt, A. L., Brunswick, M., Bolen, J. B. & Mond, J. J. Anti-immunoglobulin stimulation of B lymphocytes activates src-related protein-tyrosine kinases. Proc. Natl Acad. Sci. USA 88, 7410–7414 (1991).

Hibbs, M. L. et al. Multiple defects in the immune system of Lyn-deficient mice, culminating in autoimmune disease. Cell 83, 301–311 (1995).

Donella-Deana, A. et al. Spontaneous autophosphorylation of Lyn tyrosine kinase at both its activation segment and C-terminal tail confers altered substrate specificity. Biochemistry 37, 1438–1446 (1998).

Miyano, N. et al. Structural basis for the inhibitor recognition of human Lyn kinase domain. Bioorg. Med. Chem. Lett. 19, 6557–6560 (2009).

Modi, V. & Dunbrack, R. L. Kincore: a web resource for structural classification of protein kinases and their inhibitors. Nucleic Acids Res. 50, D654–D664 (2021).

Fiser, A., Do, R. K. & Sali, A. Modeling of loops in protein structures. Protein Sci. 9, 1753–1773 (2000).

Fiser, A. & Sali, A. ModLoop: automated modeling of loops in protein structures. Bioinformatics 19, 2500–2501 (2003).

Cambier, J. C., Pleiman, C. M. & Clark, M. R. Signal transduction by the B cell antigen receptor and its coreceptors. Ann. Rev. Immunol. 12, 457–486 (1994).

Harwood, N. E. & Batista, F. D. Early events in B cell activation. Ann. Rev. Immunol. 28, 185–210 (2010).

Buck, M. D., Sowell, R. T., Kaech, S. M. & Pearce, E. L. Metabolic instruction of immunity. Cell 169, 570–586 (2017).

Wu, J. et al. Asparagine enhances LCK signalling to potentiate CD8(+) T-cell activation and anti-tumour responses. Nat. Cell Biol. 23, 75–86 (2021).

Lamagna, C., Hu, Y., DeFranco, A. L. & Lowell, C. A. B cell-specific loss of Lyn kinase leads to autoimmunity. J. Immunol. 192, 919–928 (2014).

Chan, V. W., Meng, F., Soriano, P., DeFranco, A. L. & Lowell, C. A. Characterization of the B lymphocyte populations in Lyn-deficient mice and the role of Lyn in signal initiation and down-regulation. Immunity 7, 69–81 (1997).

Gross, A. J., Proekt, I. & DeFranco, A. L. Elevated BCR signaling and decreased survival of Lyn-deficient transitional and follicular B cells. Eur. J. Immunol. 41, 3645–3655 (2011).

Hibbs, M. L. et al. Sustained activation of Lyn tyrosine kinase in vivo leads to autoimmunity. J. Exp. Med. 196, 1593–1604 (2002).

Li, R. et al. Cytokine-defined B cell responses as therapeutic targets in multiple sclerosis. Front Immunol. 6, 626 (2015).

Atwan, A. et al. Oral fumaric acid esters for psoriasis. Cochrane Database Syst. Rev. CD010497 (2015).

Blair, H. A. Dimethyl fumarate: a review in relapsing-remitting MS. Drugs 79, 1965–1976 (2019).

Smith, M. D., Martin, K. A., Calabresi, P. A. & Bhargava, P. Dimethyl fumarate alters B-cell memory and cytokine production in MS patients. Ann. Clin. Transl. Neurol. 4, 351–355 (2017).

Jang, C., Chen, L. & Rabinowitz, J. D. Metabolomics and isotope tracing. Cell 173, 822–837 (2018).

Cheng, J. et al. TRIM21 and PHLDA3 negatively regulate the crosstalk between the PI3K/AKT pathway and PPP metabolism. Nat. Commun. 11, 1880 (2020).

Figgett, W. A. et al. The TACI receptor regulates T-cell-independent marginal zone B cell responses through innate activation-induced cell death. Immunity 39, 573–583 (2013).

Rojas, O. L. et al. Recirculating intestinal IgA-producing cells regulate neuroinflammation via IL-10. Cell 176, 610–624 e618 (2019).
Acknowledgements
We thank C. Li at Peking university for his help with statistical analysis. We thank J. Hu at Peking University for insightful discussion and helpful comments. We thank H. Qi, Z. Dong and W. Liu at Tsinghua University for materials and/or comments. We thank G. Li and J. Wu at the Jiang laboratory for their technical assistance and/or discussions. We thank Y. Liu and the Tsinghua University Branch of China National Center for Protein Sciences (Beijing) and Tsinghua University Technology Center for Protein Research for the Cell Function Analyzing Facility support. We thank Y. Zhang and the imaging Core Facility, Technology Center for Protein Sciences of Tsinghua University for assistance using Dragonfly. This research was supported by National Natural Science Foundation of China (grant nos. 82125030 and 81930082) to P.J., National Natural Science Foundation of China (grant nos. 22076003 and 21775006) to X.Z., and the Tsinghua-Peking Center for Life Sciences and National Key R&D Program of China (grant no. 2019YFA0801701) to P.J. J.C. was supported by the Tsinghua-Peking Center for Life Sciences and the China Postdoctoral Science Foundation (grant no. 2020TQ0175). The graphical abstract and working model were created with BioRender.com.
Ethics declarations
Competing interests
The authors declare no competing interests.
Peer review
Peer review information
Nature Chemical Biology thanks James Galligan and the other, anonymous, reviewer(s) for their contribution to the peer review of this work.
Additional information
Publisher's note Springer Nature remains neutral with regard to jurisdictional claims in published maps and institutional affiliations.
Supplementary information
Supplementary Table 1 and Fig. 1.
List of proteins in A20 cell lysates enriched by using DMF and IA-alkyne for competitive activity-based protein profiling.
About this article
Cite this article
Cheng, J., Liu, Y., Yan, J. et al. Fumarate suppresses B-cell activation and function through direct inactivation of LYN. Nat Chem Biol (2022). https://doi.org/10.1038/s41589-022-01052-0
Received:

Accepted:

Published:

DOI: https://doi.org/10.1038/s41589-022-01052-0