Abstract
Triple-negative breast cancer (TNBC) is the most aggressive breast cancer subtype with the worst prognosis and few effective therapies. Here we identified MS023, an inhibitor of type I protein arginine methyltransferases (PRMTs), which has antitumor growth activity in TNBC. Pathway analysis of TNBC cell lines indicates that the activation of interferon responses before and after MS023 treatment is a functional biomarker and determinant of response, and these observations extend to a panel of human-derived organoids. Inhibition of type I PRMT triggers an interferon response through the antiviral defense pathway with the induction of double-stranded RNA, which is derived, at least in part, from inverted repeat Alu elements. Together, our results represent a shift in understanding the antitumor mechanism of type I PRMT inhibitors and provide a rationale and biomarker approach for the clinical development of type I PRMT inhibitors.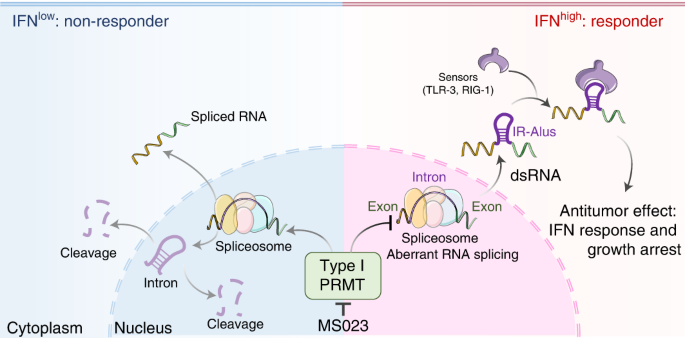 References
Siegel, R. L., Miller, K. D. & Jemal, A. Cancer statistics, 2019. CA Cancer J. Clin. 69, 7–34 (2019).

Bianchini, G., De Angelis, C., Licata, L. & Gianni, L. Treatment landscape of triple-negative breast cancer—expanded options, evolving needs. Nat. Rev. Clin. Oncol. 19, 91–113 (2022).

Kim, C. et al. Chemoresistance evolution in triple-negative breast cancer delineated by single-cell sequencing. Cell 173, 879–893 (2018).

Arrowsmith, C. H., Bountra, C., Fish, P. V., Lee, K. & Schapira, M. Epigenetic protein families: a new frontier for drug discovery. Nat. Rev. Drug Discov. 11, 384–400 (2012).

Burridge, S. Drugging the epigenome. Nat. Rev. Drug Discov. 12, 92–93 (2013).

Shu, S. et al. Response and resistance to BET bromodomain inhibitors in triple-negative breast cancer. Nature 529, 413–417 (2016).

Vinet, M. et al. Protein arginine methyltransferase 5: a novel therapeutic target for triple-negative breast cancers. Cancer Med. 8, 2414–2428 (2019).

Fedele, P., Orlando, L. & Cinieri, S. Targeting triple negative breast cancer with histone deacetylase inhibitors. Expert Opin. Investig. Drugs 26, 1199–1206 (2017).

Wu, Q. et al. A chemical toolbox for the study of bromodomains and epigenetic signaling. Nat. Commun. 10, 1915 (2019).

Deblois, G. et al. Epigenetic switch-induced viral mimicry evasion in chemotherapy-resistant breast cancer. Cancer Discov. 10, 1312–1329 (2020).

Tang, J. et al. PRMT1 is the predominant type I protein arginine methyltransferase in mammalian cells. J. Biol. Chem. 275, 7723–7730 (2000).

Guccione, E. & Richard, S. The regulation, functions and clinical relevance of arginine methylation. Nat. Rev. Mol. Cell Biol. 20, 642–657 (2019).

Wu, Q., Schapira, M., Arrowsmith, C. H. & Barsyte-Lovejoy, D. Protein arginine methylation: from enigmatic functions to therapeutic targeting. Nat. Rev. Drug Discov. 20, 509–530 (2021).

Boisvert, F.-M., Déry, U., Masson, J.-Y. & Richard, S. Arginine methylation of MRE11 by PRMT1 is required for DNA damage checkpoint control. Genes Dev. 19, 671–676 (2005).

Boisvert, F.-M., Rhie, A., Richard, S. & Doherty, A. J. The GAR motif of 53BP1 is arginine methylated by PRMT1 and is necessary for 53BP1 DNA binding activity. Cell Cycle 4, 1834–1841 (2005).

Yoshimatsu, M. et al. Dysregulation of PRMT1 and PRMT6, type I arginine methyltransferases, is involved in various types of human cancers. Int. J. Cancer 128, 562–573 (2011).

Fedoriw, A. et al. Anti-tumor activity of the type I PRMT inhibitor, GSK3368715, synergizes with PRMT5 inhibition through MTAP loss. Cancer Cell 36, 100–114 (2019).

Scheer, S. et al. A chemical biology toolbox to study protein methyltransferases and epigenetic signaling. Nat. Commun. 10, 19 (2019).

Yu, Y. et al. Epigenetic co-deregulation of EZH2/TET1 is a senescence-countering, actionable vulnerability in triple-negative breast cancer. Theranostics 9, 761–777 (2019).

Yan, N. et al. GSKJ4, an H3K27me3 demethylase inhibitor, effectively suppresses the breast cancer stem cells. Exp. Cell. Res. 359, 405–414 (2017).

Eram, M. S. et al. A potent, selective, and cell-active inhibitor of human type I protein arginine methyltransferases. ACS Chem. Biol. 11, 772–781 (2016).

Tsherniak, A. et al. Defining a cancer dependency map. Cell 170, 564–576 (2017).

Behan, F. M. et al. Prioritization of cancer therapeutic targets using CRISPR–Cas9 screens. Nature 568, 511–516 (2019).

Lee, J., Sayegh, J., Daniel, J., Clarke, S. & Bedford, M. T. PRMT8, a new membrane-bound tissue-specific member of the protein arginine methyltransferase family. J. Biol. Chem. 280, 32890–32896 (2005).

Cancer Genome Atlas Network. Comprehensive molecular portraits of human breast tumours. Nature 490, 61–70 (2012).

Curtis, C. et al. The genomic and transcriptomic architecture of 2,000 breast tumours reveals novel subgroups. Nature 486, 346–352 (2012).

Marcotte, R. et al. Functional genomic landscape of human breast cancer drivers, vulnerabilities, and resistance. Cell 164, 293–309 (2016).

Fong, J. Y. et al. Therapeutic targeting of RNA splicing catalysis through inhibition of protein arginine methylation. Cancer Cell 36, 194–209 (2019).

Gao, G. et al. PRMT1 loss sensitizes cells to PRMT5 inhibition. Nucleic Acids Res. 47, 5038–5048 (2019).

Sachs, N. et al. A living biobank of breast cancer organoids captures disease heterogeneity. Cell 172, 373–386 (2018).

Schönborn, J. et al. Monoclonal antibodies to double-stranded RNA as probes of RNA structure in crude nucleic acid extracts. Nucleic Acids Res. 19, 2993–3000 (1991).

Takeuchi, O. & Akira, S. Pattern recognition receptors and inflammation. Cell 140, 805–820 (2010).

Sheng, W. et al. LSD1 ablation stimulates anti-tumor immunity and enables checkpoint blockade. Cell 174, 549–563 (2018).

Chiappinelli, K. B. et al. Inhibiting DNA methylation causes an interferon response in cancer via dsRNA including endogenous retroviruses. Cell 162, 974–986 (2015).

Roulois, D. et al. DNA-demethylating agents target colorectal cancer cells by inducing viral mimicry by endogenous transcripts. Cell 162, 961–973 (2015).

Bowling, E. A. et al. Spliceosome-targeted therapies trigger an antiviral immune response in triple-negative breast cancer. Cell 184, 384–403 (2021).

Mehdipour, P. et al. Epigenetic therapy induces transcription of inverted SINEs and ADAR1 dependency. Nature 588, 169–173 (2020).

Šulc, P. et al. Repeats mimic immunostimulatory viral features across a vast evolutionary landscape. Preprint at bioRxiv https://doi.org/10.1101/2021.11.04.467016 (2021).

Lima-Fernandes, E. et al. Targeting bivalency de-represses Indian Hedgehog and inhibits self-renewal of colorectal cancer-initiating cells. Nat. Commun. 10, 1436 (2019).

Sachamitr, P. et al. PRMT5 inhibition disrupts splicing and stemness in glioblastoma. Nat. Commun. 12, 979 (2021).

Morel, K. L. et al. EZH2 inhibition activates a dsRNA–STING–interferon stress axis that potentiates response to PD-1 checkpoint blockade in prostate cancer. Nat. Cancer 2, 444–456 (2021).

Griffin, G. K. et al. Epigenetic silencing by SETDB1 suppresses tumour intrinsic immunogenicity. Nature 595, 309–314 (2021).

Kumar, S. et al. CARM1 inhibition enables immunotherapy of resistant tumors by dual action on tumor cells and T cells. Cancer Discov. 11, 2050–2071 (2021).

Wu, Q. et al. GLUT1 inhibition blocks growth of RB1-positive triple negative breast cancer. Nat. Commun. 11, 4205 (2020).

Smirnov, P. et al. PharmacoGx: an R package for analysis of large pharmacogenomic datasets. Bioinformatics 32, 1244–1246 (2016).

Liberzon, A. et al. The Molecular Signatures Database (MSigDB) hallmark gene set collection. Cell Syst. 1, 417–425 (2015).

Korotkevich, G. et al. Fast gene set enrichment analysis. Preprint at bioRxiv https://doi.org/10.1101/060012 (2016).

Li, J. et al. Characterization of human cancer cell lines by reverse-phase protein arrays. Cancer Cell 31, 225–239 (2017).

Tapial, J. et al. An atlas of alternative splicing profiles and functional associations reveals new regulatory programs and genes that simultaneously express multiple major isoforms. Genome Res. 27, 1759–1768 (2017).

Han, H. et al. Multilayered control of alternative splicing regulatory networks by transcription factors. Mol. Cell 65, 539–553 (2017).

Irimia, M. et al. A highly conserved program of neuronal microexons is misregulated in autistic brains. Cell 159, 1511–1523 (2014).
Acknowledgements
We thank the following organizations for supporting our study: the Terry Fox Research Institute (New Frontiers Research Program PPG-1064 to D.W.C., B.H.-K., M.L. and C.H.A.), the Canadian Institute for Health Research (CEEHRC team grant 158225 to M.L. and C.H.A., grant 363288 to B.H.-K., grant FDN154328 to C.H.A., grant 136963 to M.L. and fellowship award 430943 to Q.W.). This work was also supported by the Princess Margaret Cancer Foundation (M.L.), the Gattuso-Slaight Personalized Cancer Medicine Fund (B.H.-K.), National Natural Science Foundation of China (grant 82103287 to Q.W.), Zhejiang Provincial Natural Science Foundation (grant LR22B050001 to Q.W.), FAPESP (grants 2012/0195-3, 2014/50897-0 and 20/02006-0 to K.B.M. and fellowships 2016/25521-1 and 2015/25134-5 to F.E.C.), Ontario Institute for Cancer Research (Investigator Award to M.L.), Canadian Cancer Society (the Bernard and Francine Dorval Award for Excellence to M.L.) and the SGC. The SGC is a charity (register number 1097737) that received funding from AbbVie, Bayer AG, Boehringer Ingelheim, Bristol Myers Squibb, Genentech, Genome Canada through Ontario Genomics Institute [OGI-196], Janssen, Merck KGaA (aka EMD in Canada and USA), Pfizer, Takeda and the Innovative Medicines Initiative 2 Joint Undertaking (IMI2 JU; EUbOPEN grant 875510) from the European Union and European Federation of Pharmaceutical Industries and Associations (EFPIA). We thank the Princess Margaret Living Biobank for organoid development and the Princess Margaret Bioinformatics group for assisting with the bioinformatic analysis. We acknowledge the use of instruments at the Shared Instrumentation Core Facility at the Institute of Basic Medicine and Cancer (IBMC), Chinese Academy of Sciences.
Ethics declarations
Competing interests
J.J. is a cofounder, consultant, shareholder and scientific advisory board member in Cullgen, Inc. J.J. is also a consultant at Accent Therapeutics, Inc., and EpiCypher, Inc. The J.J. lab received research funds from Cullinan Oncology, Inc., Celgene Corporation, Cullgen, Inc., and Levo Therapeutics, Inc. D.D.D.C. is a cofounder, employee and shareholder at DNAMx, Inc. D.D.D.C. received funding unrelated to this project from Pfizer and Nektar Therapeutics. All other authors declare no competing interests.
Peer review
Peer review information
Nature Chemical Biology thanks Steven Corsello, Ernesto Guccione and Stephane Richard for their contribution to the peer review of this work.
Additional information
Publisher's note Springer Nature remains neutral with regard to jurisdictional claims in published maps and institutional affiliations.
Supplementary information
Supplementary Tables 1–5 and Fig. 1.
Rights and permissions
Open Access This article is licensed under a Creative Commons Attribution 4.0 International License, which permits use, sharing, adaptation, distribution and reproduction in any medium or format, as long as you give appropriate credit to the original author(s) and the source, provide a link to the Creative Commons license, and indicate if changes were made. The images or other third party material in this article are included in the article's Creative Commons license, unless indicated otherwise in a credit line to the material. If material is not included in the article's Creative Commons license and your intended use is not permitted by statutory regulation or exceeds the permitted use, you will need to obtain permission directly from the copyright holder. To view a copy of this license, visit http://creativecommons.org/licenses/by/4.0/.
About this article
Cite this article
Wu, Q., Nie, D.Y., Ba-alawi, W. et al. PRMT inhibition induces a viral mimicry response in triple-negative breast cancer. Nat Chem Biol 18, 821–830 (2022). https://doi.org/10.1038/s41589-022-01024-4
Received:

Accepted:

Published:

Issue Date:

DOI: https://doi.org/10.1038/s41589-022-01024-4