Abstract
Metabolic labeling of glycans with clickable unnatural sugars has enabled glycan analysis in multicellular systems. However, cell-type-specific labeling of glycans in vivo remains challenging. Here we develop genetically encoded metabolic glycan labeling (GeMGL), a cell-type-specific strategy based on a bump-and-hole pair of an unnatural sugar and its matching engineered enzyme. N-pentynylacetylglucosamine (GlcNAl) serves as a bumped analog of N-acetylglucosamine (GlcNAc) that is specifically incorporated into glycans of cells expressing a UDP-GlcNAc pyrophosphorylase mutant, AGX2F383G. GeMGL with the 1,3-di-O-propionylated GlcNAl (1,3-Pr2GlcNAl) and AGX2F383G pair was demonstrated in cell cocultures, and used for specific labeling of glycans in mouse xenograft tumors. By generating a transgenic mouse line with AGX2F383G expressed under a cardiomyocyte-specific promoter, we performed specific imaging of cardiomyocyte glycans in the heart and identified 582 cardiomyocyte O-GlcNAcylated proteins with no interference from other cardiac cell types. GeMGL will facilitate cell-type-specific glycan imaging and glycoproteomics in various tissues and disease models.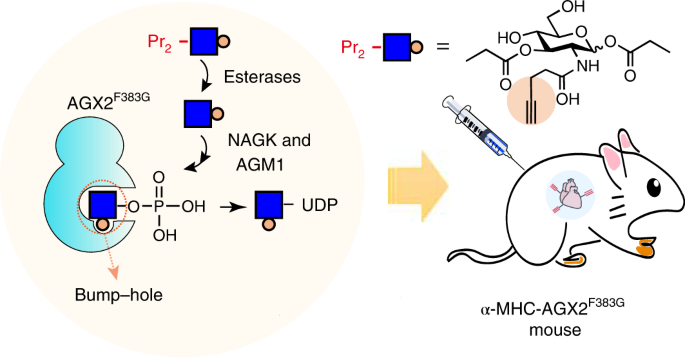 Access options
Access Nature and 54 other Nature Portfolio journals
Get Nature+, our best-value online-access subscription
$29.99 / 30 days
cancel any time
Subscribe to this journal
Receive 12 print issues and online access
$259.00 per year
only $21.58 per issue
Rent or buy this article
Prices vary by article type
from$1.95
to$39.95
Prices may be subject to local taxes which are calculated during checkout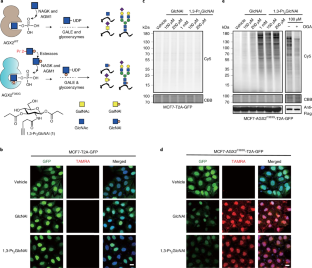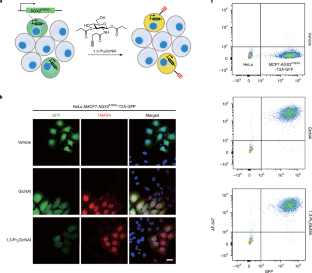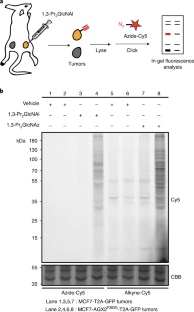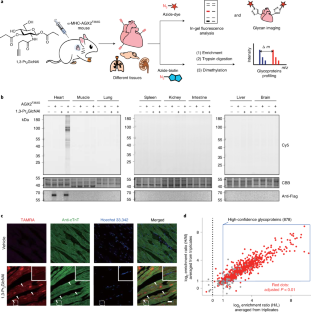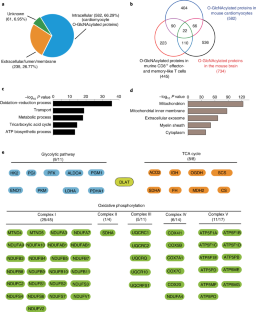 Similar content being viewed by others
Data availability
The data that support the findings of this study are available within the paper and Supplementary Information. The proteomic raw data are deposited on ProteomeXchange with the dataset identifier PXD030663. Source data are provided with this paper.
References
Hawrylycz, M. J. et al. An anatomically comprehensive atlas of the adult human brain transcriptome. Nature 489, 391–399 (2012).

Uhlén, M. et al. Tissue-based map of the human proteome. Science 347, 1260419 (2015).

Comelli, E. M. et al. A focused microarray approach to functional glycomics: transcriptional regulation of the glycome. Glycobiology 16, 117–131 (2006).

Sun, S. et al. N-GlycositeAtlas: a database resource for mass spectrometry-based human N-linked glycoprotein and glycosylation site mapping. Clin. Proteom. 16, 35 (2019).

Reily, C., Stewart, T. J., Renfrow, M. B. & Novak, J. Glycosylation in health and disease. Nat. Rev. Nephrol. 15, 346–366 (2019).

Xie, R., Hong, S. & Chen, X. Cell-selective metabolic labeling of biomolecules with bioorthogonal functionalities. Curr. Opin. Chem. Biol. 17, 747–752 (2013).

Alvarez-Castelao, B. et al. Cell-type-specific metabolic labeling of nascent proteomes in vivo. Nat. Biotechnol. 35, 1196–1201 (2017).

Krogager, T. P. et al. Labeling and identifying cell-specific proteomes in the mouse brain. Nat. Biotechnol. 36, 156–159 (2018).

Prescher, J. A., Dube, D. H. & Bertozzi, C. R. Chemical remodelling of cell surfaces in living animals. Nature 430, 873–877 (2004).

Chang, P. V. et al. Copper-free click chemistry in living animals. Proc. Natl Acad. Sci. USA 107, 1821–1826 (2010).

Rong, J. et al. Glycan imaging in intact rat hearts and glycoproteomic analysis reveal the upregulation of sialylation during cardiac hypertrophy. J. Am. Chem. Soc. 136, 17468–17476 (2014).

Xie, R., Hong, S., Feng, L., Rong, J. & Chen, X. Cell-selective metabolic glycan labeling based on ligand-targeted liposomes. J. Am. Chem. Soc. 134, 9914–9917 (2012).

Xie, R. et al. Targeted imaging and proteomic analysis of tumor‐associated glycans in living animals. Angew. Chem. Int. Ed. 53, 14082–14086 (2014).

Sun, Y. et al. Mechanistic investigation and multiplexing of liposome-assisted metabolic glycan labeling. J. Am. Chem. Soc. 140, 3592–3602 (2018).

Chang, P. V., Dube, D. H., Sletten, E. M. & Bertozzi, C. R. A strategy for the selective imaging of glycans using caged metabolic precursors. J. Am. Chem. Soc. 132, 9516–9518 (2010).

Shim, M. K. et al. Cathepsin B‐specific metabolic precursor for in vivo tumor‐specific fluorescence imaging. Angew. Chem. Int. Ed. 55, 14698–14703 (2016).

Wang, H. et al. Selective in vivo metabolic cell-labeling-mediated cancer targeting. Nat. Chem. Biol. 13, 415–424 (2017).

Woo, C. M., Iavarone, A. T., Spiciarich, D. R., Palaniappan, K. K. & Bertozzi, C. R. Isotope-targeted glycoproteomics (IsoTaG): a mass-independent platform for intact N- and O-glycopeptide discovery and analysis. Nat. Methods 12, 561–567 (2015).

Qin, K. et al. Quantitative profiling of protein O-GlcNAcylation sites by an isotope-tagged cleavable linker. ACS Chem. Biol. 13, 1983–1989 (2018).

Boyce, M. et al. Metabolic cross-talk allows labeling of O-linked β-N-acetylglucosamine-modified proteins via the N-acetylgalactosamine salvage pathway. Proc. Natl Acad. Sci. 108, 3141–3146 (2011).

Yu, S.-H. et al. Metabolic labeling enables selective photocrosslinking of O-GlcNAc-modified proteins to their binding partners. Proc. Natl Acad. Sci. USA 109, 4834–4839 (2012).

Schumann, B. et al. Bump-and-hole engineering identifies specific substrates of glycosyltransferases in living cells. Mol. Cell 78, 824–834.e15 (2020).

Qin, W. et al. Artificial cysteine S‐glycosylation induced by per‐O‐acetylated unnatural monosaccharides during metabolic glycan labeling. Angew. Chem. Int. Ed. 57, 1817–1820 (2018).

Qin, K., Zhang, H., Zhao, Z. & Chen, X. Protein S-glyco-modification through an elimination–addition mechanism. J. Am. Chem. Soc. 142, 9382–9388 (2020).

Hao, Y. et al. Next-generation unnatural monosaccharides reveal that ESRRB O-GlcNAcylation regulates pluripotency of mouse embryonic stem cells. Nat. Commun. 10, 4065 (2019).

Zaro, B. W., Yang, Y.-Y., Hang, H. C. & Pratt, M. R. Chemical reporters for fluorescent detection and identification of O-GlcNAc-modified proteins reveal glycosylation of the ubiquitin ligase NEDD4-1. Proc. Natl Acad. Sci. USA 108, 8146–8151 (2011).

Batt, A. R., Zaro, B. W., Navarro, M. X. & Pratt, M. R. Metabolic chemical reporters of glycans exhibit cell‐type‐selective metabolism and glycoprotein labeling. Chem. Bio. Chem. 18, 1177–1182 (2017).

Cioce, A. et al. Optimization of metabolic oligosaccharide engineering with Ac4GalNAlk and Ac4GlcNAlk by an engineered pyrophosphorylase. ACS Chem. Biol. 16, 1961–1967 (2021).

Subramaniam, A. et al. Tissue-specific regulation of the α-myosin heavy chain gene promoter in transgenic mice. J. Biol. Chem. 266, 24613–24620 (1991).

Dassanayaka, S. & Jones, S. P. O-GlcNAc and the cardiovascular system. Pharm. Therapeut. 142, 62–71 (2014).

Wright, J. N., Collins, H. E., Wende, A. R. & Chatham, J. C. O-GlcNAcylation and cardiovascular disease. Biochem Soc. T 45, 545–553 (2017).

Zielinska, D. F., Gnad, F., Wiśniewski, J. R. & Mann, M. Precision mapping of an in vivo N-glycoproteome reveals rigid topological and sequence constraints. Cell 141, 897–907 (2010).

Liu, M.-Q. et al. pGlyco 2.0 enables precision N-glycoproteomics with comprehensive quality control and one-step mass spectrometry for intact glycopeptide identification. Nat. Commun. 8, 438 (2017).

Alfaro, J. F. et al. Tandem mass spectrometry identifies many mouse brain O-GlcNAcylated proteins including EGF domain-specific O-GlcNAc transferase targets. Proc. Natl Acad. Sci. USA 109, 7280–7285 (2012).

Trinidad, J. C. et al. Global identification and characterization of both O-GlcNAcylation and phosphorylation at the murine synapse. Mol. Cell Proteom. 11, 215–229 (2012).

Aguilar, A. L. et al. Profiling of protein O-GlcNAcylation in murine CD8+ effector- and memory-like T cells. ACS Chem. Biol. 12, 3031–3038 (2017).

Dube, D. H., Prescher, J. A., Quang, C. N. & Bertozzi, C. R. Probing mucin-type O-linked glycosylation in living animals. Proc. Natl Acad. Sci. USA 103, 4819–4824 (2006).

Xie, R. et al. In vivo metabolic labeling of sialoglycans in the mouse brain by using a liposome-assisted bioorthogonal reporter strategy. Proc. Natl Acad. Sci. USA 113, 5173–5178 (2016).

Wang-Gillam, A., Pastuszak, I. & Elbein, A. D. A 17-amino acid insert changes UDP-N-acetylhexosamine pyrophosphorylase specificity from UDP-GalNAc to UDP-GlcNAc. J. Biol. Chem. 273, 27055–27057 (1998).

Peneff, C. et al. Crystal structures of two human pyrophosphorylase isoforms in complexes with UDPGlc(Gal)NAc: role of the alternatively spliced insert in the enzyme oligomeric assembly and active site architecture. EMBO J. 20, 6191–6202 (2001).

Chen, Y. et al. Quantitative profiling of protein carbonylations in ferroptosis by an aniline-derived probe. J. Am. Chem. Soc. 140, 4712–4720 (2018).

Wen, L. et al. Chemoenzymatic synthesis of unnatural nucleotide sugars for enzymatic bioorthogonal labeling. ACS Catal. 8, 7659–7666 (2018).

Nakajima, K. et al. Simultaneous determination of nucleotide sugars with ion-pair reversed-phase HPLC. Glycobiology 20, 865–871 (2010).

Huang, D. W., Sherman, B. T. & Lempicki, R. A. Systematic and integrative analysis of large gene lists using DAVID bioinformatics resources. Nat. Protoc. 4, 44–57 (2009).
Acknowledgements
This project is supported by the National Key Research and Development Program of China (grant no. 2018YFA0507600) and the National Natural Science Foundation of China (grant nos. 22037001, 9215330 and 91753206).
Ethics declarations
Competing interests
The authors declare no competing interests.
Peer review
Peer review information
Nature Chemical Biology thanks Wesley Zandberg and the other, anonymous, reviewer(s) for their contribution to the peer review of this work.
Additional information
Publisher's note Springer Nature remains neutral with regard to jurisdictional claims in published maps and institutional affiliations.
Supplementary information
About this article
Cite this article
Fan, X., Song, Q., Sun, De. et al. Cell-type-specific labeling and profiling of glycans in living mice. Nat Chem Biol 18, 625–633 (2022). https://doi.org/10.1038/s41589-022-01016-4
Received:

Accepted:

Published:

Issue Date:

DOI: https://doi.org/10.1038/s41589-022-01016-4
This article is cited by
Anqi Zhang
Yuanwen Jiang
Karl Deisseroth

Nature Reviews Bioengineering (2023)

Anna Cioce
Beatriz Calle
Benjamin Schumann

Nature Communications (2022)