Abstract
The γ-butyrolactone motif is found in many natural signaling molecules and other specialized metabolites. A prominent example is the potent aquatic phytotoxin cyanobacterin, which has a highly functionalized γ-butyrolactone core structure. The enzymatic machinery that assembles cyanobacterin and structurally related natural products (herein termed furanolides) has remained elusive for decades. Here, we elucidate the biosynthetic process of furanolide assembly. The cyanobacterin biosynthetic gene cluster was identified by targeted bioinformatic screening and validated by heterologous expression in Escherichia coli. Full functional evaluation of the recombinant key enzymes in vivo and in vitro, individually and in concert, provided in-depth mechanistic insights into a streamlined C–C bond-forming cascade that involves installation of compatible reactivity at seemingly unreactive Cα positions of amino acid precursors. Our work extends the biosynthetic and biocatalytic toolbox for γ-butyrolactone formation, provides a general paradigm for furanolide biosynthesis and sets the stage for their targeted discovery, biosynthetic engineering and enzymatic synthesis.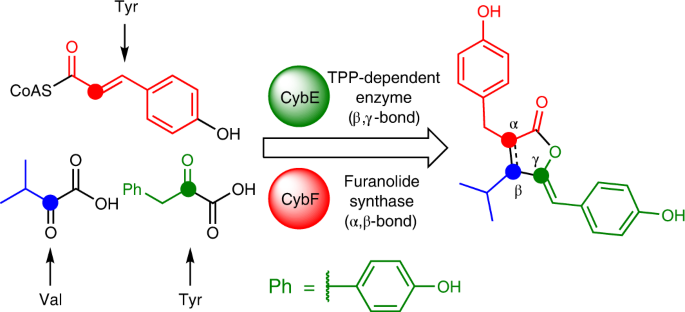 Access options
Access Nature and 54 other Nature Portfolio journals
Get Nature+, our best-value online-access subscription
$29.99 / 30 days
cancel any time
Subscribe to this journal
Receive 12 print issues and online access
$259.00 per year
only $21.58 per issue
Rent or buy this article
Prices vary by article type
from$1.95
to$39.95
Prices may be subject to local taxes which are calculated during checkout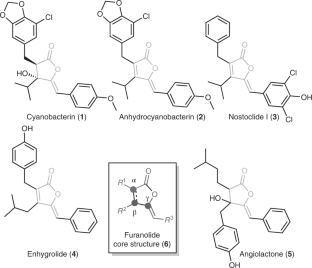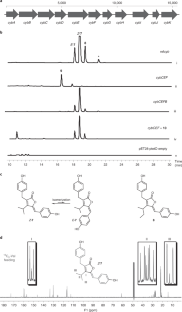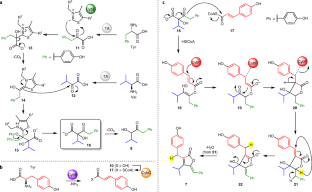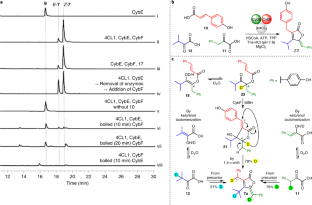 Data availability
Sequence data that support the findings of this study are deposited in GenBank with the accession code BK059219. The sequenced genome of Tolypothrix sp. PCC 9009 is publicly available and was downloaded from the NCBI database using accession number ALWD00000000. All analytical data generated for the present study are available upon request to the corresponding authors.
References
Mason, C. P. et al. Isolation of chlorine-containing antibiotic from the freshwater cyanobacterium Scytonema hofmanni. Science 215, 400–402 (1982).

Gleason, F. K., Porwoll, J., Flippen-Anderson, J. L. & George, C. X-ray structure determination of the naturally occurring isomer of cyanobacterin. J. Org. Chem. 51, 1615–1616 (1986).

Pignatello, J. J. et al. Structure of the antibiotic cyanobacterin, a chlorine-containing γ-lactone from the freshwater cyanobacterium Scytonema hofmanni. J. Org. Chem. 48, 4035–4038 (1983).

Gleason, F. K. & Paulson, J. L. Site of action of the natural algicide, cyanobacterin, in the blue-green alga, Synechococcus sp. Arch. Microbiol. 138, 273–277 (1984).

Gleason, F. K. & Case, D. E. Activity of the natural algicide, cyanobacterin, on angiosperms. Plant Physiol. 80, 834–837 (1986).

Gleason, F. K., Case, D. E., Sipprell, K. D. & Magnuson, T. S. Effect of the natural algicide, cyanobacterin, on a herbicide-resistant mutant of Anacystis nidulans R2. Plant Sci. 46, 5–10 (1986).

Mallipudi, L. R. & Gleason, F. K. Characterization of a mutant of Anacystis nidulans r2 resistant to the natural herbicide, cyanobacterin. Plant Sci. 60, 149–154 (1989).

Negishi, E. & Kotora, M. Regio- and stereoselective synthesis of γ-alkylidenebutenolides and related compounds. Tetrahedron 53, 6707–6738 (1997).

Yang, X., Shimizu, Y., Steiner, J. R. & Clardy, J. Nostoclide I and II, extracellular metabolites from a symbiotic cyanobacterium, Nostoc sp., from the lichen Peltigera canina. Tetrahedron Lett. 34, 761–764 (1993).

Felder, S. et al. Salimyxins and enhygrolides: antibiotic, sponge-related metabolites from the obligate marine myxobacterium Enhygromyxa salina. ChemBioChem 14, 1363–1371 (2013).

Raju, R., Garcia, R. & Müller, R. Angiolactone, a new butyrolactone isolated from the terrestrial myxobacterium, Angiococcus sp. J. Antibiot. 67, 725–726 (2014).

van Pée, K.-H. & Patallo, E. P. Flavin-dependent halogenases involved in secondary metabolism in bacteria. Appl. Microbiol. Biotechnol. 70, 631–641 (2006).

Duell, E. R. et al. Direct pathway cloning of the sodorifen biosynthetic gene cluster and recombinant generation of its product in E. coli. Microb. Cell Fact. 18, 32 (2019).

Greunke, C. et al. Direct pathway cloning (DiPaC) to unlock natural product biosynthetic potential. Metab. Eng. 47, 334–345 (2018).

D'Agostino, P. M. & Gulder, T. A. M. Direct pathway cloning combined with sequence- and ligation-independent cloning for fast biosynthetic gene cluster refactoring and heterologous expression. ACS Syn. Biol. 7, 1702–1708 (2018).

Pfeifer, B. A., Admiraal, S. J., Gramajo, H., Cane, D. E. & Khosla, C. Biosynthesis of complex polyketides in a metabolically engineered strain of E. coli. Science 291, 1790–1792 (2001).

Jordan, F. Current mechanistic understanding of thiamin diphosphate-dependent enzymatic reactions. Nat. Prod. Rep. 20, 184–201 (2003).

Balskus, E. P. & Walsh, C. T. Investigating the initial steps in the biosynthesis of cyanobacterial sunscreen scytonemin. J. Am. Chem. Soc. 130, 15260–15261 (2008).

Louie, G. V. et al. Structural determinants and modulation of substrate specificity in phenylalanine–tyrosine ammonia-lyases. Chem. Biol. 13, 1327–1338 (2006).

Moffitt, M. C. et al. Discovery of two cyanobacterial phenylalanine ammonia lyases: kinetic and structural characterization. Biochemistry 46, 1004–1012 (2007).

Balskus, E. P. & Walsh, C. T. An enzymatic cyclopentyl[b]indole formation involved in scytonemin biosynthesis. J. Am. Chem. Soc. 131, 14648–14649 (2009).

Schieferdecker, S. et al. Biosynthesis of diverse antimicrobial and antiproliferative acyloins in anaerobic bacteria. ACS Chem. Biol. 14, 1490–1497 (2019).

Park, J.-S. et al. Identification and biosynthesis of new acyloins from the thermophilic bacterium Thermosporothrix hazakensis SK20-1T. ChemBioChem 15, 527–532 (2014).

Knobloch, K.-H. & Hahlbrock, K. 4-Coumarate: CoA ligase from cell suspension cultures of Petroselinum hortense Hoffm: partial purification, substrate specificity, and further properties. Arch. Biochem. Biophys. 184, 237–248 (1977).

Li, X., Bonawitz, N. D., Weng, J.-K. & Chapple, C. The growth reduction associated with repressed lignin biosynthesis in Arabidopsis thaliana is independent of flavonoids. Plant Cell 22, 1620–1632 (2010).

Joyce, S. A. et al. Bacterial biosynthesis of a multipotent stilbene. Angew Chem. Int. Ed. Engl. 47, 1942–1945 (2008).

Nofiani, R., Philmus, B., Nindita, Y. & Mahmud, T. 3-Ketoacyl-ACP synthase (KAS) III homologues and their roles in natural product biosynthesis. MedChemComm 10, 1517–1530 (2019).

Wei, Y. & Shi, M. Recent advances in organocatalytic asymmetric Morita–Baylis–Hillman/aza-Morita–Baylis–Hillman reactions. Chem. Rev. 113, 6659–6690 (2013).

Chandra Bharadwaj, K. Intramolecular Morita–Baylis–Hillman and Rauhut–Currier reactions. A catalytic and atom economic route for carbocycles and heterocycles. RSC Adv. 5, 75923–75946 (2015).

Basavaiah, D. & Naganaboina, R. T. The Baylis–Hillman reaction: a new continent in organic chemistry—our philosophy, vision and over three decades of research. New J. Chem. 42, 14036–14066 (2018).

Reetz, M. T., Mondière, R. & Carballeira, J. D. Enzyme promiscuity: first protein-catalyzed Morita–Baylis–Hillman reaction. Tetrahedron Lett. 48, 1679–1681 (2007).

López-Iglesias, M., Busto, E., Gotor, V. & Gotor-Fernández, V. Use of protease from Bacillus licheniformis as promiscuous catalyst for organic synthesis: applications in C–C and C–N bond formation reactions. Adv. Synth. Catal. 353, 2345–2353 (2011).

Jiang, L. & Yu, H. An example of enzymatic promiscuity: the Baylis–Hillman reaction catalyzed by a biotin esterase (BioH) from Escherichia coli. Biotechnol. Lett. 36, 99–103 (2014).

Tian, X., Zhang, S. & Zheng, L. First Novozym 435 lipase-catalyzed Morita–Baylis–Hillman reaction in the presence of amides. Enzym. Microb. Technol. 84, 32–40 (2016).

Bjelic, S. et al. Computational design of enone-binding proteins with catalytic activity for the Morita–Baylis–Hillman reaction. ACS Chem. Biol. 8, 749–757 (2013).

Shih, P. M. et al. Improving the coverage of the cyanobacterial phylum using diversity-driven genome sequencing. Proc. Natl Acad. Sci. USA 110, 1053–1058 (2013).

Kearse, M. et al. Geneious Basic: an integrated and extendable desktop software platform for the organization and analysis of sequence data. Bioinformatics 28, 1647–1649 (2012).

Naville, M., Ghuillot-Gaudeffroy, A., Marchais, A. & Gautheret, D. ARNold: a web tool for the prediction of Rho-independent transcription terminators. RNA Biol. 8, 11–13 (2011).

D'Agostino, P. M., Song, X., Neilan, B. A. & Moffitt, M. C. Proteogenomics of a saxitoxin-producing and non-toxic strain of Anabaena circinalis (cyanobacteria) in response to extracellular NaCl and phosphate depletion. Environ. Microbiol. 18, 461–476 (2016).
Acknowledgements
We thank C. Chapple (Purdue University) and P. Wang (Willow Biosciences) for providing the pET30a(+)::At4CL1 vector. We also thank L. Wolf and D. Weuster-Botz (Technical University of Munich) for technical support. P.M.D. thanks the Marie Skłodowska-Curie Actions Individual Fellowship (project ID 745435) for funding. C.J.S. and X.J. thank the DBU (Deutsche Bundesstiftung Umwelt; grant 20015/400) and the CSC (China Scholarship Council), respectively, for their PhD fellowships. Research in the T.A.M.G. (DFG GU 1233/1-1) and T.G. (DFG GU 1134/3-1) laboratories is generously funded by the German Research Foundation.
Ethics declarations
Competing interests
The authors declare no competing interests.
Peer review
Peer review information
Nature Chemical Biology thanks Toshiyuki Wakimoto and the other, anonymous, reviewer(s) for their contribution to the peer review of this work.
Additional information
Publisher's note Springer Nature remains neutral with regard to jurisdictional claims in published maps and institutional affiliations.
Supplementary information
Supplementary Figs. 1–6, Tables 1–5 and Notes 1 and 2.
About this article
Cite this article
D'Agostino, P.M., Seel, C.J., Ji, X. et al. Biosynthesis of cyanobacterin, a paradigm for furanolide core structure assembly. Nat Chem Biol 18, 652–658 (2022). https://doi.org/10.1038/s41589-022-01013-7
Received:

Accepted:

Published:

Issue Date:

DOI: https://doi.org/10.1038/s41589-022-01013-7