Abstract
Despite advances in resolving the structures of multi-pass membrane proteins, little is known about the native folding pathways of these complex structures. Using single-molecule magnetic tweezers, we here report a folding pathway of purified human glucose transporter 3 (GLUT3) reconstituted within synthetic lipid bilayers. The N-terminal major facilitator superfamily (MFS) fold strictly forms first, serving as a structural template for its C-terminal counterpart. We found polar residues comprising the conduit for glucose molecules present major folding challenges. The endoplasmic reticulum membrane protein complex facilitates insertion of these hydrophilic transmembrane helices, thrusting GLUT3's microstate sampling toward folded structures. Final assembly between the N- and C-terminal MFS folds depends on specific lipids that ease desolvation of the lipid shells surrounding the domain interfaces. Sequence analysis suggests that this asymmetric folding propensity across the N- and C-terminal MFS folds prevails for metazoan sugar porters, revealing evolutionary conflicts between foldability and functionality faced by many multi-pass membrane proteins.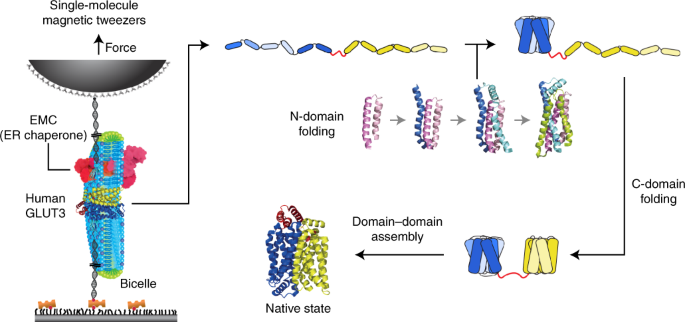 Access options
Access Nature and 54 other Nature Portfolio journals
Get Nature+, our best-value online-access subscription
$29.99 per month
cancel any time
Subscribe to this journal
Receive 12 print issues and online access
$259.00 per year
only $21.58 per issue
Rent or buy this article
Get just this article for as long as you need it
$39.95
Prices may be subject to local taxes which are calculated during checkout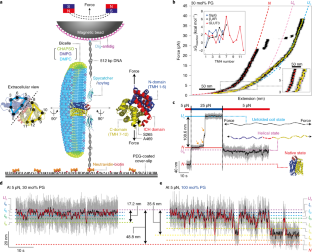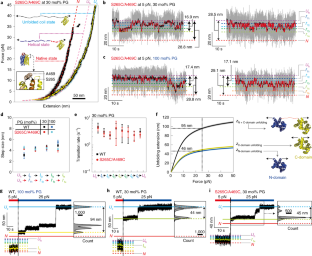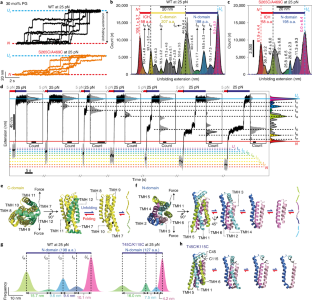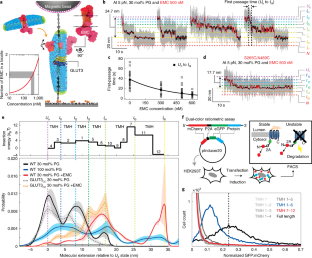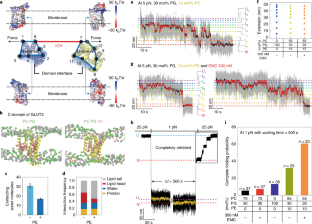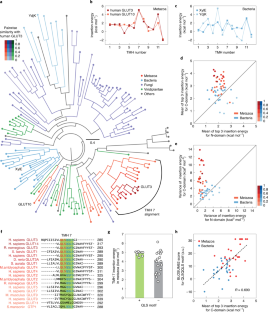 References
Hediger, M. A. et al. The ABCs of solute carriers: physiological, pathological and therapeutic implications of human membrane transport proteins. Pflügers Arch. 447, 465–468 (2004).

Cheng, Y. Membrane protein structural biology in the era of single particle cryo-EM. Curr. Opin. Struct. Biol. 52, 58–63 (2018).

Marinko, J. T. et al. Folding and misfolding of human membrane proteins in health and disease: from single molecules to cellular proteostasis. Chem. Rev. 119, 5537–5606 (2019).

Guna, A. & Hegde, R. S. Transmembrane domain recognition during membrane protein biogenesis and quality control. Curr. Biol. 28, R498–R511 (2018).

Oberai, A., Ihm, Y., Kim, S. & Bowie, J. U. A limited universe of membrane protein families and folds. Protein Sci. 15, 1723–1734 (2006).

Shi, Y. Common folds and transport mechanisms of secondary active transporters. Annu. Rev. Biophys. 42, 51–72 (2013).

Chitwood, P. J. & Hegde, R. S. An intramembrane chaperone complex facilitates membrane protein biogenesis. Nature 584, 630–634 (2020).

Kota, J. & Ljungdahl, P. O. Specialized membrane-localized chaperones prevent aggregation of polytopic proteins in the ER. J. Cell Biol. 168, 79–88 (2005).

Choi, H.-K. et al. Watching helical membrane proteins fold reveals a common N-to-C-terminal folding pathway. Science 366, 1150–1156 (2019).

Pao, S. S., Paulsen, I. T. & Saier, M. H. Jr. Major facilitator superfamily. Microbiol. Mol. Biol. Rev. 62, 1–34 (1998).

Yan, N. Structural biology of the major facilitator superfamily transporters. Annu. Rev. Biophys. 44, 257–283 (2015).

Deng, D. et al. Molecular basis of ligand recognition and transport by glucose transporters. Nature 526, 391–396 (2015).

Madej, M. G. Function, structure, and evolution of the major facilitator superfamily: the LacY manifesto. Adv. Biol. 2014, 1–20 (2014).

Drew, D. & Boudker, O. Shared molecular mechanisms of membrane transporters. Annu. Rev. Biochem. 85, 543–572 (2016).

Hingorani, K. S. & Gierasch, L. M. Comparing protein folding in vitro and in vivo: foldability meets the fitness challenge. Curr. Opin. Struct. Biol. 24, 81–90 (2014).

Min, D., Arbing, M. A., Jefferson, R. E. & Bowie, J. U. A simple DNA handle attachment method for single molecule mechanical manipulation experiments. Protein Sci. 25, 1535–1544 (2016).

Findlay, H. E. & Booth, P. J. The biological significance of lipid–protein interactions. J. Phys. Condens. Matter 18, S1281–S1291 (2006).

Ujwal, R. & Bowie, J. U. Crystallizing membrane proteins using lipidic bicelles. Methods 55, 337–341 (2011).

Findlay, H. E. & Booth, P. J. The folding, stability and function of lactose permease differ in their dependence on bilayer lipid composition. Sci. Rep. 7, 13056 (2017).

Hessa, T. et al. Molecular code for transmembrane-helix recognition by the Sec61 translocon. Nature 450, 1026–1030 (2007).

Snider, C., Jayasinghe, S., Hristova, K. & White, S. H. MPEx: a tool for exploring membrane proteins. Protein Sci. 18, 2624–2628 (2009).

Moon, C. P. & Fleming, K. G. Side-chain hydrophobicity scale derived from transmembrane protein folding into lipid bilayers. Proc. Natl Acad. Sci. USA 108, 10174–10177 (2011).

Lee, T.-H. Extracting kinetics information from single-molecule fluorescence resonance energy transfer data using hidden Markov models. J. Phys. Chem. B 113, 11535–11542 (2009).

Zhang, Y., Jiao, J. & Rebane, A. A. Hidden Markov modeling with detailed balance and its application to single protein folding. Biophys. J. 111, 2110–2124 (2016).

Radestock, S. & Forrest, L. R. The alternating-access mechanism of MFS transporters arises from inverted-topology repeats. J. Mol. Biol. 407, 698–715 (2011).

Jonikas, M. C. et al. Comprehensive characterization of genes required for protein folding in the endoplasmic reticulum. Science 323, 1693–1697 (2009).

Pleiner, T. et al. Structural basis for membrane insertion by the human ER membrane protein complex. Science 369, 433–436 (2020).

Chitwood, P. J., Juszkiewicz, S., Guna, A., Shao, S. & Hegde, R. S. EMC is required to initiate accurate membrane protein topogenesis. Cell 175, 1507–1519.e16 (2018).

Guna, A., Volkmar, N., Christianson, J. C. & Hegde, R. S. The ER membrane protein complex is a transmembrane domain insertase. Science 359, 470–473 (2018).

Kauko, A. et al. Repositioning of transmembrane α-helices during membrane protein folding. J. Mol. Biol. 397, 190–201 (2010).

Lai, G. & Renthal, R. Integral membrane protein fragment recombination after transfer from nanolipoprotein particles to bicelles. Biochemistry 52, 9405–9412 (2013).

Jo, S., Lim, J. B., Klauda, J. B. & Im, W. CHARMM-GUI Membrane Builder for mixed bilayers and its application to yeast membranes. Biophys. J. 97, 50–58 (2009).

Cheung, M. S., García, A. E. & Onuchic, J. N. Protein folding mediated by solvation: water expulsion and formation of the hydrophobic core occur after the structural collapse. Proc. Natl Acad. Sci. USA 99, 685–690 (2002).

Bowie, J. U. Solving the membrane protein folding problem. Nature 438, 581–589 (2005).

Bogdanov, M. & Dowhan, W. Lipid-dependent generation of dual topology for a membrane protein. J. Biol. Chem. 287, 37939–37948 (2012).

Steinegger, M. et al. HH-suite3 for fast remote homology detection and deep protein annotation. BMC Bioinform. 20, 473 (2019).

Seatter, M. J., De La Rue, S. A., Porter, L. M. & Gould, G. W. QLS motif in transmembrane helix VII of the glucose transporter family interacts with the C-1 position of D-glucose and is involved in substrate selection at the exofacial binding site. Biochemistry 37, 1322–1326 (1998).

Forrest, L. R. Structural symmetry in membrane proteins. Annu. Rev. Biophys. 44, 311–337 (2015).

Cymer, F. & von Heijne, G. Cotranslational folding of membrane proteins probed by arrest-peptide-mediated force measurements. Proc. Natl Acad. Sci. USA 110, 14640–14645 (2013).

Lolkema, J. S., Dobrowolski, A. & Slotboom, D.-J. Evolution of antiparallel two-domain membrane proteins: tracing multiple gene duplication events in the DUF606 family. J. Mol. Biol. 378, 596–606 (2008).

Walmsley, A. R., Barrett, M. P., Bringaud, F. & Gould, G. W. Sugar transporters from bacteria, parasites and mammals: structure–activity relationships. Trends Biochem. Sci. 23, 476–481 (1998).

Mueckler, M. & Thorens, B. The SLC2 (GLUT) family of membrane transporters. Mol. Asp. Med. 34, 121–138 (2013).

Thorens, B. GLUT2, glucose sensing and glucose homeostasis. Diabetologia 58, 221–232 (2015).

Serdiuk, T. et al. YidC assists the stepwise and stochastic folding of membrane proteins. Nat. Chem. Biol. 12, 911–917 (2016).

Wang, F., Chan, C., Weir, N. R. & Denic, V. The Get1/2 transmembrane complex is an endoplasmic-reticulum membrane protein insertase. Nature 512, 441–444 (2014).

McGilvray, P. T. et al. An ER translocon for multi-pass membrane protein biogenesis. eLife 9, e56889 (2020).

Hedge, R. S. & Keenan, R. J. The mechanisms of integral membrane protein biogenesis. Nat. Rev. Mol. Cell Biol. 23, 107–124 (2022).

Zhang, W., Campbell, H. A., King, S. C. & Dowhan, W. Phospholipids as determinants of membrane protein topology: phosphatidylethanolamine is required for the proper topological organization of the γ-aminobutyric acid permease (GabP) of Escherichia coli. J. Biol. Chem. 280, 26032–26038 (2005).

Volmer, R. & Ron, D. Lipid-dependent regulation of the unfolded protein response. Curr. Opin. Cell Biol. 33, 67–73 (2015).

Jacquemyn, J., Cascalho, A. & Goodchild, R. E. The ins and outs of endoplasmic reticulum‐controlled lipid biosynthesis. EMBO Rep. 18, 1905–1921 (2017).

O'Donnell, J. P. et al. The architecture of EMC reveals a path for membrane protein insertion. eLife 9, e57887 (2020).

Shon, M. J., Rah, S.-H. & Yoon, T.-Y. Submicrometer elasticity of double-stranded DNA revealed by precision force-extension measurements with magnetic tweezers. Sci. Adv. 5, eaav1697 (2019).

Bouchiat, C. et al. Estimating the persistence length of a worm-like chain molecule from force-extension measurements. Biophys. J. 76, 409–413 (1999).

Oesterhelt, F. et al. Unfolding pathways of individual bacteriorhodopsins. Science 288, 143–146 (2000).

Seol, Y., Li, J., Nelson, P. C., Perkins, T. T. & Betterton, M. Elasticity of short DNA molecules: theory and experiment for contour lengths of 0.6–7 μm. Biophys. J. 93, 4360–4373 (2007).

Sarkar, A., Caamano, S. & Fernandez, J. M. The mechanical fingerprint of a parallel polyprotein dimer. Biophys. J. 92, L36–L38 (2007).

Gebhardt, J. C. M., Bornschlögl, T. & Rief, M. Full distance-resolved folding energy landscape of one single protein molecule. Proc. Natl Acad. Sci. USA 107, 2013–2018 (2010).

Hinczewski, M., von Hansen, Y. & Netz, R. R. Deconvolution of dynamic mechanical networks. Proc. Natl Acad. Sci. USA 107, 21493–21498 (2010).

Hinczewski, M., Gebhardt, J. C. M., Rief, M. & Thirumalai, D. From mechanical folding trajectories to intrinsic energy landscapes of biopolymers. Proc. Natl Acad. Sci. USA 110, 4500–4505 (2013).

Saier, M. H. Jr, Tran, C. V. & Barabote, R. D. TCDB: the transporter classification database for membrane transport protein analyses and information. Nucleic Acids Res. 34, D181–D186 (2006).
Acknowledgements
We thank E. Kweon for help with preparing illustrations. This work was supported by National Creative Research Initiative Program (NRF-2021R1A3B1071354 to T.-Y.Y.), the Bio Medical Technology Development Program (NRF-2018M3A9E2023523 to T.-Y.Y.) and NRF grants (NRF-2019M3E5D6063903 and NRF-2020R1A2C2003783 to H.-J.C.; NRF-2019R1A6A1A10073437 and NRF-2020M3A9G7103933 to M.S.; NRF-2021M3A9I4021220 and NRF-2020R1A6C101A183 to S.-H.R), all funded by the National Research Foundation of South Korea. This work was also supported by the UK Medical Research Council (MRC_UP_12-1/10 to E.A.M.), the US National Science Foundation (MCB-181069 to W.I.) and National Institutes of Health grant (R01GM118684 to H.H.).
Ethics declarations
Competing interests
The authors declare no competing interests.
Peer review
Peer review information
Nature Chemical Biology thanks Argyris Politis, Horst Vogel and the other, anonymous, reviewer(s) for their contribution to the peer review of this work.
Additional information
Publisher's note Springer Nature remains neutral with regard to jurisdictional claims in published maps and institutional affiliations.
Supplementary information
Unprocessed western blot of Supplementary Fig. 7.
Source data
Unprocessed gels for Extended Data Fig. 1.
Unprocessed gels for Extended Data Fig. 3.
Unprocessed gels for Extended Data Fig. 5.
About this article
Cite this article
Choi, HK., Kang, H., Lee, C. et al. Evolutionary balance between foldability and functionality of a glucose transporter. Nat Chem Biol 18, 713–723 (2022). https://doi.org/10.1038/s41589-022-01002-w
Received:

Accepted:

Published:

Issue Date:

DOI: https://doi.org/10.1038/s41589-022-01002-w